.
.
Carrera Porsche 917K
Gulf / J.W.Automotive
Daytona 1970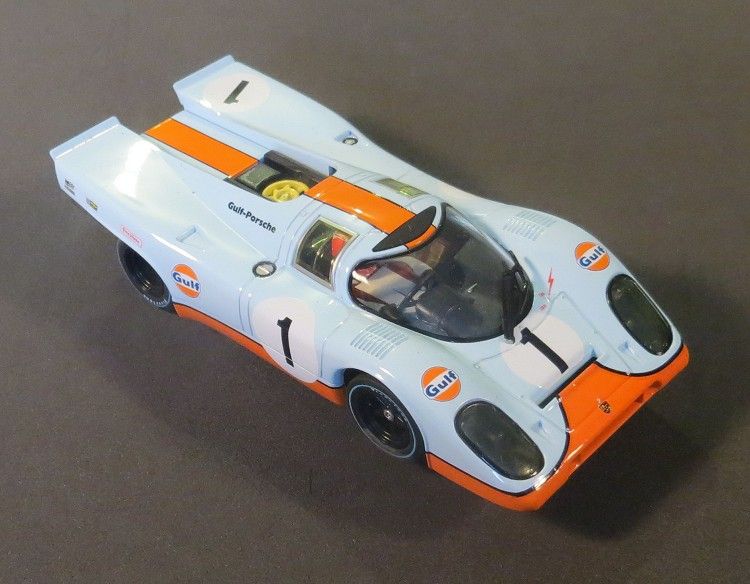 by

Phil Wicks



Many people are familiar with the great names of motor sport, but these are usually the cars or their drivers; and many avid motorsport fans would be hard pressed to tell you the roots and the history of some of the greatest teams in motor sport. One of these is Englishman John Wyer, again a few people will recall the name but no more.





He came into motorsport in the early fifties and built up a successful racing presence as team manager with Aston Martin. Most notable early results was the victory at Le Mans in 1959, when sports car Legends Carroll Shelby and Roy Salvadori piloted their factory DBR1 to out right victory. But he and AM were to part company in 1963 . He then spent a short term as team manager of Ford Advanced Vehicles, but this proved troublesome and short lived after reliability dogged the GT40 program.



John Wyer then teamed up with John Willment (where the 'JW' is reputed to originate!) and took over the FAV factory in Slough, West London, where they continued to build production GT40's on Ford's behalf. With backing from the Gulf oil Company, Wyer created the Ford Mirage. The next couple of years brought some notable successes especially in endurance sports car races with 1968 and 69 being memorable years for Wyer and the GT40's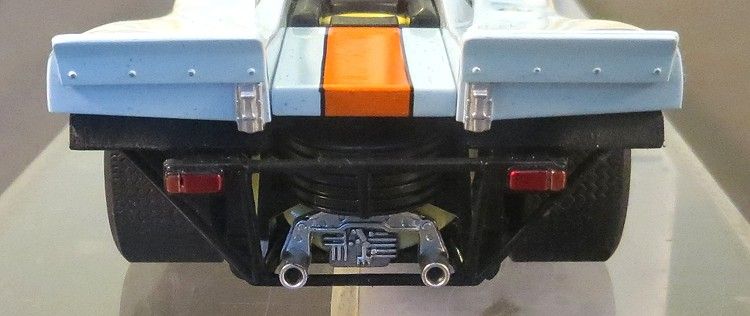 By the end of 69 the GT40's had become obsolete and John forged a link with the Porsche factory where he was instrumental in the successful development of the 917, including changes to body and mechanical features, the distinctive 'wedge' tail being most significant. From now on the main competition was to come from the Vic Elford / Martini Porsche team and the newly dominant Ferrari team who were fielding their new 512's. 1970 and 1971 also proved to be good years for the team, but regulation changes in '72 saw major decisions to hand. Changes to engine size and weight limits left the 908's and 917's outclassed.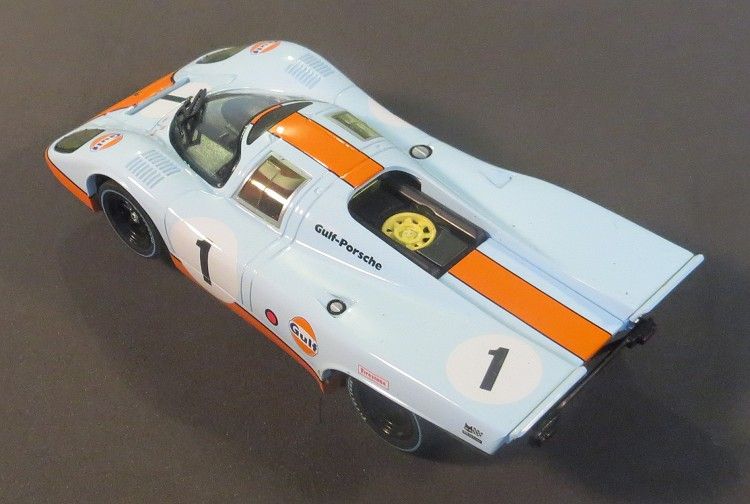 Wyer and Co moved back to the Gulf Mirages as their mainstay but the ex F1 DFV motor was to prove exacerbating and after a couple of doubtful seasons, Jacky Ickx and Derek Bell were eventually able to achieve JWA's final victory at Le Mans in 1975. The following year John Wyer retired and the team was sold on.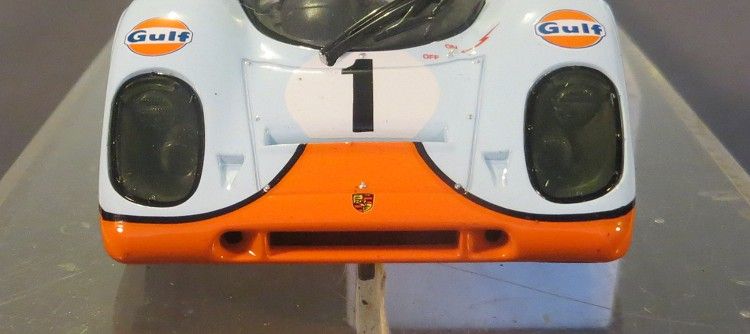 I never cease to be amazed with Carrera cars, not only are they, exceptional quality, they are robust and well finished and the fact is, at their current retail value they are twice the car of some makes twice their price. Carrera are aimed at the home racer market and are not too shabby at club racing level.



Results 1970 Daytona 24h



They contain all the features we have been asking for for home racers and still they go on, and on, and on. At a time when some more famous models are battling with the construction/performance dichotomy, Carrera seemed to have managed it and still undercut the rest. If you race Carrera or magnabraid track, these models, with the dual traction magnets, are for you!




First up, as always, the model comes well boxed and there is no shortage of bumf, there are hand outs for this and handouts for that in a bewildering array of processed rainforest!. In with it in the rear of the display case are also the spares, usually a couple of guides to allow the model to run on other makers track, and some spare braids.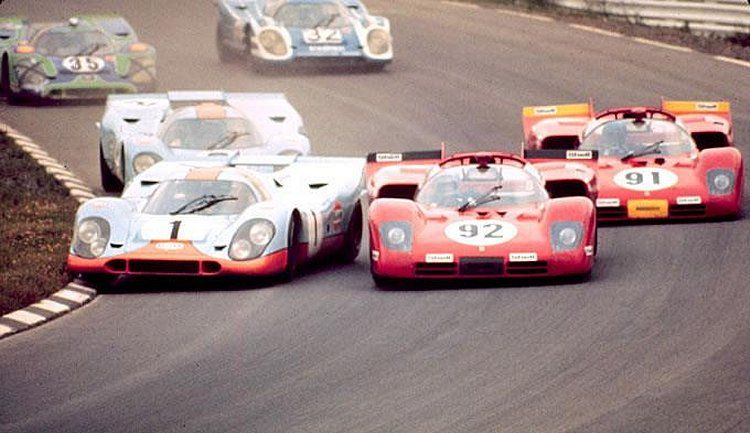 The model depicted is the 1970 Daytona 24 hour 2nd place 917K as driven by Jo Siffert and Brian Redmond. Cars which achieved a 1 – 2 finish on their debut. Finish is excellent and as I always point out the finish shines like the real thing, none of the old semi matt paint jobs of more expensive models! And also, as again expected, detail and decals are almost impossible to fault. It has its fair share of add on detail and Carrera have also duplicated the original front wiper 'trammel' mechanism.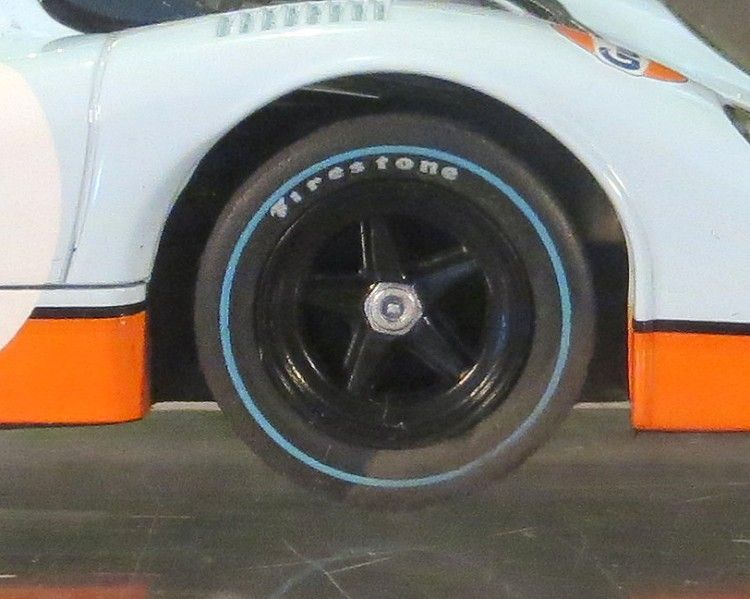 The model feels solid when you handle it and with the top off there are distinct signs of a sturdy construction. This I attribute to Carrera's digital system (Uhhh?). If you race any sort of digital you will know that once the SCM's get on the track there is enough chaos and carnage to leave any model in severe need of rebuilding. Carrera have looked at the issue and decided the bodies (and other parts) of their models need to survive the greater rigours of digital racing, and as a consequence have made their bodies of sturdier stuff than other mainstream manufacturers without adding too much extra weight.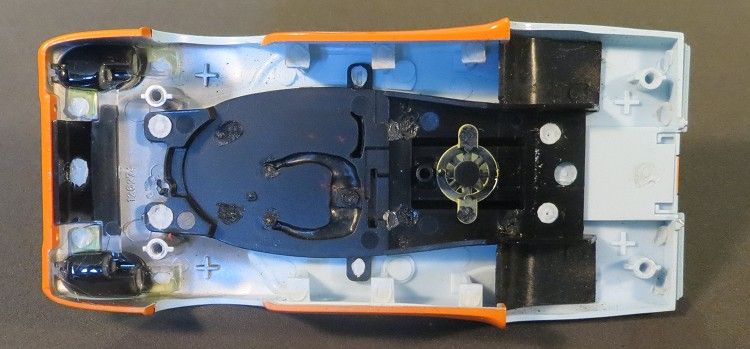 Colours are distinctive and consistent too, so each model shines that little bit more than its neighbours when it is off the track and amongst the shelf queens. Underneath is similar and the model has a no mess chassis and fittings. Out of the box the mode is fitted with the deeper, longer guide as used on Carrera track. In the back of the display case are two spare guides, one as per the original, and a red blade which is thinner and shorter, this is for Scaley / Ninco and co. A firm grip and a sharp tug will release the guide from its holder, and likewise, careful leverage under the centre of the braids will see them too detach from the guide.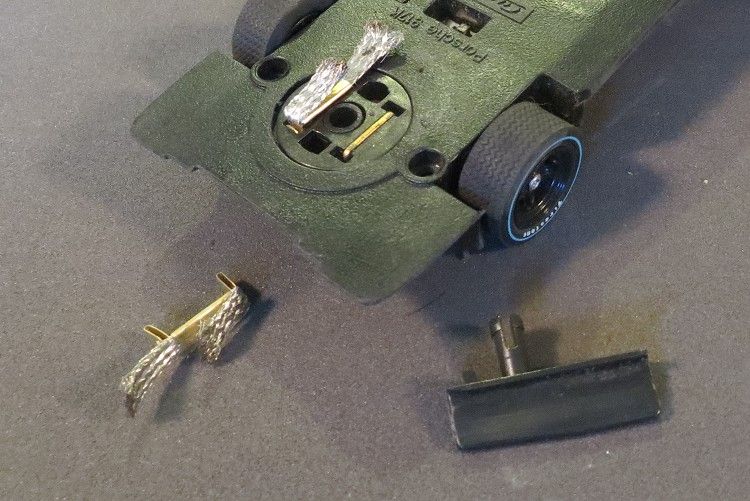 Tyres are a reasonably soft compound and straight from the box work well on home turf, but Carrera tyre history can be somewhat shorter than most makes. If like me you like to 'freshen up' your race tyres between races or even heats, you may find after a month or two that the tyres are becoming decidedly soft, and resemble the texture of a fried mushroom! This is where the problem starts. In recent years Carrera have developed a penchant for wheels with a deep major step. This negates the use of regular tyres from Slot.it, NSR etc. The only option is to source tyres from half way round the world, even then, supply is not guaranteed! So run them 'au naturale' for as long as you can get away with it!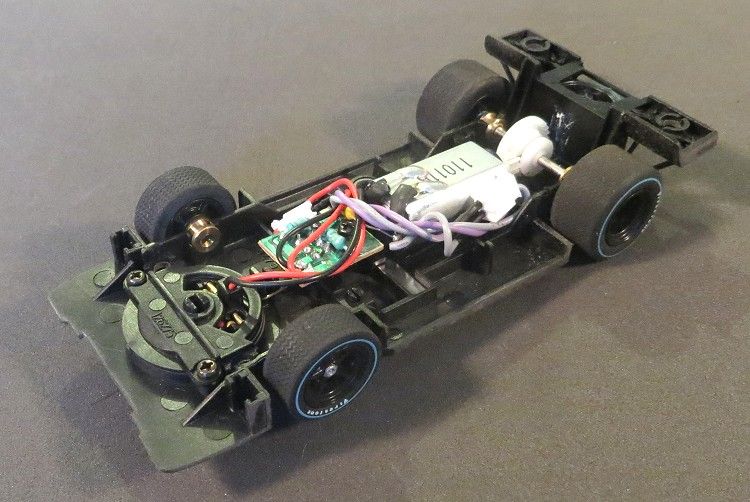 Front and rear wheels are tolerably eccentric and if you have access to a tyre truer which accepts a complete axle, then it's no big deal to true the little that it needs. Front wheels are reminiscent of early Fly stub axles. These too, are stubs; but they are very sturdy stubs mounted in brass bushes which are going no where!





From the outside interior detail is quite good but looks can be deceptive. I could be wrong but Carrera's current range of 1/32 scale models only come in in-line configuration, this means drivers tray detail is compromised, but Carrera give a good 2D rendition of driver and interior and to me it looks 80%. Lastly from underneath the polarity switch is clearly accessible and one of the two traction magnets is partly exposed.
With the lid off we can delve into the hidden mysteries of the Carrera models success. Again, very business like in assembly and durable in construction.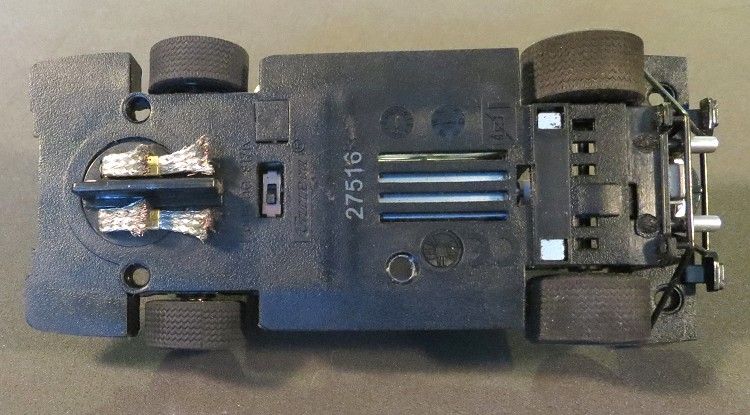 The rear axle has a 27z contrate while Carrera have departed from slotcar tradition and fitted an 8z pinion! What's more, if previous models are anything to go by, the plastic pinion is only an interference fit on the armature shaft!! This shaft is not splined!! Ramifications, sure! If like almost every other home/club racer you sand your tyres on the car, then the reality is that the pinion will eventually loose its grip on the motor shaft and a brass gear will need to be fitted.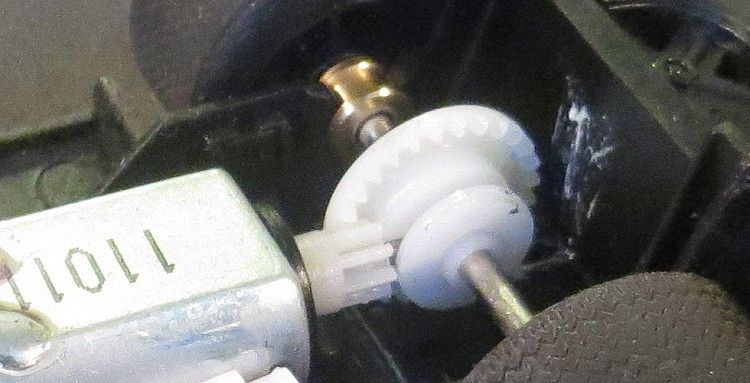 The polarity switch takes up some space and the two traction magnets are visible. If my memory serves me correctly the rear magnet is held in place with a clip on cover, this allows the magnet shim (if fitted) to be moved up or down. The front magnet is held in place by a screw and this magnet may also have a shim to allow you to adjust the downforce. An while we are at it, for the benefit of non magnet drivers, the motor is very firm in its cradle! For the digital racer, there is no chip but the standard chip will clip in moderately easily.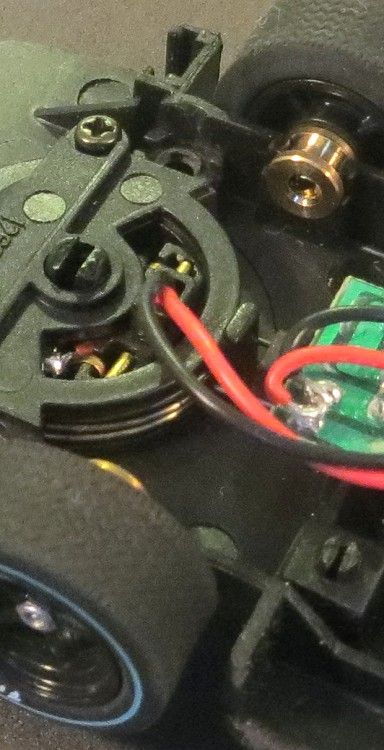 Once again and as mentioned several times before over the years, Carrera insist on sticking with a sprung loaded self centering guide. In the early days this was a source of consternation as the return spring tension was a bit excessive and was responsible for deslotting under unusual circumstances. This model has the lightest of return springs and contrary to earlier advice, it should be fine to leave it as it is!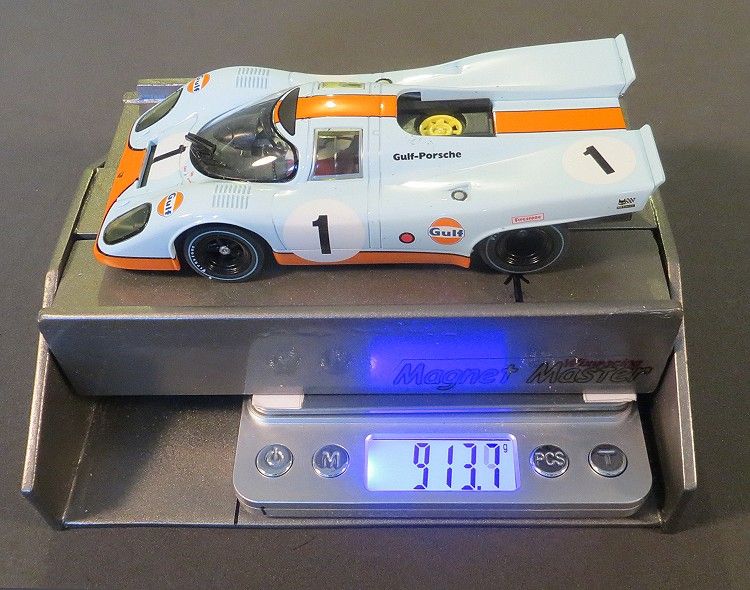 Before winding up there are a couple more observations. Firstly, the body is well made to the point where even the body screw posts are reinforced, preventing annoying post splits in competitive incidents, and secondly the measured downforce using the Wixwacing patent 'Magnet Master" is indicated to be in the region of 900 grams!! That is nearly a kilo in weight terms!. My advice would be that if you run this model on Carrera or Magnabraid then things should be fine; but, if you intend to run regularly on Scaley, Ninco or the like, consider removing the front magnet and possibly adjusting the rear magnet.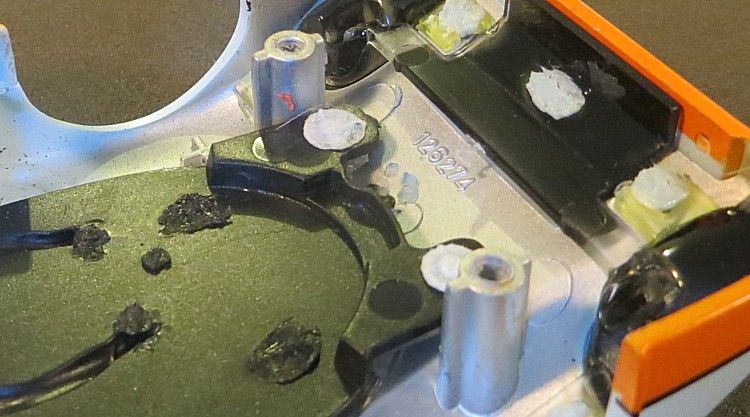 This is a great model and I would have one tomorrow if I weren't cutting back on numbers; but, rest assured, If I see a use for it in the near future, the lines will run red hot between me and my local slotcar supplier!





917's on eBay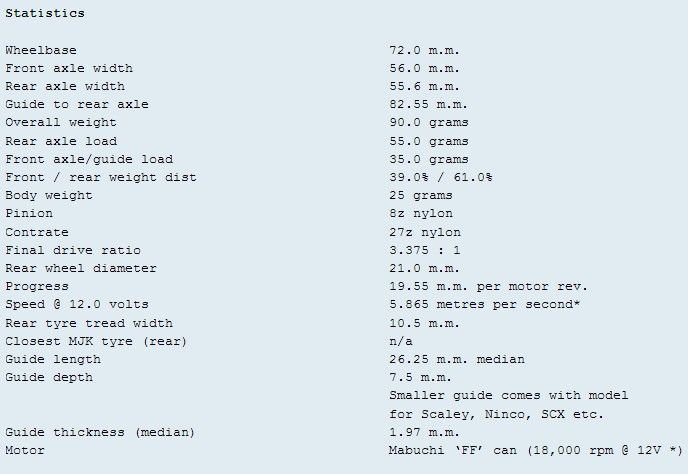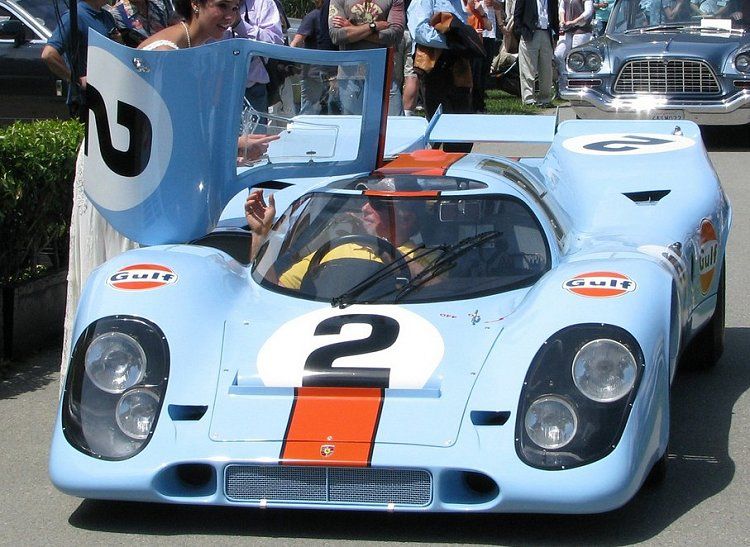 Many thanks to local racer Chris "The Stig" Dietrich for the opportunity to review this model