It is always a good feeling to have some input into a good result and one of my more recent good result would be collaboration with local Graceville racer Paul Robinson. Paul is a keen slotracer and indeed a keen hobbyist. As well as being an ardent soccer player he indulges in such passions as motorcycling, having a very smart Buell bike. He has travelled to the Isle of man TT and lets his passion spill over into small scale slotracing bikes from early Scaley outfits to the latest Bycmo models. He also has a small selection of Radio controlled models with the most recent acquisition being an impressive rock crawling four wheel drive car. But one of his first loves is his digital Scalextric slotcar track.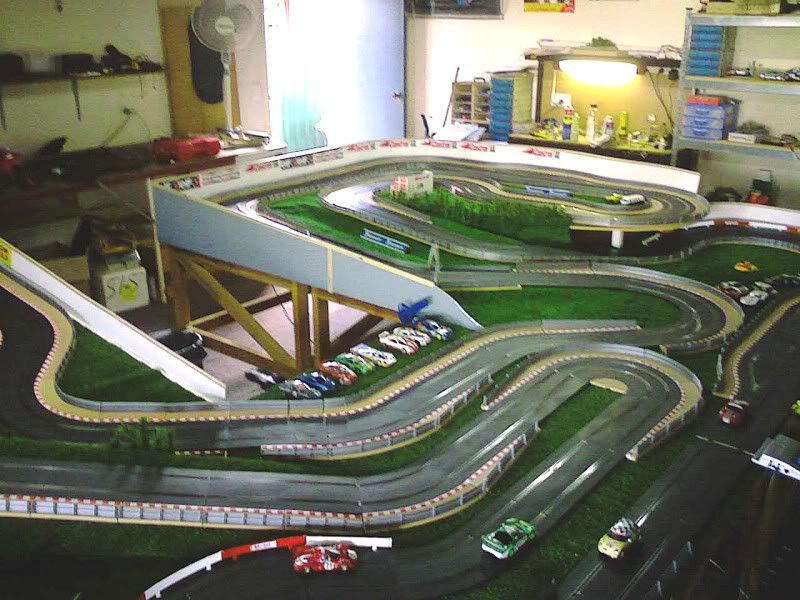 Some years back now the track became an over spilling feature in his garage and so great was the desire for a full on circuit that a car port was eventually erected and the family transports were relegated to the outside.








But what next? With all this space there needed to be some thought as to what was going to occupy it. This is where I came in. Paul gave me the overall dimensions for the base board and I set about running off several designs on 'Slot Track Designer'.








The base board had a section left out to allow access to the in field which presented a challenge but in a way it forced us to be more imaginative with the design. Eventually a design was settled upon and Paul proceeded to assemble it, and with a few minor alterations he had created a very interesting and raceable circuit. Not too busy but still good use of the area available.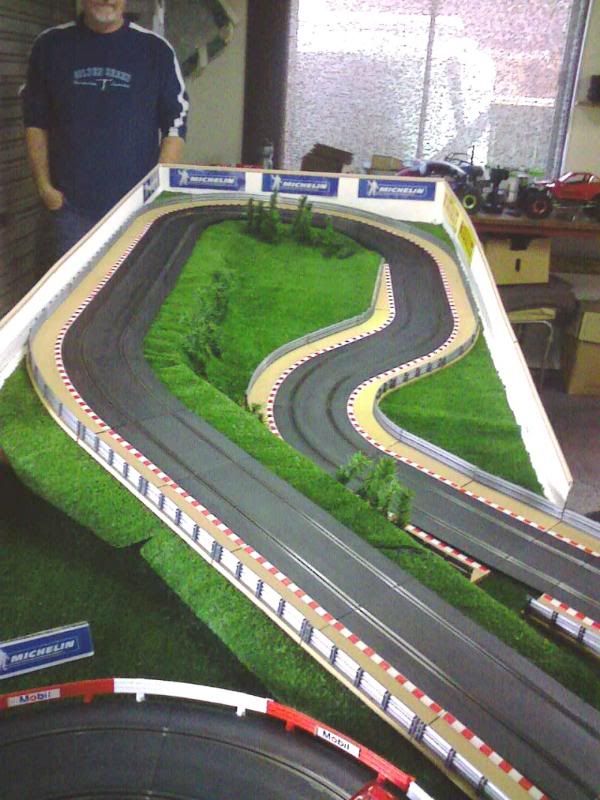 I'm a newcomer to digital and although I have driven on it, I have never seriously raced on it. Something I am looking forward to. But I have always embraced the concept and the thought of racing six models on two lanes does appeal to me, and the idea of 'drone' cars circulating while you race through, round and past them is quite exciting.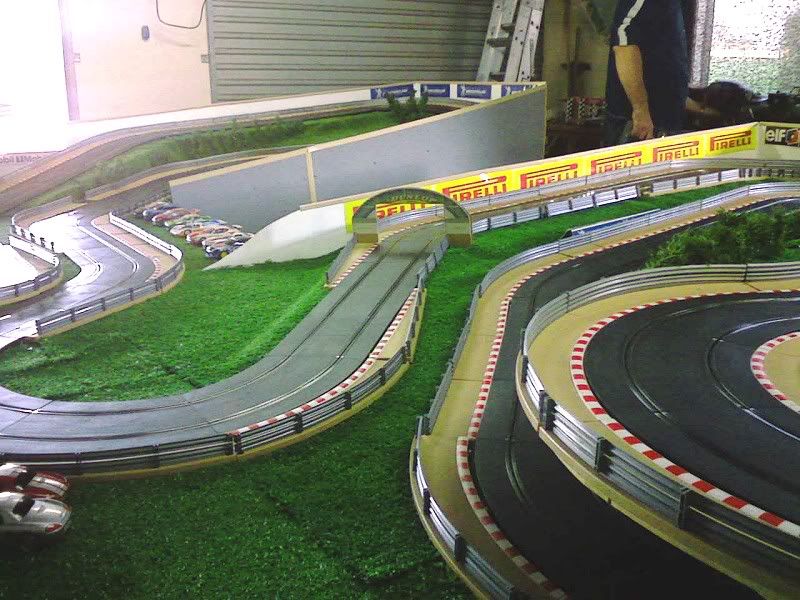 Paul has approached this layout constructively and it was identified early on in the piece that the Scalextric power supply was woefully inadequate. A new power supply was purchased and with the aid of on line conversion articles I upgraded the power. This in itself was a major leap forward and the last desire was that the track could also be switched from digital to analogue.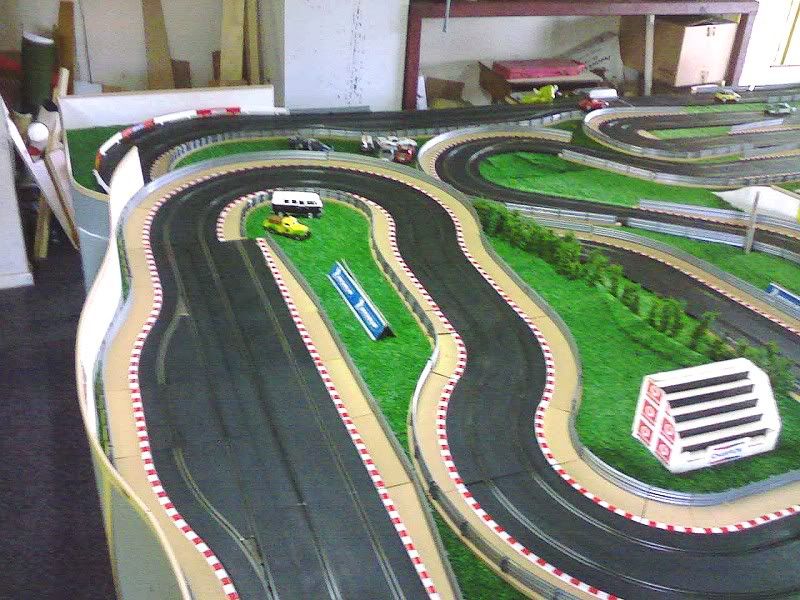 As it happens, the fix was also on the web and with some deft componentry it has become possible to switch between digital and analogue. At the time of writing we have experienced a hitch in this part of the plan but we are working it through and hopefully this feature will be active soon.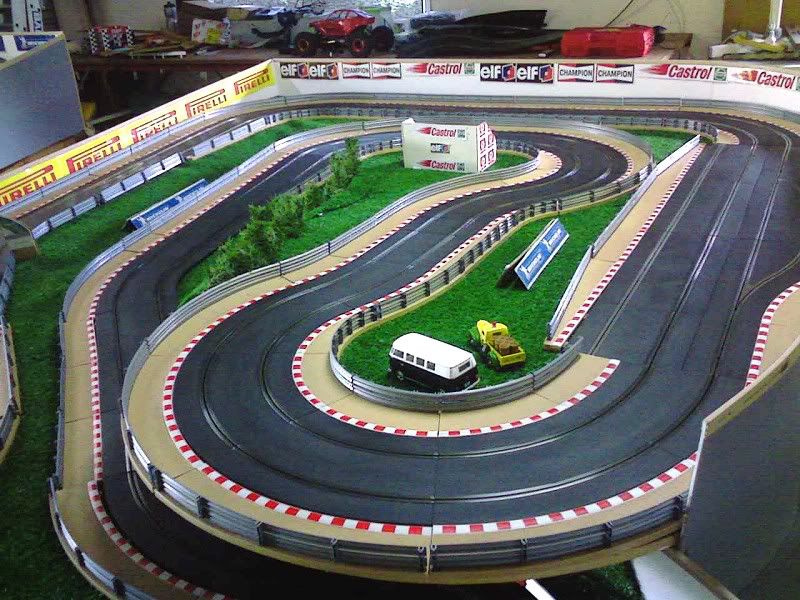 So what has Paul ended up with? As you can see for yourself he has achieved a very driveable circuit which retains enough interest while there is still the odd spot for a burst of speed. The use of raised sections has enhanced the track appearance and allowed for the extension of some features. Paul has already had social evenings with four racers at a time and these have been a great success. I look forward to racing this track myself, maybe as a 'Legends' feature event??!!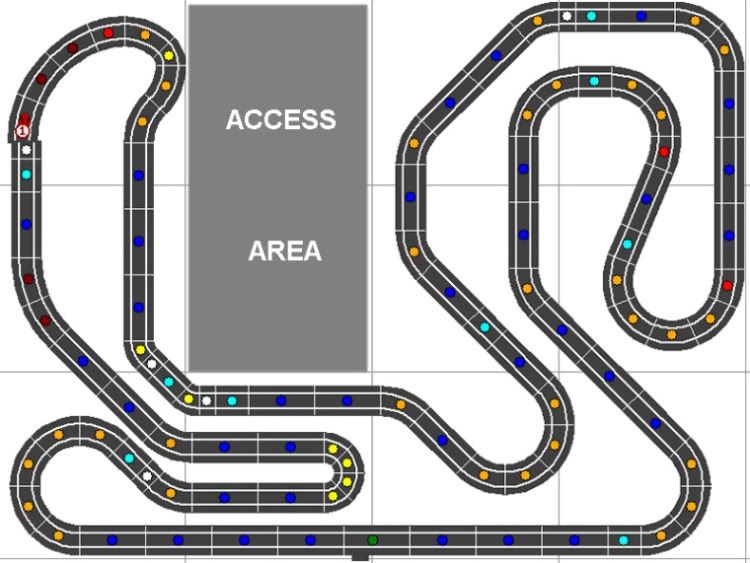 The original Slot Track Designer plan