As mentioned some little while back, local slotracer (and trophy winner) Paul Stevens, an architect by profession, decided to build himself a track. This is not such a new thing as we know. In the last five years or so there have been a whole host of new tracks sprouting up around the world The 'how to builds' fill column metres of many slotcar forums and when finished we are treated to a few photos which give you a tasty glimpse of the action but leave you wanting more when it come to salient points like, how does it drive' or 'what about the tricky bits' or' what did you tape/spray/paint/cut/route it with?? Perennial questions which mystify those already in the know and not quite enough information for those intending to build. Still questions to be asked and still not enough information. 'What power supply' 'what race manager system' 'which controllers' etc. etc. etc.........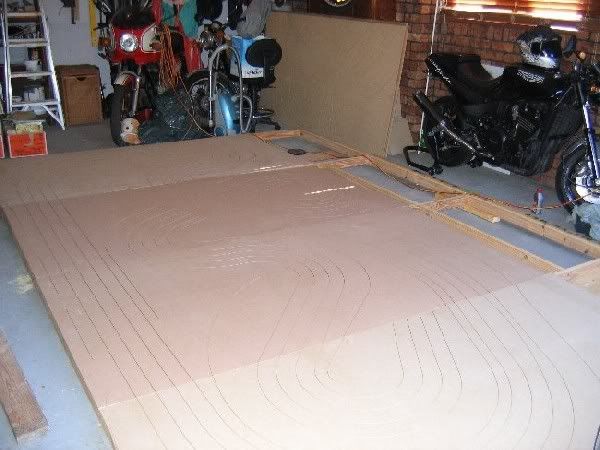 Well, the story of Paul's track starts with a dream. Having belonged to and raced with local guys on their own home made circuits it was just a matter of time before his new track came along. A long time in the planning and a longer time in the building but this week it arrived to a fanfare of race mates mucking in to help complete the project.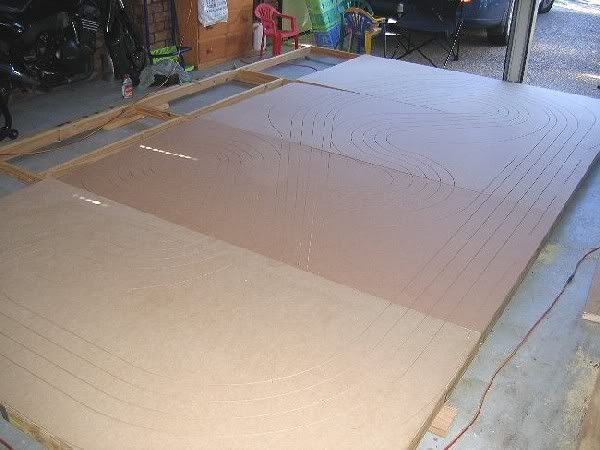 Being an architect was one of the first helps. Paul is an 'old school' pencil and paper man by choice but that doesn't mean he doesn't have the skills required to use the latest CAD programs. This was the birthplace of the yet to be named track, on the flat screen of the office computer. He has approached the project in a measured and sensible manner. Making mental notes of features from other tracks and ensuring the track 'flowed' and didn't have bottlenecks and other weak points. Making sure the track was three dimensional (very important) and making sure that he was happy with it.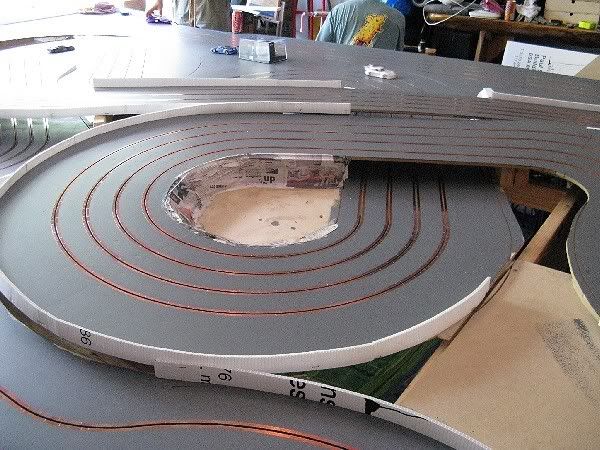 Remembering that this is Paul's first attempt at ALL aspects of track design and building, the track spent several weeks on the computer and in its eventual final form it was taken as a CAD file to a Northside wood panel shop where it was cut and routed by CNC machinery on to several boards! Too late to change anything, the boards returned home and I'm sure Paul felt a bit daunted with the undertaking. This was just the beginning. There was a frame to build and a winch system to make to store it in the ceiling of his double garage.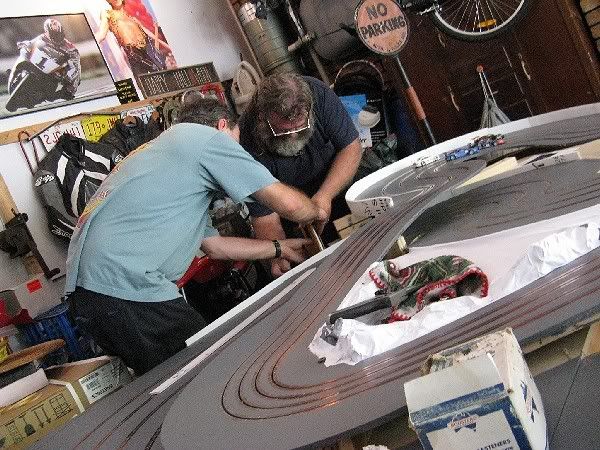 The frame was constructed with sturdy legs and the whole raises and lowers by a pulley system. In the fully up position the table is held aloft by mounting safety hooks in the ceiling joists and when down, the cables can be store away or left in place. The track surface is very smooth and painted in exterior finish satin paint. The joints are good with just a couple of minor mods having to be carried out to allow the deep guide models like Carrera to have an unhindered passage.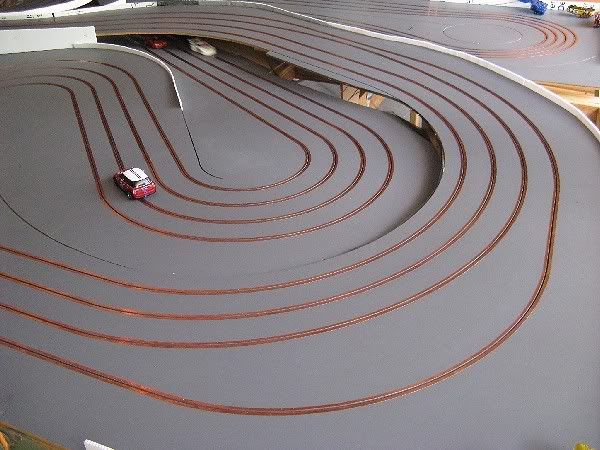 The construction has been a bit of a slow process but such a large undertaking can overwhelm a bit some times. Spurred on by fellow racers, Paul Finally completed the painting and another break came and went before the tape laying started. As Paul himself will admit, taping a huge (possibly thirty metre plus) four lane track takes a long while. The first lane was completed after a time and the second lane soon followed. When the third lane was well under way we made an offer to come along and help finish the forth lane.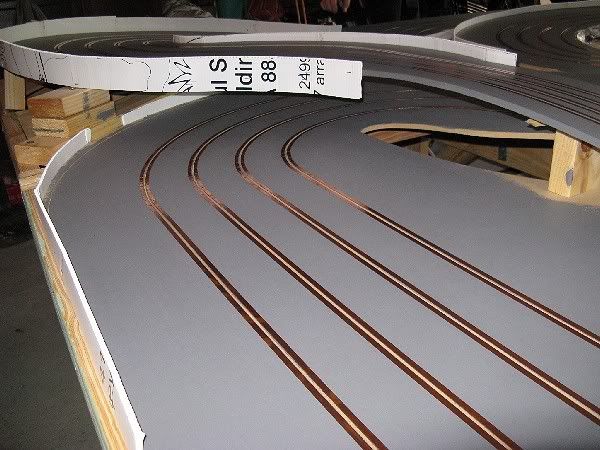 No sooner said than organised and this Monday past saw half a dozen guys taping, stapling, wiring and even some running back and forth to the hardware store!! Each fell into their task and the fencing team got stuck into cutting and fixing some core flute to the edges of the track to create some sort of safety barrier. Paul, who had been up since 5.00 am carried on with the conductor tape and Alan and myself pondered the plan of attack for the wiring. Eventually the track was finished and the tape laid, most of the fencing completed, and most importantly, the power and driver stations were installed Yeeeeeeeeesssssss!!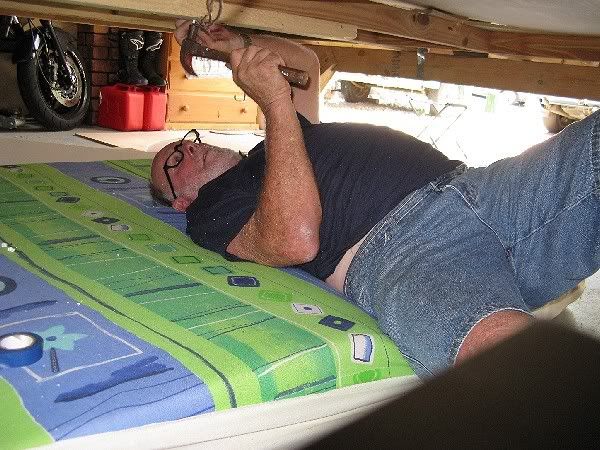 Not surprisingly, most of us had taken our race boxes along with a few of out choice models. Paul completed the honorary first lap of the track after all the stations were tested. Needless to say it was on for young and old after that as we all took a turn or too on the latest track.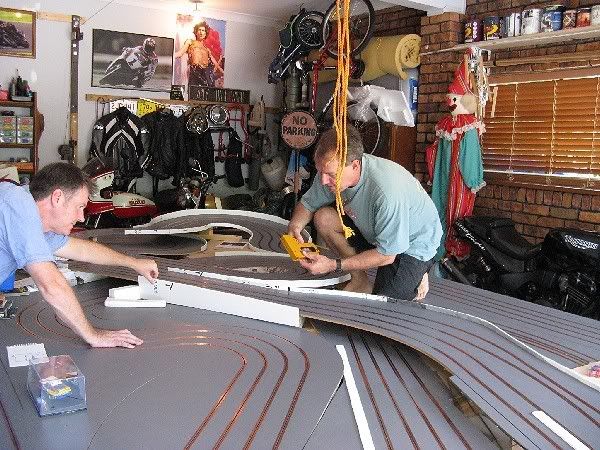 To the onlooker the track looks very 'busy', too much in too little space. Mmmmmmmm? Will it work, wont it? The results were surprising! The track contains its fair share of close quarters racing with several squeeze zones but as we know by now, these only come into play once or twice a race as competitors spread out around the circuit. The plusses are many. A fast front straight into a left hand sweeper.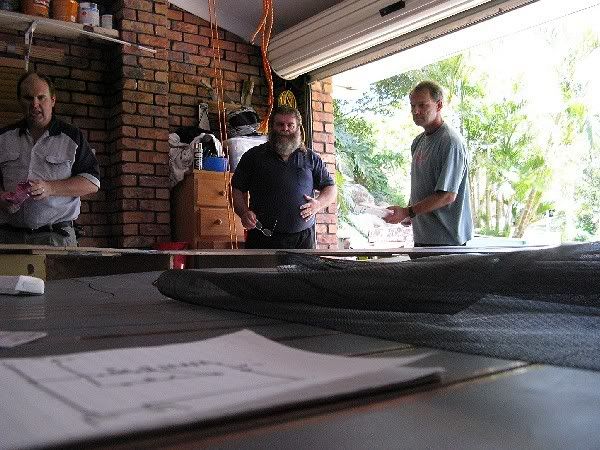 An 'almost' hair pin with squeeze. A more technical infield and a carousel which helps to spread the field out. All of which smoothly follow each other. There are no jerking tight sections or corners where you have to jink yourself round. Sure, there are some tight bends, but one flows on to the next and before you know it you are powering on again to the next corner.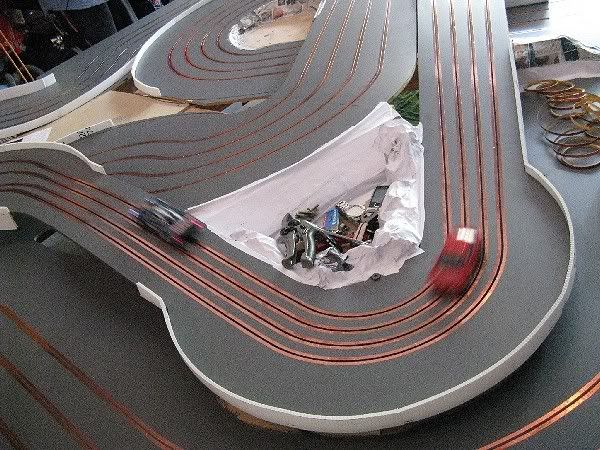 The only unknown at this stage is marshalling a race. We ran a few models and slowly the worst parts of the missing scenery where covered to stop models dropping through the holes but there are a couple of spots were marshalls aids are going to be required. The track is not high which is the first rule of track making.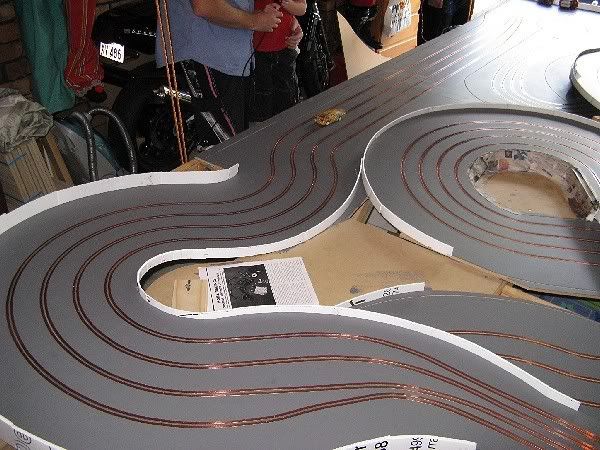 In making it low, marshalls can lean over far greater distances than normal to recover models 1500mm into the track or more. Only the shortest of people will struggle with these spots. The controllers too have been placed almost one at each corner. This allows closer marshalling between drivers stations and also spreads the attendees around the track, not creating another potential bottleneck either during or between races.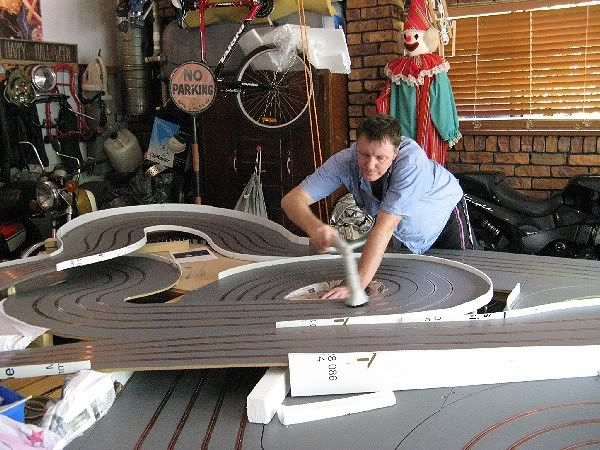 The 'flow' has paid off and after many minutes driving the track I'm sure those that were there would agree that it wasn't hard to learn this track, and within minutes it was proving a pleasure to drive. The dry track surface was proving more than adequate for MJK's and Silicone tyres. Natural rubber too was working well and I have to admit that of all my models I drove, only a couple with old crusty rubber tyres found it hard to find grip!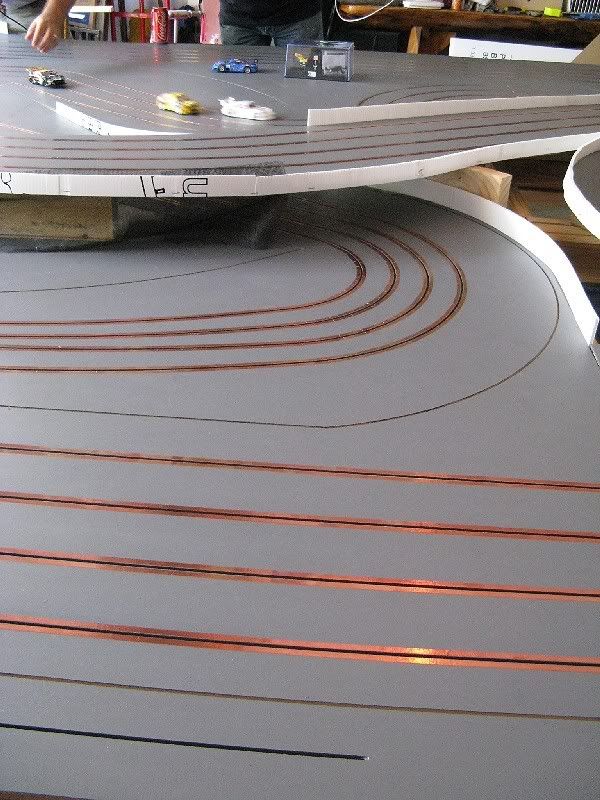 One of Paul's criteria for the track was that it would be technical enough for good competition but not so technical that NC 1's could pull off wins in open motor classes (it happens!!). I think that has been achieved on this track. NC1's are always a good race but there is room enough in the straights and sweepers to give bigger motors their head. Mission accomplished!!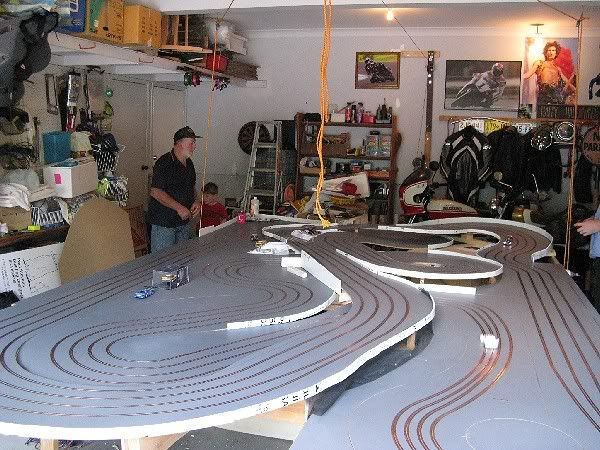 All that is left now is to install the race management hardware and complete the landscaping, there's plenty of time for that now, and I'm sure this track will be more than a race track when it's finished.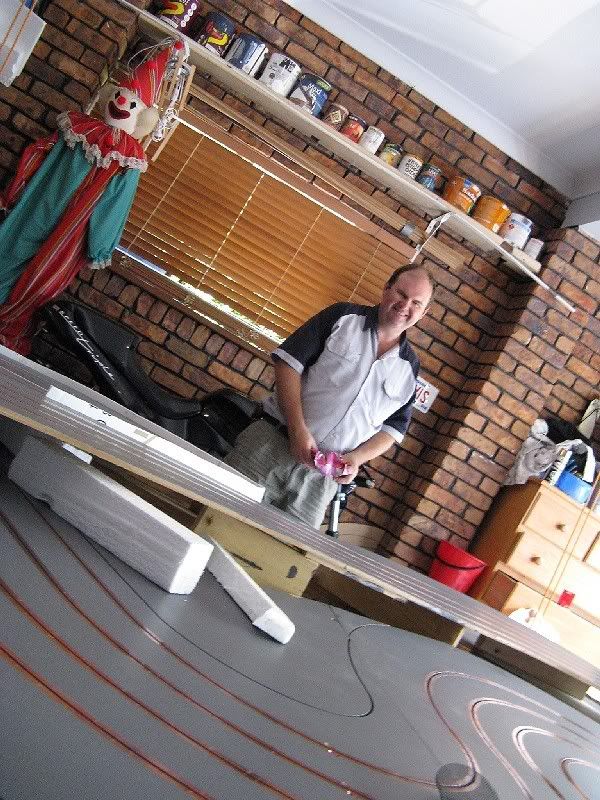 Lastly, for some there is one major disappointment with the track? That is you'll have to live in South East Queensland to get a chance to race on it. Bad luck the rest of you. If you do live here in SEQ, pm me this board or email me at pwix@yahoo.com for an invitation to race this and the rest of our tracks.