Now back from my recent wanderings, I was determined to have a slotcar free week. Primarily because it seems all I am doing with my spare time outside of family..... is slotcars, true!!

Keeping the board ticking over, running the Legends group and helping out with other guys 'in the slot'! From track maintenance to race management hardware!! Plus I always invariable return from a race meeting with a couple of other peoples models to repair or prepare!!

So off to not so sunny Melbourne and not a race meeting or a slotcar track on the itinerary!! But would it last?..... almost! I managed to last out 'til about day four!

Wifey and myself were reposing amongst the pleasant surroundings of the lower Mornington peninsula when, whilst in the Hastings area, my beloved mentioned that it would be nice to take the ferry to Phillip Island. Now, as most of you know, Phillip Island is accessible from the mainland via a bridge at San Remo, which is the easternmost region of Western port bay and we were hoofing it on the ferry from Stony Point on the peninsula the other side! After a stop over in Cowes for breakfast and sight seeing my wife suggested a trip to the GP track. Good idea, I hear you say, so into a 'silver top' (why do they call omelette yellow cabs silver tops??) and off we went.



We went for the guided tour of the circuit and buildings including going up to the top of the control tower and in the race control room after which, as there was little else to do, we made for the 'visitor's centre' and lunch. Well, I had forgotten all about what folks had told me and there in the visitors centre is a four lane board and braid slotcar track! A big one too! Tearing myself away we went for a meal and purchased some promotional stuff and before leaving there was a "will I? Won't I?" standoff with my inner self as to whether to pay the eight dollars for fifteen minutes of exclusive fun!!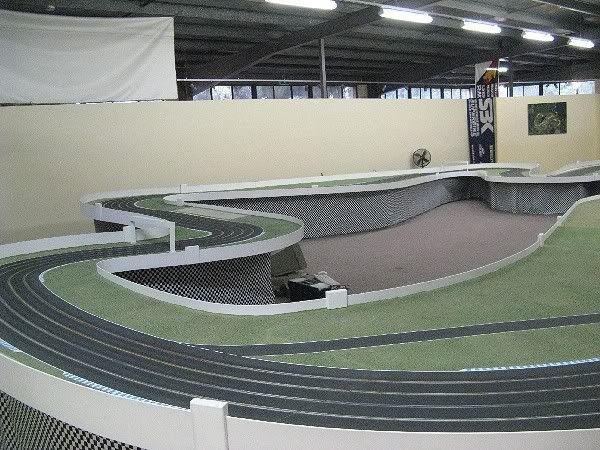 I went into the race room and marvelled at the track. A four lane scale reproduction of Phillip Island Circuit in board and what looked to be magna braid but I couldn't swear to that. Very well made too. I took some photos and could feel myself weakening! I returned to the desk and enquired whereupon I was taken into the race area and shown the display of models. Woe upon woe, the models to be raced were Jelly mould womps with laser cut chassis. Not something I would open a beer for!! So, amid great disappointment and a little sadness, I declined the offer to take up fifteen minutes race time.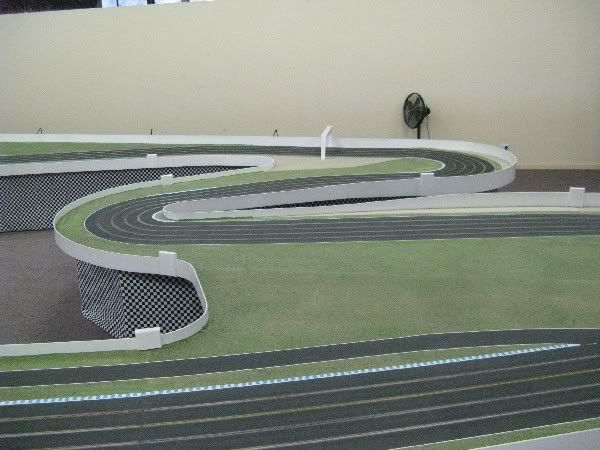 The circuit itself is very good. Four lane timber top and routed as straight as a die. A good surface and potentially a great race, but womps? Nuh! A sad let down. The track is obviously in need of some serious management! I left the complex when our taxi arrived and thoughts went racing through my mind, how good this could really be but it seems it will be confined to one of the dozen or so race days each year that the public are allowed in numbers.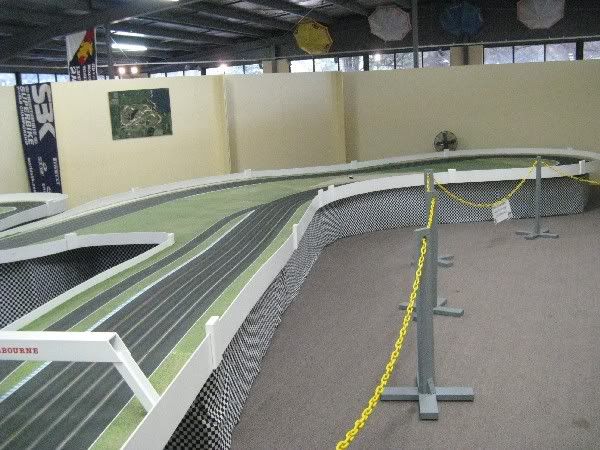 So I DID have a slotcar free week (nearly).Maybe I should contact the circuit owner, Lindsay Fox, and proposition him? Mmmmmmmm!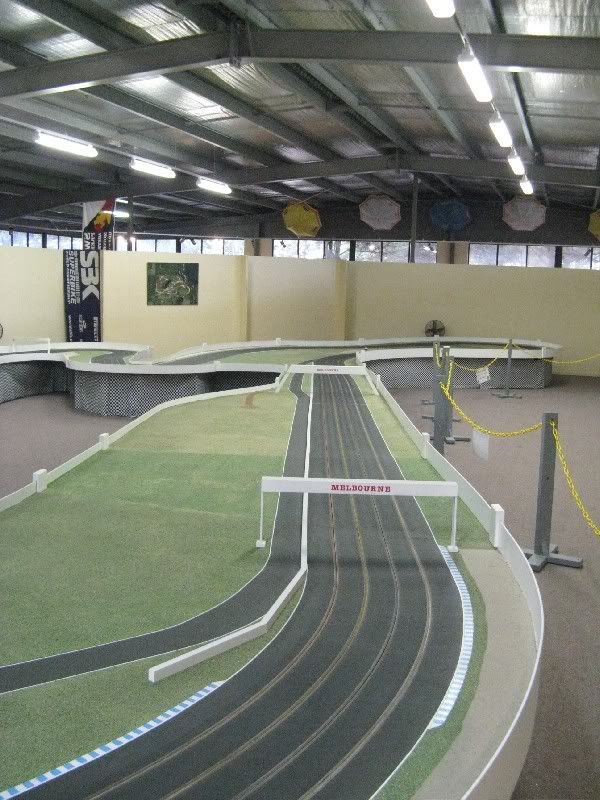 One thing's for sure. If there is a 'next time', I will be toting some serious slotcars in my hand luggage!!