1/32 'True scale' Slot car racing is a truly specialist hobby within a hobby. There are many disciplines in the hobby including scratch building, converting, RTR, Womps, Plafits, Wings and a few more. But one thing keeps the True Scale RTR collector/racer on the straight and narrow and that is the adherence to the original car. Again there are a vast array of slot car models that have no resemblance to anything real, wings and womps spring to mind here, and likewise the emphasis of the owner racer is placed on speed and traction.

Other models dwell in the 'never never' land between scale and obscurity, and with vac formed bodies, it is quite permissible to swap your favourite chassis between an LMP Lola, a Renault Megane and a Ferrari 512!!! In spite of them all having differing tracks and wheelbases? Then there are the vast majority of hobbyists who enjoy the lines of a true to scale model. Either racing it or just admiring it on the shelf.

Like many others, I fit into the last category. I'm not happy with models that have detail painted on or wheels and tyres that bear no resemblance to anything living or dead, let alone the model they are fitted to. Or models with grossly distorted dimensions being three times wider than they are high!

Another part of the hobby is the overflow of interest into other media for the same subject matter. It follows that true scale modellers and racers have an interest in motor sport in general and certain disciplines in particular and as a follow on from this some will collect literature which is motor sport oriented, albeit magazines or glossy illustrated books.

This leads on to a little foray I had at the local library just this week. I was not looking for anything in particular but on wandering into the motor sport section I notice amongst other things a couple of new volumes on the shelf. The first was a new copy of the recently released Randy Leffingwell book "Shelby Mustang - Racer for the street" This book is amazing in its own right. It is not totally definitive and isn't an endorsed work but the author acknowledges that Carroll Shelby had a tremendous input into this book.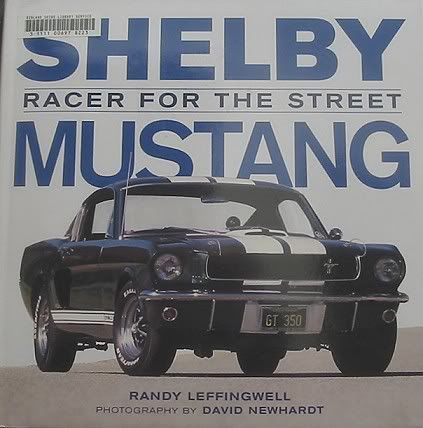 The book covers Shelby's career in motor sport and manufacturing from its start to the current legacy. Its a story of a chicken farmer who built and inspired others to build world class racing cars at a time when American motor sport was a non event outside the US. From his first competitive drive in a friends MG T.C. to the legacy in the 2006 GT500 concept Mustangs. Taking in such fame as the Le Mans winning DB3's, the Cobras, the GT40's and a succession of Mustangs to the present day. This book is superbly illustrated and gives the reasons behind decisions good and bad which caused Shelby to become an all time great in the field of motor sport.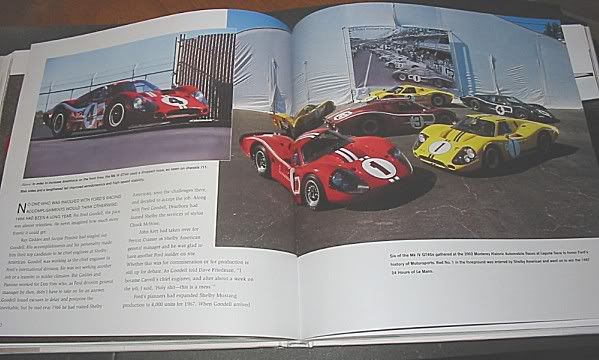 The second book is more definitive and covers only one Marque, FERRARI!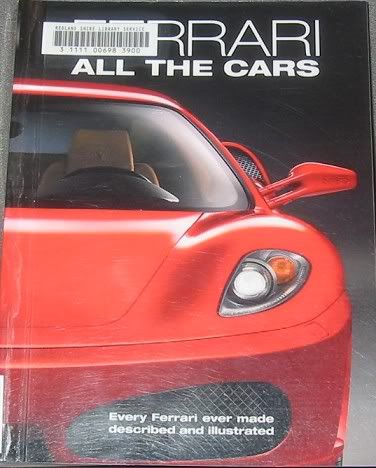 Again this book is a recent publication. First published in Italian in 2004 and updated and published in English in 2005. It is called :

"FERRARI - All the cars"

The book was compiled by Leonardo Acerbi and by his own admission it is 'Every Ferrari ever made described and illustrated' (to 2005). I suspect that it is more a reference book than a good read as it is divided up page by page into 'Technical specifications. A short narrative regarding a successful driver for the model shown and a longer narrative giving historical detail to the model.

The first car illustrated is the 1940 Auto Avio Costruzioni 815 and the last is the Michael Schumacher Ferrari F 2005 F1 contender. Needless to say, in between is every conceivable Ferrari made, just hunting out some of you favourite models is satisfaction enough.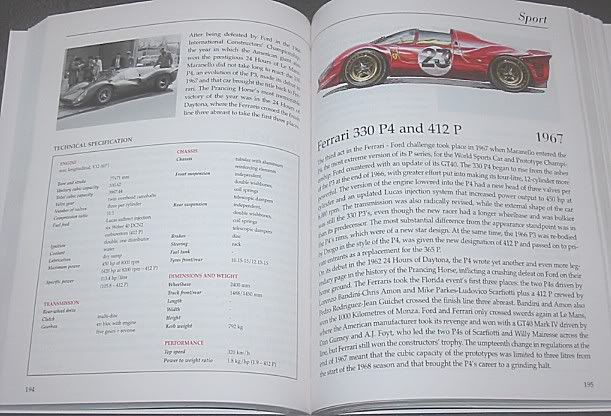 For the scale modeller, every important detail is there and for the enthusiast it is a source of endless reading.


If either of these books grab your attention then hustle along to your local library and reserve yourself a copy. If you want to buy either or both the details are as follows :
Shelby Mustang - Racer for the street.
Author Randy Leffingwell
Publisher Motorbooks (MBI Publishing company).
ISBN-13: 978-0-7603-2117-1
ISBN-10: 0-7603-2117-5
FERRARI - All the cars
Author Leonardo Acerbi
Publisher Haynes Publishing
ISBN 1 84425 312 0