After discovering two or three years ago that slot car tracks in my garage severely interfere with the neighbours TV and then finding my neighbour videos all the soaps so he and his wife can watch them in the evenings was a bit of a sledge hammer blow to say the least! But, as always, true friends come to the rescue.

My track was moved back to its original owners garage. (The 21 metre two lane board test track). My friend and immediate neighbour rebuilt his four lane Scalextric into a superb two laner using all collectable Scalextric parts (elsewhere on this board).

Friend Chris from Four Seasons SCC has a new board track and a new Carrera four laner in the making to replace the old Scalextric/SCX track I have been doing plastic track testing on. And lastly, Longtime friend and fellow Slotcar Legend Lindsay has random open house on a huge four lane board track under his house in the inner Brisbane suburbs.

At a squeeze there is also use of a custom built mobile four lane board track in its own trailer also at Lindsay's.

So, from famine to feast in a few short months. The end result is that I usually enjoy some good competition outside of organised racing at least a couple of times a week. This week being the Xmas holidays, I went to Brisbane to Lindsay and Cathy's for some slot car dusting!! I took along some old and new stuff and several scratch builds and spent the late morning and all afternoon head to head with the guy who is probably Mr Slotcar 1/32 in Queensland. Undefeated in all his fully attended race seasons.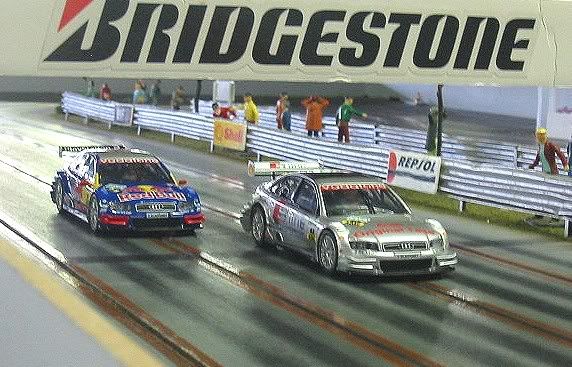 First out the box were the Carrera DTM's, my Audi Parts and Lindsay's Red Bull A4. These models are so quiet! No wasted energy here! After a few laps the tyres were trued and the pressures checked (WD40 pressures, that is!) Off we set and it was soon obvious there was nothing between them. Early hitches were a tendency for the models to tip in the high speed sweeper but some judicious sanding of the rear tyre edges fixed that and we must have spent half an hour battling it out on yellow and green lanes! The extra punch from some MRRC two amp transformers certainly makes a difference to these models!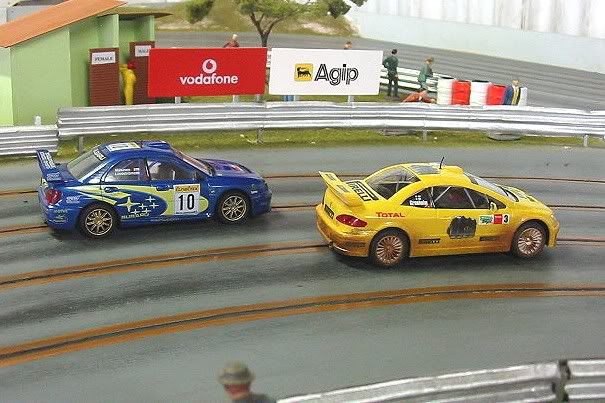 Next up was Ninco Rally, on board tracks these are hard to beat for rally class, I had an old Subaru with a well run NC2, Motor heavily glued and slack removed from the rear end (and FWD band removed) whilst Lindsay settled for the newer Peugeot 307 with NC5.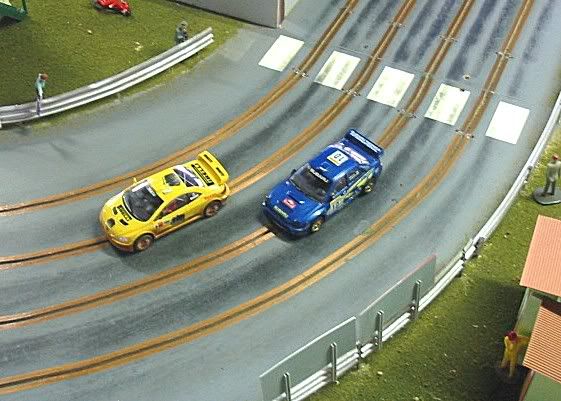 The 307 was a couple of tenths better than the Suby to start with but redressing the tyres and a bit more body slack saw the Suby running at optimum. Once again there was nothing to choose between them, and It was all I could do to hold Lindsay off between track squeeze sections!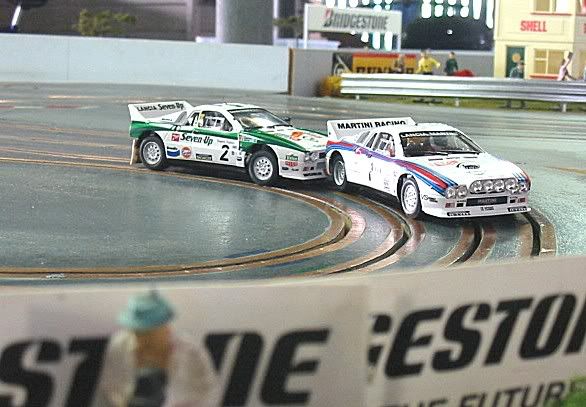 Next up was Fly's turn. My Martini Lancia 037 and Lindsay's Seven Up were pitted against each other. Two great and quick models. Whilst Lindsay's had some ballast in it, mine was prepared but unballasted.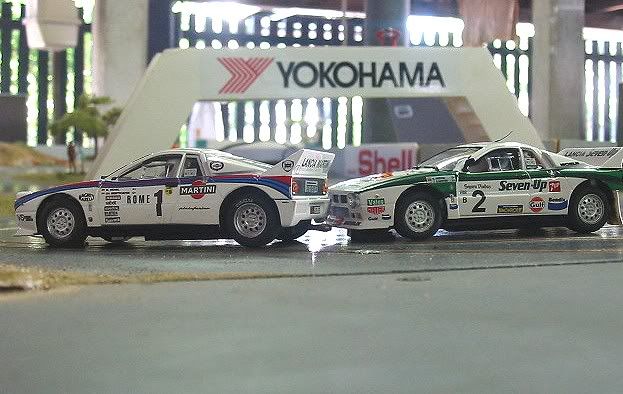 It was soon clear the extra 5 grams up front did the trick for the 7 Up! But even then, hard in the right hand sweeper saw both models tilt onto outer tyre edges. After removing the tyre edges there was a slight improvement but we both agreed that the best fix was probably to stiffen up the front axle movement to reduce the tilting.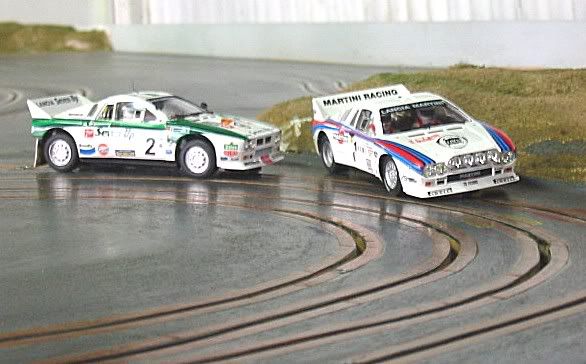 One thing is for sure, the quality of Fly tyre rubber for use on board has improved tenfold!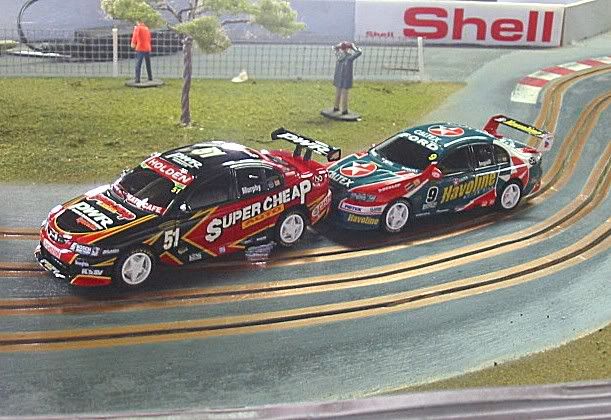 Next were the Aussie V8's, The best cure for these is about half a kilo inside, anywhere will do!! Seriously, out of the box these cars are very unstable. They leap from the slot on hard acceleration and tip over in the bends 'because!' But some careful body tuning will see these cars fly on wood without masses of weight and without affecting their plastic track performance!!






No more than a well placed ten grams is needed on these. A good rear tyre profile to reduce tipping. Some extra bodywork to get the body to "float" properly and finally, steady, smooth throttle action will see these beauties lap far faster than their initial performance out of the box belies!!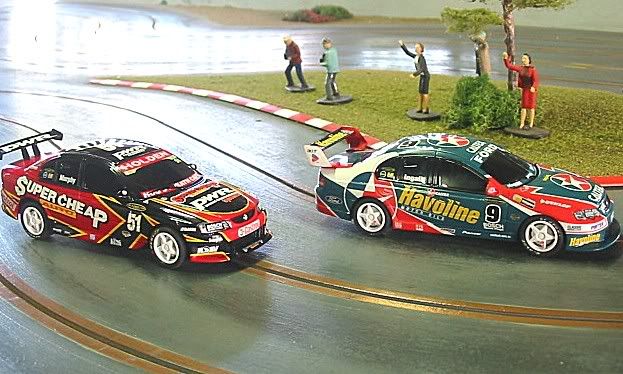 Lastly were the Scalextric Cart cars. These models with a little work are potentially the fastest open wheelers on a 'high talent' circuit. (that's one with not too many long straights as opposed to a 'low talent' circuit with lots of long straights).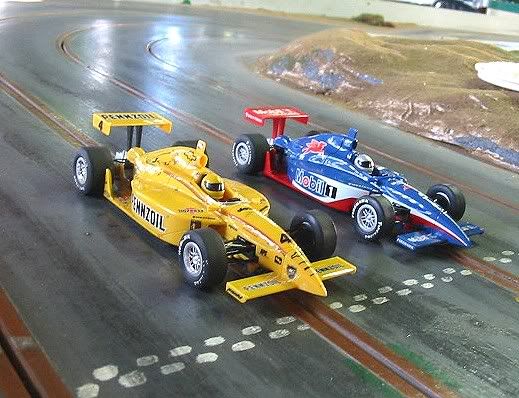 The tyre compound is first class for board and the low 'C of G' guarantees high speed corner entry and rapid exit too! Both these cars were a hoot from the word go! I hadn't raced mine before. I won it at an F1 event a couple of years back at Rob's Millenium Raceway and having seen these very delicate models become unrecognisable wrecks very quickly on low talent circuits, I decided to cherish its wholeness!!


Lindsay's track is a very difficult circuit to learn and is a multitude of short straights, sweeping and tight bends copiously interspersed with converging slots or 'squeezes' which sort the men from the boys. So, no high speed mayhem and I took it from it's box for its first serious run. Both cars took to board like ducks to water! Again, nothing between them.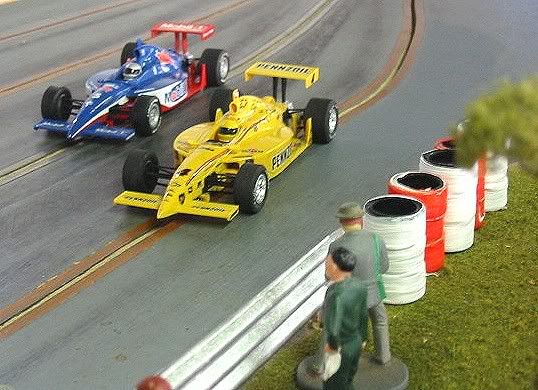 The only observation would be that the return spring on the guide is too strong and caused the models to behave strangely in the wooden slot corners as well as making a fairly odd noise in the bends too!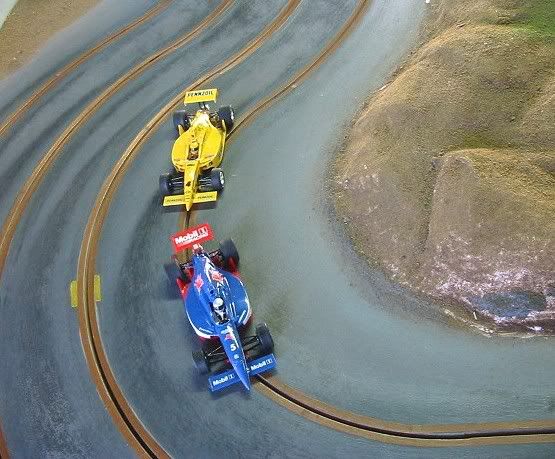 Apart from the above we ran a few other odds and ends including SCX Ferrari 550's and a few of my scratchbuilds including the latest to be finished. The Aston Martin DBR1!

With the sun getting down and the temp falling back to about 28 Deg C we called it a day and I returned home to the Family. Wife returned from work and asked "have you had a good day dear?" Well, what could I say!!