Four Seasons Slot Car Club




Four Lane Board Circuit




Four Seasons Slot Car Club recently had the good fortune to pick up what is probably one of the best board circuits I have raced on. The owner was moving home and wanted to dispose of the track. Chris at Four Seasons had been talking of a board track for some little while and was at the right place at the right time and for a fair price secured the circuit.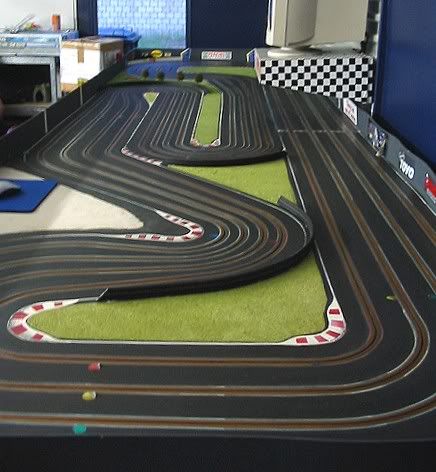 The track is possibly three years old and was built to fit into one side of a garage space. The whole thing is mounted on castors which are useful and the track is constructed of MDF on a wooden frame. The track surface is a proprietary black roofing paint with a metalised sheen. Conduction is by self adhesive copper tape and there is a windows based race management program to control events.

The layout is very space efficient and through careful planning just about all spare space has been utilised. There is the 'compulsory' long straight which sweeps into a left hander and tightens into another left and right. A short straight with converged lanes calls for some careful judgement leads to a surprisingly negotiable right hand hairpin. More close lane racing brings the driver to a left hand hairpin and short straight. From this the track bears left and opens out into a right and two steady lefts back onto the main straight.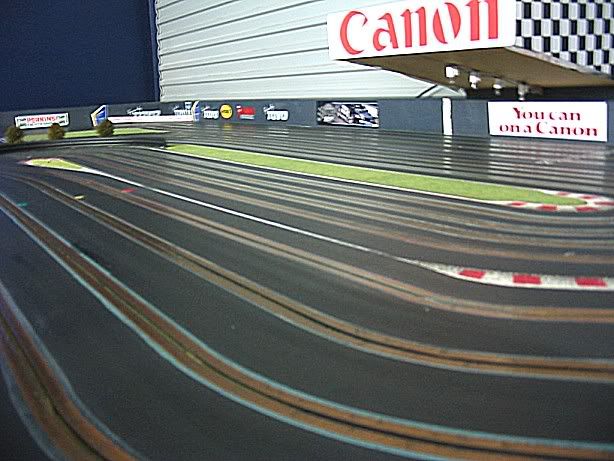 The track surface is a black roof paint which appears to have some sort of metalised adjunct in it. I can only guess that this attributes to the tracks better than average grip for a painted surface. Scrape marks in model roof tampo tend to back up this belief! Whatever! The grip gets better the more you race and noticeably less tyre cleaning is needed.

Power supply is via an auto battery connected to a battery trickle charger. The battery supplies almost insatiable amps for instant acceleration and the higher battery charger voltage takes over to give a respectable top speed. No need to worry about the negative effects of AC ripple as the battery acts as a huge capacitor and nullifies any present.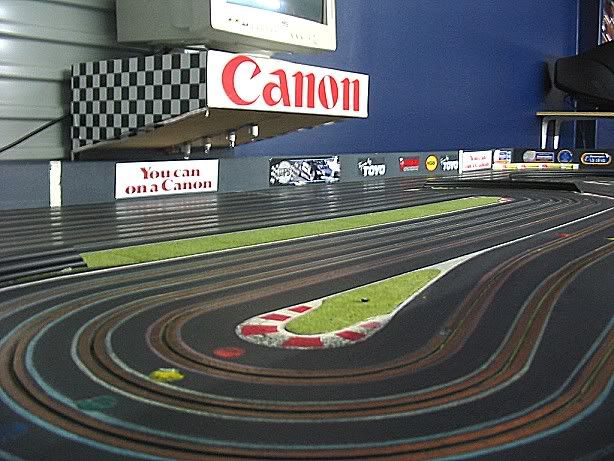 I rate this track as a high talent circuit. To race it successfully you have to be totally aware of everything going on around you. Without lane barriers you may need to be prepared for cars coming at you head on from unexpected directions. It is also necessary to wait for the passing places as a hasty decision and a bump in one of the squeezes could see the bumper off instead of the bumpee! The track demands that the model set up is tip top before you even start a heat. Loose motors and axles and eccentric wheels and tyres will inevitably manifest themselves as varying degrees of juddering through bends and down the straights with a resulting loss of progress!

It is always a dilemma as to what track to fit into a small home space. To the unskilled, the only option is to subject yourself to a commercial plastic layout and suffer the double inner curves just to get a decent lap length. But with just a little pre preparation and research you can make a first class circuit similar to this, increase your lap length by thirty percent and get a highly entertaining circuit to boot. Plus, most models set up to drive well on board tracks will drive admirably on plastic but the reverse can seldom be said!