SAN PHOENO CIRCUIT
Daisy Hill, Brisbane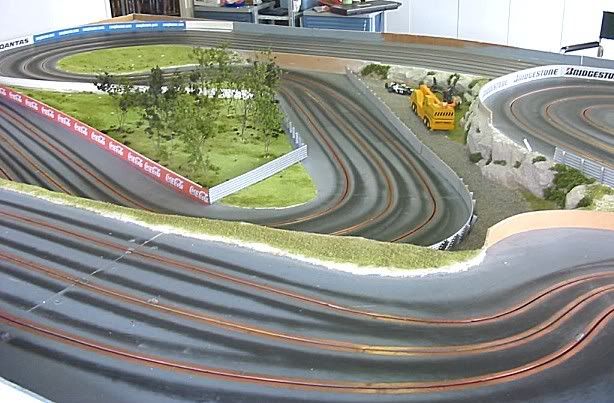 This track was recently acquired by slot racing friend Rob Kaye and has been installed in the Daisy Hill area of Southern Brisbane. I got an email a week or so back from Rob to say he had the track and as the move had left parts of it not working he asked if I was able to come and have a look. Time was arranged and off to Rob's I went. An hour or two was spent tidying the electrics and repairing some of the damaged copper tape conductors. Eventually all lanes were firing and even though I took no models along with me, it seemed almost compulsory to put in some serious hot laps for the duration.








I had heard of the track but it didn't feature in any of the circles I race in so it was a pleasant surprise to see it installed at Rob's and hopefully it will get a good work out. It is especially useful to Rob as he hasn't previously had a track of this magnitude and there will be plenty of scope for him to hone his skill and set his models up for board racing.








The three laned track has been very skillfully designed by it's previous owner and builder. Thought has gone into all of the circuit and the best features of other local tracks seem in evidence. As well as the obligatory main straight past the drivers positions, there are a couple of nice sweepers, a nice unwinding uphill bend, a converging tight left hander and a down hill section with almost a chicane type left right, very reminiscent of the mountain decent at bathurst!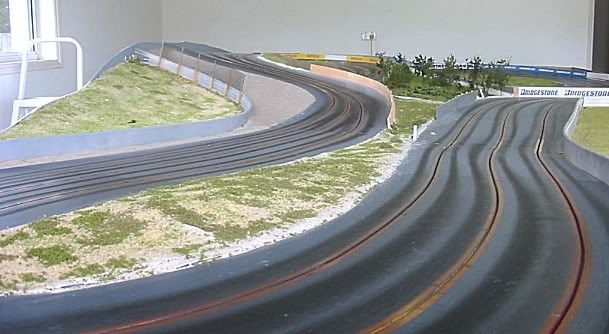 The track is powered by an auto battery with trickle charger on duty. This gives all motors heaps of grunt and enough top for the straight. There is a comprehensive race management system in place with driver rotation, time / distance settings and a host of other features including overall heat tally and race position plus timing to 1/1000 sec.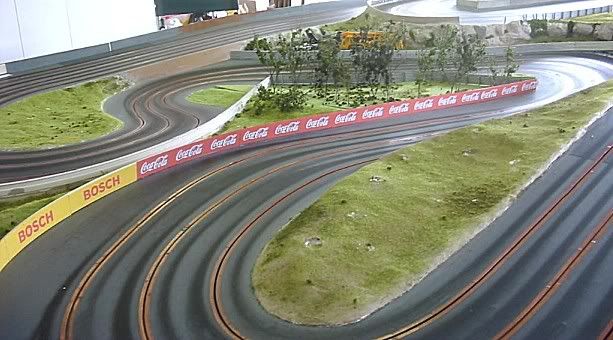 What does it drive like, well there is plenty of 'blue grove' on the track and consequently plenty of grip. The track flows well and there are no sudden surprises. It is also a '3D' track, having well thought out raised and lowered areas. Landscaping consists of 'grassed' sections and stands of trees, although these had been removed for transporting purposes and have yet to be refixed. The landscaping also includes very convincing rock cuttings and simulated armco barries.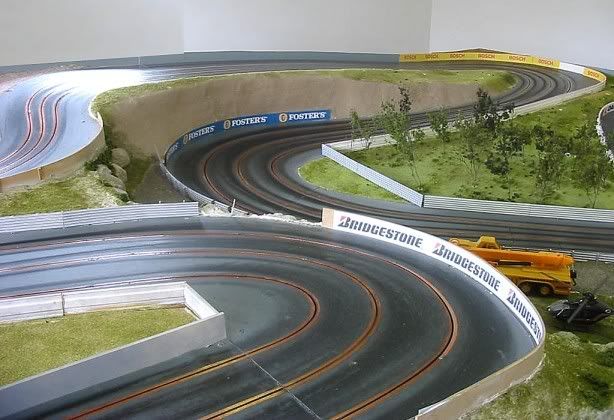 Rob has been very lucky to acquire a track of this standard. One of its successful attributes is the fact that the designer hasn't tried to cram as much track as they could in to the available space. Instead, they have built a track that, although it could have been longer and more 'busy', it has been made a smooth flowing car/driver circuit. I would rate it as a medium/high talent track.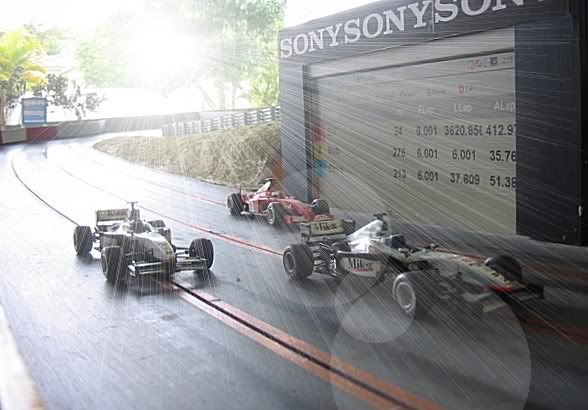 For a young person, Rob has matured greatly as a competent slot car racer over the last year or so and this track can do no less than take him forward in his racing and tuning abilities. Sadly, since this article was written, the track has been dismantled