Not the best kept secret but still a mystery to most is the new track at the home of John and Sue Forson. John and Sue have a sumptuous home on a large block at Narangba. John has been a keen slotter since the Albion days and on and off has raced with the guys for some years. After some remodelling of some of the out buildings on his property John saw the possibility of fitting a slotcar track in the corner of one of them! One of the garages was then earmarked for further development and what developed could only be described as a Mecca for Slotcar and Racing enthusiasts. And like Mecca, it is going to be a must for locals to make a pilgrimage to this venue at least once in their life!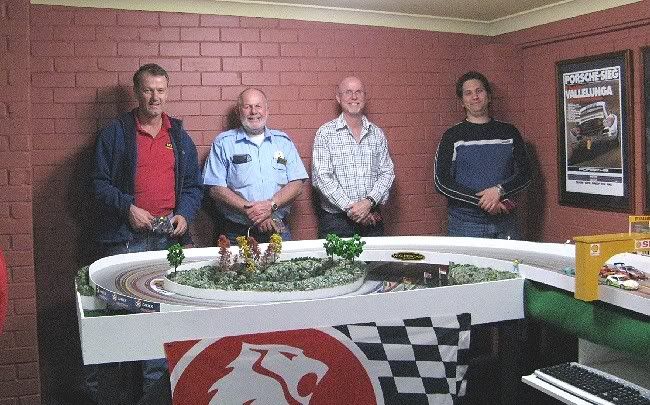 Driver stations are at the end, a dubious looking mob if ever there was!!




John has put a lot of thought into the track and the depth of features is good. Its primary feature was to be a flowing, fast track for the space available. He had previously raced on the Alex Hills track some while back and was impressed with the general flow and drivability of it. Not too many technical pieces which might slow progress too much. Squeezes, as always with us Queenslanders, are a must and two or three spots have close enough lane spacing to make you think twice about passing cars on adjacent lanes. At least one converging section has a staggered lane spacing putting some lanes into tighter squeezes than others.

The straights are well spaced and the feature I like here is that they are close enough to almost rub door handles in places without being restrictive. I'm not a lover of straights with massive spacings, where 1/24 scales can pass in comfort. Firstly, that is a waste of precious space which will reduce the total track length you could fit in and secondly, I like people to feel my slipstream as I come past!!








The Stop/Start straight leading down into turn one



John and Sue have also added a comfortable degree of landscaping which incorporates a very effective lake, some paddock area and lighting along the centre of the straights. Once again the track has a race multi function management system which smoothly handles the entrants and heats.








Track lighting at the hairpin into the back straight



From the start/finish line the track heads down a gradual slope into turn one which is a medium slow right hander under a pass over. A shallow 'S' bend with severely constricted lanes brings you into turn two which is a fixed radius bend with diverging lanes, leading on to a tightening right hand turn three and immediately into turn four which is almost a left hand hairpin. From here you can power down the second straight to a moderate left hander and into another under pass section onto a parabolic curve, tightening sharply at its apex. The exit to the parabola is an opening right hand sweeper. Here you can almost blast flat out on to the stop start straight again to finish your lap.








Turn two and three coming out of a narrow section



Driver stations are at the end of the track and John has wired the circuit to comply with national slotcar standards with round pin earth plugs. This means you can use your own controllers here. Marshalling ideally needs three people but two can cope providing there isn't too much mayhem in the harder to reach spots. The track was built by John and the prolific master of Queensland slot track builders, Lindsay Smith. The track is painted MDF non magnetic with copper tape conductor strips. John has used a novel lane marking system. He has used self adhesive auto styling pinstripes which run continuously at one side of the slot. The advantage is that the colour is fresh and shouldn't discolour. I wasn't aware of them affecting model performance either!



The Inauguration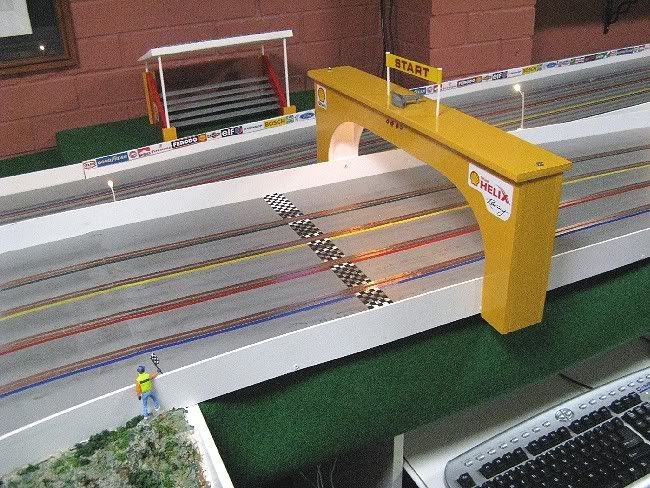 Inevitably there has to be a first meeting. John and his family have been using the track for some little time now but I didn't think there had been an 'official' race meeting. I was asked to gather a small group together to give it its first workout, so, with a limited number we met up at Nerangba to hold the first meeting of sorts. Early arrivals had the opportunity to run a good cross section of models on the track. There were already the makings of the blue groove on the surface and models were running well with little preparation. Eventually the group was complete and needless to say, the first Official race had to be a Porsche event (John being an ardent Porsche follower and driver to boot) Weapons were chosen and the race management system was set up to take us through a round robin of heats to the finish.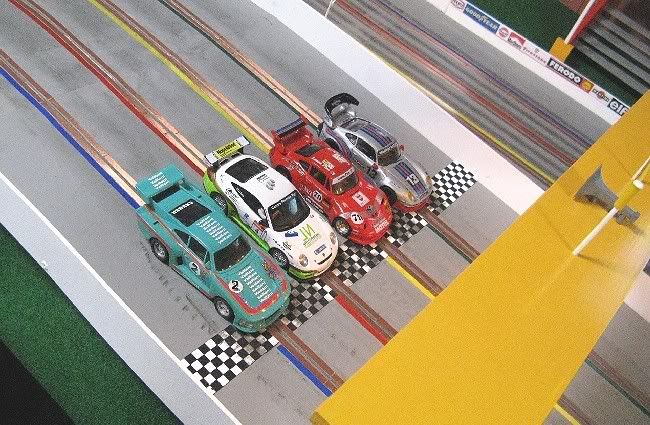 The start of heat one



The first couple of heats were obviously learning curves for some of us as models were tangling. The inadvertent absence of model lane stickers caused marshalls to panic a little but I adopted the 'stick it on any lane' approach and models soon returned to their owners, albeit on the wrong lane! There was also some frantic model changing between heats too as some racers were not happy with their original choices. Fastest car had to be John's Proslot GT2 but he found it hard to keep away from back markers and trouble until HE became the back marker!! Glen chose a very stable (and rare) all white SCX 959 for his debut but it wasn't too long before he placed his Racer 935 on the track, and off again. Jordan's reliveried Proslot GT2 was also a contender but the track I fear just got the better of him. Alan drove some particularly quick heats and on one occasion took the lead from me with one lap to go after an altercation in turn one.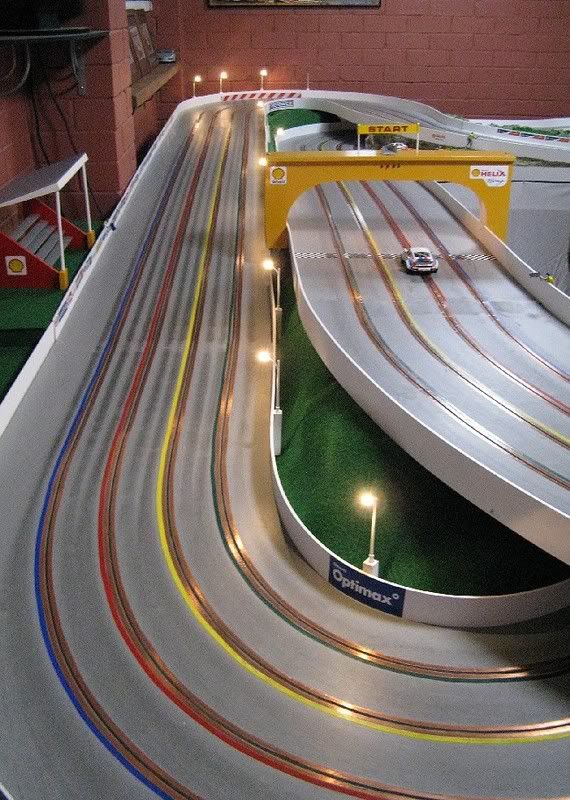 The back straight



Racing settled in well and I'm sure all who took part thoroughly enjoyed the evening. Apart from the track, John has taken a leaf from fellow north coast racer 'Eggy's' book and has installed a massive widescreen TV projection unit. The system incorporates top quality hi-fi sound and luxurious Parker Knowle type reclining seats. We were treated to a run of some of the classic motor sport DVD's and a showing of the Goodwood Revival 2006. Absolutely amazing!!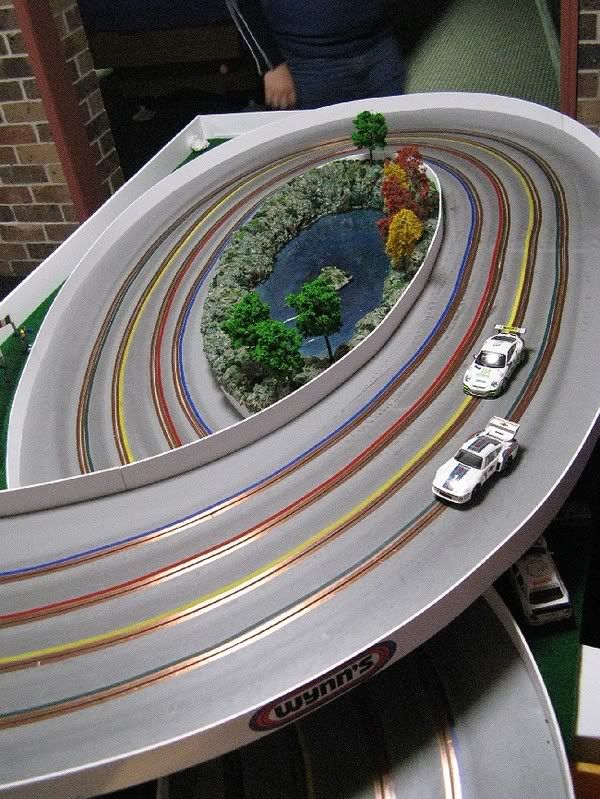 The Parabola and sweeper onto the main straight



All I can say is that we must be amongst the luckiest slotcar racers around with so many good venues. Many thanks to John and Sue for a most enjoyable evening and I'm sure we all look forward in anticipation to the next evening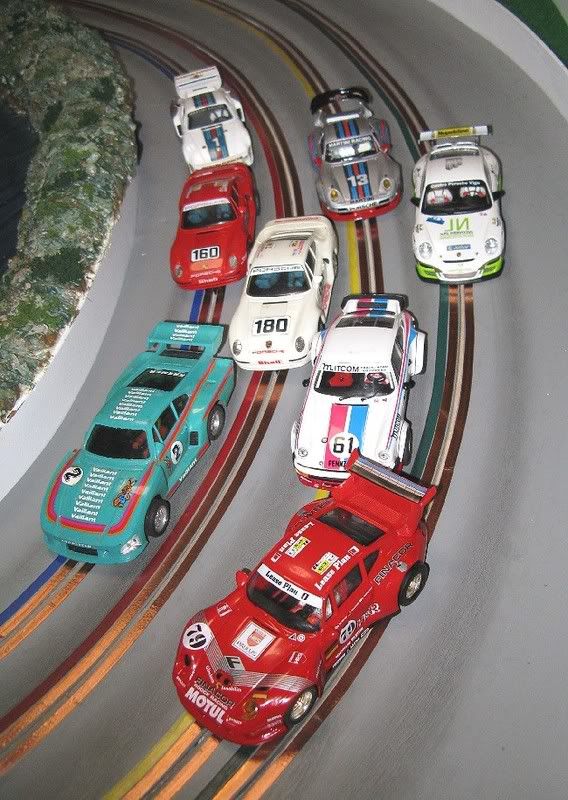 Now just keep an eye on that 935 over the back you guys!! Say no more!