.
.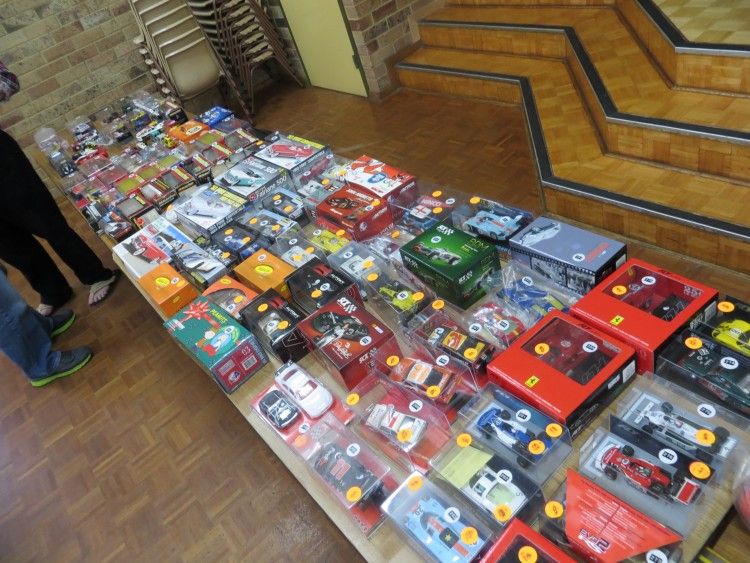 If there is one thing that every Aussie Scalextric aficionado needs to do at least once in their life, it is to make the pilgrimage to the Loftus Community hall south of Sydney and take part in the ASRCC slotcar auction held once every year about the end of August.

The auction has been going for many years now and was originally inaugurated to inject cash into the clubs coffers to help publish the magazine which they issue eleven times a year. The magazine is an integral part of the club's activities and over the years has enlightened the member to the dark and mystic arts of Scalextric (and other) slotcar racing and collecting.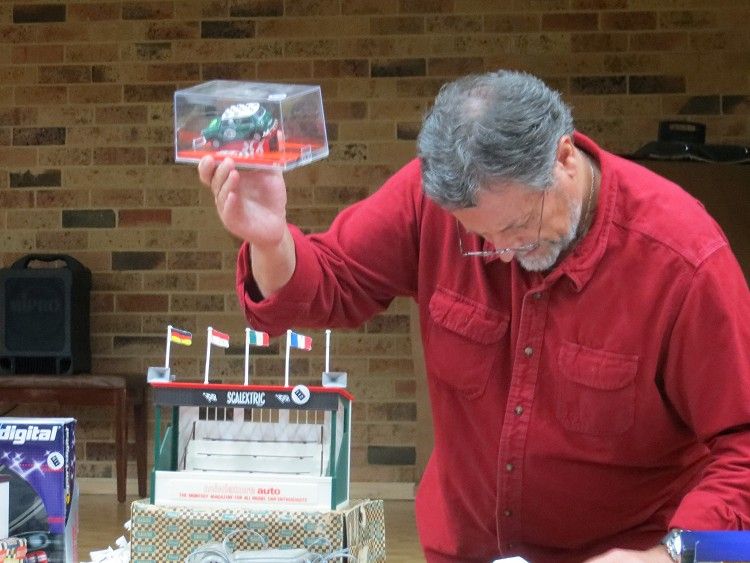 Rod Holman touting a mini




With the internet now being more and more dominant in the hobby the need for magazines has subsided and many an organisation has dropped 'hard copy' in favour of on-line blogs. The ASRCC have chosen to retain their's and indeed it is currently experiencing a revival, giving old school hobbyists and young racers alike something to read over the breakfast table/on the train/during lunch at work and many other situations.

The club has also endeavored in more recent years, with the aid of Hornby Hobbies, to produce unique club cars. Beginning with the iconic TVR Speed 12 and being followed by at least three other models, these cars are much sought after and often reach triple figures on eBay and the like on the rare occasion they make it there. So where is all this going?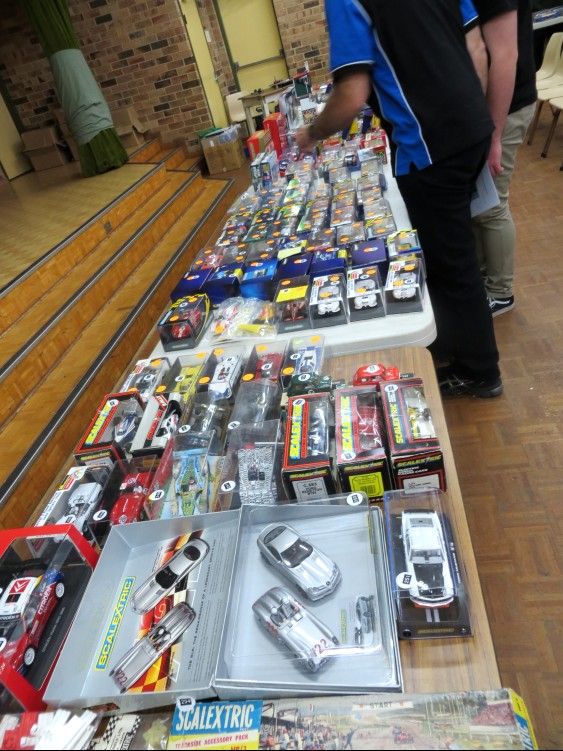 In simple terms, the club have retained the auction as in important part of fundraising so they can continue to offer their members the best in slot club services; and in a time of rising membership I'm sure it won't be long before the club once again enjoys the popularity it had towards the end of the nineties.

The auction takes place at the Loftus Community hall south of Sydney usually on the last Saturday of August, and where it was once a closed shop, there is now a concession which allows non club members to attend, and for the princely sum of ten dollars they can join in the fun with the regular members.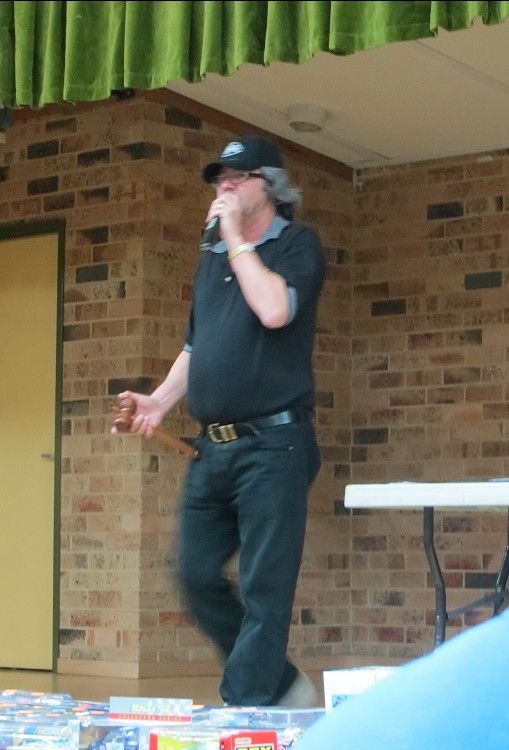 Auctioneer and Master of Ceremonies, Mr Rod Dixon



The lots are 'donated' by club members and business alike, and the basic idea is that ten percent of the sale price of a lot goes to the club with the balance going to the vendor. Rod Dixon is also a club member and gives his valuable time freely for the benefit of the club and its members.

The number of lots fluctuates from year to year, and at this year's auction there were approximately four hundred; and with about six hours to sell them in (with breaks) the pressure was on the auctioneer and the bidders to keep up the pace.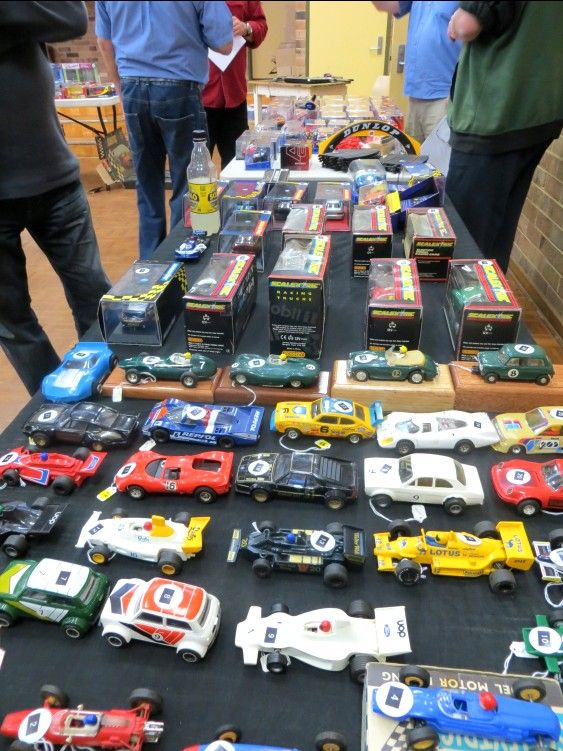 The auction is not a process to relieve people of their rubbish, far from it!. Every year there is quality in excess and this year was no different with a couple of boxed Scalextric 'build it yourself' kit cars selling for good money. The Cobra reaching $460.00, and the Porsche 904 reaching $410.00. Quite amazing! Another model which sold well was a very tidy Scalextric Sunbeam Tiger which sold for $100.00, Also among the lots were several items whose proceeds were donated to a local hospital charity.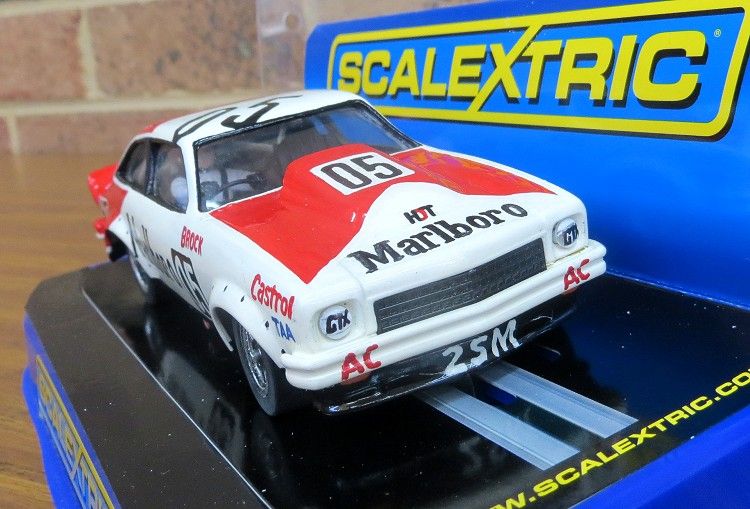 But it's not all big bucks, there were also some excellent bargains to be had with new NSR cars selling at a third their shelf price and some excellent Fly cars barely making it over the $40.00 mark. An early Scaley truck was the centre of attention in one bidding war with the knock down price reaching $76.00. From my perspective there were some hard to find early Ninco NC1 Alfas and Celicas which only just made their $40.00 reserve and a lonely Peugeot 306 'Esso' which some lucky person secured for $27.00! All mint in box!!

Apart from the auction there is always plenty to entertain, especially when the Terry brothers are in town with their unique style of bidding. Another celebrity in local circles is Steve Bushell, famous for his prowess several years ago, and before Scaleys first releases, in turning Scalextric Audi A4 touring cars into a range of exceptional V8 supercars complete with remodelled front and rears.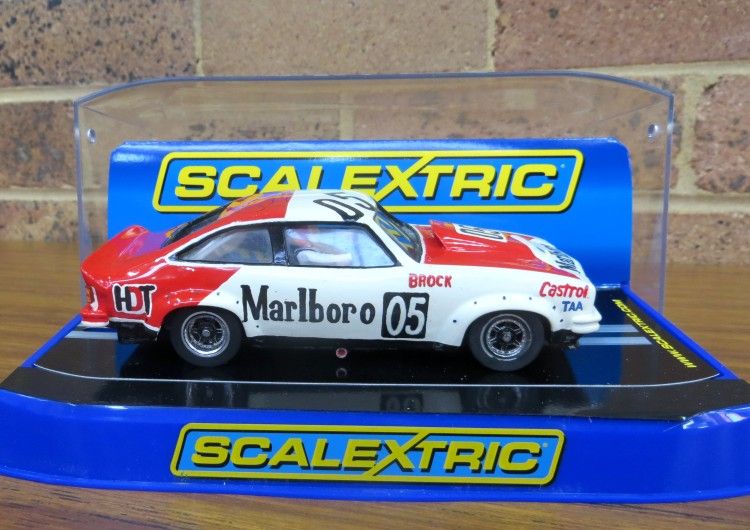 On this occasion I was privileged to see a couple of his latest creations. One being the Kev Bartlett channel nine Camaro, and the superb Brock Holden Torana, this time modelled from two separate cars, one being an early Scaley Ford Capri!!








High point at the auction must have been the presentation to Jason Brooks of his long awaited trophy for becoming the 2012 Scalextric world champion slot racer . Jason competed in the event throughout 2012 against very good opposition from many countries around the world and managed to squeeze himself into first place overall. Well done Jason.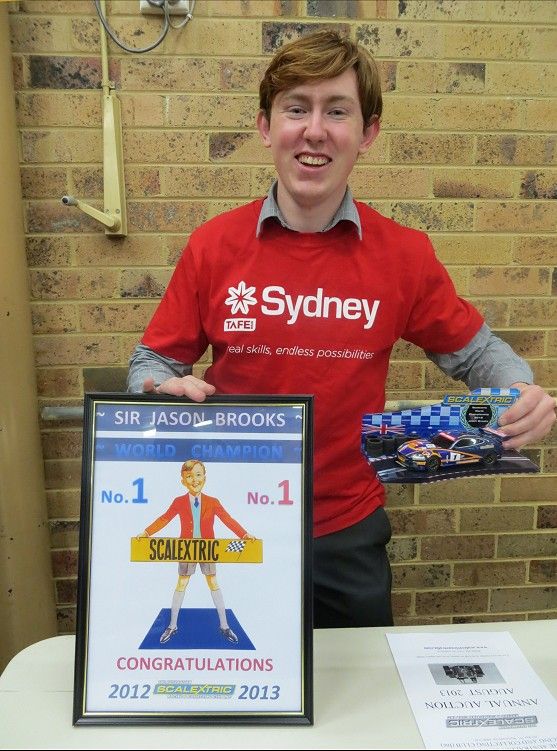 One of the rewards is a very nicely decorated model of a Jaguar XKR suitably tampo'd for the occasion and bearing Jason's name across the sun visor. The model is also attached to a suitably finished dais which also proclaims Jason's title of World Champion!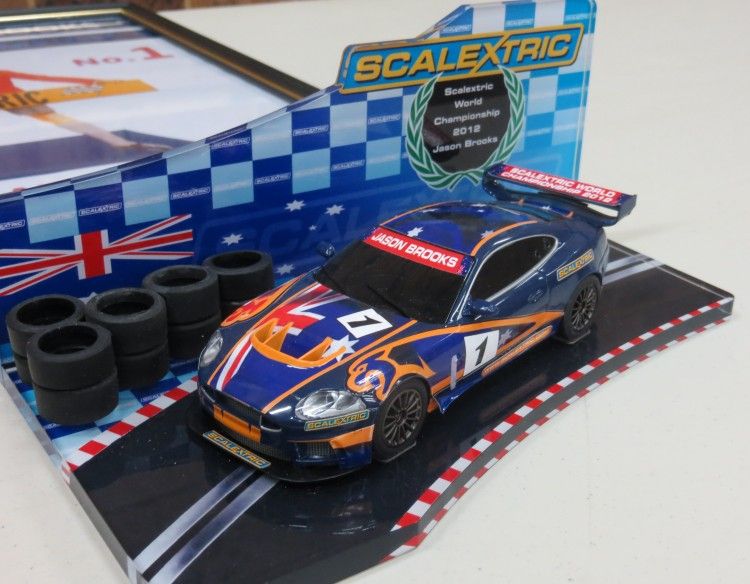 With all this going on time soon passes and before you know numbers have thinned and the last lots are coming round. Then it's time for goodbyes and the long (for some) journey home. What ever else it could be it certainly is value for money. The auction catalogue does not do the entries justice and the only way to do that is to be there, at the auction. So, if you haven't already been, make a mark on next years calendar and come prepared with some fresh folding spondulicks, and be prepared to go home with a broad (if not a somewhat tired) smile on your face!