Laguna Seeca





Brisbane, North Side





Laguna Seeca, surely that's a spelling mistake ! Not really, it's a play on words probably known only to those that race there. The track is owned by one Bob Seeney and the play on words is in the surname, but that aside, it is a nice flowing Ninco track.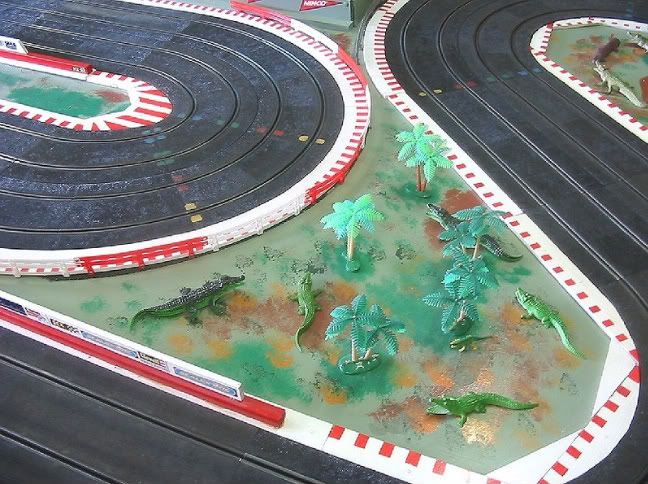 I have to start by saying that Ninco track is not that user friendly and it is not without more than its fair share of problems! The track surface is probably the coarsest you will encounter. So coarse in fact, that you could quite easily graze your skin sliding along it in a hasty marshalling incident! Its coarseness will ensure that all but the flattest of non magnet cars will have problems in the corners. Even some of the classic magnet offerings will be subject to sudden unexplained deslots. But its coarseness is not totally to blame for that. The conductor rails too are prominent like scalextric classic track and a lot of the more recent models get 'hung up' by the chassis on the rails, wheels spinning in mid air. Recent Fly cars are especially prone to it.

The more prominent problem is that the track slot is lined. That is to say, the slotcar's guide doesn't run against the metal rails in a traditional sense but the propylene type track has a thin liner between the conductor rails and the slot. Great idea I hear you say. Yes, a great idea, but unlike Carrera, the idea doesn't quite make it from the drawing board to the finished object!








The slot lining is fine on the centre parts of track sections but where the track sections butt up against each other, the liner gets distorted and forced into the clearance of the slot, forming a potential 'pinch' section at each join and believe me when I say it can become daunting! Some makes like Fly and Ninco with very narrow guide blades, can survive this, but other makes like Scalextric, SCX and several more, struggle to cope as in the worst cases it will bring you car to a grinding halt. With this condition being prevalent in bends it goes without saying that a track with plenty of straights has less of a problem. Fortunately, Laguna Seeca is one of these. A mid talent track with some good straights to be enjoyed. This is how it drives.

The track is mounted on a purpose built timber frame in its own shed where it shares space with some aero modelling paraphernalia. The track is in about its third incarnation as all tracks should be and it is a good driving circuit with the emphasis on speed. The start line is situated directly on front of the driver's stations. There are some in track IR sensors served by a set of overhead bulbs. This has proved very reliable at this track. The race management system can be set to time or laps mode and it randomly shuffles people's names for each heat until all contenders have driven all lanes. At the end of a race it calculates the total elapsed time for each driver across all lanes and gives a readout listing them from the fastest to the slowest. It also controls the track power relays either individually or all together when in time mode. The track, like all Ninco power bases, can be run in both directions at the flick of a switch but for the purpose of this drive round, we'll go clockwise.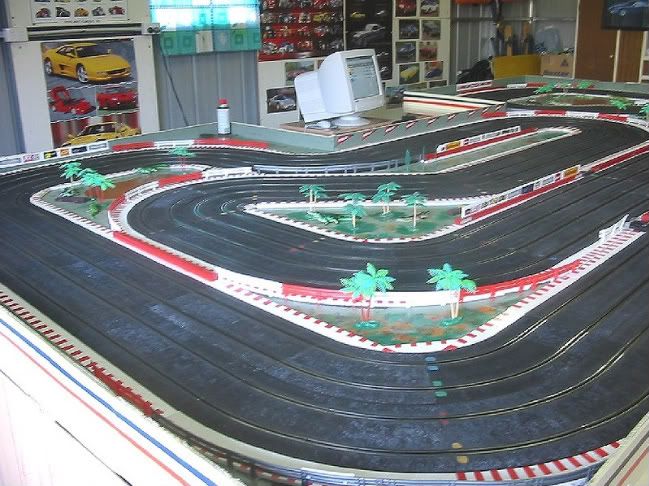 Setting off from the stop / start line turn one is a standard right hander. This takes us onto the short side of the baseboard for a shorter straight into turn two, another right hander. A third short straight leads into turn three, another standard right hand curve. By now we have slowed considerably and should be setting ourselves up for the infield.








Turn four is almost a continuation of three and leads left on to a medium straight into a parabolic 180, almost a hair pin. Fortunately, the speed washed off coming into it and the approaching standard curve is enough to minimise the risk of a deslot at the 90 degree inner curve at the centre of turn five! Next is anther medium straight which leads to a 45 degree right, turn six, which goes immediately into a inner left hand bend with a single straight in it which is turn seven and eight.








A good sized straight follows and at turn nine you can enjoy a sweeping 135 degree left hander into a brief straight. Turn ten comes as a right hander and another short straight into a right handed turn eleven. The following straight takes the track down the short side at the other end of the circuit into the final right handed turn twelve and onto the stop / start straight for another good lap. Another problem encountered but which applies to all who race is that the outside lanes, for some unknown reason, are harder to race, even with borders? We all experienced phantom deslots on the outside lanes whilst racing recently. Even after considerable use the problem persisted.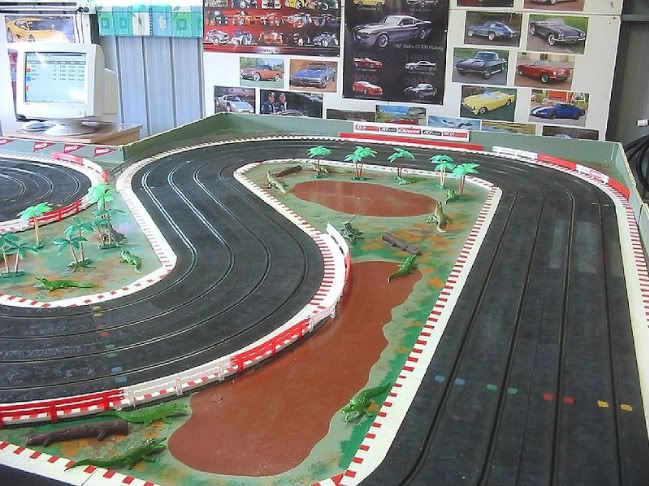 An average lap here is in the low sixes. Power is supplied by four Ninco wall warts and whilst debugging the track relays recently I measured them at a no load voltage of 25 volts!! The controllers of choice are Ninco 55 ohms. I couldn't help feeling that maybe they should be 40's or less. Perhaps the binding joints were being deceptive. All the same, ten out of ten for Bob in building the track and the shed 'et al'. For someone with a few short years in the hobby he has put together a first class venue for competitive racing.







The track is tastefully decorated with palm trees and crocodiles; I think Bob must be a real keen Steve Irwin fan. Most of the Crocs look harmless but they certainly outnumber the spectators. Once again, a good track but when racing different makes in the same class you can be handicapped by Ninco's persistent binding in the slot, especially on corners.