These are a few pictures of the track I do my board track testing on. It is actually made of plywood but the surface has a grey gloss finish. The track is not actually a figure eight even though there are plenty of cross overs so Red lane is about 600mm longer than Blue.

It is a very fast flowing two lane circuit having two long straights and two mediums joined by some interesting curves and scenery!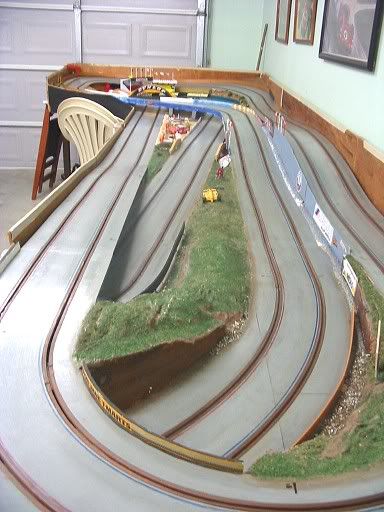 First picture is from the left hand end. This shows the four straights skilfully fitted into the allotted space. The back straight 'yump' is visible here. A good self centring guide is needed here to ensure you come back down in the slot!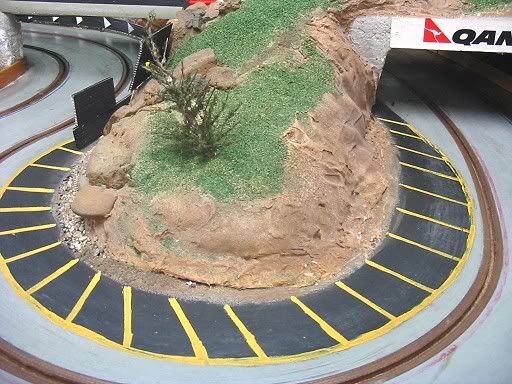 This is a close up of the right hand end with under pass, a good left hander where you loose sight of things for a split second. It progressively unwinds on the exit allowing you to crank up the revs for the straight.




This is the track from the left hand end. The back straight and low level middle straight are raced away from us. The other two towards us.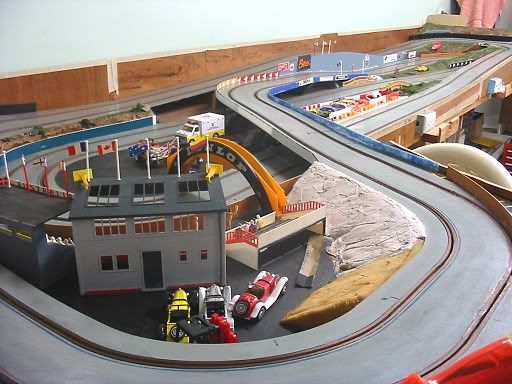 This is what awaits you at the left end of the higher middle straight. One left and three right handers. Also, between the second and third right hander the track dips and the complete end has about a ten degree camber to it!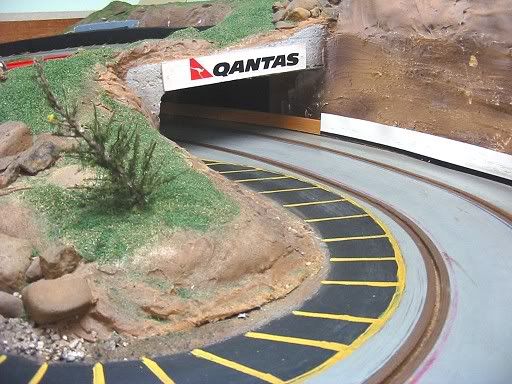 This is a closer look at the QANTAS tunnel! The right hand unwinder.

The track is a joy to race and a quick time would be 5.9 on either lane with 6.2's to 6.5's being a good average lap.

The track was designed and built several years ago by friend and fellow slot racer Garry Russel. I try and get to it every Friday evening and along with a couple of other friend we drive into the early hours!