McLaren M20 - Denny Hulme

McLaren Cars / Boyd Jefferies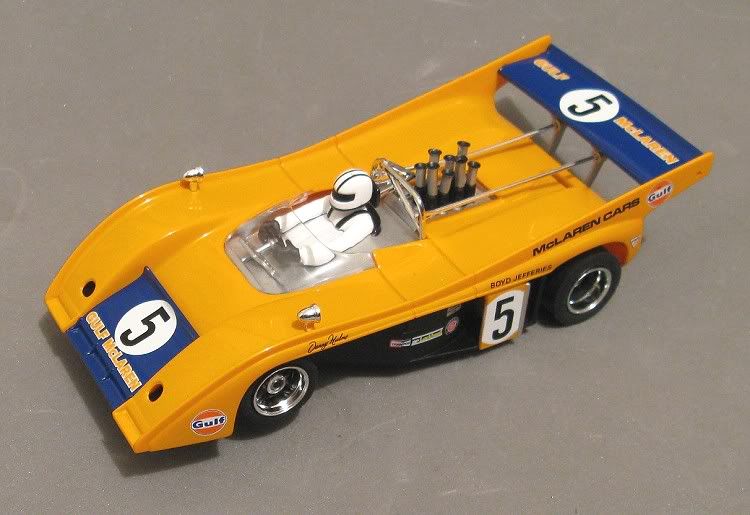 By
Phil Wicks
None of us hopefully, need reminding of the contribution McLaren cars have made to motor sport over the years, I'm not aware of a year that there hasn't been a McLaren on the grid somewhere since the mid sixties. But what it took to get its founding namesake on the starting grid and onto the winners dais is legendary stuff. Bruce's early youth left him debilitated with a serious childhood disease affecting his hip joints and he was hospitalised for many months but his laid back attitude and inward determination saw him overcome a disease which left many of his peers permanently debilitated. Like many drivers, his dad was instrumental in getting him started in motor sport and as a twenty year old he was awarded a scholarship to race GP cars in Europe. This saw him journey to the UK where he was taken under the wings by the likes of Jack Brabham and John and Charles Cooper. Racing his self prepared F2 Cooper he took his first podium alongside 50's maestro Tony Brooks.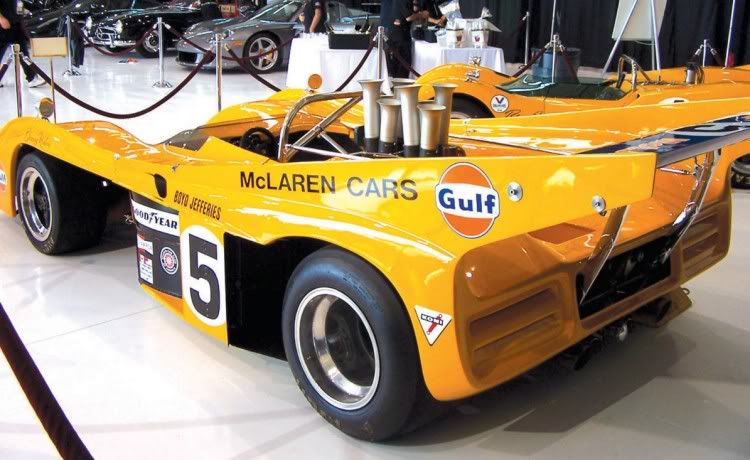 In between race days Bruce formally studied motor engineering to the N'th degree and was becoming a proficient engine and chassis tuner. At twenty-two, international victories had started to roll in and while driving for Cooper and freelancing and winning at Le Mans his thoughts were turning to sports car racing. About this time he had decided that perhaps others were better than him at driving his cars and although he continued to race, he took a sideways step and devoted more time to designing and building race winners. The first McLaren GP cars were successful in Europe and fellow countryman Denny Hulme was writing his own success story with Bruce's cars.





Bruce McLaren.com






The last year Bruce raced for Cooper he also had his own team entered in the Canadian American Challenge Cup for Group 7 cars. The following year McLaren Racing won five out of six races and another four in '68 and amazingly, all eleven in 1969! But this was to be Bruce's last season and tragically he was killed while testing one of his own cars at Goodwood in the south of England. His friend and co team owner Teddy Mayer assumed control of the company and continued running it along established lines.








By the early '70's the Can Am sports car title was becoming harder to achieve and it was decided to rationalise their burgeoning race commitments. A lack of results was the final straw and McLaren dropped out of Sportscar Racing to focus on the more prestigious GP scene. The M 20's were sold off and continued to race in the hands of private teams with some success. But Porsche and Shadow had made their mark in the series and Can Am would change irreversibly.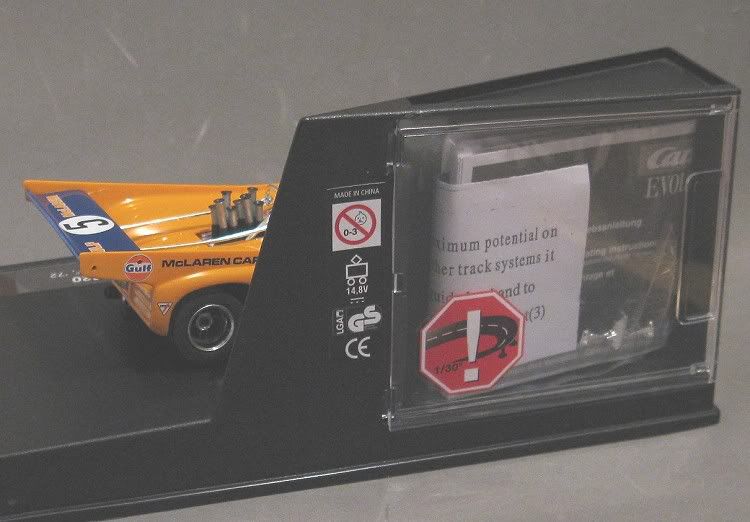 So where does that leave the M20. Well, as I read it, it was a bit of a pivotal car for McLaren. It won some races but it didn't win a championship. The car was dogged with problems from conception and none of the new owners were really happy with it. In the 1972 season, Denny Hulme took a couple of podiums with it and the rest of the drivers took a few long walks back to the pits. The model in question is of the 8112 c.c. Chevy V8 M20 / 2 in race winning mode in the Labatt's Blue Trophy livery at Mosport Park, Ontario. Hopefully, the Carrera M20 is going to spend more time on the track than in the pits. So what have we got…………..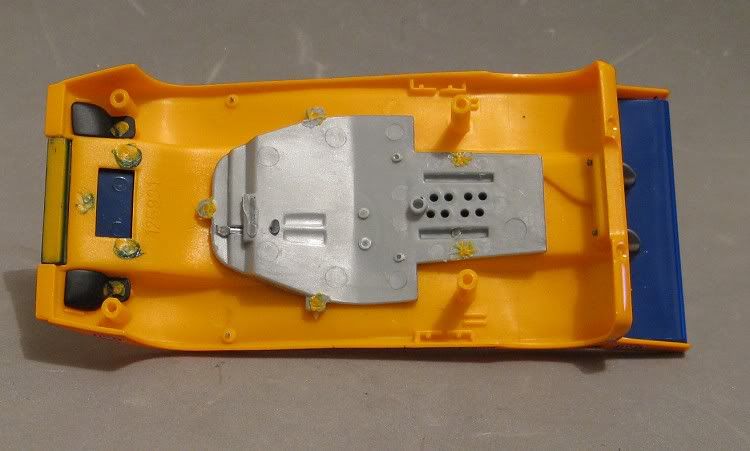 I have to open up by saying that this is a very basic as well as a very complex model!!?? What am I on about I hear you say! Firstly, the body is very basic. Very few bits to knock off but no doubt, true to scale. The body also has an impeccable clear gloss coat too. Shines like a bottle up a sweeps **** I would say! Two large lumps of body are actually part of the chassis. This is thinking outside the square Mr Carrera! + 2 points! In spite of this, Carrera have piked out when it comes to interior detail. I would be correct in saying I have seen better cockpit detail in a nineties Ninco car.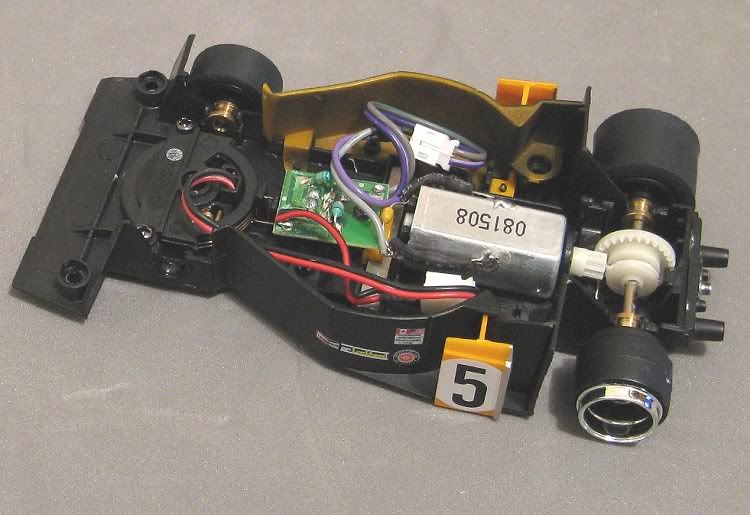 Considering the space available I'm not sure of the reason, though I expect it is firstly driven by the necessity to leave space for retro fitting digital componentry. Not to mention the polarity switch already there, and a couple of 'oh so tidy' plugs and sockets. And no doubt there might be a cost saving as far as moulding set up is concerned. Lastly for the body, the rear view mirrors do come off. So does the rear wing, but the chrome rods don't. The intake ram tubes come out too, but don't worry, they are quite a snug fit, but it might be an idea to count them after each race!








The tub sides which are attached to the chassis look a bit vulnerable too, with the heat welded fixings looking very frail. The tops of these do slot into the body underside which might be their only saving grace in a severe 'T' boning incident. Likewise, the front of the body (the centre panel with the race number on) also looks very vulnerable, having only small mountings. One thing I am impressed with is the material used for the main chassis. I came across this first hand once before when replacing a guide assembly on one of their Pontiac GTO's.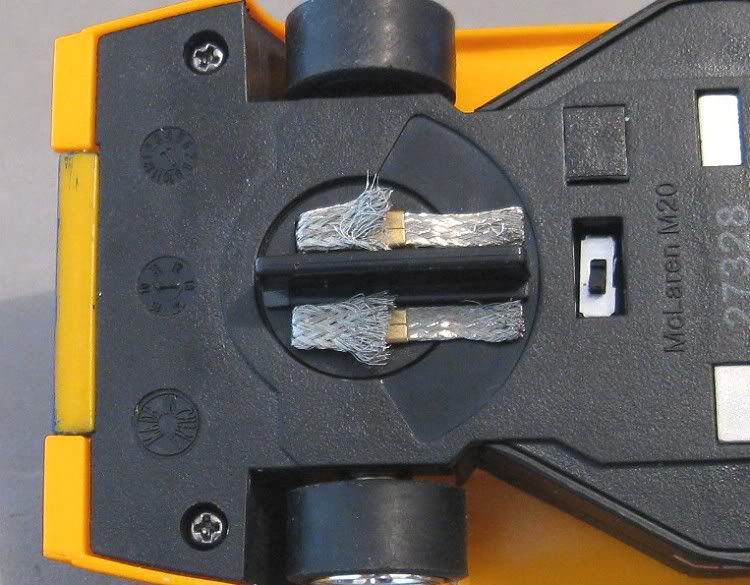 It has a course grain and texture and a rigidity which regular chassis material doesn't have. Again, I can only suspect that Mr Carrera saw fit to increase chassis strength and durability when they started fitting twin magnets Mmmmmmmmm? And as for the magnets, two huge mothers in keeping with recent models and unlike many which have gone before, these are not downwardly adjustable. No screwed in magnet keepers and no shims in the toolbox on the back. But they do clip in from the inside and if you find yourself getting too much grip it is a simple task to remove them and shim them up.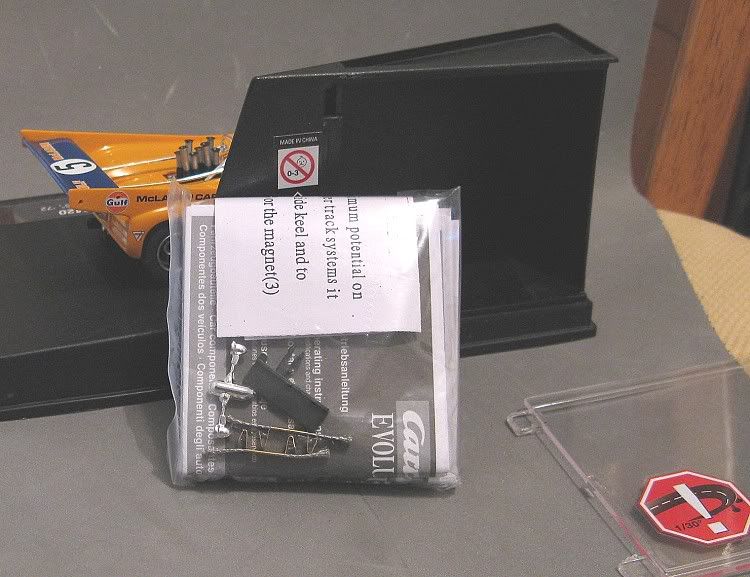 So where's the complexity. Well it's all so…..so busy! What should be a trouble free interior with heaps of space and nice cockpit detail is crowned by what can only be describes as a monstrous guide. This guide is guilty of several sins, the first being on Mr Carrera's GP cars. It's size is the sole contributing factor to placing it almost halfway down their F1 cars, causing the car to be uncompetitive on technical magnet and non magnet tracks. On this car it isn't so critical but that is purely because the 63.0 m.m. rear axle width has an inherent stability.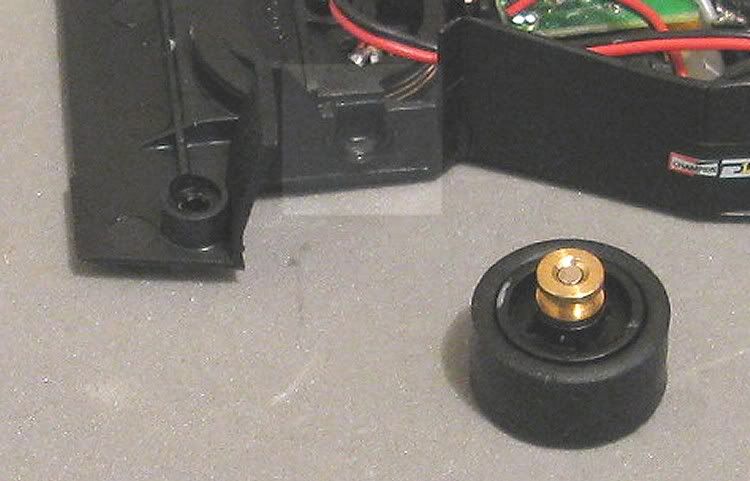 The guide also necessitates the model having a split front axle. Not a bad idea though. I like to see independently rotating front wheels purely to allow an inner / outer wheel differential in tight corners especially. The front wheels are well made and concentric and the tyre rubber is good too. A bit soft maybe for front tyres but not out of shape. The front wheel hubs fit into traditional mounts but on my model the right one is loose, generating a bit of the old Fly front end slop. I suspect the wheels are attached by a stub axle which is a press fit into the brass bush, the chromed outer being fitted after assembly. If you intend doing a lot of miles with this model, it might be an idea to get some plastic friendly lubricant into the stub to prolong its life and reduce drag. Once again, I like to have my models resting on all four wheels. A simple sloping track test shows there is less drag when the model is running on good rotating wheels (and more stability), so the model will get a bit of a ride height check and pending a bit of a track test the stubs might get glued into a more user friendly position.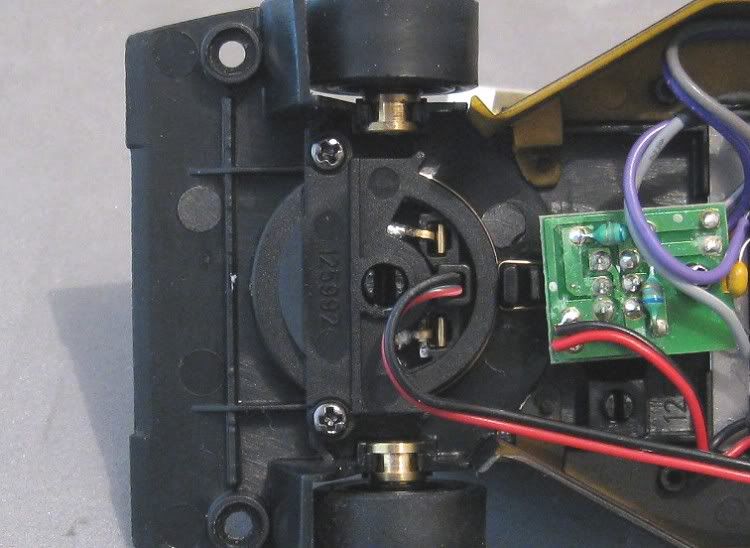 Another thing with the guide is the return spring. I'm not a lover of return springs for non magnet racing. A great idea otherwise and a marshall's prayer answered, but in a hard pressed race there are occasions when a model may corner on less than four wheels and when this does happen, a heavily sprung guide needs little encouragement to snap back into place when in the top of the slot, leaving the model without direction and some scenery in need of a nudge! I consider this model's guide to be too heavily sprung. So, after a bit of running I might well look a little deeper at the guide department.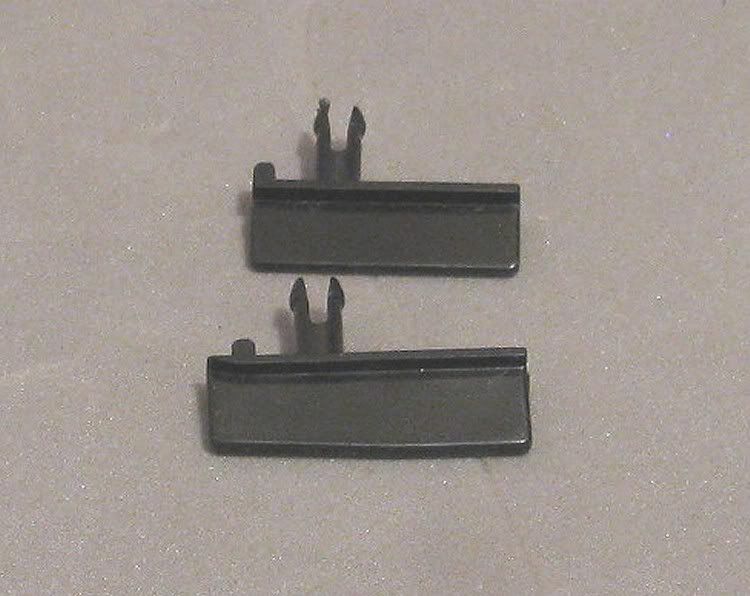 And while we're on the subject the guide does come with two keels (blades) one is a thick, long blade for Carrera (and most board) tracks, and the other is thinner and slightly shorter for other commercial plastic tracks, but there is still an anomaly with tight inner curves 'a la' Scalextric, Ninco and SCX. The guide will physically bind in the tight corners because it is too long to make it round them. Solution? Check out the technical section of this forum. In short, I would grind the centre of the thinner, shorter guide giving it a concave profile which should ease the situation on board tracks. On Scaley and SCX plastic you may need to trim a couple of m.m. off both ends to help it on its way!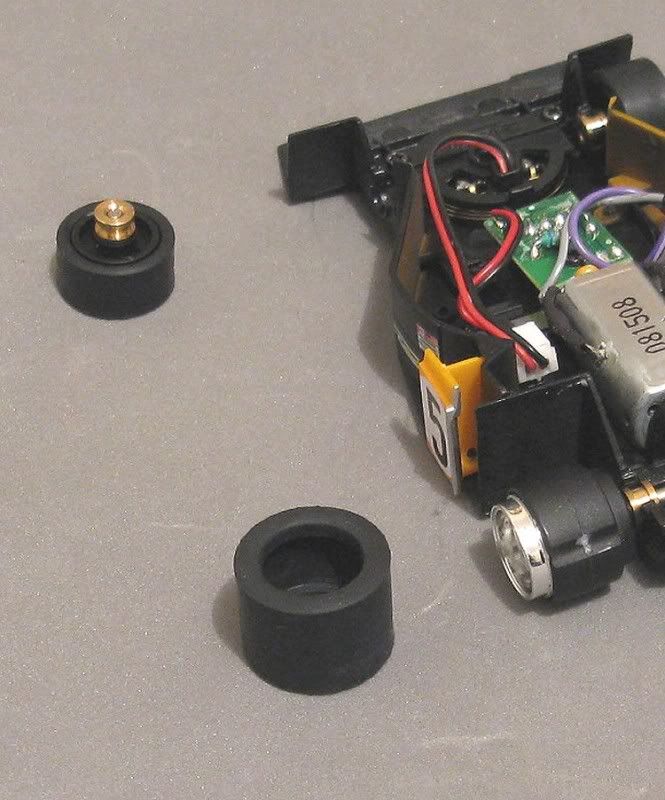 So it looks like the guide is going to be the biggest problem, but hopefully, the rest of the model should behave itself and be user friendly on all slotting occasions. Some folks castigate the guide because of its size and replace it (in the old days) with another make, especially the Ninco pro guide. Unfortunately it's not so easy with the new super duper self centring loco turntable of a guide! But, trust me when I say, if you ARE running this model on braided or taped board, it is probably the best guide for it. I run all my current Carreras with the standard guide (plus trimming) and have no problems. Just ensure the braids are set up according to the diagram which came with the model and you shouldn't go wrong.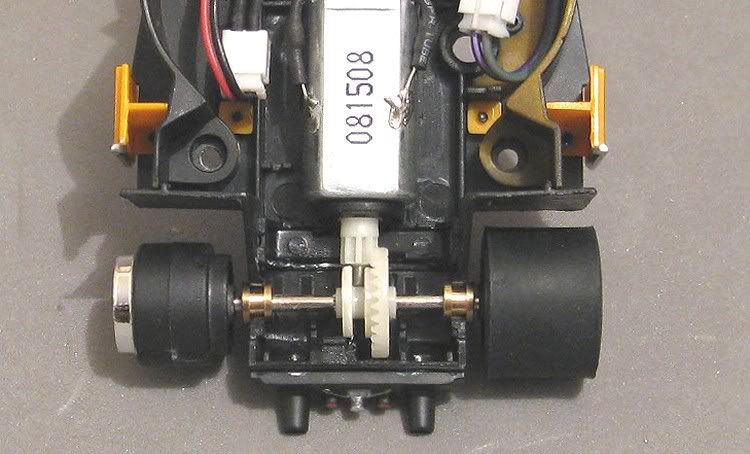 Getting back to the business end of the model, the rear wheels and tyres are quite concentric and initially the rear rubber feels quite soft (ish). The rear tyres are a little concave when on the hubs though so a sanding session will be necessary before its first outing to ensure no early disappointments. The rear axle bushes are good in the rear chassis too but I notice the rear axle is a bit sloppy in the bushes? Also not a problem and an easy fix if it generates a bit of model hop but it could mean taking the wheels off! The motor isn't loose as such but it can be twisted in its cradle which might generate a hop or two once it has a few k's under its belt, so that will need to be reviewed before race days, and that's it for the inside.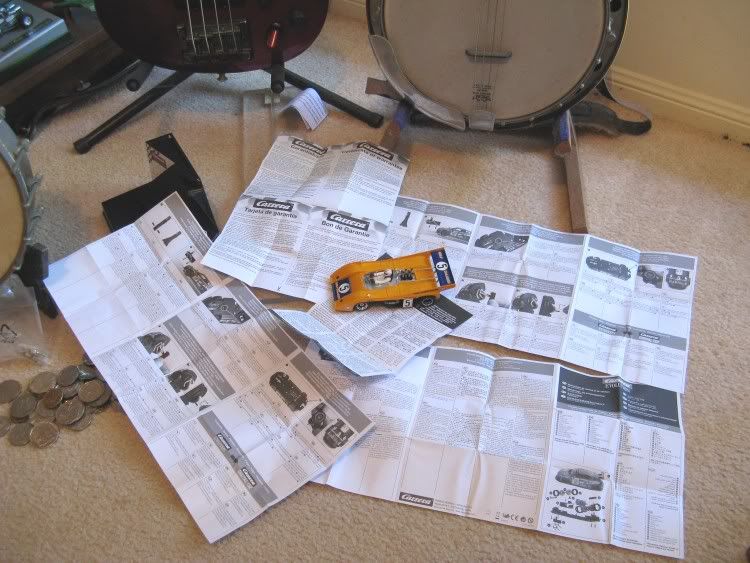 Paperwork anybody?





Weight distribution for the SOOB model is a bit of a quandary too. Unlike some makers who are obviously making efforts to get their models to be at home on plastic and wood, Mr Carrera has obviously decided that racing on plastic at 1/24 scale dimensions is the only way to go. It is evident in the guide, it is evident in the magnets and it is evident in the model's balance. But why did they opt for a low gearing? Another unknown at this moment in time is the motor speed, I'm sure someone might be able to point me in the right direction about this but until then I have specked its speed at 18,000 rpm in the stats. If this model was to be earmarked for some serious board track work.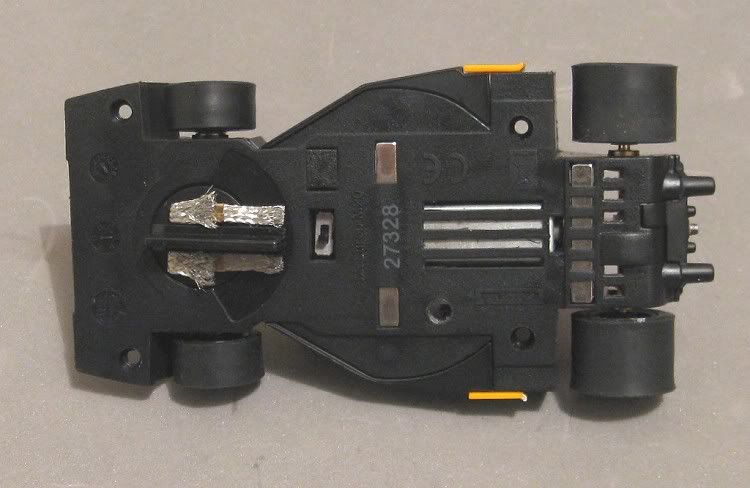 As a non magnet racer the model weighs in at 87 grams and with some good tyres (if it doesn't already have them), it shouldn't need to go much higher for short to medium technical tracks. But if the track has some good straights and some sweeping corners it may need to be raised over 100 grams or even more. If that's the case then it could get messy finding space for the ballast inside the model. If you are magnet racing, just sand the rear tyres down 'til the magnets drag along the track!!! If the model 'bogs down' on Scaley / SCX track then the front magnet will need removing and you might need to shim the rear magnet up a little to reduce the downforce. Ninco is a strange beast. Because of the way the slot liner closes up at joints and other points of stress you may need to shorten AND thin the guide to get the model to work smoothly.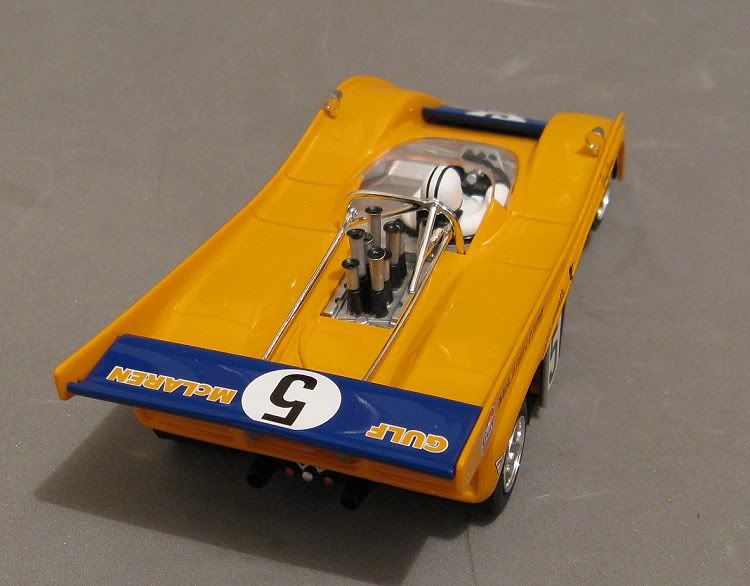 Body mounts are possibly the last issue. It has become almost mandatory now that bodies must have a degree of float in them, especially uneven and / or plastic tracks. It helps to decouple body weight from the drive train and minimise the movement generated by bodyweight inertia, that is, you don't want the weight of the body bumping up and down, influencing the amount of traction you might or might not be getting in the corners. The M20 body weighs in at 21.0 grams and probably generates less inertia than most, but, it doesn't hurt to slacken off the screws. On this model the body mounting posts locate into recesses in the chassis. It might be necessary to trim the lips of these recesses to allow the body to move once the screws are loose.

So what's it like on the track!!??

First up is home of the Red Team, and this is a two lane 21 metre fast and flowing track. Most cars will run well and the best cars will lap in the low sevens at 12 volts. A bit of a precursory clean up and some older model rubber laying and a race or two will set the track up. This time of year the coldness may well influence the grip but it will still be possible to get an idea of what it's real performance is going to be. Pushing off it is customary to do a few slower laps to appreciate the model as it passes through the landscaping and pick up any tell tale signs of problems. In this models case all was well at this stage.









Moving things up a notch saw the model continue to behave well and I started to take note of any early stages handling idiosyncrasies. With fortune still on my side and the rest of the guys still stuffing meat pies and red wine into their oesophagi I took the opportunity to reset the race management system and go for a few hot laps. This was when the problems started. The light rear combined with the concave tread area debilitated the model in corners to the extent that I had to stop and sand the rears. This in itself is a drama as the rear tyres are a fairly tough compound.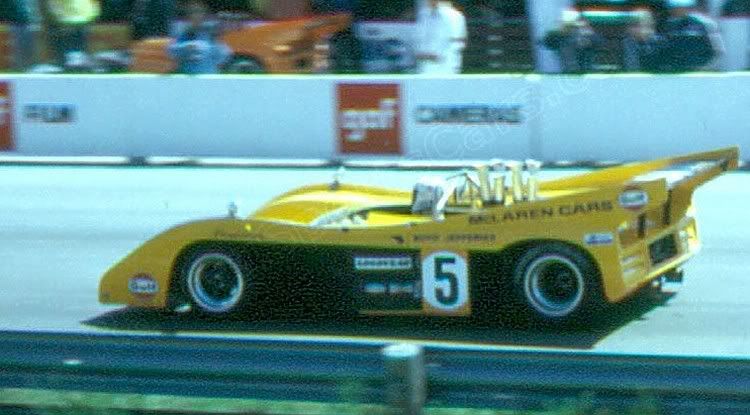 Sanding was laborious and eventually I managed to get some sort of even tread area. Repeated testing showed that firstly the back end was too light for the tyre compound and the model was 'snow ploughing' trying to push the front along. I abandoned testing at this stage as it was obvious I wasn't going to make any more headway with the tools at hand! At this time I also noticed that the braid material was a bit too stiff as well, requiring braid set up to be concise to minimise any jerky cornering. Altogether a disappointing first outing with the model barely able to break the eight second barrier!! But not one to give up, I will address some of these issues and return to report at a later date.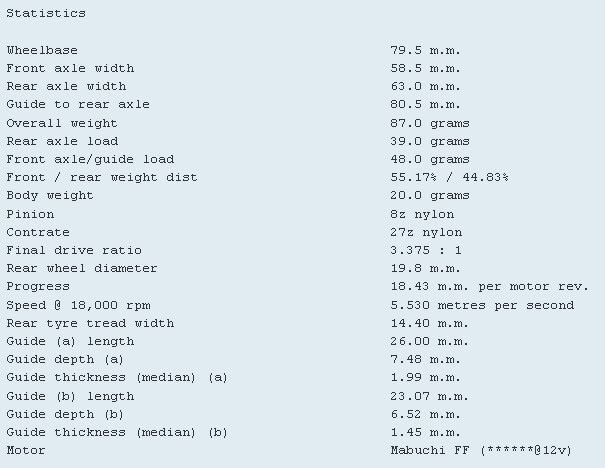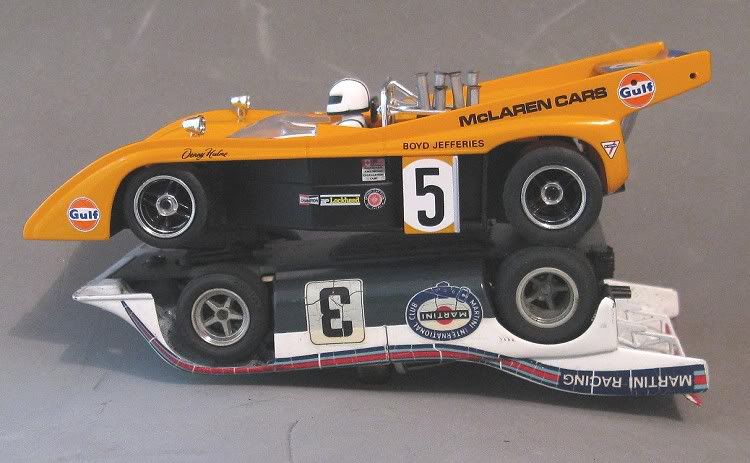 The model is surprisingly a large car, I didn't appreciate its 1/32 scale hugeness for a sports car. Alongside a Vanquish MG McLaren M8 it is not much shorter but Vanquish have pumped out the sides of their model a bit. And alongside the Porsche 917/10 it is decidedly longer in wheelbase and body length. Another model to compare with would be the excellent models made by HSRR. Overall the Carrera is a nice model but its semi toy like detail leaves it a bit short of the quality we have come to expect from makers like Scalextric and Fly to name a couple. I got this one from Gettslotted.co.uk, and at Au $55.00 landed in Aus!!! Why wouldn't you!!



Historic Scale Racing Replicas



If I was going to seriously contend this model, depending on event rules, I would remove the guide system and replace it with a Ninco sport guide and braids, something similar to my Pontiac conversion, this time moving the pivot point forward of the front axle line. I would then convert the front axle to a 'wixle' and let the front of the model rest on its wheels. I would rib the front tyres to reduce their grip, and I would address the remaining weight distribution anomaly with some prudent ballasting. At this moment in time I suspect there are no urethane tyres on the market for this model, but don't get crushed in the rush!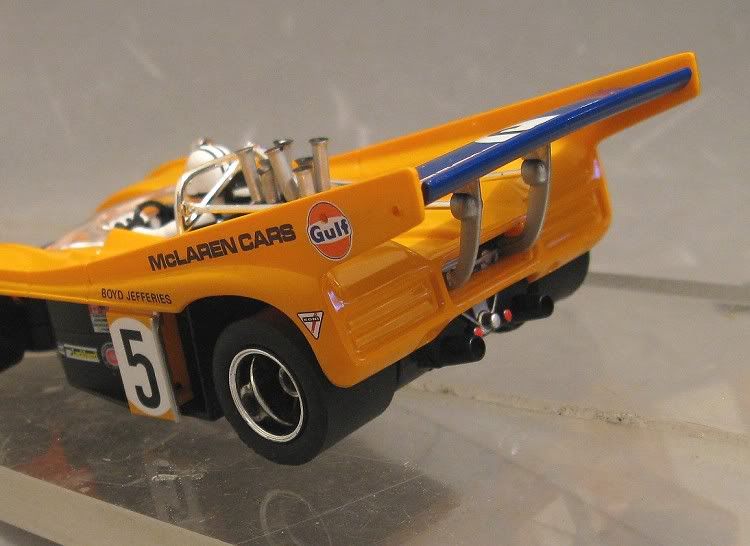 Bruce McLaren would have been 73 years old this year (2010). We can only wonder what would have been the dominant marque in sports car racing had Bruce McLaren lived?