Carrera BMW Z4 Coupe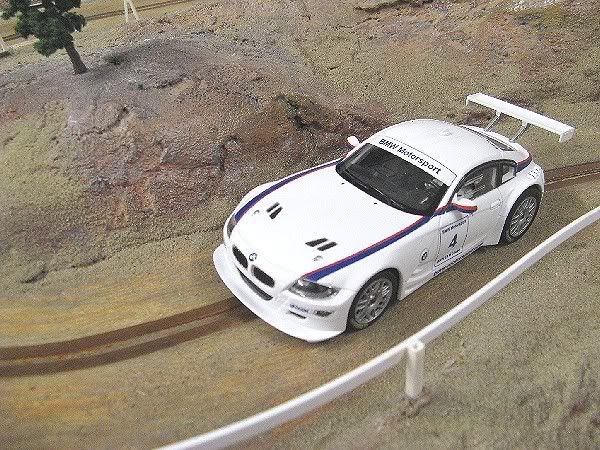 by
Phil Wicks
So what's it really like. Mmmmmm................................ Good actually, really very good! and I suspect that the other European manufacturers are starting to become concerned about Carrera's progress in model making and consequent sales!! If this is the shape of Carrera things to come then I may have to revive my buying strategy. Already, at recent club racing events we have seen more than the odd Carrera feature in the results and it can only bode well for the consumer.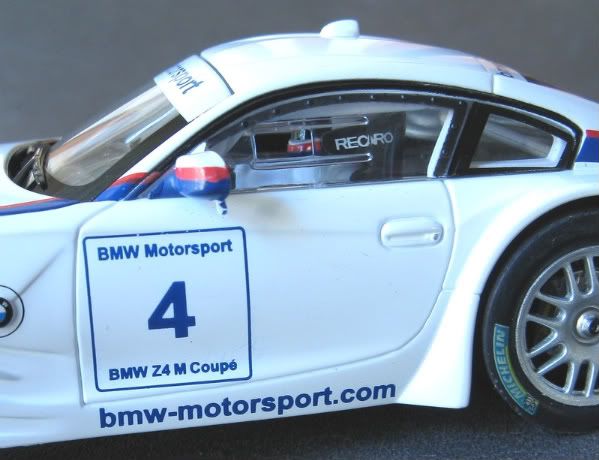 So let's put it under the microscope, and I will state now that I am really not a 1/1 BMW fan. Having spent almost a lifetime in the retail motor trade I find them unimaginative and quite mediocre when it comes to the wow factor. The model feels nice in the hand at one hundred grams and this tells me it could well be a board track contender SOOB! From a collectors angle this is a desirable subject matter. A track version of the Z series can't be that bad and as such, the Z4 'presentation' model has been made well. It sports what can only be described as the legacy of the old 'Alpina' livery with its blue and red stripe. The stripes are fine for the most part but get a bit messy around both 'A' posts. Door mirrors have vestiges of the old sprue on them and the tampo process has become smudged in this area too. All else is crisp and smart. Close inspection with the aid of magnifiers will show the small detail to stand up to scrutiny. The lacquer coat is also even and not too thick and amazingly has no blemishes which is almost a first for a model in this price range and a first for a model made in China!!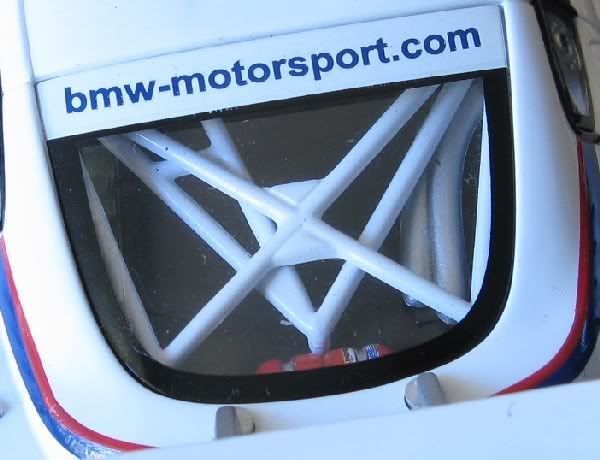 Front and rear detail are good too and the 'kidney' grilles have been well finished as chrome and black. The only departure from recent protocol are the door mirrors which CAN'T be removed and the rear wing which is also fixed fast!! Looking through the clear work and a good half drivers tray with well finished detail is apparent, with all the knobs and switches in place, although there is little painted in here except for the driver. Through the back screen a complex double roll cage is visible along with fuel filler pipe and fire extinguisher.








Wheels and tyres are well depicted and concentric. I notice Carrera have approached wheel assembly from a different direction to the other majors. The outside of the rim is part of the spoke and hub moulding whereas the inner rim is glued to this, probably minimising the incidents of flash and sprue stub in the tyre fitting region. One last detail with the wheels is that they have modelled the ventilated discs behind the wheels and they have included callipers!! I don't mean there are a fixed pair of callipers, but they are part of the disc moulding and rotate with them!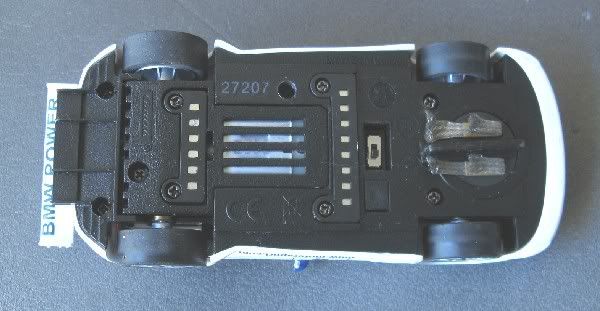 Underneath is a concise chassis built in true German style, everything has its place and everything is in its place! The polarity switch has been miniaturised and recessed so there should be no more switch changes on the run, where models have grounded and flicked the switch, with the resultant sudden change of direction!! Not good at speed!!! The main features are the TWO traction magnets, strong ones too.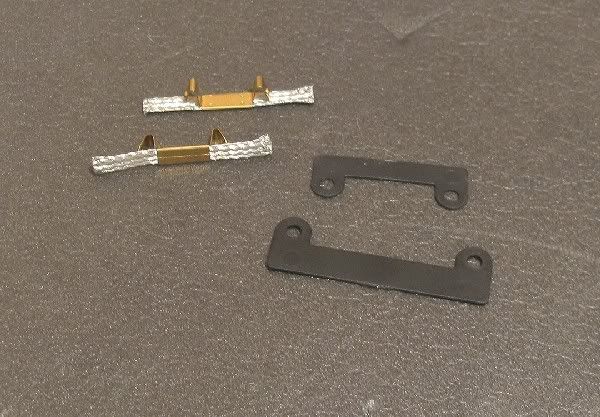 A boon on low downforce Carrera track but I suspect on Ninco and Scaley they could well pull the rails out of the track!! These magnets are also shimmable, with a spare 0.5mm shim for each magnet and a spare set of quick fit braids in the little spares compartment on the back of the display case. Trust me when I say these are more than adequate for upgrading the models traction!!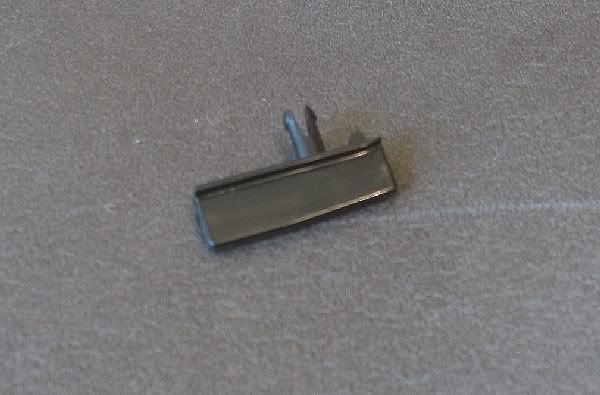 The only semi minus this side of the model is the guide. Why's that, well as we know the Carrera Guide is too long, too deep and too thick for most other magnet tracks, but I'm sure Mr Carrera isn't really bothered about that. With the uptake of Carrera systems on the increase, it will be other makes that will be disadvantaged on Carrera track rather than vice versa. How ever, the guide IS ok for board track racing of any kind. One novel feature is that the guide blade only is removable. Possibly there is a replacement available or soon to be, to aid drivability on other tracks??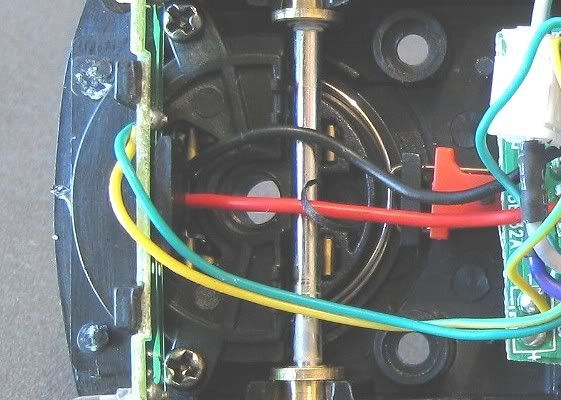 The guide also has a return spring, quite a strong one at that. Once again on plastic I can't see it being a problem as the model will be pretty much stuck down with its two traction magnets. And if you're the kind of racer that enjoys a fair compliment of deslots then this little spring will be a blessing in disguise as marshall after marshall speedily replaces your model in the race. On board or non magnet thought, I can see it being a different story. Some times when on the ragged edge it is possible to corner on two wheels. Not regularly of course but just in the heat of the race. Should this happen with this model I suspect the strong return spring could disorient the guide in respect to the slot with the inevitable conclusion. If this does happen then the only solution would be to disconnect the spring (or drive more slowly!).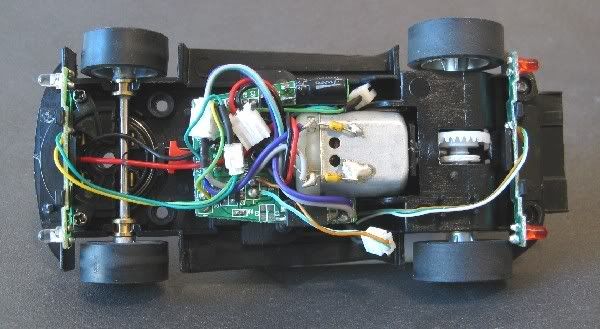 Inside the model is more German engineering. Everything concise and in its place. No bodgey soldering and dud clips. Snap in connectors and everything screwed down for sure. If you already own a Carrera DTM you will be familiar with the conglomeration of electronic bits under the body! There is circuitry for the lights and also to enable their digital chip to clip in place, There is also room to plug a toaster and a microwave (only jokin' kids!). Unlike the DTM's, the circuitry is mounted low down in the cavity. This will no doubt aid the handling by keeping the C of G down low. There are also a couple of novel ideas some other manufacturers would do well to take note.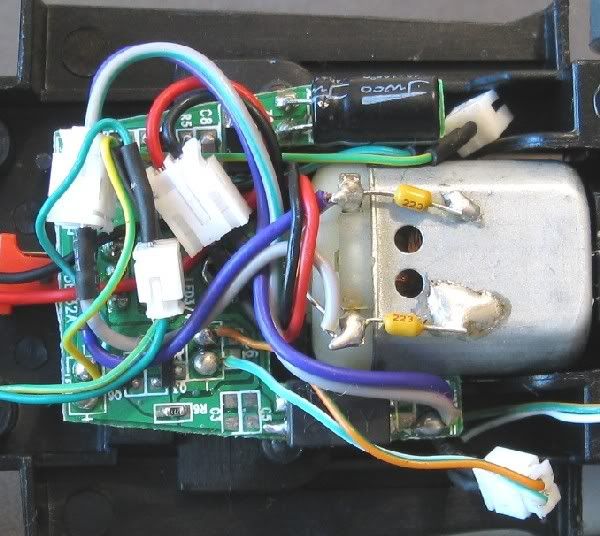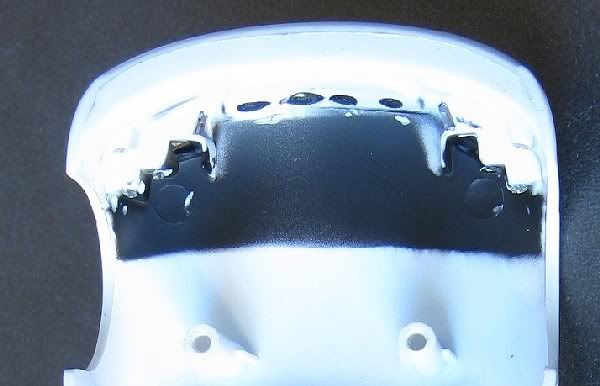 First up Carrera have gone to the bother of blacking the underside of the body immediately above the lights. I don't know how effective this might be but they have at least bothered! Secondly they have mounted the motor on a simple pod which allows it to be released by one screw and a plug, how easy is that. I also notice that their version of the Mabuchi motor carries a small hole through the end bell material?? In my case this would be useful for the application of the odd drop of commutator fluid!! The chassis is fixed by four screws, again not my ideal preference but quite useable. With screws backed off the chassis still picks up on the screw threads and this would have to be addressed for serious racing possibly by taking the hole diameter out a little with a round file. And there is further reassurance with the rear body mounting posts having little 'fillets' where they meet the body. Perhaps just enough to prevent the posts being yanked from the body in a serious shunt!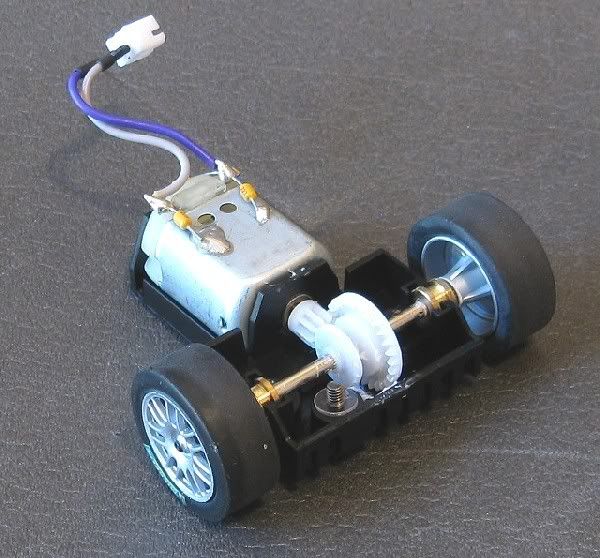 So it has also to be track tested. As yet I haven't tested it on plastic but I suspect that would be academic considering the two massive magnets which will pin it to any metal surface! But on board what would it be like?? At 100 grams it is at the top end of the ideal weight bracket for short to medium tracks. The split is 48/52 which although not near to my preferred 40/60, does have a deal of weight over the back wheels. Probably close to what a 90 gram model would have with a 40/60 set up. I have just done the maths and this model has two grams less than the other example at the rear tyres!. So I would expect it to run well with a modicum of fine tuning and maybe a tyre change?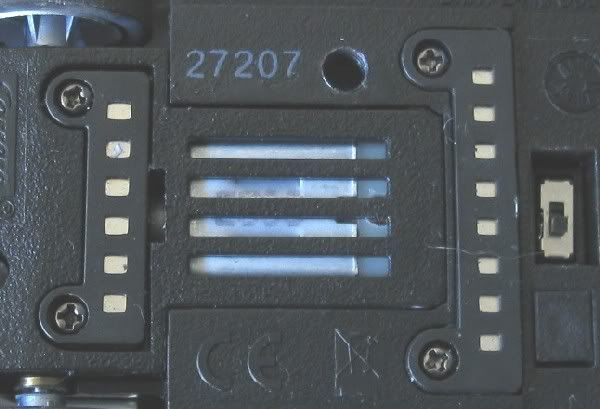 On the track it is quick. The motor is rated higher than the Fly and Scaley models and it shows in the driving, Carrera tend towards larger and probably better scale wheels and tyres. The models therefore tend to be overdriven more so than some of the other market leaders. In fact its progress is over 23 mm per engine revolution. On the track it was very well behaved from the start. The tyre compound seems a little hard but the Red Team circuit has a good deal of rubber on it and the model was lapping it up. Out of the box and no tyres ground I was doing 7.2's which is a fair turn of speed for the track and up with the best.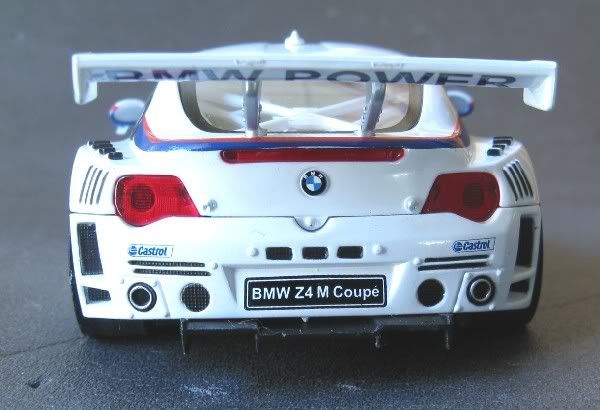 Unless the model was pushed really hard it sat firm on its path. It just felt so solid in performance. Corner entry speed was respectable and was probably in the top ten percent of models I've driven. Driving harder would eventually get the back out but at least it didn't topple over in a roll over deslot or drive straight on in an understeer. The 100 grams was working well and I'm sure if I spent half an hour with a box of MJK's and a fine file I could get it to do sub sevens. But alas, it isn't my model and it has proved its point already.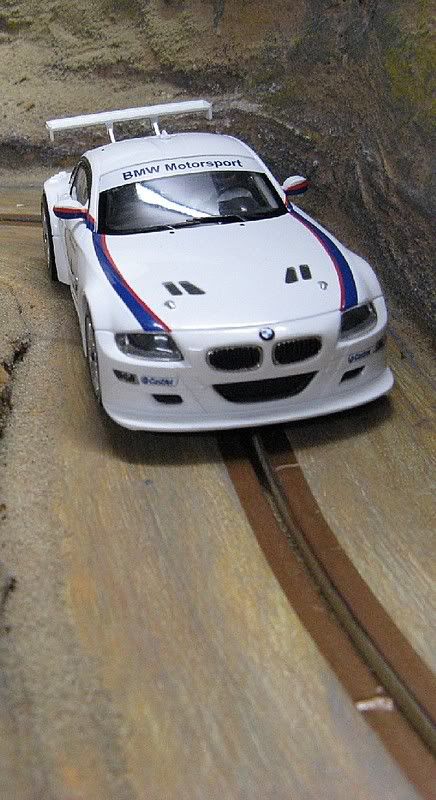 Statistics

Wheelbase					77.5 m.m.
Front axle width				56.8 m.m.
Rear axle width					59.2 m.m.
Guide to rear axle				81.00 m.m.
Overall weight					100.0grams
Rear axle load					52 grams
Front axle/guide load				48 grams
Front / rear weight dist			48.0% / 52%
Body weight					26.0 grams
Pinion						9z nylon
Contrate					27z nylon
Final drive ratio 				3 : 1
Rear wheel diameter				22.3 m.m.
Progress					23.36 m.m. per motor rev.
Rear tyre tread width				8.25 m.m.
Guide length					26.0 m.m.
Guide depth					7.25m.m.
Guide thickness (median)			2.15 m.m.
Motor						Mabuchi'S'can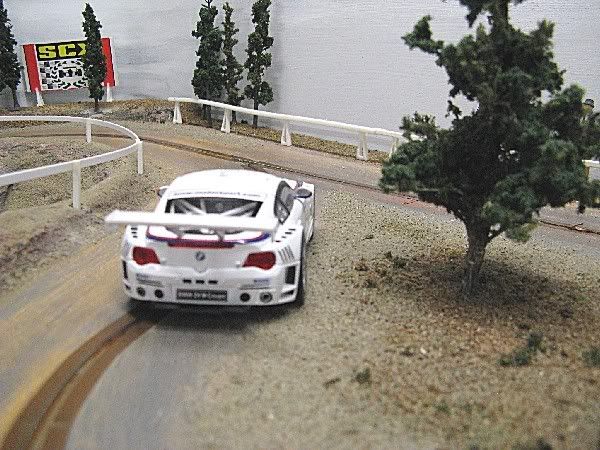 I like this model, probably not a heat winner as such but rock steady enough that it could be an overall race winner. It should return some steady results without having to drive on the edge all the time. I took the opportunity to test it alongside its sibling, the Carrera Peugeot 908 LMP and I have to say that it was marginally the better model. I haven't analysed the Peugeot yet but I suspect it is lighter, and it is certainly longer! On a last note, I have slowed down my purchasing frenzy of recent times and I am trying to ensure I get a bit more quality into the collection. I have ordered this model on the strength of this test, say no more!


Many Thanks to Slotcar Legend and Q32ist Chris Dietrich for the loan of this model to review.