Carrera Shelby Cobra
Sebring 12 hour 1963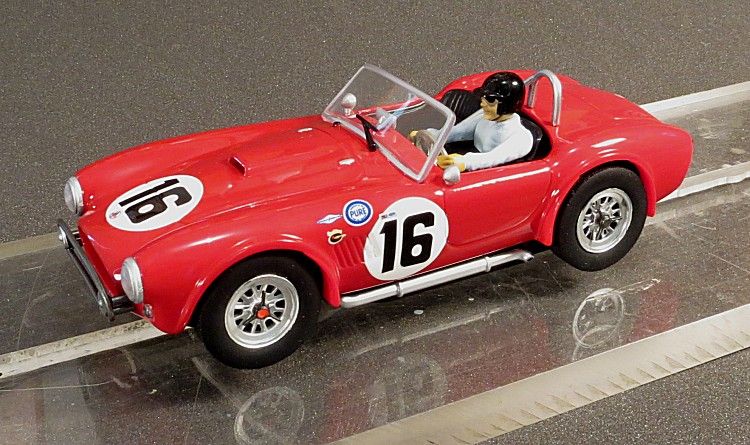 By

Phil Wicks



Now why did I go out and buy another Cobra? Well, I've wondered that for several days now, but, I did! and I am very pleased that I did. I have got four or five of these little beauties and very pleased (mostly) I am with them!. My son bought me the #63 Ninco Le Mans car several years ago and it hasn't turned a wheel in anger, mainly because the NC5 motor is too powerful for the more technical tracks we race locally. I also have an original 60's Revell Cobra which I picked up from somewhere in a very sad condition, and is still waiting refurbishment! There is the AC Ace I scratch built and which performs admirably with its NC1 front mounted engine and lastly there is the white Shelby Cobra scratchbuilt from a modern 'snap kit' which you can see in the scratchbuilt section of this forum..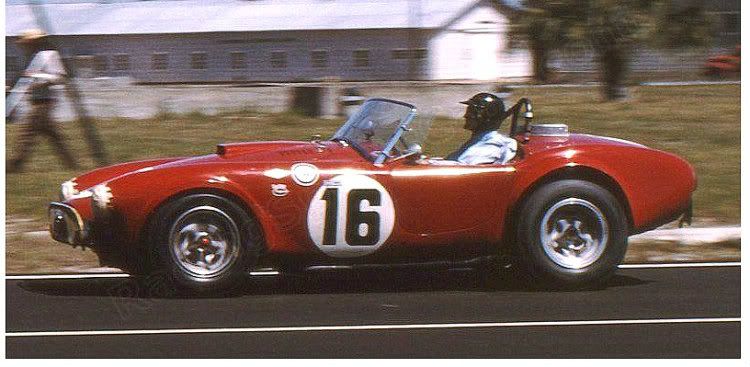 So what was it with this car?? Mmmmmmmm? Don't know, but the minute I saw it on the Topslots website back in July, I couldn't resist it! I prepaid for it and then came the waiting time. Only four months, and I had almost forgotten I had pre ordered it! Then an email announced it was on its way and the few days that followed saw me cross examine the wife as to the comings and goings of the postman! Mmmmmmm! Then it arrived and I can say it has not disappointed me.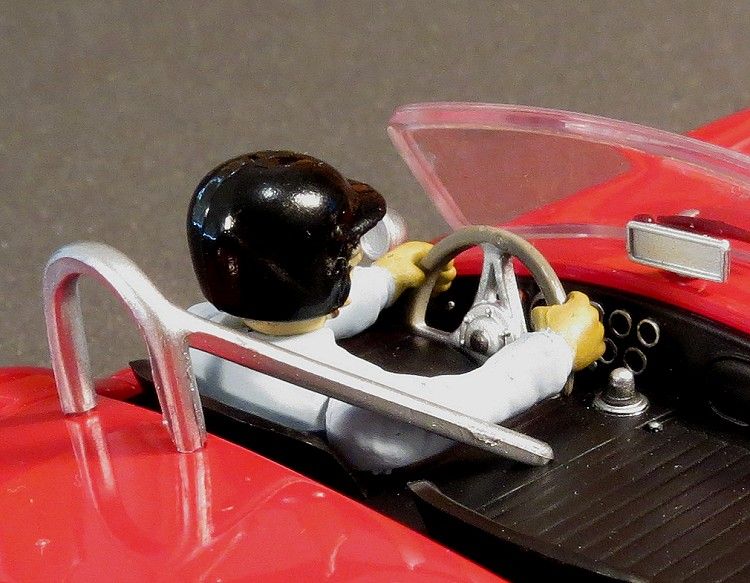 Let me say I was not expecting a model which had pumped out arches and huge wide tyres and little, if no ground clearance. Nor was I expecting a model which was covered in chrome bits and fancy alloy wheels and huge side pipes curling out menacingly from under the sills. No, I wanted the honest reproduction of the Cobras from the '63 era and guess what, that's what Carrera have created for me(us).




Sebring 12 hour - 1963





Check out this link, some excellent shots of the Cobra, but will take some finding.




I am very pleased with the scale, and the slimness of its withers, and the basic trim and the simple decalage. I am more than pleased with its ground clearance and its simple half driver tray and the odd splash of silver paint where hinges and handles are located; and the single side pipes and mufflers!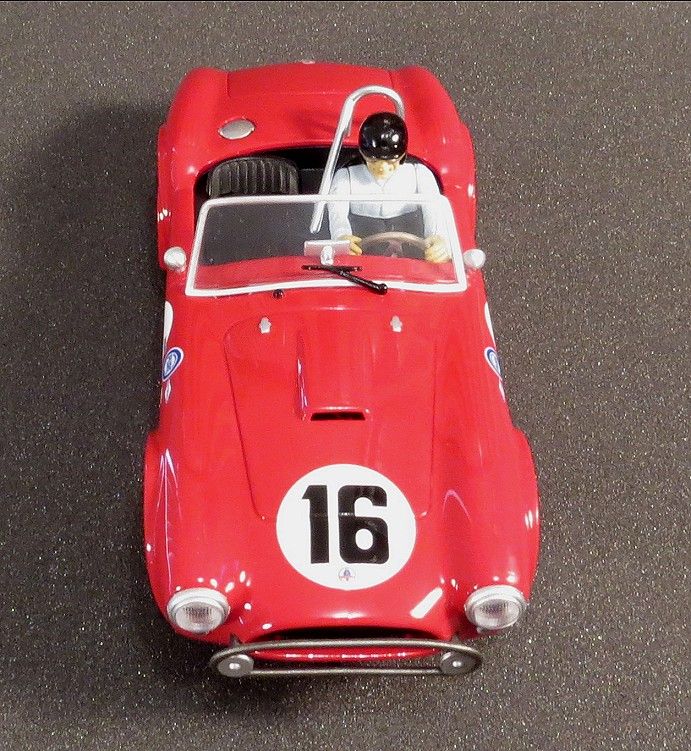 The year is 1963 and after spending some time racing in Europe, Carrol Shelby was sure he could build a European style sports car and clean up at the track. All that was needed was something to give the locals a run for their money. After approaching a few British sports car manufacturers he eventually convinced the AC Car Co of Thames Ditton south west of London that they needed him! A deal was struck and soon AC were shipping hand rolled aluminium bodies to his workshop in the US.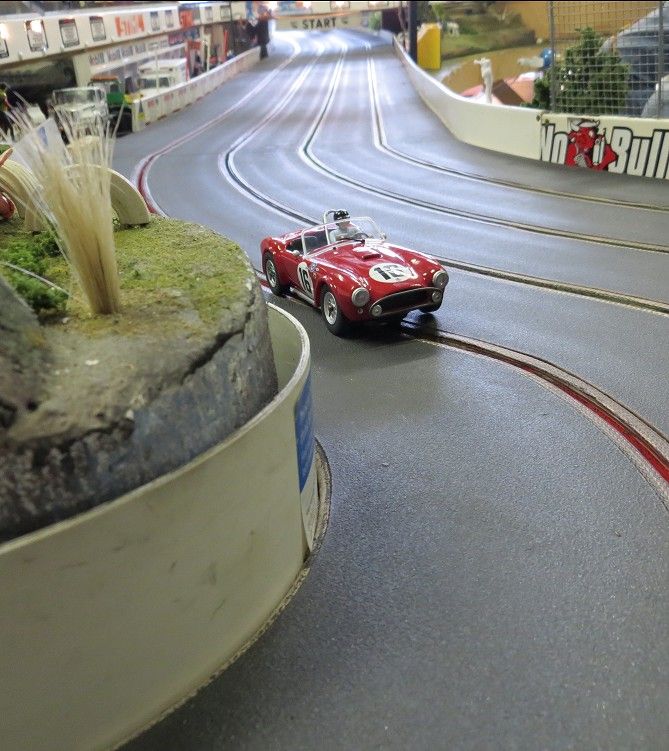 In the early years he opted for the 289 cu. in. (4.7 lt) Ford motor which was shoehorned between the cars chassis rails, and although a competitive car in its class it was still lacking in performance to be an out right winner. Similar cars appeared around the events and in '63 Shelby entered three cars in the Sebring 12 hr. Along with other independent racers like Holman Moody and Ed Hugus, there were six entered in this event. Sadly the car this model represents did not finish and retired with steering problems, but a similar car entered Ed Hugus and driven in part by Phil Hill, did finish the event in a respectable eleventh place overall, and first in the GT+4.0 class. Similar cars raced at Le Mans in this year and the AC Car Co. managed a very respectable seventh with one of the original 'Daytona" versions.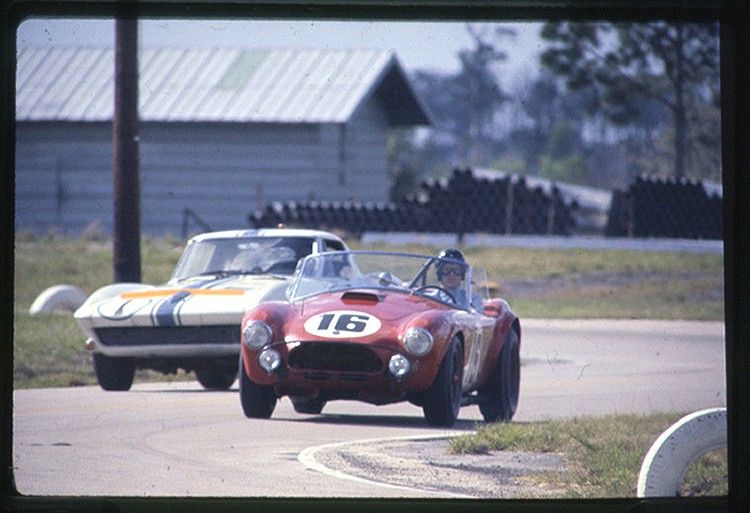 Mr Carrera has touched a heartstring with this model and just to reaffirm or destroy the illusion, we (meaning me) will look deeper into the silk purse hoping we haven't bought a sow's ear! Mmmmmm, let's start with the outside......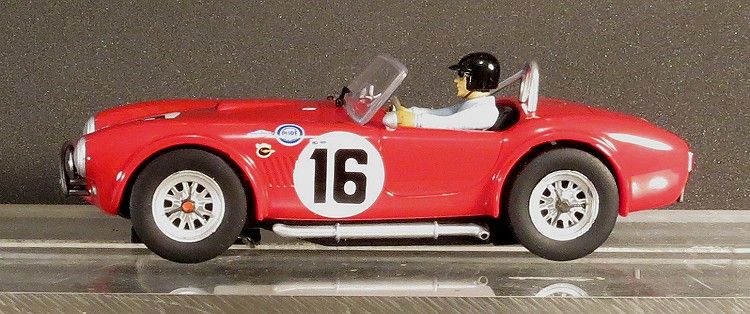 The model colour is a little more 'burgundy' than the camera shows and shines like a bottle up a chimney sweep's bottom (can I say that?). As already mentioned the model is a good scale replica which we have come to take for granted in this high tech age. Decals are sparse and well produced and as mentioned before Mr Carrera has opted for a simple half drivers tray settling on the middle ground somewhere between shelf queen and home racer. At the front the headlights are fine but the two driving lamps mounted on the nose bar are basic and in real life the oval bar actually had a type of insect screen material acting as a stone guard no doubt.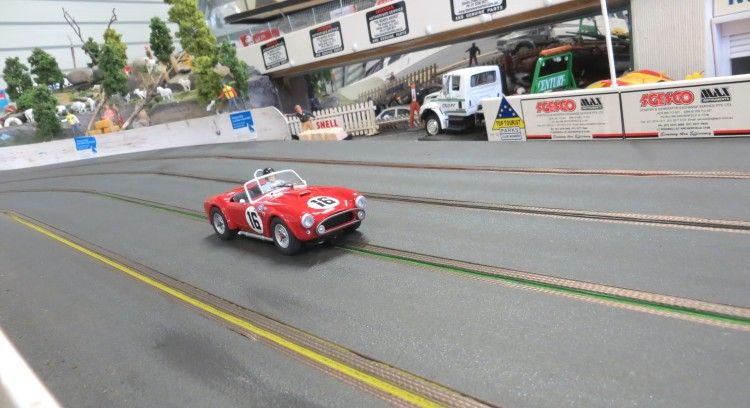 The Cobra motif is well detailed and clear and moving back we reach the screen. This looks very vulnerable even though it is quite thick but there are just two tongues which locate it in the body. The dash is respectably pointed out and the driver too is passable. Good news as always with Carrera is that the rear view door mirrors are removable and you get spares, yes siree! And to finish up the rear end is plain and simple, as was the real thing.








Carrera have opted to put a couple of vestigial hinges on the boot lid, but on the wrong side?? If you check out the pictures in the above links you will see Shelby opted for some straps on the rear which held the boot shut in the event of a shunt. Carrera have also left the roundel and number off the boot lid? Maybe only Carrera know why?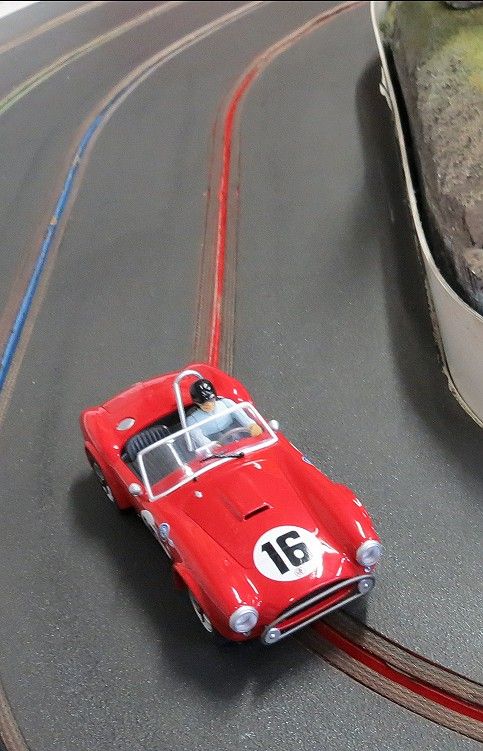 Underneath, Carrera have fitted the usual magnet but a quick wipe over with a small screwdrivers reveals the second magnet mounted between the motor and the polarity switch, invisible from the outside. And a couple of good magnets too, will they prove too much for Scaley and Ninco track?.........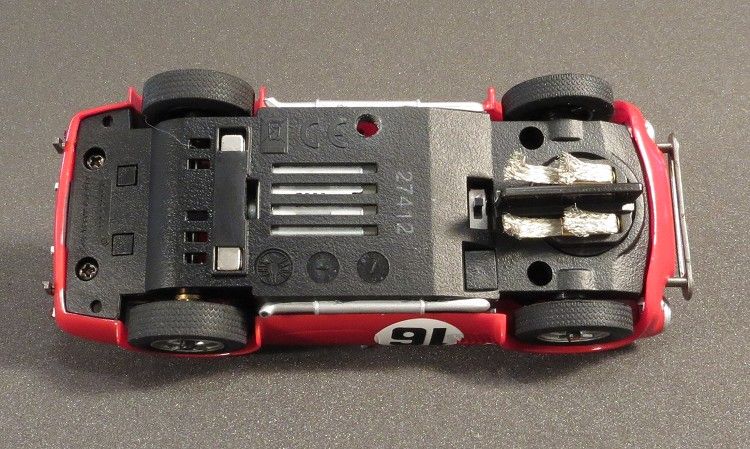 Next we can take off the body and see how much this differs from Carrera's normal construction methods, and the good news is the body weighs very little compared to the model's gross weight, this leaves the weight low down, prospectively improving the models chances of being a non magnet racer! The motor and its RI set up are as usual and the motor gearing and set up are very much the norm.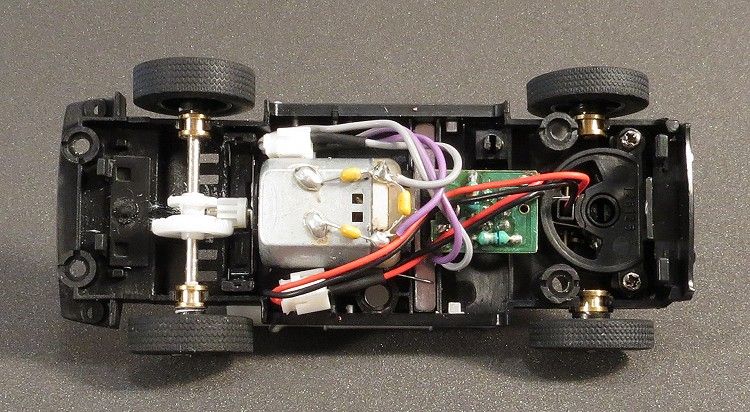 With this model and with a premium on space Mr Carrera has opted for independent front axles, this is a trend I like as Scaley and SCX have also done this with some of their smaller models. The first plus is that it reduces front wheel drag in the tighter corners when magnet racing, something which can affect magnet models quite considerably. We must have first come across this technique with Fly cars commercially, even though they, in particular, couldn't seem to get it right.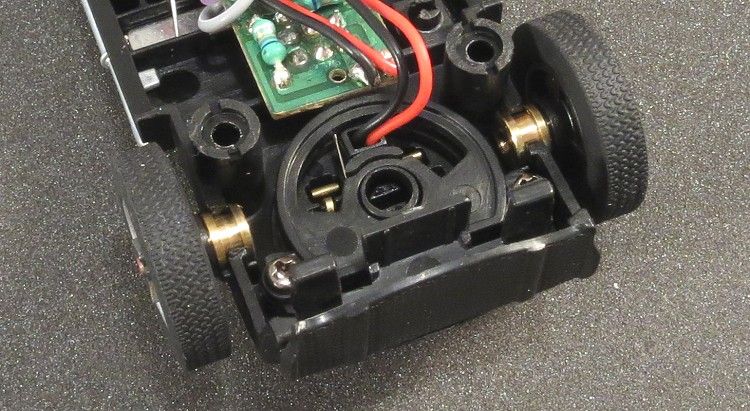 With smaller models like the Cobra the front wheel contact with the track is not such a big deal when racing magnet tracks, but when the magnet comes out, it is an essential that the front of the model contributes to the models stability, and track contact for the front wheels is a must. The outdated 'tripod' set up will leave you way down the pack. Carrera have also rationalised the internals of their guide system. It's pretty bulky to start with and all a bit 1/24th but they have pulled it off and thankfully avoided mounting the guide down the chassis just to fit everything in like they did with their F1's.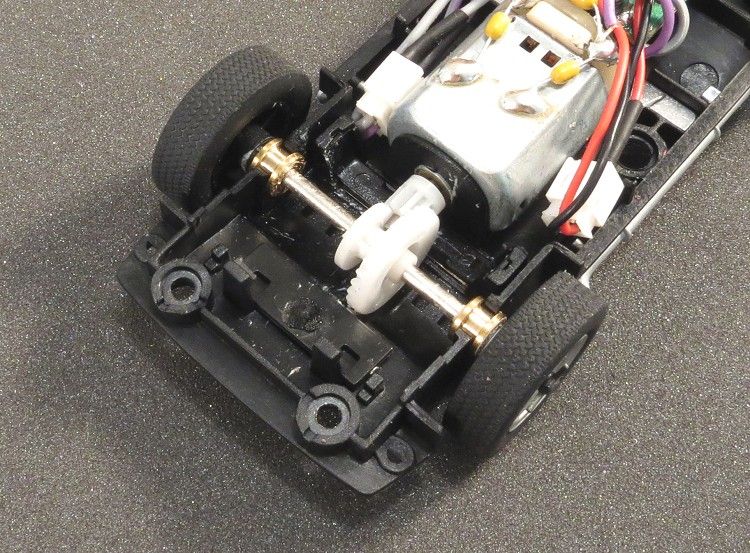 The guide is also very large for Scaley track and guaranteed not to make a lap of the average Ninco track!! But fear not, Mr Carrera is one step ahead, and in the spares pack comes more door mirrors, a spare pair of braids and a red, yes red guide!! At least it will be easily spotted in the darkened corner of the local race room! The braid as with earlier models is quite stiff and it is my experience that on magnabraid tracks that haven't quite been routed accurately, splayed braids will pick up on the painted track face and where the magnabraid drops below the surface of the track, especially when cornering, the model may be prone to slowing or 'stuttering' in corners. My choice would be to replace the braid material with something tinned and a little softer.









The front axle stubs are firm and are not too loose and the tyres are very reminiscent of that era car. For true scale I suspect they could have been just a little wider. The front magnet is located under the polarity switch, and like other models, the switch assembly can be removed and the motor can be connected directly to the guide loom, especially if you are looking for room to put a little extra ballast in for magnet free racing.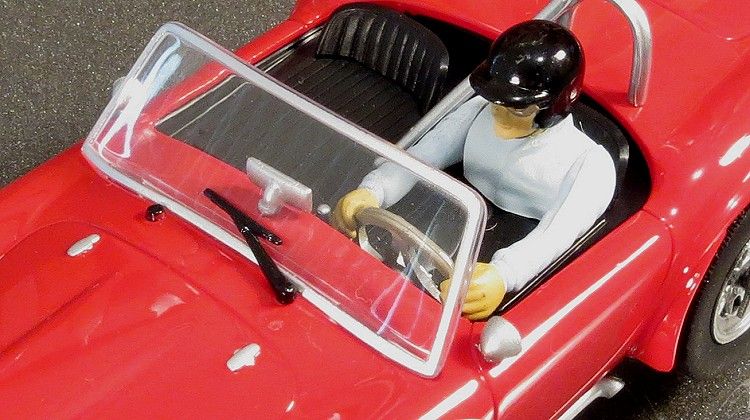 Refitting the body is straight forward and the front of the chassis will need to be inserted first to allow the back to swing into place. Body mounting posts are short, sturdy and reinforced and the body screws are a manageable size with a good cross slot in them which most screwdrivers should fit.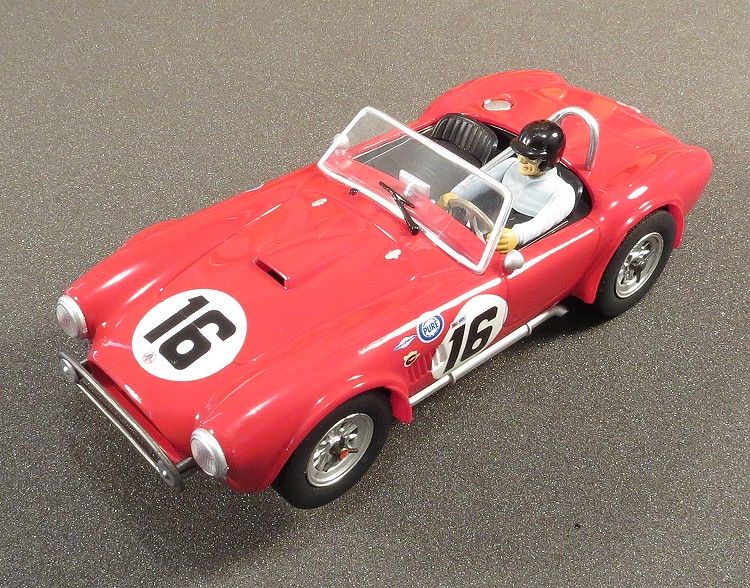 So Carrera haven't let me down, some simple errors maybe and some concessions to space and durability, but it still remains, in my books, a lovely model and guess what?? It goes mighty fine too!! On the local LCR track I decided to take it for its first spin.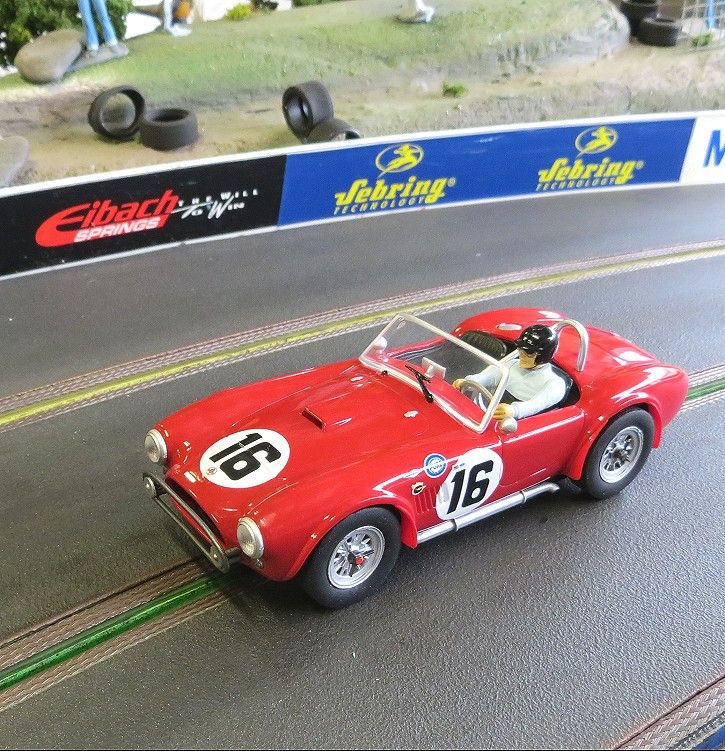 Firstly I preempted a braid problem so I spent a few seconds grooming and repositioning them and once I was satisfied I lowered it to the track! As always, pushing off slowly the model was instant motion and very quiet., and just lapping at about half throttle the model drove well, lap after lap. Gradually increasing the speed the model sat squarely in the slot and before long it was lapping with all the confidence we have come to expect from the rest of the Carrera range. Pressing on I was soon at the max and the model stepped out a couple of times but didn't deslot.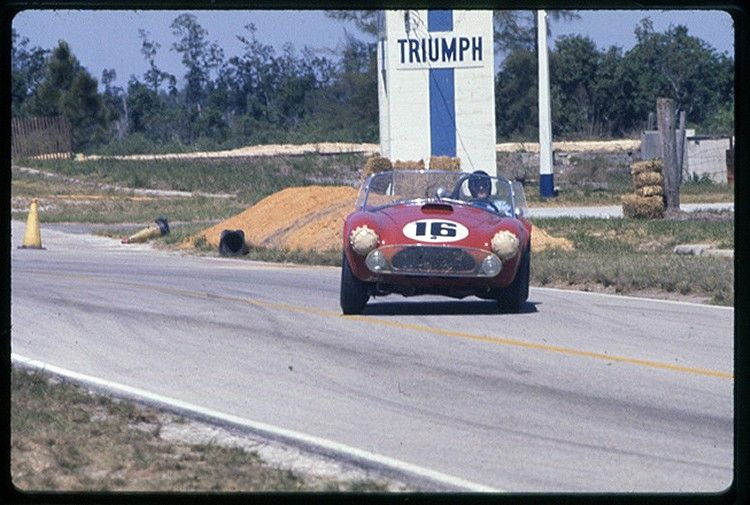 Pulling up in front of me I checked the downforce of the traction magnets and Carrera have got a good magnetic balance for their own track and for magnabraid. Most of the grip is on the rear magnet and there is adequate, but not too much on the front, just enough to keep the front of the model held on an inverted Carrera track piece.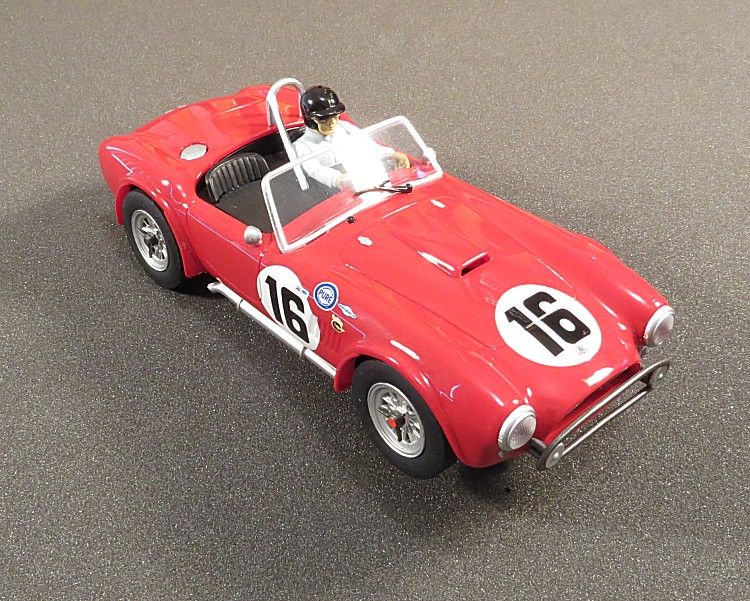 So it seems that it is harder to buy a poor model these days, inspite of some of the horror stories you can read on the internet, Carrera make a great model and must now rank second to Scaley (if not first!) When it comes to home racing cars. One thing is for sure, among the scale racers in the groups I race with there are more and more of these fabulous models in the competition and on the right day, winning!!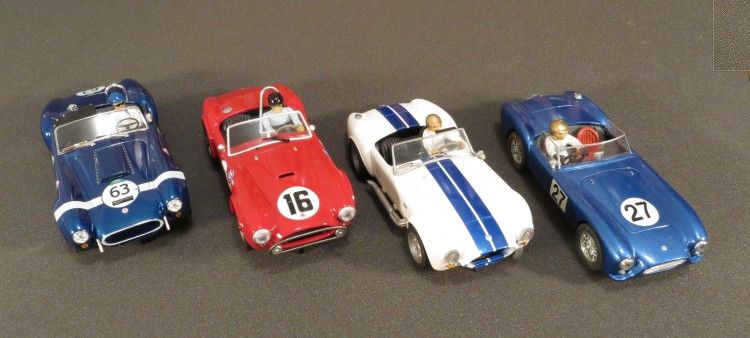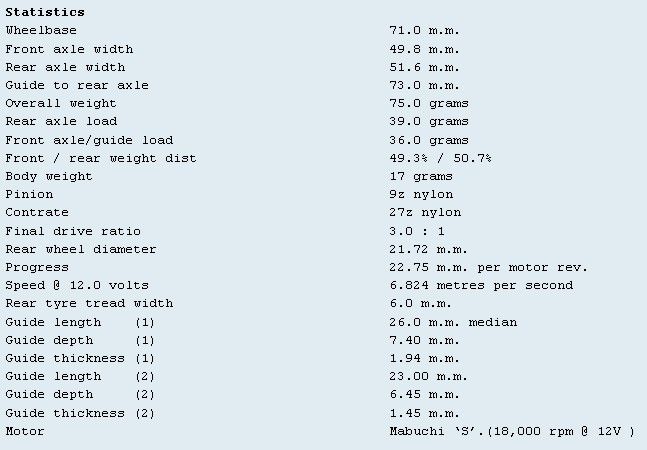 So as you probably could tell at the start of the narrative this was going to be a good review, but now I've had a look around a bit it's tempered but still good. Carrera make cars for the home racing market, this means they have to be durable and perform and this certainly does both. Probably not as well detailed as a Fly or a Slot.it but still a very nice model, and unlike some models it will still be racing for years to come.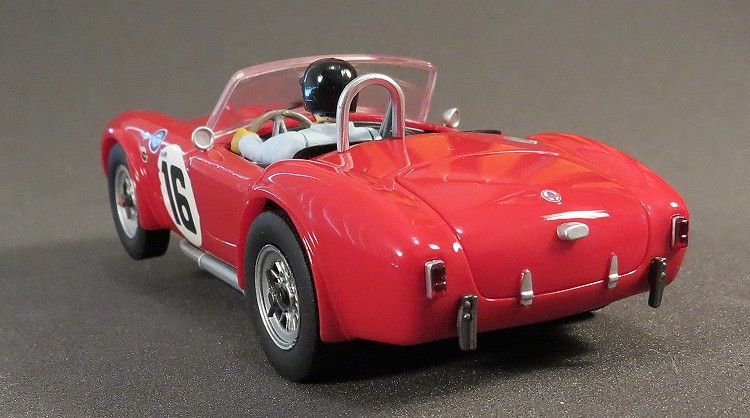 Sorry guys, I've got to say it again, do yourself a favour.....go out and buy this model I'm sure like me, you won't be disappointed!