Carrera Aston Martin DB5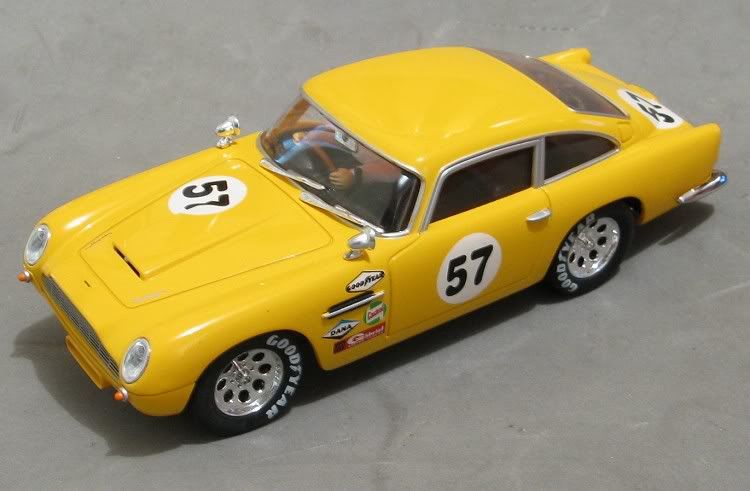 By

Phil Wicks





Aston Martin, an evocative name, ranks alongside all the great sports car makers. They had their share successes when some of their peers weren't even born.



Aston Martin.com



Dating back to before the great war the marque started life as someone else's product....revamped and tuned for the competition market, much like many classic European sportscars. Aston Martin started making their own cars in the twenties but the newly born fickle sportscar market saw the company change hands several times. After a period of munitions work during the second war, 1948 saw the company eventually be acquired by David Brown (the 'DB' in their model names) who had made tractors for military use such as airplane and bomb trolley tugs as well as agricultural products. The following year Lagonda was also acquired.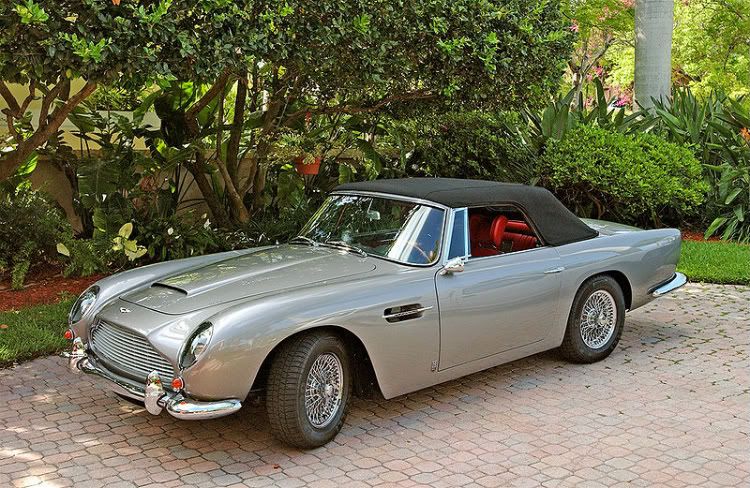 This was made in 1964!!!





David Browns association with the marque ended in 1972 and again AM drifted through various administrations and ownerships. Ford, out on a buying spree, eventually picked up the company in 1991 and by 1992 a range of models had been designed and started to roll off the production line. Under Ford's ownership the Company moved into modern purpose built premises and also returned to mainstream motorsport, with the DBR9 being the flagship model. In 2007 the marque was once again on the move and was purchased by a venture capital group who found backing in the form of a couple of Kuwaiti investors.








The DB5 was first produced in 1963 and was an upgrade, more or less, of the DB4GT which first rolled off the production line in 1958. I am a firm believer that a greater part of the cars success in this time was attributable to its popularisation in the James Bond series of films. Its classic lines rekindled a devout following which to this day sees a surprisingly large fan base and owners register. But I digress. Believe it or not it is almost impossible to find decent footage of a racing DB5 on the web so, unless someone can help, we move on to the next section.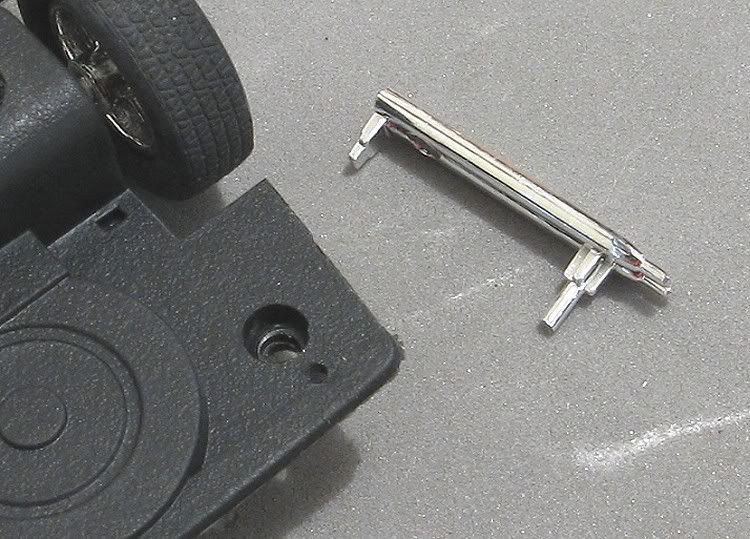 There's a another body screw under the pull off exhaust!





Carrera have been producing this model since about 2004 if I'm not mistaken, so this is by no means a new model for review. The reason I have decided to review it is that I must have missed it back then and, having a bit of a soft spot for AM's I decided that it would be unforgivable to leave it out of the forum.







Slightly up at the back, but removing the shim fixes this.



Carrera have endeavoured to faithfully reproduce a 1/32 scale model of this car. I feel they have been a little bit generous with some of the dimensions but then again they haven't offended as much as some of the more famous majors have. The model dichotomy is clear and whereas on the first hand Carrera have moulded a fabulous body in great and very realistic detail, they have chosen to use an almost tongue in cheek chassis. The wheels tend to shout at you a bit and are far too big and 'chromey' for the rest of the car, and the rear seems to be jacked up a bit in Nascar Superbird style, probably as a concession to the home racer market.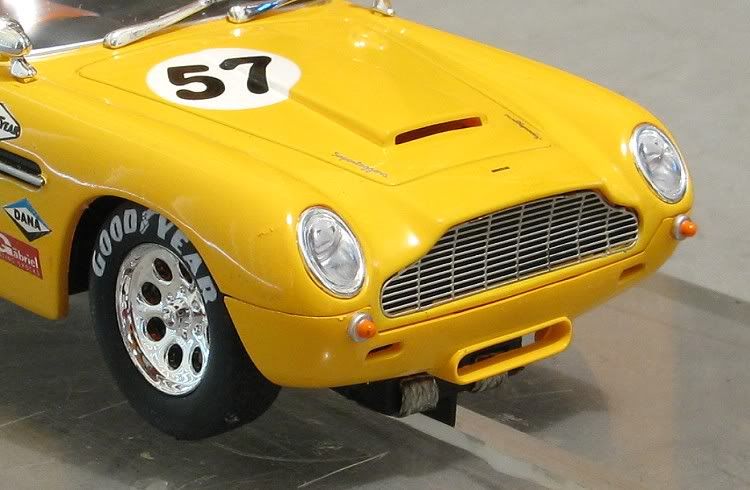 Detail is sparse but very nice and Mr Carrera has made a great job of the grille and light detail, the Spafax wing mirrors look good and a plus is that, along with almost every other modern Carrera model, they are removable! Barely visible on the bonnet is the Aston Marin badge and down either side, 'Super Leggera' has been added. The body itself looks to be clear coated plastic rather than painted but its a good glossy job and very effective. The half drivers tray is well detailed too with a nice dash, an anodised interior mirror and even the makings of a wood rimmed steering wheel!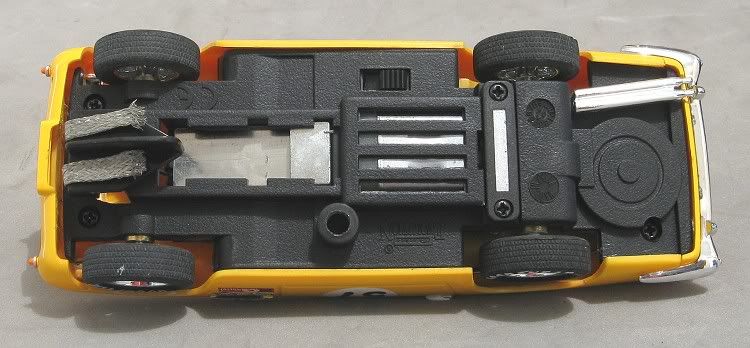 Underneath is a familiar chassis circa 2005 with a small bar magnet at the back and a sliding magnet in front of the motor. This can be adjusted from front to rear depending on your fancy. The guide flag will be at home on routed tracks but may prove to be a bit of a handicap on smaller gauge plastic tracks like Scalextric and SCX. Braid material, as always for Carrera, is good, being tinned copper, and tyre rubber is a little on the hard side but it doesn't seem to have too much problem hooking up with a variety of track surfaces.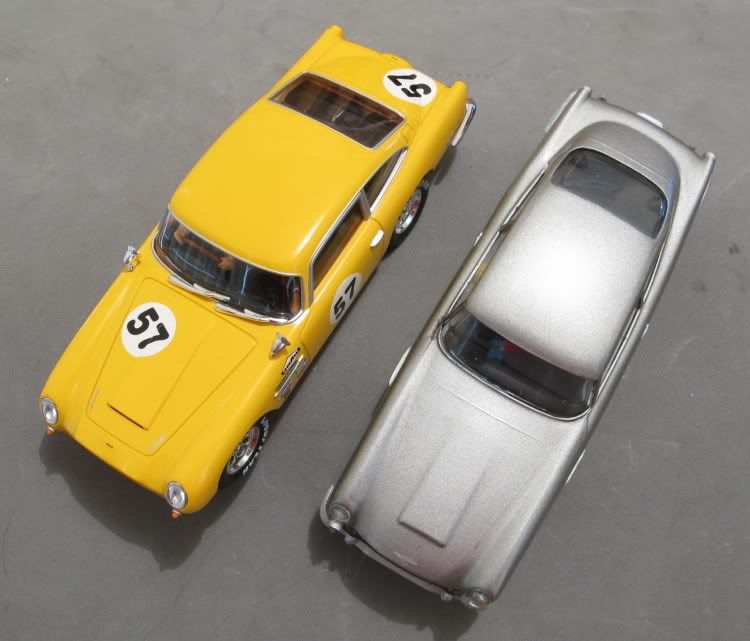 Carrera against the Airfix DB4





Once the chassis is separated it is clear that there is a lot of body noise. Things tend to creek when squeezed, and this inevitably translates into a noisy model on the track. The driver's tray is the main culprit and really needs attention before screwing the model back together. There are four body fixing points and if you like to race a loose body, then these will need attention, plus, the chassis will need to be freed up in the body a little more.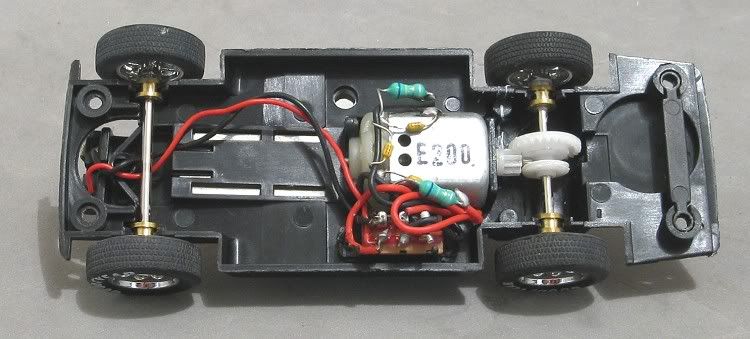 Inside the model again is nothing of note. Just a simple honest chassis ideal for its target market and nothing to make it unreliable while tearing about the lounge room floor. At least on this model the polarity switch has been recessed to prevent a low scrape with the track surface sending it in a backward direction!! Another thing I notice is that there is a sleeve spacer on the rear chassis mounts. Once removed, the body can then sit square and level on the chassis, taking away that 'Superbird' effect and bringing it back to the land of reality. The final solution might be a nice set of BRM spokes to really set the model off!









Nothing else of earth shattering importance, but the appeal of this model (to me) is on the outside anyway. As mentioned before the body detail is reason enough for owning this model. Plain, straightforward, Aston Martin. But for some of us a nice exterior is not always enough. The model has to perform. So how does it perform???.............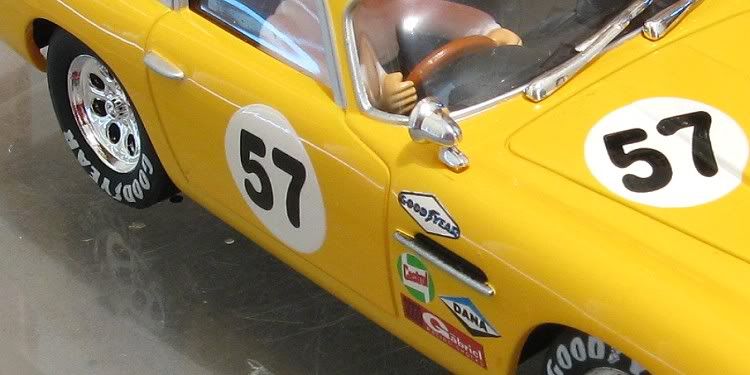 We are all familiar with the current choices of racing surfaces. Plastic, complete with magnetic attraction, routed with magnabraid, probably about 50% magnetic attraction, and plain routed with no magnetic attraction. The Aston Martin is able to cope fairly well with all three. On magnetic track the rear magnet can be shimmed down 'til it touches the conductor rails, but you will have to make your own shims. If it's a tight and twisty tack you may need to slide the front magnet forward to help keep the guide in the groove. If it's a sweeping speedway of a track then the rear magnet might do better to be up a couple of parts of a mil, and the front magnet can be slid towards the back. On non magnet track there is the opportunity to add a little weight either side of the centre chassis, but the box mounting thread may need to be cut off.








Carrera with Scalextric DB4GT





Other stuff noted is that like all other Carreras there is a good supply of Radio Interference suppressors. Maybe these and the polarity switch might be discarded for more serious track work. Again, a typical Carrera pinion and crown wheel. As yet I haven't had one of these fail which should speak heaps about their quality. Lastly, the axles seem to be slack in their brass bushes. Probably due to knurling on the axle ends but it would be nice to see manufacturers take this part of the model seriously for once. Again, not the end of the world, and an easy fix if you are going to be changing the wheels.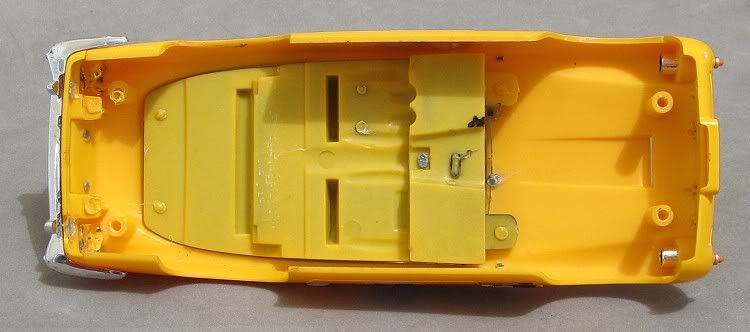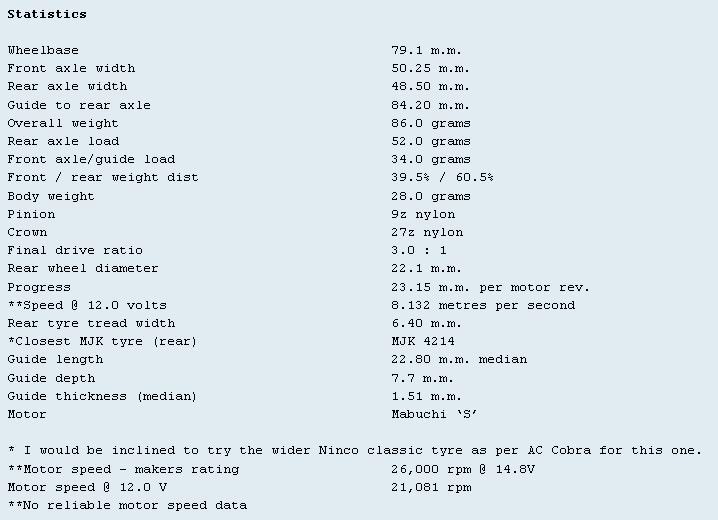 Excluding the wheels, Carrera have made a nicely finished model. If there were to be any critical observation I would say that the front and rear valances could have been a better fit. Everything else looks fine to me. The motor speed is still a bit of an unknown with ratings claimed to be from 18,000 rpm to 21,000 rpm, but it certainly doesn't drive like a 21,000 motor. Carrera supply a couple of spare braids with the model, and a magnet shim which is best used as a template for more shims!!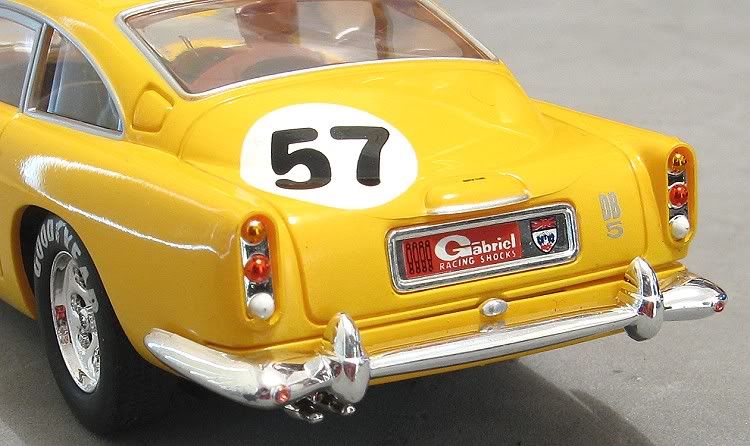 As mentioned before, this is a nice rendition of the real thing; and as far as competition is concerned I feel it would be an unlikely winner racing outside of its Carrera contemporaries. And even if it never turns a wheel in anger, it will still make a nice addition to the collection.



Many Thanks to Q32 and Legends racer Moby for the chance to review this model