Carrera "Torro Rosso" F1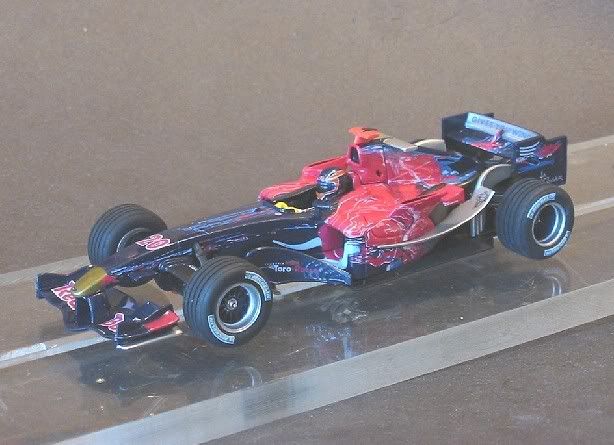 By

Phil Wicks



Carrera F1's have always been fairly competitive models. Not burdened with many of the problems of their sedan counterparts, they have been able to perform relatively well against other makes. But they still lacked that final spark to make them a first choice for mixed competition. The current Torro Rosso and sister models have gone a long way to addressing that problem. The model has its new FF type motor which is not short of a bit of grunt. It also has a more user friendly final drive ratio and the model in general feels good on the track.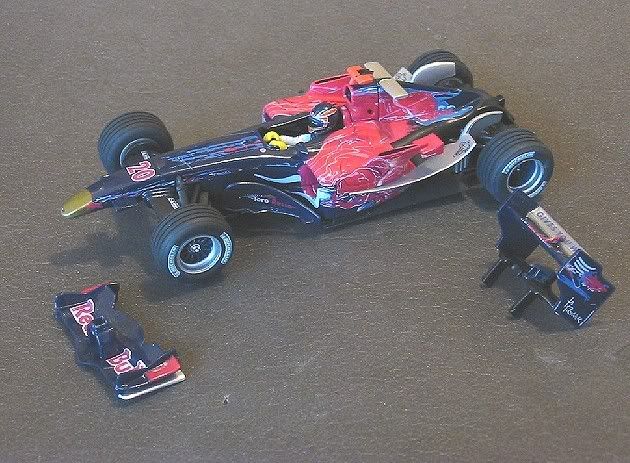 Externally, Carrera have done a good job. I don't see too many parts that might not make it back to the pits but like all the current F1 makes, the desire by buyers to have modelling perfection has left little room to manoeuvre from a manufacturers stand point. There are just too many fiddley bits on a current F1 that to leave any off would raise a hue and cry from the masses. Happily Carrera have adopted a practice of making vulnerable parts removable and like with most of their other offerings, this model has a removable rear wing and rear view mirrors. I like to call these parts removable rather than detachable because I would rather remove them before a race than have them become detached during a race. As an extra I have carefully prized the front wing from the nosecone as I can see it becoming a statistic early on in the piece.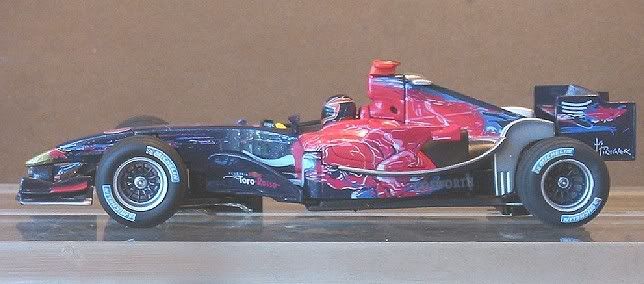 The paint job is excellent and Carrera have captured the metallic graphite colour of the body well and the intricate design of the Torro Rosso is exceptional. Fine detail like the camera housing and front and rear wing profiles stand out too. Front suspension detail is sturdy and it's going to take a memorable shunt to dislodge or break things here. Even underneath, Carrera have stuck to detail. The rear suspension detail has been beefed up a little and I'm sure this is to conceal the detail of the axle bearings and contrate. No moving parts visible here. The graceful curves of the tub side ground effects look the part and the whole body looks very convincing.

Wheels and tyres set this model off well and the spoked rims semi conceal the brake discs behind. Tyre detail is first class even down to the bold 'Michelin' logos on the sidewalls. The model did however have two wheels which could have been more concentric than they were. There was one front and one rear wheel which had noticeable run out!!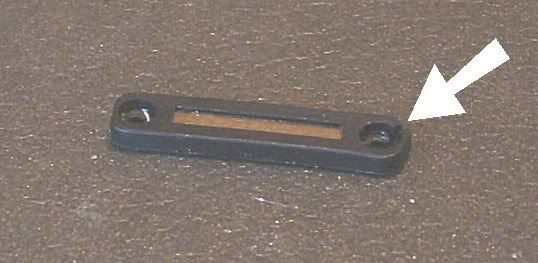 A split magnet carrier is a bit of a QA issue?



Underneath, the model is very neat and tidy too. The now familiar Carrera reverse polarity switch sits tidily on the side of the chassis. There was I time I might have been inclined to remove this but now I leave them. They don't noticeably interfere with the running of the model and it is a novelty to be able to reverse race direction at the flick of a switch! Hard liners would probably disagree but then they don't have fun anyway! The bar traction magnet is a good strong neodymium magnet. This is adjustable by inserting a shim which comes in the little compartment in the back of the display case. It's not too much trouble to make your own either. Some clear bubble pack material from a hundred and one sources can be shaped and fitted in layers if necessary!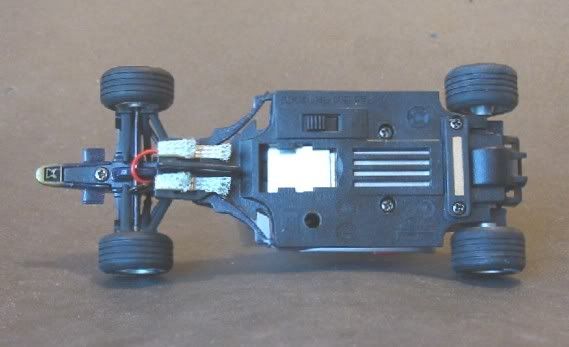 One thing that concerns me is the position of the guide. I would have expected Carrera to have mulled this over at length to decide on what was the best place for it and the only conclusion I can come up with for putting it here is that the guide is too large to make a secure mounting point for it further forward?? This then presents the problem of having a high degree of sideslip on the front tyres which is a no-no for well behaved cornering. On the sweeping bends of a Carrera track there doesn't seem to be too much of a problem but on the twistier turns of Scalextric and SCX there could well be a distinct disadvantage for this potentially competitive racer. The front tyres will drag terribly in the bends and the lengthy guide is even at risk of sticking in the inner curves.






The middle magnet which has been a Carrera trade mark for some time now can almost be discarded if you have shimmed the rear magnet correctly. It is only needed on low downforce Carrera track when racing. There is too much magnet force for conventional steel rails and the car slows noticeably in tighter corners (not helped by the guide position!) The lead wires have no real tangible connection to the guide and are indeed held in by the sheer fact that they are trapped by the braid plates as these are pushed in. The motor is the now familiar Mabuchi FF which is firmly mounted and the rear axle is a good tight fit too. Important on models which have the axle bearings mounted close together.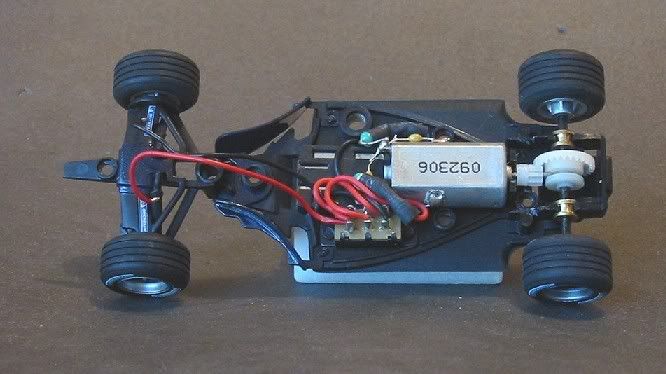 The body is a bit more simple than Scalextric F1's A good thing in a way as there are less parts to be distributed around a circuit in a good race. You only get half a driver in this model and one other worrying point is the amount of plastic holding the nose cone to the rest of the body. Granted, there is a screw mount in this area but still not a lot of plastic. Has anyone snapped a nose off yet??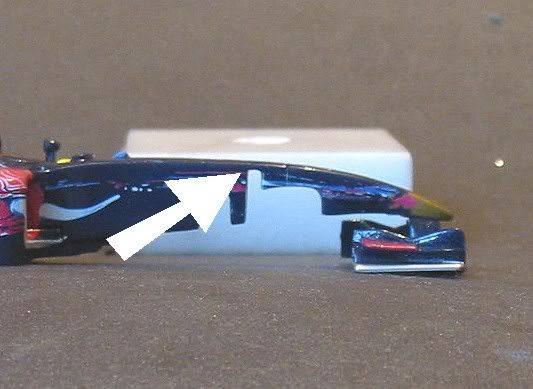 There are four screws holding the body to the chassis. One is mounted under the bar magnet. I wouldn't be too sure if this model would benefit from running with its screws loosened a little as it only weighs in at 71 grams and the magnet is shimmable anyway?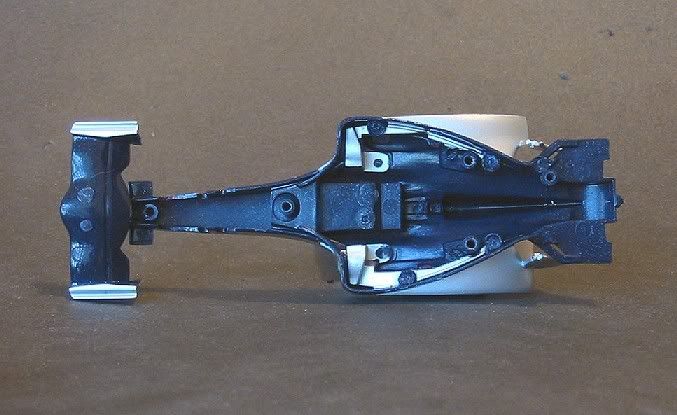 So what's it like on the track? Quick, that's what, and I make no apologies for sounding enthusiastic. The motor in this model is supposedly rated the same as the now familiar Mabuchi 'S' cans from various makes but like the Scaley FF this motor gives the impression that it works a lot harder. Acceleration is instant and top speed is impressive too. My first run for this model was on its home turf. Red Racer's six lane Carrera circuit is high speed and I mean high speed. Three banked corners amongst the sweepers and plenty of straight line action.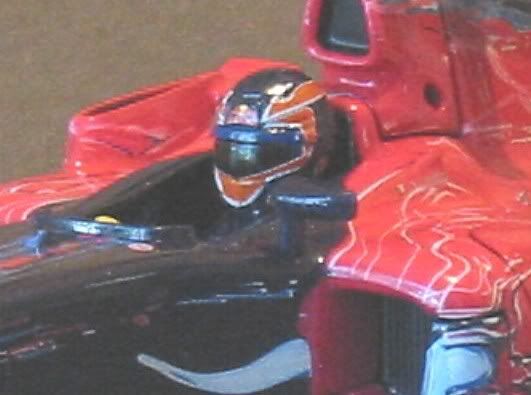 Driving off it was noticeable in that this model just felt different from its siblings from Carrera. None of that doughy feel as the model winds up to speed and no quarter mile braking zones either. In actual fact, it was not too different from the Scaley F1's. I was using a Parma 15 ohm controller and the model was responsive and zippy. Straight out of the box the model's rear was prone to breaking away and after a quick trip to the sanding block it was more predictable. The front magnet was moved back in its slot and the rear magnet had been shimmed down. Hitting banked corners hard at high speed saw the model understeer and end up in the scenery (what little there was) and trying to rectify this by sliding the front magnet forward was not successful. I think one of the problems was the fact that the front axle is the fixed type and the track has banked corners. In the bend the models front and rear axles are resting on two different planes and the fixed front axle lifts the guide part way from the slot and just like some Scalextric models come with a warning saying 'unsuitable for banked tracks', this model too is unsuitable for banked tracks! Driving slower into the banking is the only remedy.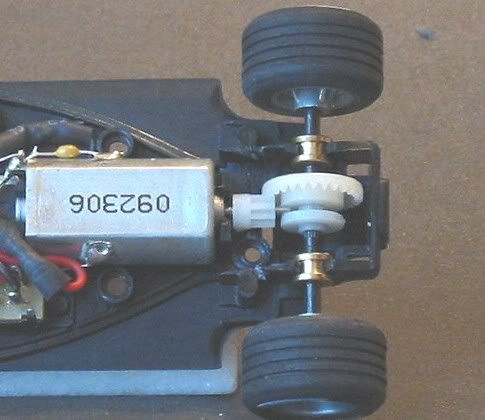 I got into a rhythm on the track and it wasn't long before I was getting over confident with its predominantly good behaviour. Driving it harder and harder was a pleasure and eventual deslots were from driver error rather than model defects. As the tyres scrubbed in even more it was a simple case of short braking into bends and flat out round them. Even for the lower downforce of the Carrera conductor rails this was not a problem.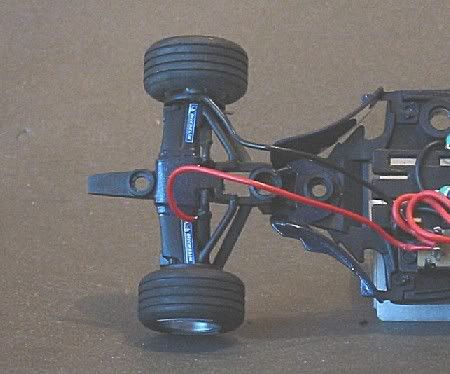 My only criticism would be that its tendency to deslot on banked track leaves it a tad behind Scalextric F1's for performance. All else seems compatible and on a flat track I wouldn't expect the model to be disgraced. So, on to wood/board surfaces. The car like all others, benefits from a little extra ballast as close to the back as possible. In this case it needs to be added anywhere you can find space!! It runs well without it but seven or eight grams just makes you feel a little more in control. Again the model is quick and on flat corners it shows as much tenacity as other makes and would be an equal in most cases. I'm still not happy with the guide position, especially on board and I'm convinced the model's front tyres dragged a bit in the tighter bends. I suspect also that it may well have understeer deslotted a couple of times because of this. Running the model with no front tyres may have proved this but I didn't bother on this occasion. If this was to be the case then the simplest solution would be to run the front tyres on a dummy axle in a drill and sand a shallow convex surface on them. This will reduce track contact to a minimum and still retain the stability that a rigid front end has.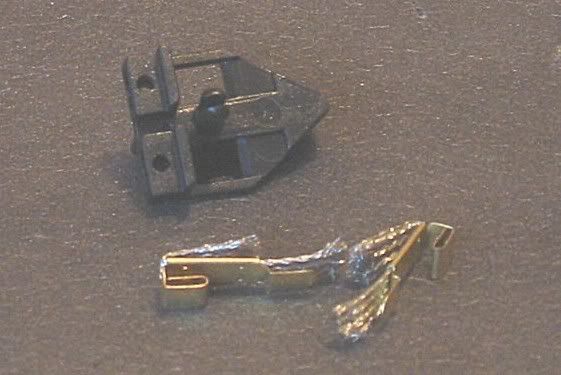 Once again, even though the sheer size of the guide looks out of place, I am convinced that they are no more problematic than the smaller makes. I wouldn't even bother changing it. The braids are my favourite tinned braids and they are also my favourite double braid set up! So, an impressive track performance from a manufacturer that has (in my view) too few impressive track performers. If you are a club racer and you don't have a recent Carrera Formula One model and F1's are what you like, then pop out and fix yourself up with one. You won't be disappointed and you may even do better than expected!
Statistics

Wheelbase				97.5 m.m.
Front Axle width			57.0 m.m.
Rear Axle width				58.0 m.m.
Overall weight				71.0 gms
Front axle load				33.0 gms
Rear axle load				38.0 gms
Front/Rear weight dist.			46.5% / 53.5%
Pinion					9z
Crownwheel				27z
Final drive ratio			3 : 1
Rear wheel diameter			20.5 m.m.
M.m. per motor rev			21.47m.m.
Guide blade length			22.5 m.m.
Guide depth 				6.5 m.m.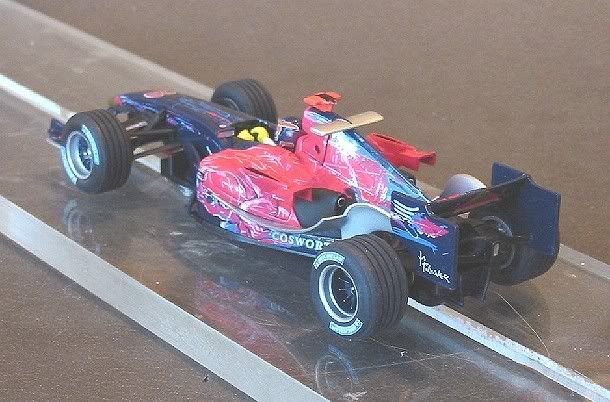 A very pleasant drive from Carrera and a potential race winner in fixed motor classes. I chose the Torro Rosso for it livery even if it does appear a little dark on the track. The moulding and fit of all the little incidentals like exhausts, air intake and side pod ground effects are a pure delight to see and the feel of the model in the hand exudes a bit of class. What would I do to make it competitive? Not a lot! This is one model I look forward to competing with!