.
.
Revell - Monogram
Mike Wilkinson Lightweight E type Jaguar
Cholmondeley Pageant of Power 2009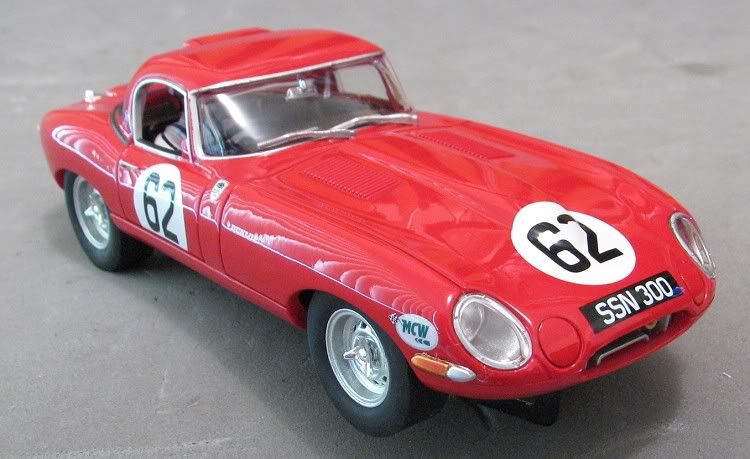 by Phil Wicks

For those of us old enough to remember, it was a red letter day when the much awaited E type Jaguar was launched on the expectant public. The news was on the lips of car fans young and old and the word was on the street that this car was going to change the course of modern sports cars. Hailed as the most beautiful car ever made by Enzo himself, the car snowballed a mass of accolades and praise, and even into the twenty first century was winning awards from the four corners of the globe.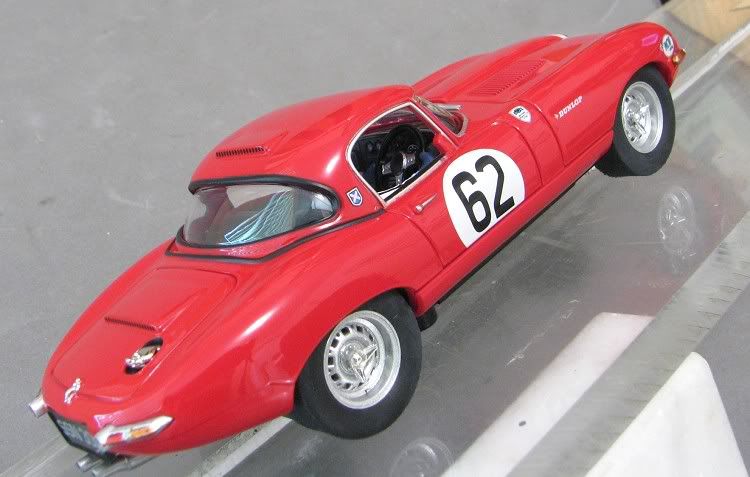 The car itself started life in the then defunct Jaguar racing workshop and was originally intended to be a successor to the aging XK 120. The D type was to be the inspiration but it became self evident that this car was not going to be a re hashed ex racer. From 1957 to 1960 Jaguar pondered and changed the basic setup a few times and eventually settled for a slim chassied vehicle instead of the monocoque they had been playing with. The XK 120 engine in three litre form was fitted and the second prototype was to be a race car test bed. Early retirement from Le Mans saw Jaguar re assess their whole involvement with motorsport.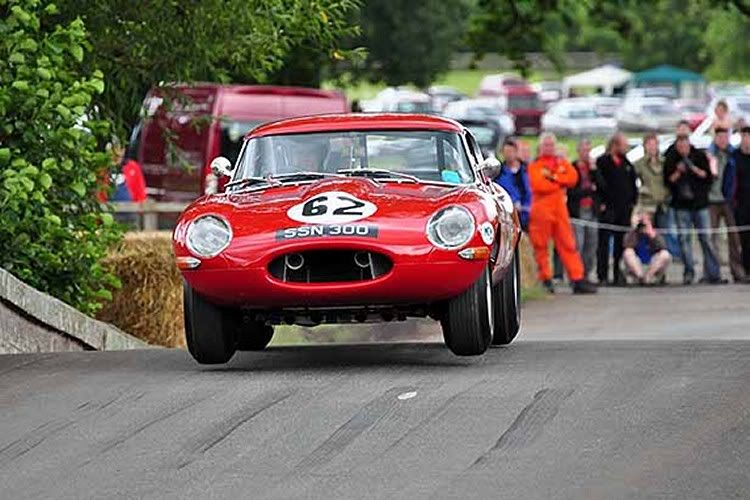 In 1961 the Mk 1 was released. Initially tested at 150 miles per hour, the car had the XK150 engine with three SU carburettors, four wheel disc brakes and independent rear suspension; and a 0 – 60 mph time of 7 seconds was very respectable too. Initial production went for export and it was to be four months before Brits would have a chance to buy this car at home. Over the next few years the Mk1 was to appear successfully around the globe in competition . A notable achievement in the early days was Australian Bob Jane's success and outright win in the 1963 Australian GT Championship.





Eagle E types, Jaguar restoration



So, inspite of the parent company's rocky and controversial history, and eventual decline into an also ran pseudo luxury car, the original E type has retained that charisma of a supercar which to this day still holds fast. It is interesting to note that Jaguar built a limited run of 'lightweight' E types, most of which never survived the passage of time. But a couple of originals did survive, and the E2A prototype was sold at Bonham's in 2008 for a cool $4.95 million (US)!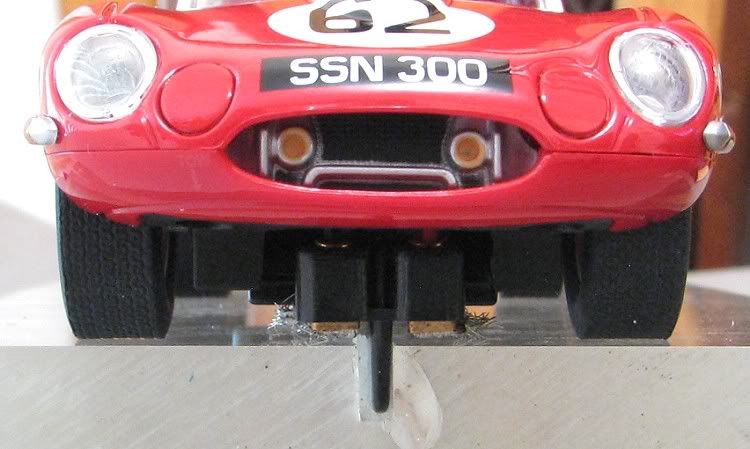 A nice deep guide, too deep for Scaley and SCX!


So this model has a massive reputation to uphold. Over the years I don't recall too many 1/32 scale E types being made and this is possibly reflected in the number that appear on eBay? almost zilch. But the last year has seen an upsurge in this iconic car and now Ninco have condescended to produce one; and one which may have escaped under most peoples radar is the new Revell/Monogram E type. This is a replica of a restored E type which appeared at the 2009 Cholmondeley (pronounced chummly) Pageant of Power.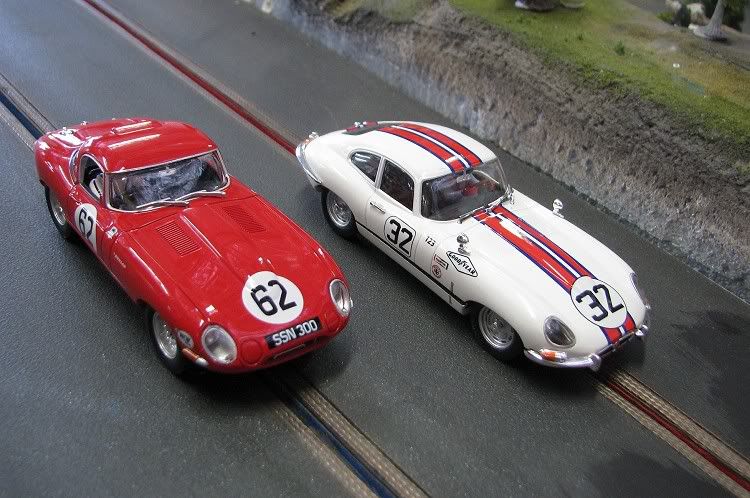 Along side the Ninco Jag





So how well have Revell justified their attempt at this model? I was pleasantly surprised actually. Not looking for any more race cars, and being tempted by the Ninco E type, I nearly purchased one except for the fact I was looking through Topslots'n'Trains new arrivals and spotted this little beauty someway down the list.








Now I have been pleased with Revell's models to date, even though a lot of them are not competitive with some other makes, they make a car which is a nice drive out of the box and in their own way are great fun to run. They are also very well appointed and finish and quality has been amongst the highest I have had the pleasure to buy. The E type is no exception. Even from inside its display case it calls to you to get a closer look. So, out of the box it must come....now!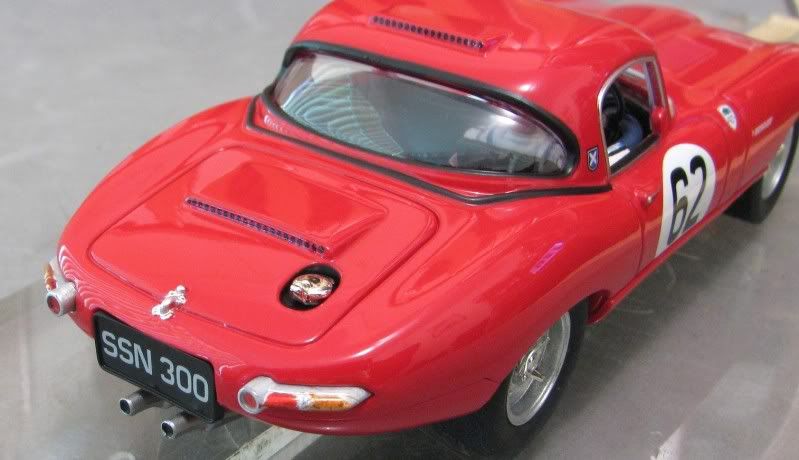 What do you get, apart from the iconic car! I'll let you be the judge. The model looks to be good scale and proportions are very good. The colour is the popular E type red from the early sixties and this model, being a restoration replica, has a fibreglass canopy and a vented boot lid. The boot lid also carries what we used to call a Monza style filler cap. What tampo there is, is well applied and there are no smudges or ripples in the very shiny clear coat.









There are a couple of detail omissions which confuse me, and an addition which does the same. There are no rear view mirrors?? (yes, I know they would have a short life, but it would have been nice to have the option!). On the original renovated model they were attached to the upper front door frames. Revell have also seemed to have forgotten the third wiper blade (even Ninco and SCX managed this)! The odd addition is a pair of what appear to be light covers on the front bonnet??? The photos I have don't show these??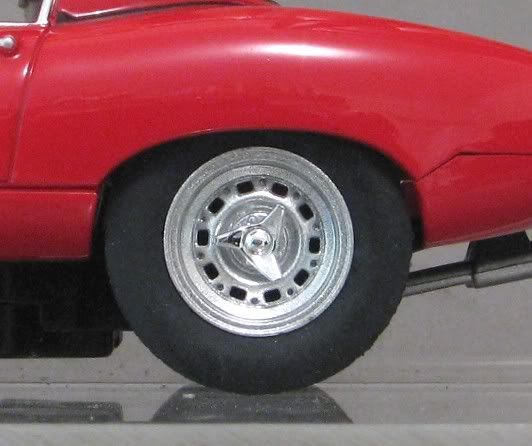 Working around the car it has the lightweight steel wheels with three winged knock offs. The wheels are concentric and the tyres fit well, but I suspect to race the model, most of the tread detail will be lost after tyre truing. But the tyres are quite soft and useable for magnet work. Some very nice detail at the front includes some radiator air intake detail and a nice pair of headlights. The first disappointment is the side/flasher light detail. It looks like these are brush painted and who ever did it could have been a little more careful maybe? The rear lights are a little better and it is the exhaust tail pipes and numberplate and boot catch detail which redeem the rear end.









From the side the model looks a little high and I think the purist might say the tyre detail is a bit on the chunky side, causing the model to look a bit high on the track. But lets not forget, these cars were designed and built before the days of serious ground effects and spoilers, so comparisons with contemporary photos show the car is a bit high but isn't too far out of scale ground clearance wise.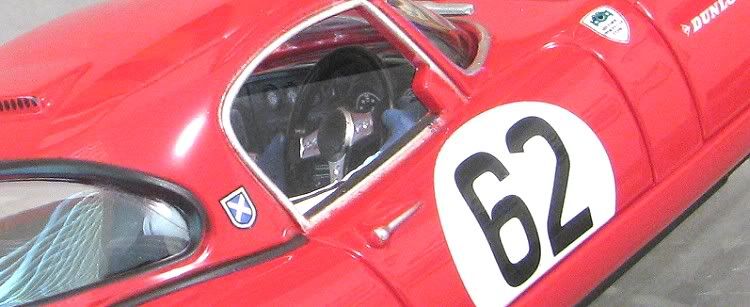 Poking my nose inside the model takes me to secret places rarely glimpsed by the regular slot racer, but I'm sure Mr Revell knows I love a good interior and within reason, this is good. Detail in here is good with all the driver aids intact. There is also a reasonable attempt at the classic dash arrangement which was one of Jaguar's trademarks in the sixties. Critically I have to say that in real life the E type is not a huge car and likewise, with two people in the cockpit, there would not be much space left. In this light, I think the driver is detailed well and has some very realistic characteristics, but I think he is a little on the small side? But Hey, this is a slotcar, so I won't get too emotional about gratuitous detail!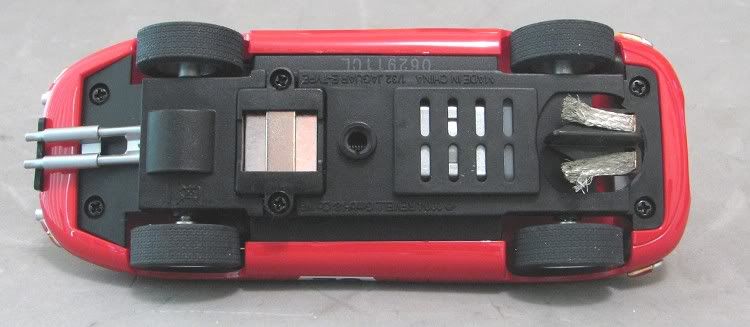 Underneath, the model is a familiar Revell chassis and with it comes a respectably deep guide, although the guide is more sloppy than I like! On the plus side I have always been happy with Revell's braid material, a good, not too stiff, tinned copper which seems to stay together and last an eternity. There is an adjustable magnet, strong but not over strong; and some nice but possibly oversized tyres. Sitting on my test block the car looks decidedly sexy. And I can't wait to get it on a track!!! Any track!!








One last thing about the outer detail is that the sill panels (them bits under the doors) are separate items and one of them is loose! This will make it more susceptible to being broken in an impact, but, the fix is simple. A small blob of Superglue on the tip of a modeller's knife, applied to the little plastic rivet head from behind while holding it in place should suffice.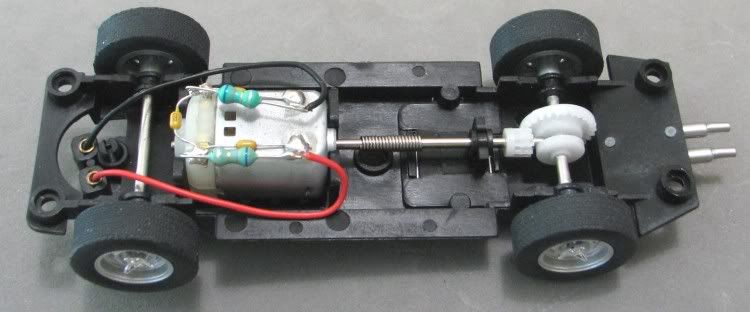 Taking the body off is relatively easy, four screws and a little bit of jiggling will see the model separated. Inside there are no surprises but a couple of things which I think would have been nice. Revell have used an 'S' can type motor which drives through the can end. The motor is also quite loose in its mounts too, which will require fixing if you are a 'sans magnette' racer. But this bodes well for those who might race NC1 classes as we do as the Ninco NC1 and its copies will fit straight in.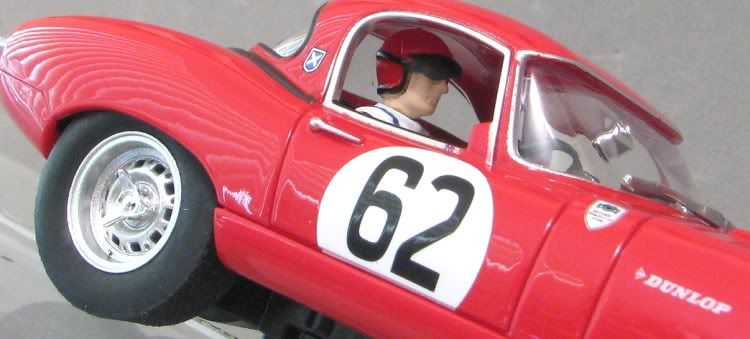 On reflection I would like to have seen one of the newer 'FF' type motors (the slimline boxers) up front. It would have imparted less mass to the front of the model and would have possibly allowed the tinkerers a chance to lower the body on the chassis with ease. As it is, the prop (drive, tail) shaft inside the car has minimal clearance under the driver's tray and even though there is clearance for the motor once the RI components have been removed, there will need to be some judicious hacking of the drivers tray to allow any further upward movement of the chassis. New chassis??? Who knows?








Alongside the early sixties Airfix E type Slotcar.





Looking further into the model at the business end it is immediately obvious that the drive shaft bearing is very loose in its mount and requires attention before re assembling. The axle bushes have a little bit of play in them, but nothing catastrophic. Once again probably the result of needing to get the bushes over a knurled axle end.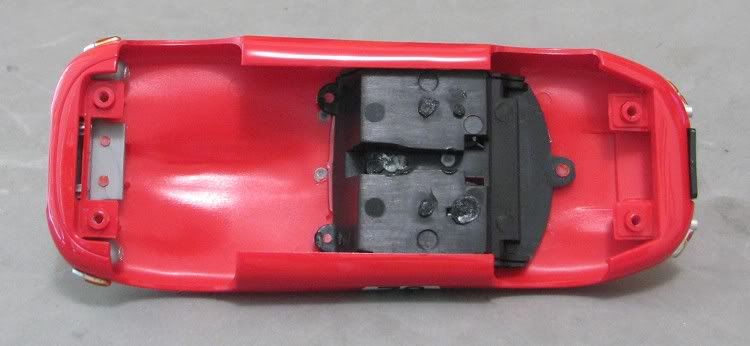 I have managed to take the model for a run on the LCR magnabraid/Ferrador track and although not wanting to roll it on the abrasive surface, I managed to put is some very pleasing laps against a new Ninco Jaguar. I didn't expect to be quicker, but out of the box, no sanding, no adjustments the model was very rewarding. I attribute the low body weight and the reduced work required by the traction magnet to be greatly beneficial. And again, if the model had the FF motor, I'm sure there would be more advantages. I have tested the model's adhesion on Carrera and Scalextric classic track pieces and both demonstrate good magnetic attraction characteristics, especially Scalextric.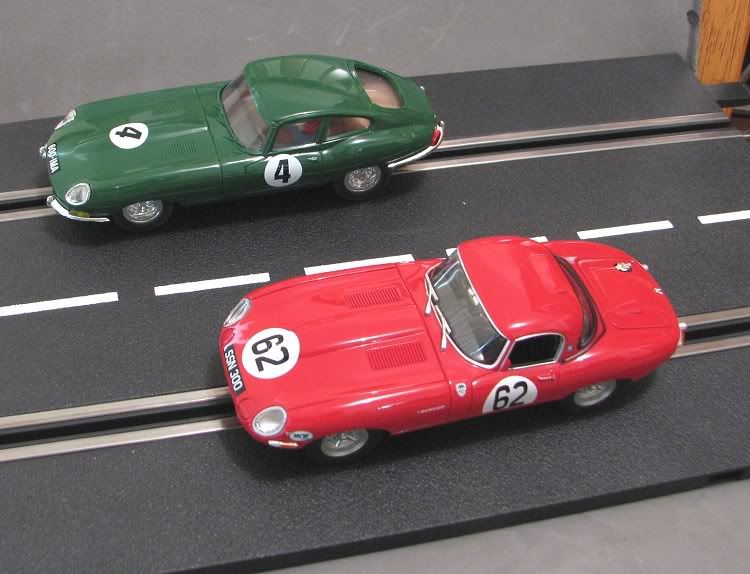 Along side the SCX 'Vintage' series Jaguar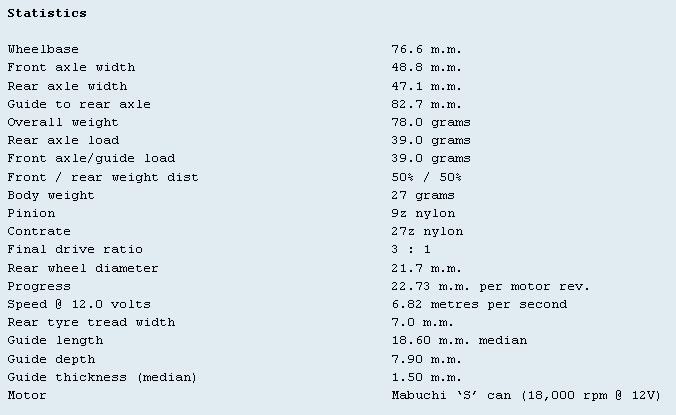 I have run this car, albeit on a magnabraid track, and it was a very pleasing outing. But more than that, watching it circulate, lap after lap was better still. Even with its slightly high stance the model is a beauty to observe in motion. A couple of other slot racers present at the time vowed then and there to make this model one of their next purchases. So, if like me, you return home after a tiring and stressful working day, and your thoughts turn to comfort from a bottle; just get the Jag out and do a hundred or so cruisey laps. You won't be disappointed.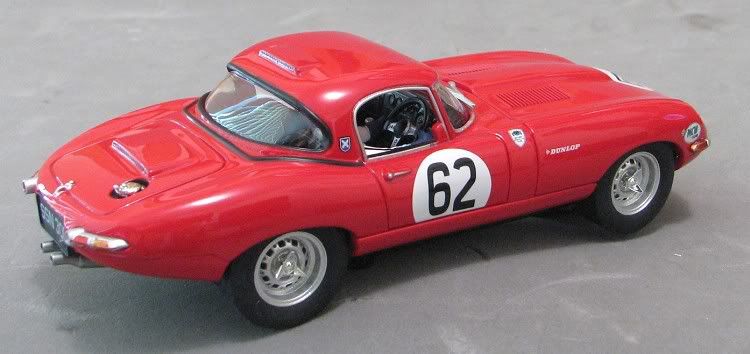 Race winner? probably not in SOOB form, but a driving pleasure on a fast flowing track. I am looking forward to doing a few pre meeting hot laps with this model at Mt Perrorama, Caloundra (see features) VERY SOON!!!!