Revell
NSU 'TT' 1300
"Albert Keicher"

by

Phil Wicks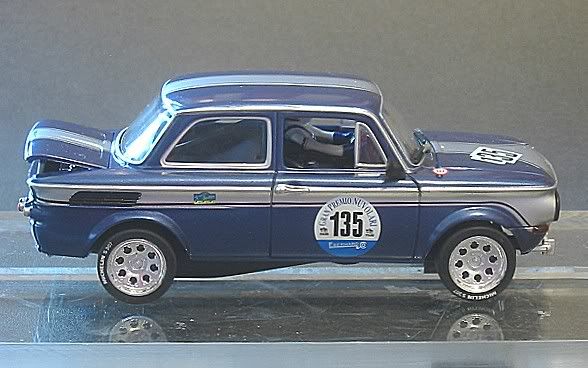 There was a time, many years ago, that the term 'NSU' would strike dismay in the heart of many a teenager! Not because they may well have been offered a rather beat up and rusty one as their first mode of transport but for reasons of a more medical nature! But like the complaint, the car too was the last thing on the mind of many young Euro citizens when they became old enough to legally own their first motorcar. I remember dreaming of exotic (to me) Fords and Vauxhalls, almost new and with all the go faster accessories. The truth of the matter was that, even as a trade apprentice, a motorbike was to be my primary mode of transport until I was almost 20! Then the dream of a nice shiny (nearly) new car was still a glimmer in showroom windows. My first car, inspite of my dreams, was a rather well used Austin A30! Grey outside and red inside, trafficators to enform other road users of my directional intentions and steering with the accuracy of a block and tackle! The brakes too were a source of consternation and many a weekend was spent trying to get a little extra 'grab' from the single leading shoe set up!

I can imagine similar teenagers in Europe being goaded into such delights as Renault 4's, Fiat bambino's, Simca 1000's and the like! And no doubt, in Germany, many a young person's hopes ended with a hand-me-down NSU Prinz!! from a well meaning relative! Never mind, we survived those times and I am convinced we became better drivers for it. Reactions would be on a knife edge for an entire journey, wondering what impromptu manoeuvre the wheels beneath us would make at the next emergency situation. ABS! Traction control PAAAH!! Cissy stuff!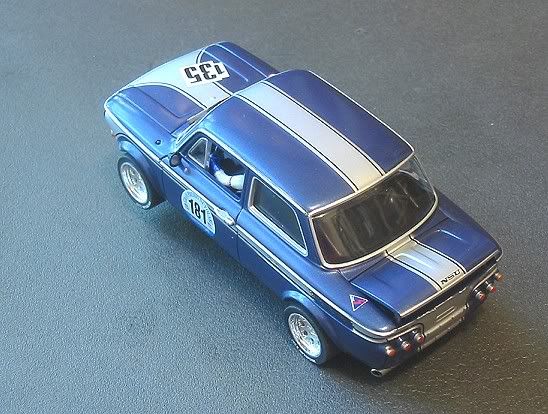 Well, as with all manufacturers aspirations, the NSU Prinz was released as an uprated sporty 'TT' version for the foolhardy. The independent front and rear suspension and rear transverse mounted engine ensured the car was full of surprises! On slippery roads it was possible to execute 360 degree turns totally out of the blue! One day you would be understeering frighteningly through hard braking corners, next you'd be oversteering in the fastest of sweeping bends. A large bag of cement or a few building blocks in the front was almost a pre requisite with these little devils. The company itself was eventually swallowed up by VAG and its name lives on only in history books and museums

But the youngest of drivers these days see these cars immaculately restored in modern colour schemes and refer to their 'cuteness' and as they get older they purchase them as hobby cars, either restored or for restoration. The traumatic experiences of previous generations are long since forgotten and once again these cars are viewed much as they were when they were new.

Revell is now a German model company which continued making models through the leaner years and is now enjoying a resurgence in hobbying both from static kits and slot cars. Their European input is reflected in the range of models they are producing with many models based on European classic and modern vehicles. The NSU TT as depicted by Revell is actually based on a restored car which was used for historic racing during the eighties. Since the Red Team's home track has been fitted with it's individual lane power control we have been racing mismatched models with great success. One class pulled out and dusted off is the little Seats from the classic range of SCX cars. With more models like this in the pipeline from various manufacturers, I decided to buy an NSU TT for the occasion. The next task was to get the livery I wanted at the best price. Revell products are not thick on the ground in Aus so an international search ensued and believe it or not I found the livery I wanted as a good deal from a hobby store in the US.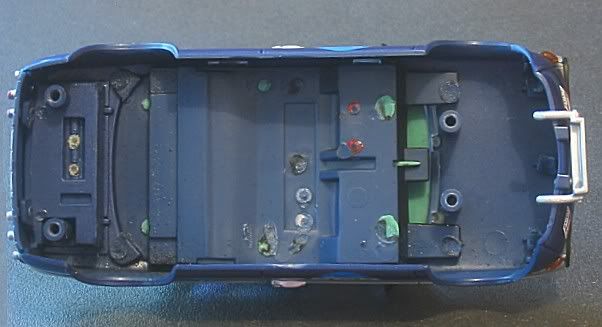 Ten days later I was unwrapping the model in the comfort of my lounge after dinner. The 'Keicher' livery is a very striking dark metallic blue with silver GT stripes down the centre and along the sides giving a very crisp and unfussy appearance. As with most models these days the small detail is first class. Front lamps especially are good and convincing. It's a pity that Revell have not yet jumped on the 'front and rear lights' bandwagon as I think it definitely adds to a models appeal. The model has the engine cover set in the semi open position similar to some of the SCX models. Revealed inside is detail of the top of the engine. One thing I'm a bit confused about though is the door numbers! The left door carries number 181 and the right door caries the number 135? Wheel detail too is good and the tyres also carry the 'Michelin' name.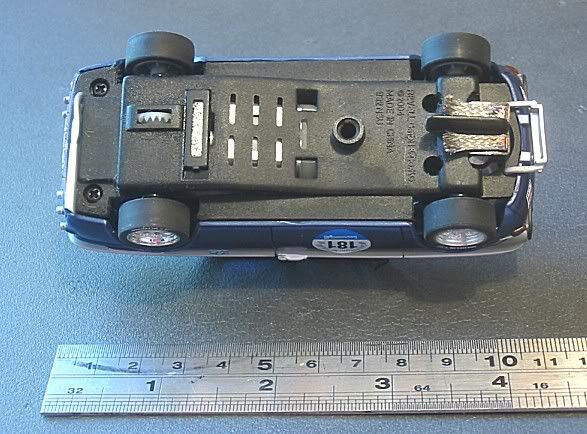 Underneath holds no surprises and this is a simple plain chassis with the motor canted down to the back to allow clearance above the track. The small diameter of the rear wheels gives rise to a problem. If you are using Scalextric classic or SCX track, the crown gear, which protrudes through the chassis, will touch the conductor rails on certain sections of track giving rise to a whining noise although it doesn't seem too detrimental during running.

Inside the model there is a lot of space. I would even suggest that it would take a Scaley digital chip! The slope of the motor is obvious and the motor carries the usual RI suppression. The motor also has a removable front mount and once again the motor is very rigid in the model. I don't expect to have to glue this motor in place. The guide has minimal side to side and front to back play and comes with tinned copper braids. Front and rear wheels have a bit of run out which is noticeable and the tyres too are a little out of shape. Because of the small nature of the wheels and the proximity of the contrate to the track, this model will only take minimal sanding so be aware of this if you have or intend to get this model.







The front axle has minimal play and supports the weight of the front of the model. The rear axle has greater play in its bushes than I would normally like. Not being sure of the strength of the tiny wheels I will leave this until it becomes a problem. The now familiar Revell magnet is in a fixed position under the pinion and generates a good amount of downforce. The magnet is removable and clips in and out of its recess.

The body is fixed by four screws to the chassis and the body posts fit into recessed mounts on the chassis giving a positive fit. If this were to be raced seriously I would be inclined to remove the recess walls on the chassis posts to offer a greater degree of body movement on the chassis.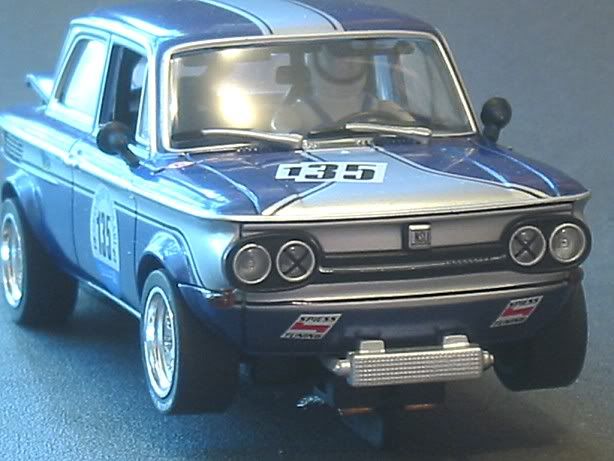 So, what does it go like? Well, the model weighs in at 65 grams and most of it is down low. My initial thoughts were that it might be a little too top heavy but the chassis weighs 40 grams and the body 25! So things started to look up. My first impression of it was on the Red Teams 21 metre sweeping two lane board track and I was in for a pleasant surprise. The tyre compound is very board friendly for this type of model. A lot of grip but not too much to cause it to flip in a non magnet situation. The Mabuchi 'S' can appears to be on a par with the Scalextric and standard Fly versions and needless to say the model is a pocket rocket out of the bends. I dialled in a few ohms resistance to the power supply and set the model to run quickly but not at SOOB breakneck speed. I was soon lapping very comfortably in the 8.2's and loving it. No bad habits, no vices, just simple driving pleasure. Good friend Garry put his SCX Seat gulf on blue lane and with me running a few ohms handicap we did some pretty spectacular head to head racing. Classic sedan racing at its best. Best times came down to 7.9's which is not earth shattering but any harder would see the model do a roll over deslot which was half expected even with most of its weight below sea level.

Next outing was at the 'Four Seasons Slotcar Club' 4 lane Carrera circuit of about 30 metres lap length. The traction magnet came into its own here. Even with the reduced effect of stainless rails, the magnet still had heaps to offer. With tyres cleaned, I ran it for a while on the Carrera track and was pleasantly surprised! It hung on for grim death and with its tiny wheels its straight line speed out of sweepers was phenomenal! The model lapped around the seven second mark which is a couple of tenths slower than the twin magnet Carrera models times! Again, deslots were the 'roll-over type, indicating it's tiny dimensions weren't enough to overcome inertia and a medium C of G. On plastic it seems essential to ensure firstly that the track is dust free and secondly, that the tyres are clean. I use pure hydrocarbon (similar to lighter fuel) for this.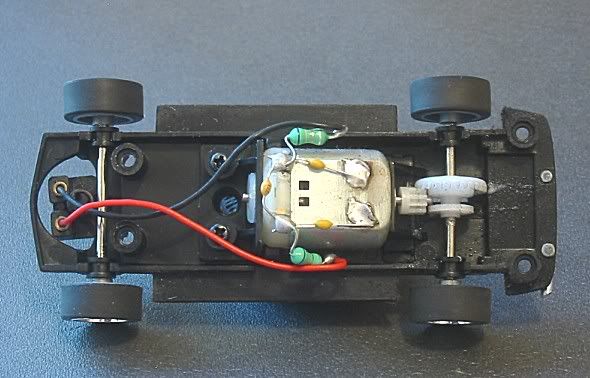 Lastly, I took the opportunity to test it on my good friends classic Scalextric track. This was were I discovered the crown wheel touches the conductor rails on some of the more uneven sections of track. Nonetheless, this model is a veritable projectile on Scaley/SCX track and the only limiting factor is how quick your reactions might be. I'm always wary of high speed models on tortuous plastic tracks as the end result is usually a spectacular 'off' with resulting damage. In this case, most of my 'offs' were on open sections of track and out of harms way. The lightness of the model and the intensity of the traction magnet has made this model a ragged edge racer! Far better than some of the pretenders to the sedan class. If you like slotcar life 'on the edge' then search one of these out 'on special' and treat yourself to a lot of fun! Mine will be run predominantly on non magnet board tracks and I look forward to a good deal of fun with this model. It seems evenings are no longer long enough to run all my favourite cars!!
Statistics

Wheelbase					70.0 m.m.
Front Axle width				48.0 m.m.
Rear Axle width	        			48.5 m.m.
Overall weight	        			65.0 grams
Front axle load	        			36.0 grams
Weight distribution front/rear	        	44.5% / 55.5%
Pinion						9z
Contrate					27z
Final drive ratio				3 : 1
Rear wheel diameter				16.0 m.m.
Motor						Mabuchi 'S' can.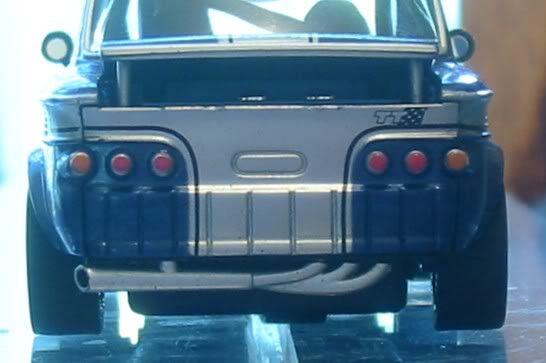 This is another pocket rocket which seems to be at home on most surfaces, with or without magnet. The only driving discipline required is to not be over adventurous on corner entry or you will be rewarded with a roll over deslot. That asides, its straightline performance on short tracks and home circuits will see it half way down the straight whilst bigger models are still getting themselves sorted. This may be a tongue in cheek racer but in a steady hand it could upset a few of the locals.