CHEVROLET 'MANCUSO' CORVETTE



By

Phil Wicks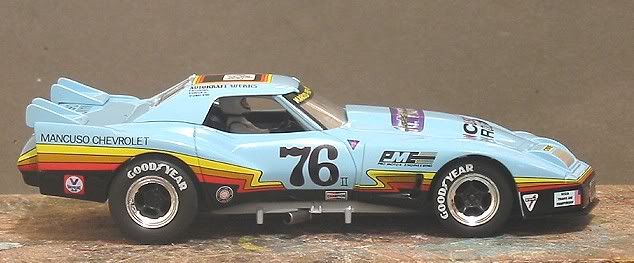 With some of the American Historical products being a bit alien to me, I was going to give this model over to Rob to review. Rob has the Corvette and in due course will give it the benefit of his experience on plastic. But whilst trawling through the ebay construction kit site I came across what I can only consider to be a misplaced item, the Monogram 'Mancuso' Chevrolet Corvette. It had a couple of days to go but hadn't attracted any bids above its start price so being the opportunist that I am I placed an opening bid and two days later it was mine!! So for US$24.99 + US$11.70 postage (total AU$48.00) it was winging its way to me from Charleston Il.
It's interesting to note the American models come with the Monogram logo and the European models with the Revell logo. The car itself is made in China, as are 90% of slot cars.
The model is a replica of one of the famous John Greenwood Corvettes as built by special order for Mancuso who was, at the time, the leading Detroit Chevrolet dealer. The Detroit skyline has been emblazoned across the bonnet and the car was built to contend the SCCA 'Trans Am' Series
So, down to business and as usual, the detail first. Once again another excellent presentation from Revell-Monogram. The model is very convincing and also once again, tampo is precision placed to enhance the pale blue body. Front and rear detail is very concise and sharp and the front and rear grilles are picked out in what looks to be anodised metal.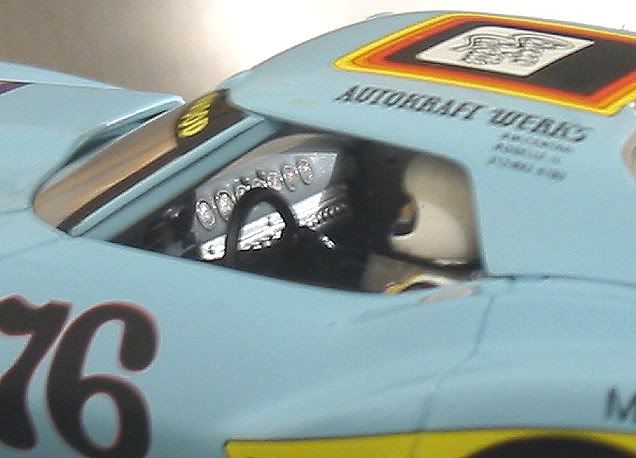 The chassis detail also peers at you from under the sill panels and a couple of rugged looking exhausts finish the side detail. The cockpit detail is also to a very high standard with a good scale and well tampo'd replica of Rick Mancuso at the wheel. The multi-gauged dash has also been picked out to diecast quality!


As you may well already be aware, I am a wheels man ! Call me perverted but you can brandish what body you like at me but if the wheels are duds, then you've lost my attention! The wheels on this example are once again first class. No fancy knock off spinners here, just honest five stud fixings with a chrome rim. Totally effective and the Goodyear tyres finish them a treat!




The underside doesn't reveal anything new. A simple set up for hassle free operation. Front mounted 'S' can and a movable traction magnet. There is about 9mm front to rear movement and at its rear most position it is 18mm in front of the rear axle. Guide too is non controversial and standard as tried and tested. Once again, four mounting screws with the internal mounting posts recessed into the floor pan. As I have mentioned elsewhere I'm not a lover of this type of mount as body movement is still restricted if you try letting the screws off a tad.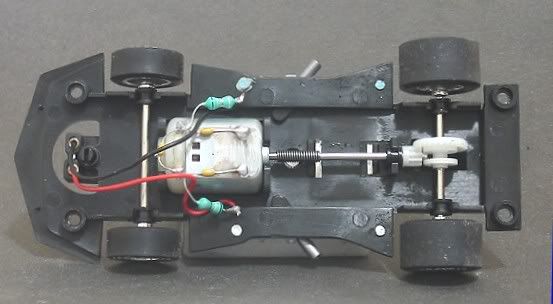 Inside is an uncluttered layout (do we remember the Audi A4? I don't think Rob has stopped laughing yet!) The spring driven prop shaft has become a standard in many models and it allows a full depth drivers tray. Both axles run in nylon bushes and with this model, there was little slack to talk of. Pinion is 9z and crown wheel is 27z. The motor is well fixed. No free play here and it has the usual suppression hardware attached.
With the preliminary checks done I then proceeded to my local board track for some slot car indulgence. Once again red lane was cleaned and run for a good while to get it 'bedded in' for some hot laps. Placing the car on the lane I took off at a fair rate of knots and settled into a steady running pattern. Another quiet model. As to how well balanced the model felt. Remember, this is a front motor on board track. That usually means the tendency of a snow plough in SOOB condition, but no! A steady drive and not too much tail waving to demonstrate its motor position!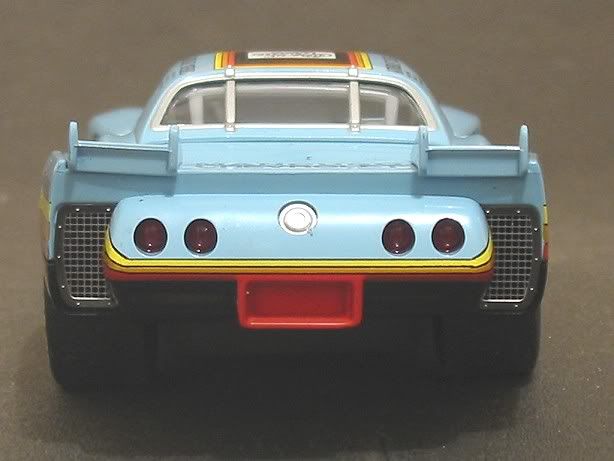 So, after a settling in period I opened it up to the max for the purpose of the test. Corner entry was very positive and attributable, no doubt, to the motor up front. Corner exit was a bit slippy but this was with untouched tyres! Deslots tended to be a swing round rather than an understeer. That's good because that can be tuned out. A few more laps on the edge and then times were noted.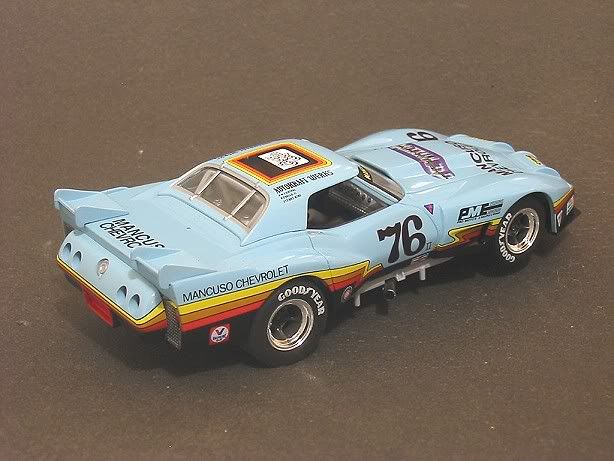 Out of the box was a fastest lap of 7.978 secs. Pretty good by comparison and still a mystery to me for a front motor? Next was the minor mods. Checking wheel concentricity came first and woe of woes, the right hand rear wheel has a pronounced wobble to it. I'm still not sure if this occurs during moulding or assembly. The latter I expect, as wheels are pushed manually onto axles in the production line process? All other wheels checked out OK but the hubs had to be sanded down as they all had a humped centre ridge and sprue flash still attached. The tyres are a nice soft compound and are a good fit.
After sanding down the tyres on the hubs I took it for the stage two test. After running thirty or so laps at maximum traction I managed to improve the fastest lap to 7.534 secs. Not a massive leap but more indicative of the original efficiency of the wheels in SOOB condition. The final or stage three test involved releasing the chassis screws to allow a small amount of body movement and to clean the tyres with WD40 and dry them off.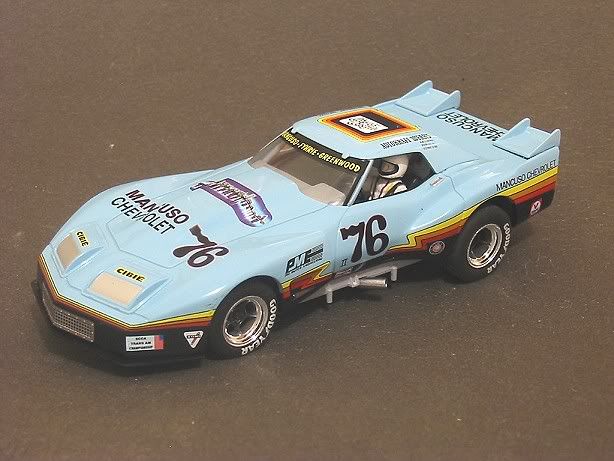 Again, a modest improvement which underlined the high degree of body tune the car had out of the box. Another thirty laps later and the fastest lap was down to 7.268 secs. Up with the leaders here and a FRONT MOTOR!! Suspecting either witchcraft or other supernatural assistance I decided to continue the review test and eventually all was revealed! Putting the model on the scales it weighed in at 89 grams. A fairly average weight for this type of model. Front axle load was 37 grams and rear axle load was 52 grams. There it was! Even with the motor up front, the bulk of the body weight was still at the rear and evened up the weight distribution! Mystery solved.
Statistics.
Wheelbase					77 mm
Front axle width				55 mm
Rear axle width		        		60.5 mm
Weight						89 grams
Front Axle/Guide load	        		37 grams
Rear Axle load		        		52 grams
Front/Rear Weight distribution	        	41.5% / 58.5%
Final drive ratio 				9z / 32z    3:1
Rear tyre diameter				21.5 mm,
I was pleasantly surprised by this model and the way it behaved so well out of the box, there is plenty of scope to turn this into a race winner with simple mods like weight trimming and tyre truing. The chassis would need a little extra work to allow it to move more freely and one thing not to be overlooked is to glue the propshaft rear bearing in place. For the tuner/racer it is a good platform for all the mods and motors available and it has plenty of stability to cope with the quicker motors. It gets harder and harder to find poor models these days and rightly so but the output from the Revell Monogram stable must, by now, rank amongst the best RTR models available and at a remarkably keen price too!