REVELL MK1 LOTUS CORTINA



by

Phil Wicks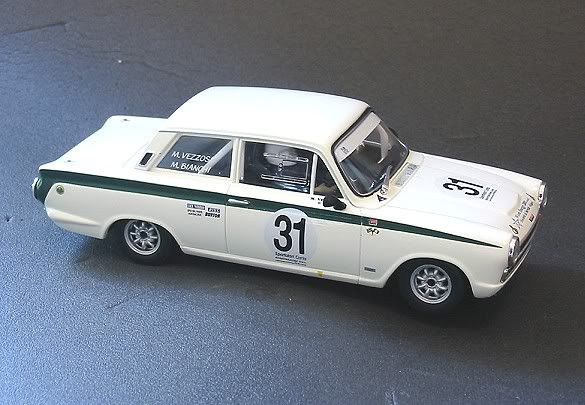 This was one wait I wasn't sure was going to come off! The main problem was having great expectations and not wanting them dashed but eventually Revelal came good with the goods and after a goal mouth scramble I eventually cornered one on an eBay shop. Next was a ten day wait for it to arrive from the UK in amongst the Xmas mail. No worries, Here it was, and a good price too compared to what it will eventually turn up in Aus. for!

So was it worth the wait. I'll try and give an unbiased and subjective review and let you be the judge of that. After all, there are some models that could be diabolical, but if they are the only versions of a model you worship almost, what choice do you have!!






This is a model of a restored Cortina, yes you heard right! To me it doesn't detract one iota from it but this is a model of a Lotus Cortina restored and driven by an Italian gentleman, Mr Vezzosi. The car was entered in a two hour vintage car event in Italy in December 2003 and came fifth overall. It won the 1600c.c. class.
The red Alan Mann version would be based on the original sixties model

The original has been faithfully reproduced and it even has a good 'stance' with wheels sitting well up in the arches. There's not a lot of tampo on this but what there is is well done,

The model contains such detail as quick release bonnet and boot catches, acrylic door glass with slider vent/hatch and finely detailed grille, head and tail lights.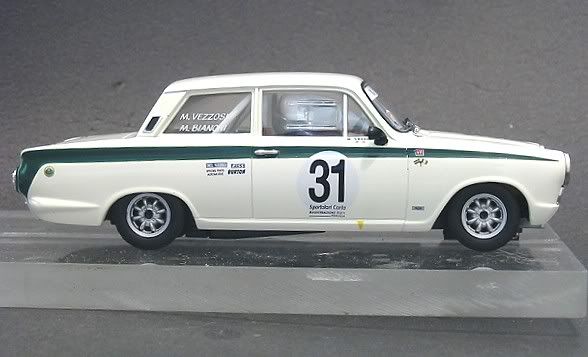 Even the front and rear screen have finely detailed windscreen rubbers with anodised expanding trims!

The model has the motor canted down towards the rear to allow clearance at the small wheels. The motor also carries the now familiar radio suppression extras. There is a half cockpit, well detailed and complete with dash and a full front to back roll cage.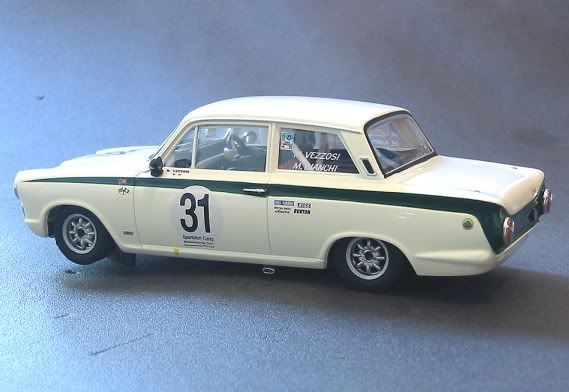 The chassis is fixed by four screws which is pretty well expected from Revell and other manufacturers these days. With these removed the body and chassis separate fairly easily with only a slight bit of 'pinch'. The drivers tray is well fixed and doesn't show any signs of excessive heat welding which could reduce security of interior detail and lead to a lot of body noise. Giving the body a light tap showed everything was firm and there wasn't going to be too much body noise.






As a precaution with some models (especially SCX) I put a small blob of superglue on all these points before refitting. The chassis is very plain compared to some but that's the way I like it. The motor is quite secure and didn't cause me to dash for the hot glue gun (yet!). The guide is good and has a minimum of side play and end play. Another plus.

On the minus side are the axle bushes. Both front and rear are particularly slack! The axles move considerably in them and what the quickest fix would be, I'm not sure. One of the problems with later day axles from a few makes is that they have pronounced knurling on the axle ends, to help hold the wheels on I suppose? But in the process of knurling, the axle diameter at these spots is increased! Unless the bushes are fitted pre-knurling, then they would have to be a larger internal diameter to pass over it!! Making a sloppy fit when in place on a bare axle?? The bushes are the normal clip in type so a solution shouldn't be too complex.







The traction magnet is a standard rare earth type in a little plastic clip which fits underneath between the motor and axle. All the chassis moulded parts are very crisp and there is no extraneous flash or injection points to be trimmed up. Wheels are perfect minute replicas of the popular 'Minilite' wheel of the sixties. Again, the wheels are concentric and there is no flash or sprue to disrupt the tyre seating. Tyres too are well made. They have a replica tread and the only observation I would make is that the tread area on a new tyre on its hub is a little concave so some judicious sanding will be required for optimum effect.

Once again a very nice model from Revell. A lot of thought has gone into making this car a success and a spin on wood and plastic will be the only way to see if they have succeeded!

Wood track testing

It's first run was on the new board track at the Four Seasons Slot Car Club. The track was recently purchased from a local racer who is preparing to move home. The track was run for thirty minutes or so to clean the lanes up and the model was then set to do its piece. Rolling away, the car responded well to the 45 ohm Parma controller. Taking it steady, it had a good amount of zip and respectable engine breaking. The 3:1 final drive and small wheels contributed to that no doubt.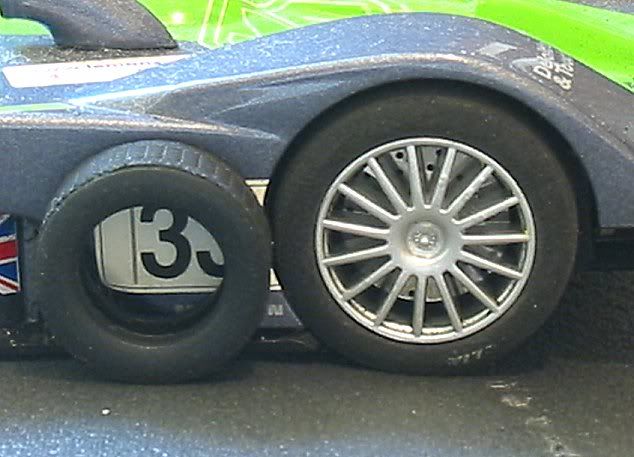 Settling into a good rhythm I soon felt quite happy with the model in general. SOOB it showed a tendency to be top heavy and a typical corner deslot would invariably be a roll over. Not a problem. Once in the corner it wasn't hard to generate a good tail out exit so it wasn't that sensitive! Corner exit and straight line speed on the 12v battery powered circuit were good and it was comparable to some rally cars we were running at the time. As mentioned, it's corner entry speed was the most critical factor of the test.

Stage two tuning saw it a little more comfortable. The body screws were let off half a turn and the tyres dressed before resuming the test. There was added stability in corners and a possible increase in corner entry speed but a roll over deslot was still the main problem.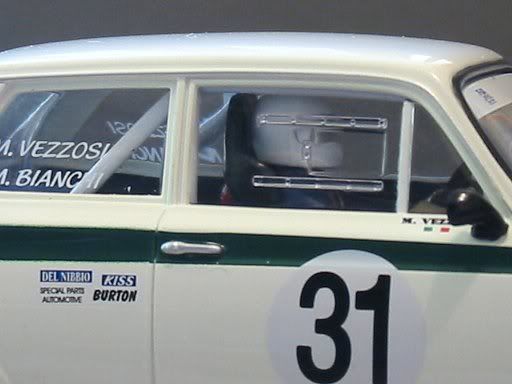 On plastic with 14.8 v power supply the model is very quick! It hurtles off into the distance at the slightest throttle application! Cornering too was breakneck with the model teetering on the edge of disaster but it did stay on mostly. Deslots here too are mainly the roll over type which indicates the models height to be too much for its track. Reminiscent of the Auto art Xsara rally car.

As expected with a lot of scale models of sixties sedans both past and to come, the ratio of height to track is too great to make a perfect model but with a bit of extra work I'm sure this can be minimised. For me the model is a good drive and needs some smooth throttle application and early braking for success. For competition against other makes then it would need a major revamp! For unmodified classic sports racing it would be good fun and I would like to see how it compares with other classic models like the GTA's and GTV's and the like which are currently on offer.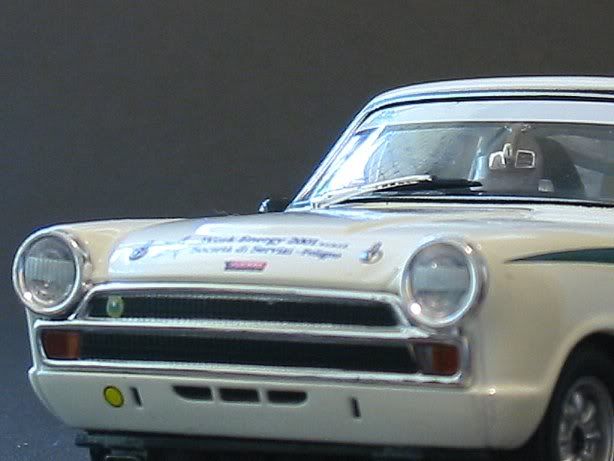 Finally I took it to my local board test track and gave it some hot laps. We have a14.8v 2 amp power supply to each lane and from the off the model was going to be a handful. I was unable to clock max speed along the back straight (with the yump in it) as it gets clear air under it and looses the slot on the way down!! But trust me, this model is very quick! So, no times to compare which was a bit sad but I wasn't going to destroy a beautiful model to prove anything!

To older racers like me this is a beautiful model. I have waited for this, believe me, I have waited . I am slightly disappointed about it being overpowered but that is fixable. I have an original Airfix Cortina. Complete with the funny little open can motor and ackermann steering. Hey, it goes! I have my MRRC bodied scratch build (see in the scratchbuilds section) It has a Ninco NC1 and it goes well too! And I have my Revell MK1. It too goes well but the motor makes it a handful!







Solutions? Mmmm…..

In light of several of Scalextric's new releases which are veritable projectiles, the Vanwall, Maserati, Cooper T53, Ferrari 156 and no doubt many more to follow !? I have come to the conclusion that maybe it's time to have dual power on the track! The higher powered transformers for racing the previously mainstream models, Fly, SCX, Ninco, Scalextric etc and a maximum 12 v regulated power for these newer models. The simplest solution is a 12v Auto battery run straight with the Classics and a trickle charger connected when racing the regulars, this gives an extra couple of volts for top end. The Cortina is far better behaved on battery power and the Classic F1's too.

So, what have we ended up with

1.        A superb model
2.        A very quick model
3.        A model which can corner well.
4.        A model which isn't too sure going into corners?
5.        A model which exits corners well!
6.        A model which needs smooth controller action at all times.
7.        A superb model,
And finally -
8.        A superb model.



Statistics

Wheelbase					77.5mm
Front Axle width				45.5 mm
Rear Axle width	        			44.5 mm
Overall weight		        		69.0 grams
Front Axle/Guide weight	        		25.0 grams
Rear axle weight				44.0 grams
Front/rear weight distribution	        	36% / 64%
Pinion		        			9z
Crown wheel					27z
Final drive ratio				3 : 1
Rear wheel diameter				16.3 m.m.



Once again, if you are looking for a race winner then maybe another car another day but if you are looking for a beautifully modelled piece of slotcar history then this is it! It's my view that on a strict 12v regulated power supply and with five to seven grams of ballast placed thoughtfully inside, this model will entertain for hours. The way slot cars are heading, there will be a lot more to run with it. Scalextric have announced a Mini Cooper 'S' AND a MK1 Escort which I can see being stable mates.

Classic Model slot cars are entering a new era and we will be required to make a few adjustments ourselves to keep up. The old crash and burn mentality will limit our choices! Make this Cortina the first of many Classics to come!!