REVELL BMW 320
'Warsteiner'


by

Phil Wicks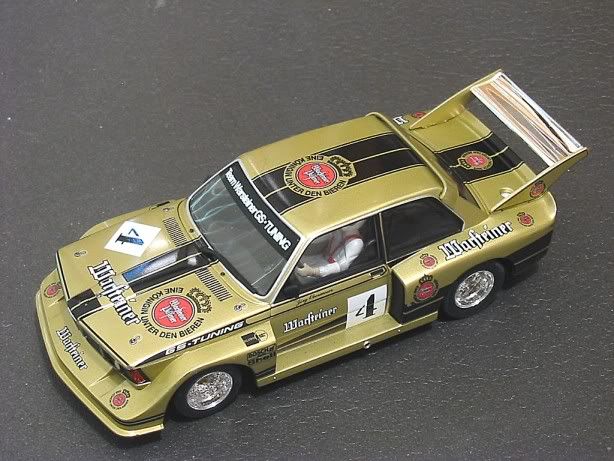 I once spent a couple of years as a BMW motor vehicle technician and as well as my own work it was my job to help the mechanics to remove themselves from the 'Pooo' once they got in it. Some of the more technical aspects at the time were out of the depth of the average well meaning spanner pusher. As well as having a whole host of technical information at my finger tips it involved knowing where to look in the battery of workshop manuals for the smallest of information. Even in the late seventies BMW were comparatively a fairly complex motor car.

I worked with the tail end of the 2002's and then on to the then new 316's, 318's, 320's, 518's, 520's, 525's, 630's, 633's, 730's, 733's and the odd 3.0 and 3.5 CSL's. No mean feat for a make that to this day crams all of it's models with such technology you could almost put a man on the moon with it!!

Needless to say, I have a tender spot somewhere in the centre of me for these cars still. As a model or a one to one, they never fail to captivate me. This was probably the driving force which lead me to buying the Revell BMW 320 Warsteiner '77. Having seen it on the internet I tracked one down to John at Classic slot and for the amazing princely some of 22.00 sterling all up inc. postage! (Au$50.00) one was winging its way towards me . The BMW models I already have are the Ninco X5 Raid, the Fly M3 GTR Petite Le Mans and the Fly 3.5 CSL Le Mans.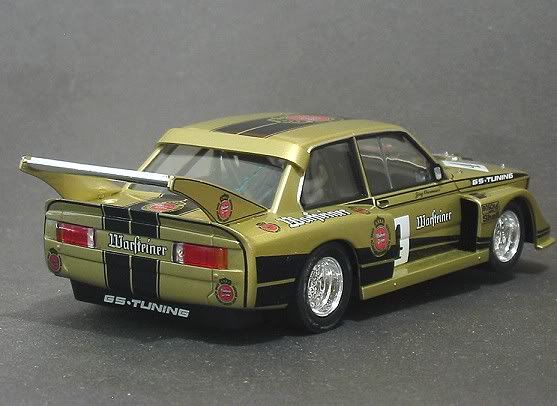 My first thoughts were that it was a great livery that I don't have by any other model and as most of the current Revell offerings are more show than go, even though they go well they aren't race winners in standard out of the box condition, this would be a nice addition to the display if nothing else and at $50.00 it wouldn't be breaking the bank while waiting for some of the most desirable '06 releases to come out.

Well, the model turned up midweek, airmail. It took less than seven days from the time of placing the order by email. Home from a hard days work, I sat down and dined with the sealed box sat at my right hand! After watching a few minutes of one of the half baked soaps on TV I decided to have a look at what I'd bought. I found a modelling knife and carefully opened the box so that it was re-usable for my ebay sales and perused the content for some minutes through the display box before finishing my constitutional cup of tea. With the rest of the family entrenched in watching some of the most amazing TV viewing TV can offer I retired to the garage and opened the box.

I only have small figure of eight Scalextric track at the moment, ever since the big track was moved back to the Friday night venue. The track is used for testing and setting up scratchbuilds mainly and I have a new board track planned to go in one side. The cat's hairs were dusted off the track and an old model with oiled braids was run for a few laps to get the surface oxidisation off the conductor rails. Once done, I put the BMW on. Just hitting the track for a few seconds told me there was something abit different about this model compared to its previous stable mates. It seemed very quick and on the confines of the figure eight it seemed very drivable!!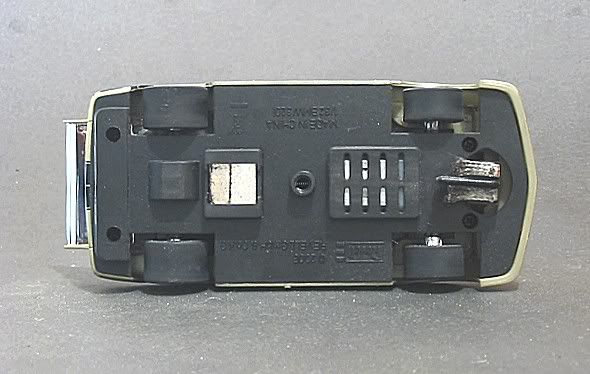 Friday night saw it placed onto the 21 metre board track. Pushing off at a pace and after the track had been sponged down and run for several minutes, the model was surprising me, no tyre sanding, no chassis tuning and straight out of the box, this car was ringing bells! A few more laps and a best time of 7.683 secs on red lane showed me it was going to do the business. I lightly sanded the terribly concave tread area of the slick rears and loosened of the four body screws a turn (still a slight bit of body pinch), I plonked it back on red lane and gave it some welly!! At this early stage it was comfortably knocking out mid 7.5's and best time was a 7.438!!! This puts it up three quarters way up the list before any serious gluing or screwing!!

Saturday night was at Four Seasons SCC at Loganholme and after some hard Carrera head to head on the superb Carrera 25 metre four lane circuit, it was a relaxing period and time to run the BMW with no pressure. The track turns out a fastest lap of about 7. 2 secs for Carrera GT's, DTM's and Scalextric Classic LeMans like the GT40's and the 330 P4's. This is running on the edge with occasional drifting!! I placed the Bimmer on the blue lane and pushed off at a pace once again. Running at 7.2's was absolutely no stress at all!! It was cruising to say the least so upping the pace I hacked away at the fastest lap, 6.9, 6.8 6.7 and finally 6.635 secs! With concave tyre treads!! The host was putting model after model on the track to give me a run, The closest was the Mancuso Corvette. None of the others got within 0.5 secs and this included such illustrious models as Fly 3.5 CSL, Slot It Porsche and Fly Capri. Carrera track is renown for its lesser downforce but there are some models which it doesn't seam to affect too much, Scalextric, SCX and some Fly models and, of course, Carrera.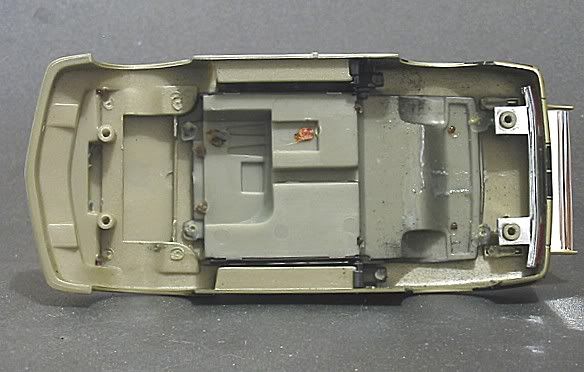 Time to look a little closer at this pocket rocket. What is making it tick, or should I say Fly! So, body off and a good look round. Wow, inside looks like an empty pantry with a packet of dog biscuits one end! Really, check out the pictures! Perhaps I've been looking in too many Carrera cars of late. This model is no messing! No mess inside, no mess outside. Motor, axles, wires, that's it! A very tidy and Spartan interior. The motor is fixed securely and shows no sign of moving at this stage, the prop shaft bearing is fast and doesn't have a little stalactite dropping down from the drivers tray to help hold it in. Same for the axle bushes. Wiring, with no lights, is simplicity itself. Minimal play in bearings and the guide too is fairly firm even if it does tilt a little from front to back, but there's a simple cure for that. A 'clip in' variable position traction magnet. What can go wrong.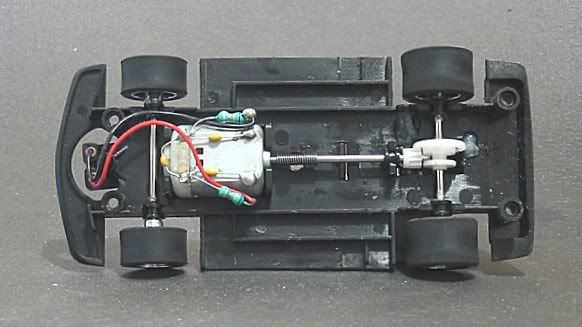 Out side is a similar story. The model is resplendent in its Golden Warsteiner hue! The tampo is good quality and extras like lights are well detailed. Something that has dogged better models in the past. Hands up all those with Fly cars with missing lights, front or rear ……….31, 32, 33, 34, …….I'm becoming a wheels and lights man! The secret is for the ladies with the heat welding tool not to overdo it!! The body is Spartan too inside. All bits thoughtfully heatwelded. The only comment would be that the rear wing is welded in and this is a very vulnerable item. A smack up the back from a fast moving object could cause the odd wince from the owner. No creaks or rattles though, nevertheless I would dob the welds with superglue just to be safe. The interior detail is the only major letdown. The model does have an interior but it takes some seeing! Almost everything is a flat black. The roll bar, the dash, the floor detail. At least the driver is visible and if you look carefully, you'll see the rear vision mirror is anodised and both the door mirrors too! Nice touch Mr. Revell.

Chassis too is spot on for serious racing. Axles firmly in place and inner wheel hubs are deep and have fillets in place to strengthen them. Wheels are concentric, tyres too but they are greatly concaved?? This tells me the inner profile of the tyre doesn't match the rim! What to do? Sand the tyres until they are a shadow of their former self? Replace tyres with other makes? Both an option, but my first attempt will be to increase the centre ridge of the wheel to match the tyre (It's good rubber and it would be a shame to loose it). Not for the faint hearted!

The contrate and pinion are a natural finish and gearing is spot on for this model. Overall weight and weight distribution are also a surprise. For its sparseness I was expecting a lighter model and considering the motor position, I was expecting a front heavy model!! Not so. Details under Stats below.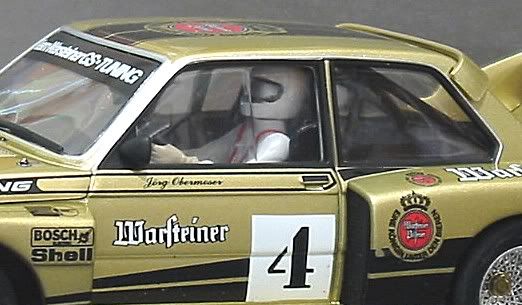 So, for the tracks and racing I do, this is a pocket rocket. It is blisteringly fast for 'S' can motors at this rev range. I guess to be in the Scalextric/standard Fly class. Corner entry speed on wood and plastic is phenomenal, the front motor weight must account for that, and cornering and corner exiting are stunning. A lot of rear engine models are handicapped because the traction magnet has to overcome the 'G' force of a swinging 'pendulum' rear end complete with motor. No mean feat! Whereas a front motor model, although not the best on wood without ballast, has little 'pendulum' weight to contend with and therefore rear ends can be pinned down with the most modest of magnets!!

24/02/06

What to do next, well I decided to give it the full stage three and the first job was to remove the chassis and scrape the edges with the side of a modelling knife blade. This was to reduce the pinch effect of the body. Once done, it was the turn of the rear wheels. The centre ridges were built up with 1 m.m. plastic card and trimmed. When the tyres were refitted they sat level and there was minimal loss of rubber AND diameter after sanding. A flat spacer was made and glued to the chassis under the guide. This kept it in its extended position for maximum slot depth.It also reduces the tilting moment and side play. Finally, the body was remounted. The fixing screws were dipped in acrylic clear lacquer and screwed home, they were backed off one full turn to de-stress the chassis and to allow some weight transference.

Back to Garry's later in the week and after sponging the track down and some hot laps with a rally car to get ME in the groove, the Bimmer was placed on red lane. I was amazed at this models ability to get up and go with no fuss or hassles. It put in regular awesome lap times and it was only the fear of the 'yump' on the back straight that stopped me breaking the seven second barrier, I'm sure!! As mentioned elsewhere, Revell have made models that look great or go great straight out of the box. This model does both, With a fastest lap of 7.253 secs it is in the distinguished company of the top five models I have tested so far. The leading mainstream manufacturers will have to take note when Revell start producing contemporary Sports Cars!

So, after Saturday night I can see a few of these cluttering the postal system in our neck of the globe. Several people of mean ability have been left scratching their heads. I can see it being banned from general racing, "OVER MY DEAD BODY!"
Statistics:

Wheelbase					78.5 m.m.
Front Axle width				57.0 m.m.
Rear Axle width		        		60.0 m.m.
Overall weight		        		91.0 grams
Front Axle load		        		43.0 grams
Rear axle load		        		48.0 grams.
Front/Rear weight dist.	        		47% / 53%
Pinion						9z
Contrate					27z
Final drive ratio				3 : 1
Rear Tyre Diameter				20.2 m.m.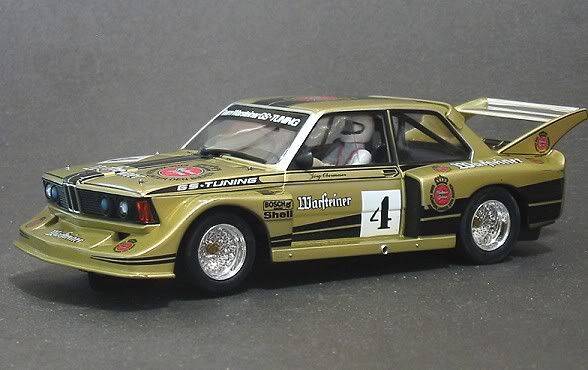 To the initial gaze, this model can look lacking in attachments. All those external little bits and pieces that enhance the model and end up being knocked off somewhere and lost forever. 1/1's of this era weren't covered in all these bits anyway so the model doesn't wander too far from the fact. This model is a true out of the box racer and I defy any racer to treat it as a shelf queen, So, try and knocks some bits off it, you'll have great fun in the process.