Revell / Monogram Ford Galaxie 500
Marvin Panch - Wilkes 250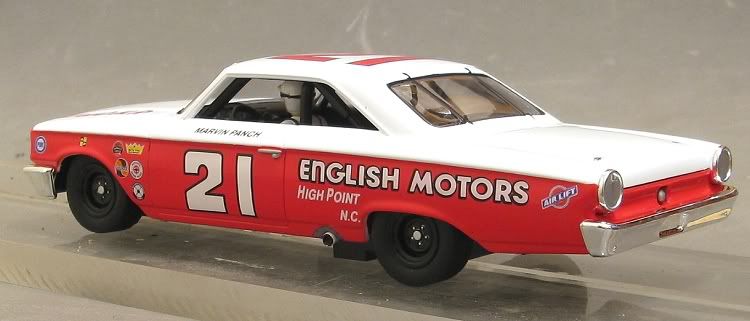 by

Phil Wicks




Before I go any further I will try and clear up an anomaly which seems to be unresolved. Why have I called it the Wilkes 250 instead of the 400. Well, it depends on what way you look at it! I have it on good authority that the Wilkes race was officially called the Wilkes 250, which stood for 250 miles. The general trend among Nascar races of that era was to name a race by the amount of laps completed and to complete 250 miles on the North Wilkesboro Speedway was by coincidence 400 laps!! But whatever you call it, the end result is the same.




Marvin Panch




Marvin Panch had been racing for a decade or more and was looking forward to a good showing in the 1963 NASCAR Sprint Cup. In 1963 NASCAR imposed engine limits on the series as cars and engines became bigger and bigger, purely to keep the factories and entrants in check. Not too dissimilar to modern racing regs. Marvin also raced other categories including sports cars. In February 1963 he crashed the Maserati he'd been driving during a sports car practice session at Daytona and fellow racer DeWayne 'Tiny' Lund was there to drag him from the burning wreckage.






Tiny Lund in the Panch Galaxie - Daytona '63




Marvin was ruled out of racing for a few months and the Wood brothers asked Marvin who he would most fear to see in his rear view mirror. Without hesitation the answer came back "Tiny Lund" So, Tiny got the ride and used it well. Eventually Marvin returned to racing and by September of that year he was on the comeback trail, and the comeback was to be the Wilkes 250 (400). Panch led for the last 49 laps and won for the first time since Daytona 1961!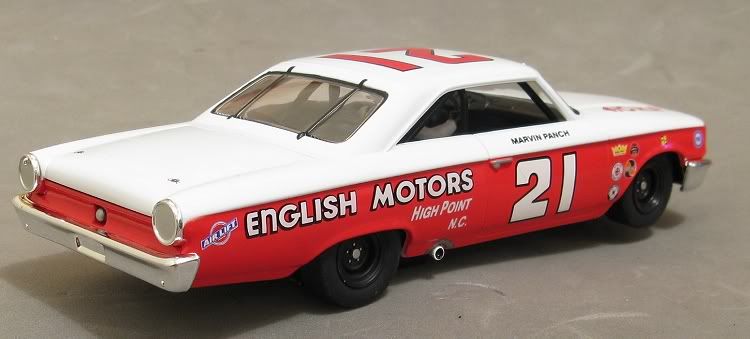 Marvin went on to race up 'til 1966 and after retirement he was in demand as a celebrity at events and race meetings. In 1998 he was rated as one of NASCAR'S top 50 drivers. Sadly for Tiny , his life was brought to an abrupt end in a fatal stock car crash at the 1975 Talladega 500.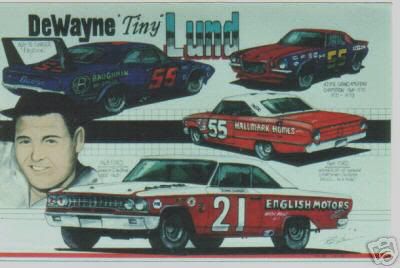 Hopefully this has given an insight into maybe why Monogram chose this car to model. They had obviously chosen the make and model and the Woods Brothers Galaxie 500 to me was the perfect choice of livery. And what is it like? Make yourself a coffee, grab a couple of biscuits and I'll tell you what it's like!!!








The detail is great. On these models with minimum tampo to clutter the view, it is easy to detect fine lines and crisp neat finishes. The colour joins are almost flawless and the couple of minor blemishes that there are , are in the red coat and harder to see. The white is so white that I actually had trouble stopping it flaring in the photos, but some judicious camera contrast adjustment eventually tamed it, and the car shines too!! I love a shiny car. Too often we think that race cars aren't shiny, but today I was watching the F1 night time qualifying from Singapore and when the cars pulled into the pits, they really shone. And this car shines too! From the deep clear coat to the anodised parts.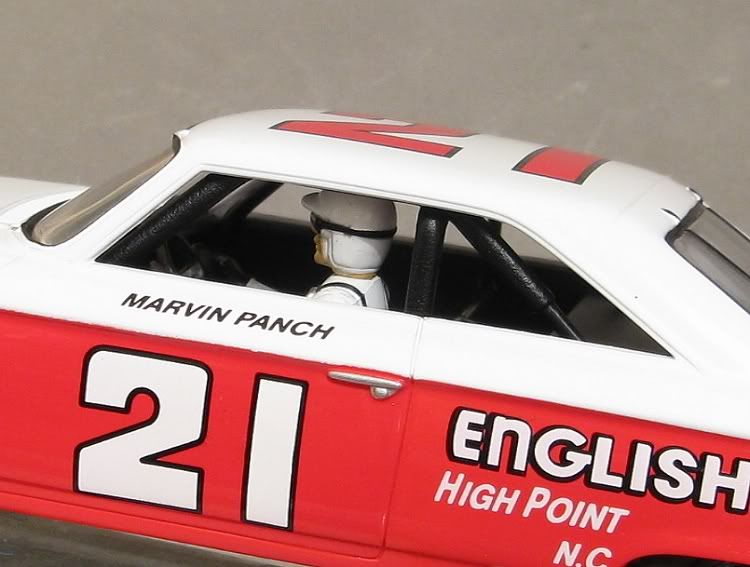 Much like the other market leaders, the sponsor decals are defined and readable and Mr Monogram has even gone to the lengths to mould the fuel filler as a separate part, bless him! It doesn't end there either. Like its stable mates it has well modelled steel rims with the wheel nuts picked out in silver. As we have come to find also with many other makes, there is a convincing tread pattern on the tyres. Something no doubt that will be short lived on many models.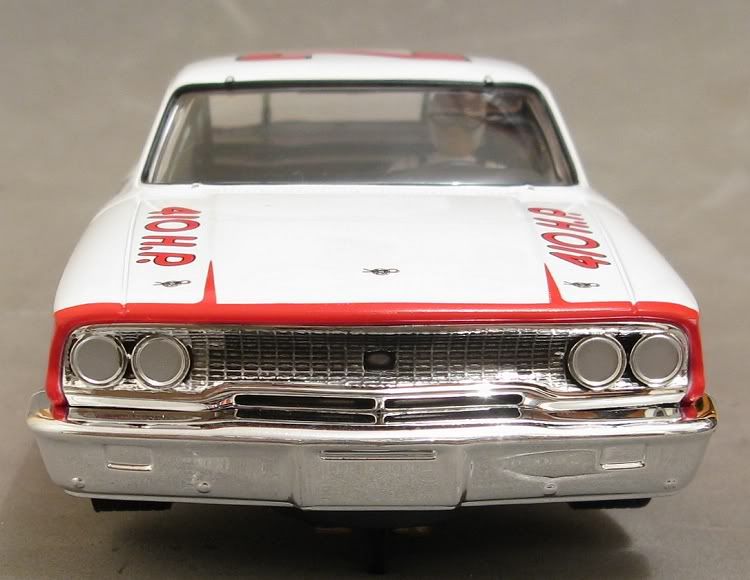 I love all the chrome work too. That was what this era was all about…..huge shiny cars with chrome flashing in the sun as they trundled their way around the stock car circuits of North America. Mr Monogram has also spent some time on interior detail to good effect. I can't say that the driver is a good replica of Marvin in particular but a good full length driver all the same. Other interior detail includes a convincing roll cage, a shift stick and the obligatory fire extinguisher behind the driver's seat.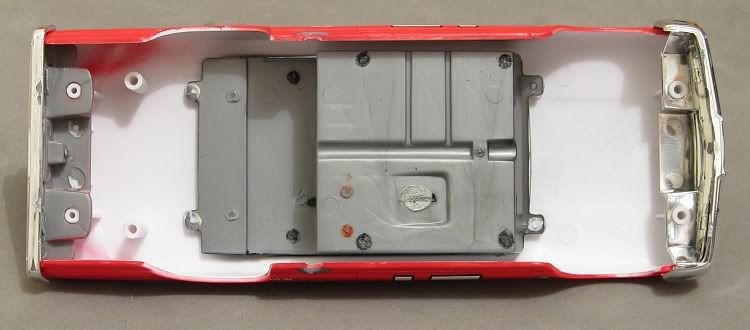 Underneath is the first QA problem. Not a big one but, if this were to be raced, it could impact on the interior detail. There is a heat weld missing completely from the front of the drivers tray. Not a big deal but missing all the same. I have mentioned elsewhere the trials I have suffered in the past with drivers trays working loose especially after involuntary severe front enders! The front screw fixings look tough enough and shouldn't be a problem but as a matter of caution I would reinforce the rear screw mountings just to be safe.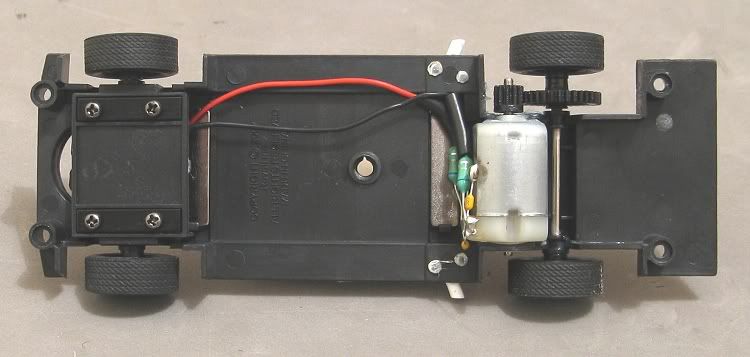 The chassis is made of a more coarse plastic than some, pretty much the same as the 65 Galaxie with its motor on edge and double position front axle mount, and this model has two traction magnets. The rear is quite low and can contribute constructively to the cars stability, and the front is a similar style magnet only mounted a little higher above the track, no doubt to impart a reduced downforce to the guide. And while talking of guides, this one is a nice deep one, but it does demonstrate a good deal of sloppiness both side to side and front to back. It might also need a little shimming down if it's going to be raced on board tracks.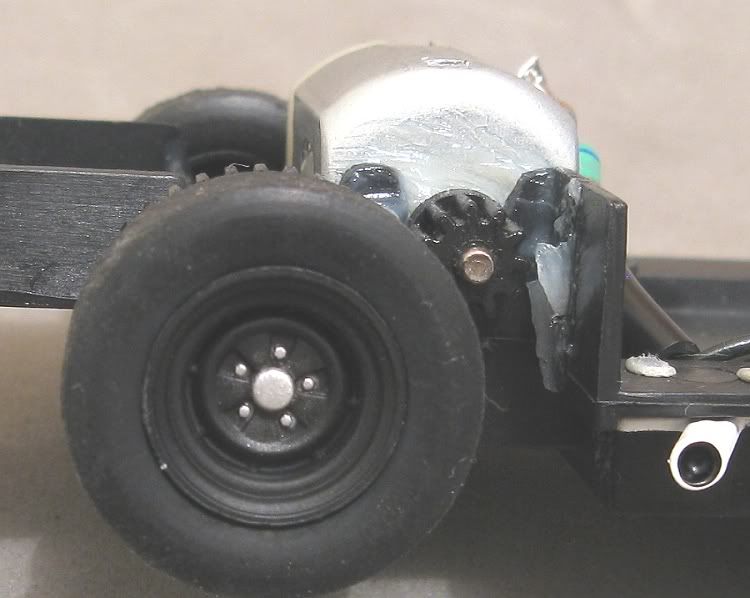 Gearing is no surprise and although it has an uncommon ratio, the model is still geared well for both plastic and board track use. The motor is firm in its mount and doesn't look like it is going anywhere soon. The wheels are unusual in their construction but they are concentric with the tyres being just a little out of round, and straight out of the box you shouldn't experience any problems in this department. The rear axle is a bit sloppy in its bushes even though the bushes are a snug fit in the chassis. Once again, this is probably attributable to the fact that the wheels are held on by some severe knurling which no doubt requires a larger hole in the bush to get the bushes on. Up front is the same story but the consequences this end are less severe.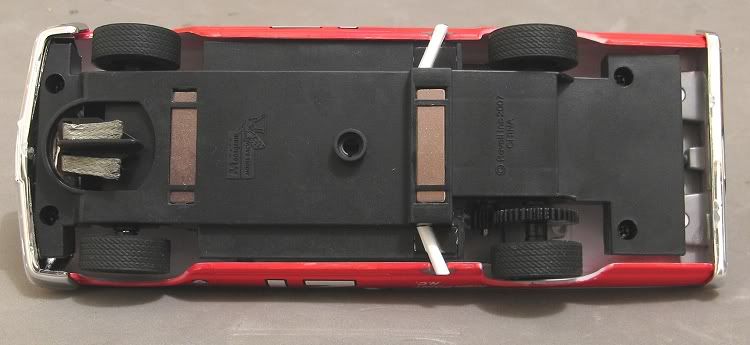 All put together, this is a nice model. Nicer, I think, than the 65. The red and white livery is quite distinctive and I'm sure you wouldn't loose sight of this in some of the more darker places on the track. And if you intend to race it and are prone to the odd error of judgement, I'm sure the marshalls will be on it in a flash! Choosing you first before all the other miscreants in the pile up.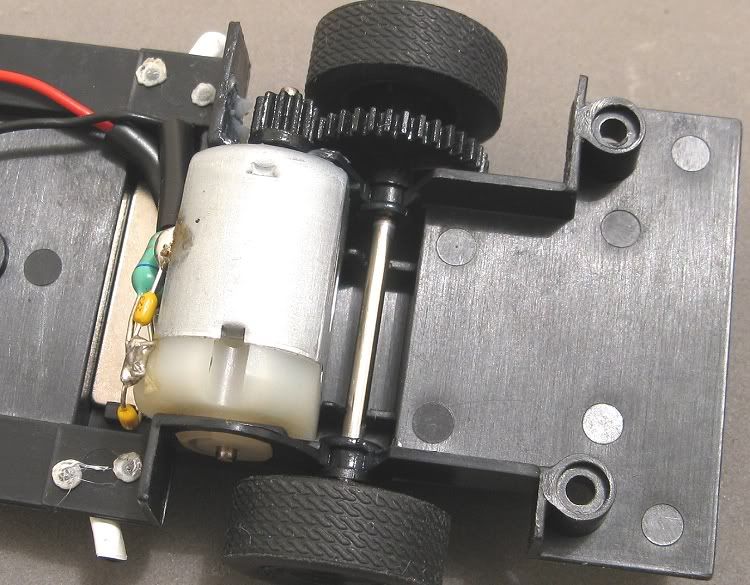 But on the track, what can you expect. On plastic Scaley sport it is fine if a little bit skittish. It has two magnets but they still have a heap to do with the 102 gram model weight. Best rule I can offer is to back off early into corners and drive hard round and out. A bit of a tail slide but you'll soon be on your way down the next straight. The braking distance too is a bit longer than most models but the gear ratio has adequately compensated for the model mass and pulling up in a hurry is still possible. When it does deslot, it does so as an understeer deslot, ploughing ever onwards and ever deeper into the landscaping!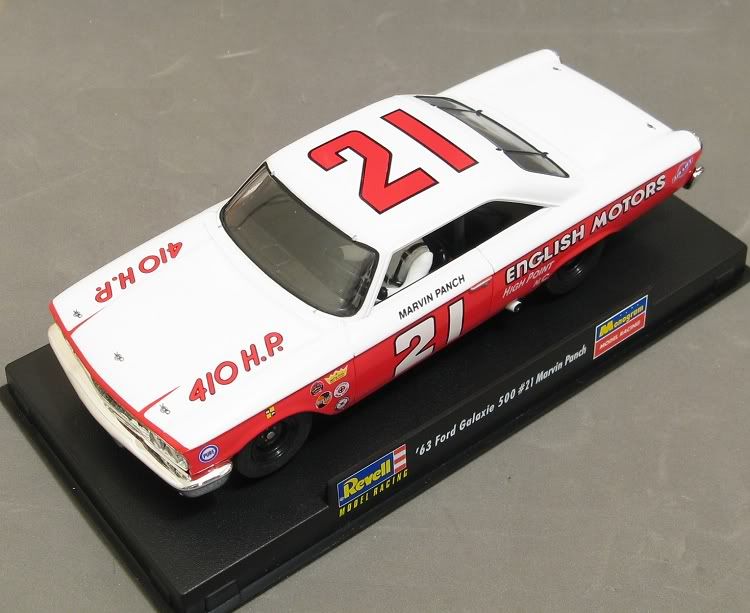 On board track things are a little different. The original tyres are not too board track friendly, but that will depend on your track surface. If you are running ferrador, you may well find it drives very well, but if you race on one of the more shinier surfaces, you might well consider something a bit more adhesive, like a set of MJK's. The Scaley Trans Am tyres in MJK are the closest match I could find but they will need a bit of a sand to take the hump off the centre of the tyre. The Galaxie rim has a deeper than most 'major step' on its rim. At a pinch, the MJK 'SCX Nascar' tyre will also fit but there is room for it to move sideways on the rim. Again it will need at least 1.0 m.m. sanding off the tyre diameter to get it level.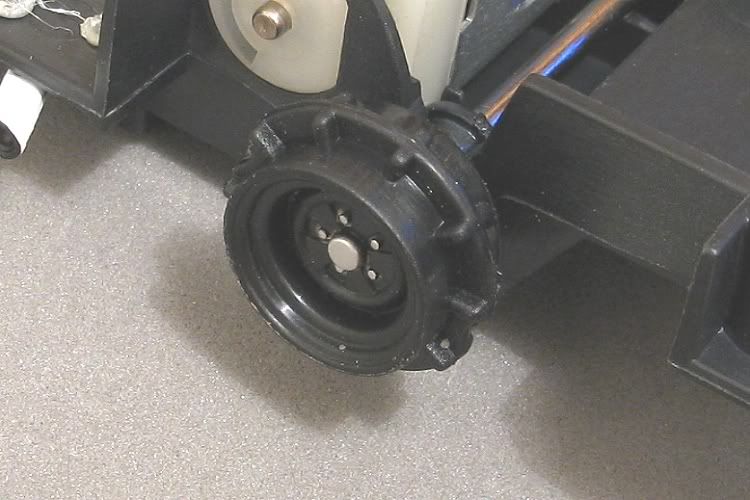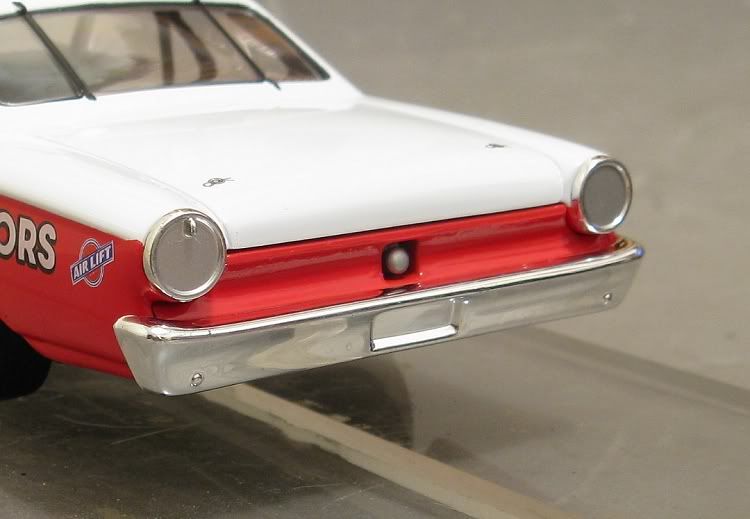 So what have I ended up with. A nice model which surprisingly, drives well straight out of the box (after a light tyre sanding), on the right surface! The magnets don't overdo their job and the car has a good turn of speed. I'm not sure what the rating of the Monogram motor is as I have never been able to find it on any manufacturers info, but it does come across as one of those 18,000 rpm Mabuchi's which actually rev at 20,000+ !! I'm pleased I bought it and it may well replace my '65 Galaxie as the weapon of choice at our next classic NASCAR / Yank Tank afternoon!