Slot.It Mazda 787B
Le Mans 1991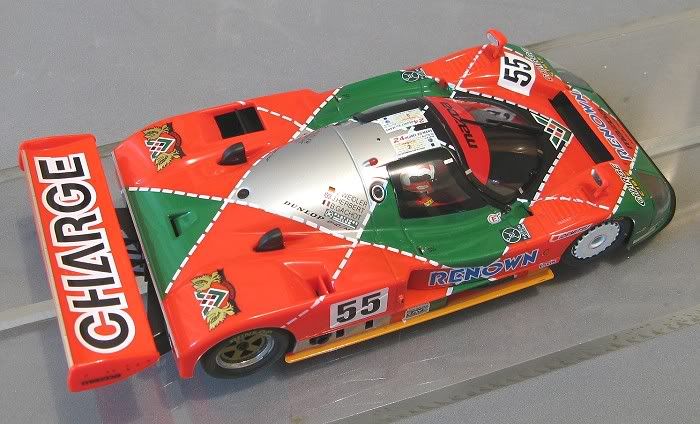 By

Phil Wicks




The Mazda's claim to fame was brief but markedly pronounced. The Great Race was down to two entry classes, Category 1 and Category 2. The field was limited with the majority of cars being flat six 3.0 litre Porsche 962's and V12 7.4 litre Jaguar XJR12's. The Mazda was a four rotor Wankel engine rated with an estimated swept volume of just 2616 c.c.! Like 1990, three cars were entered by Mazdaspeed Japan and they were looking to improve on last years lowly 20th spot and two DNF's. Improve they did, and inspite of the Porsche onslaught and three Jaguars stacked up immediately behind them, the Belgian, German and British driver team managed to bring the Renown Mazda home with two laps to spare.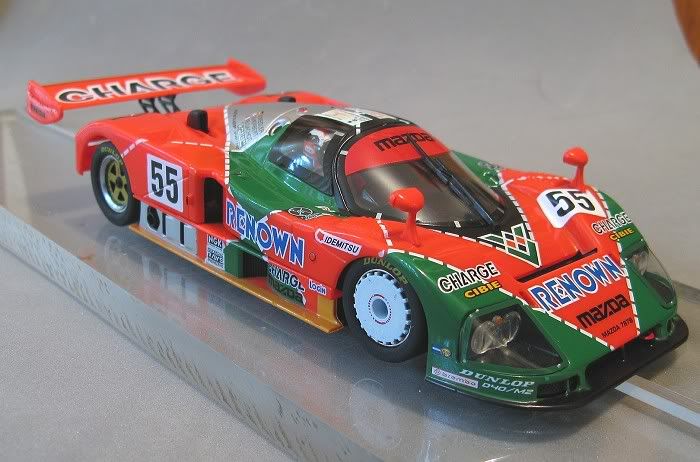 The next Mazda home was sixth place and the third Mazda team car was placed eighth. A big change on the year before. So two firsts it was. The first Japanese manufacturer to win Le Mans and the first rotary engined car to win Le Mans. Interesting to note that a young Michael Schumacher was a team driver for the Sauber Mercedes C11 which finished in fifth place! But it was a fleeting moment in European motorsport where an outsider was to prevail in the face of European competition. Mazda moved on and were soon swallowed up by the Sports car circus. But they did leave the inspiration for a superb slotcar!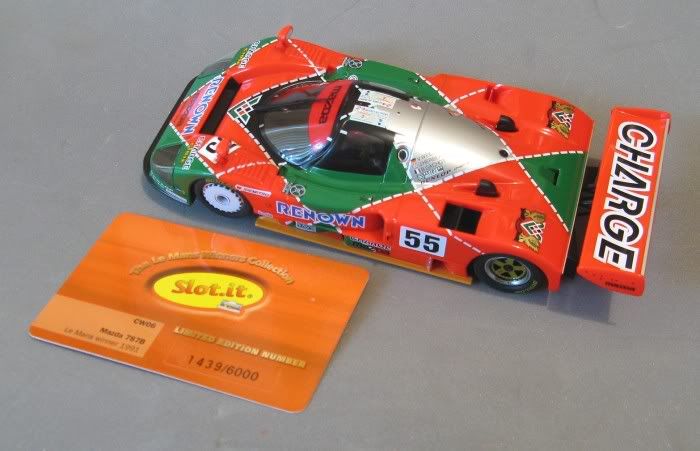 So after much waiting and anticipating and wondering exactly HOW good this model was going to be it has finally turned up. Not before half the antipodes resorted to purchasing it oversees. A local no show should set the importers asking big questions in the Slot.it camp. In a world with a 'Global Village' mentality, time and tide…..and slotcars will wait for no man!! I daresay there were a sizable number of models obtained offshore.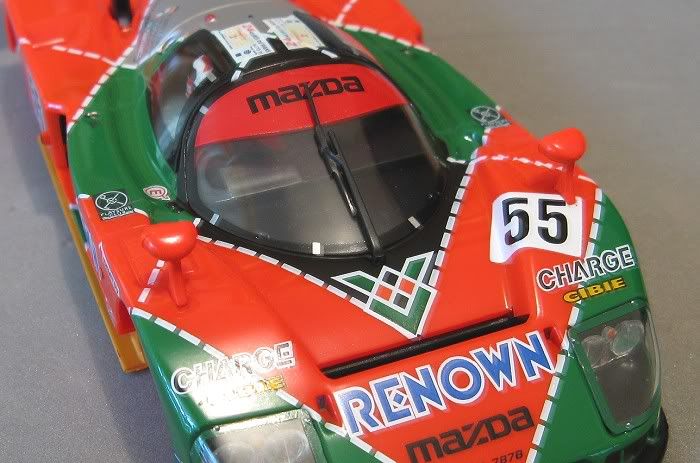 The Slot.It Mazda 787B is a limited edition of six thousand and I have no doubt that there will be enough to go round over the next few months, But! Times are changing! Once upon a time an issue of five thousand would still be on the shelves a year later, but that was when there were only about a thousand or fifteen hundred collectors world wide! Judging by the burgeoning numbers of visitors to slotcar related websites I suspect the numbers are growing. At the moment a cover of six thousand is adequate, but what so in five years time?? Anyway, back to the model and first impressions. Mmmmm……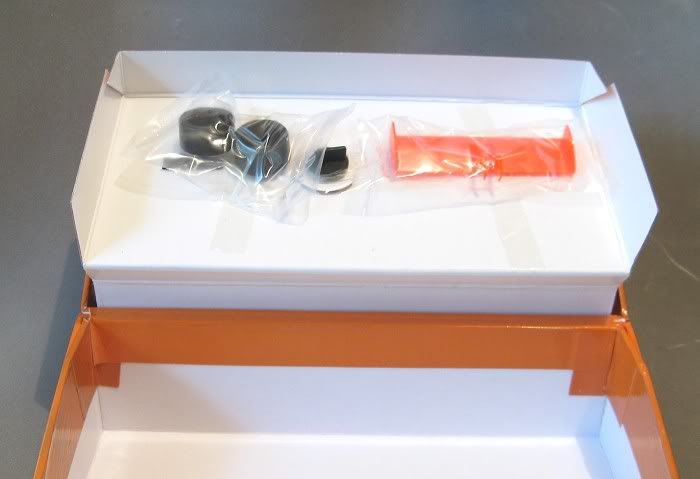 First impressions are that it comes in a box that is the spitting image of the now defunct Scalextric 'Sport' boxes. A neat clamshell type and a clip through the base to keep it in place. It even has a clear 'dust cover' vacuum moulding inside. So releasing the model from the box was simple. On lifting the base, where Scaley used to mount spare guide braids, Slot.It has opted to supply their trademark replacement tyres and a replacement 'tear proof' rear wing.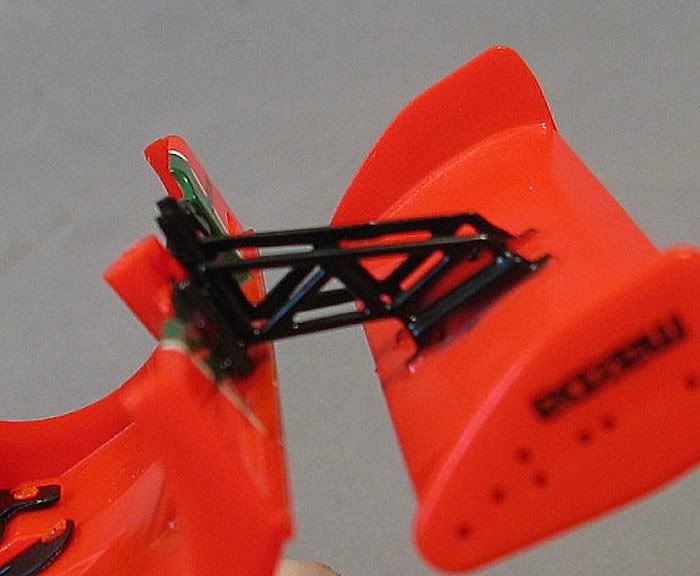 Apart from being askew at the rear, the rear wing on the model is fragile! Very fragile!! It has a delicately reproduced rear wing pylon which I suggest will not survive its first impact! More than that, it also has some well modelled rear end lace work which also has 'statistic' written all over it!! No matter, No body will be really putting THIS model on the track!!?? Will they??









Looking around the model is a delight. Slot.It have put some well spent hours into producing this model (as they always do) and in turn have done themselves proud. What stands out mostly is the orangeness of the orange and the greenness of the green. Contrasting colours in a contrasting livery which must rank among the most distinctive liveries of all time. The tampo too is top notch and the overall demeanour of the model is very pleasing.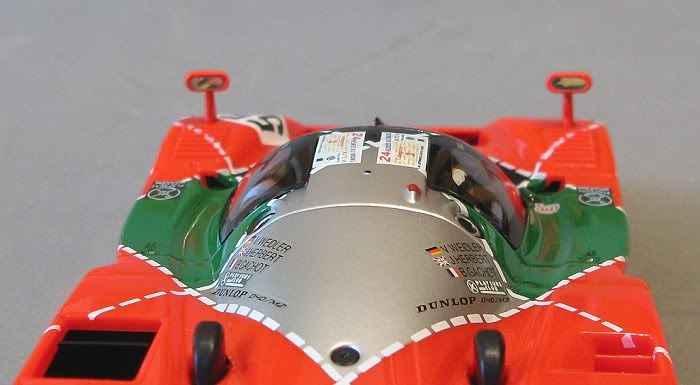 Among the nice touches are the silvered rear view mirrors and the front light construction. Looking a little deeper, the dash detail is very basic and almost unseeable. The driver is obscure too with only his head showing in any detail. One thing that puzzles me is the fact that he has been modelled with a tinted visor on the helmet ??? No matter, the helmet detail itself is recognisable which is more than welcome. Next up is to have a look inside. A word of caution, the little red tow eye at the front sticks proud of the front valance. The chassis will need to be removed rear end first, partially, then slid backwards for the tow eye to clear the valance.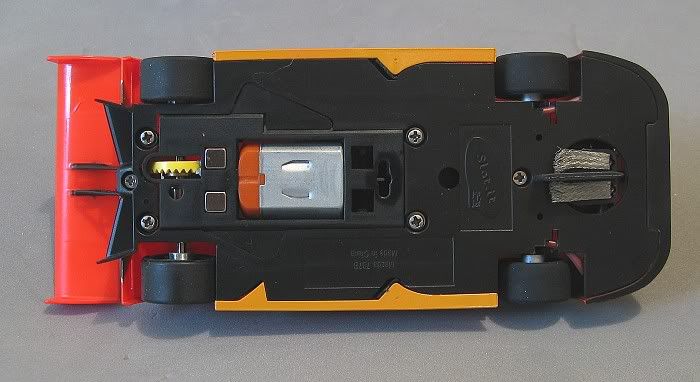 Underneath, the model has more than ten additional parts depicting the various internal parts of the real car. Exhausts, vents, intakes and radiators are well defined and natural in appearance. One observation would be that the body is in actual fact three pieces (excluding clear parts). Both side lower parts are add ons. Not a big deal as such but if you were to race this model, the sides would be another couple of items I would add to the 'next piece missing' list. Along with possibly the rear view mirrors. Lastly, the model has a nice sheen to its upper surfaces, evident of a lacquer coat no doubt. But the sheen is less pronounced along the sides, suggesting the model only gets a light dust over with the spraygun here! My model has a visible abraded mark on top of the right hand side pod. No doubt missed on QA, or perhaps a mishap in packing.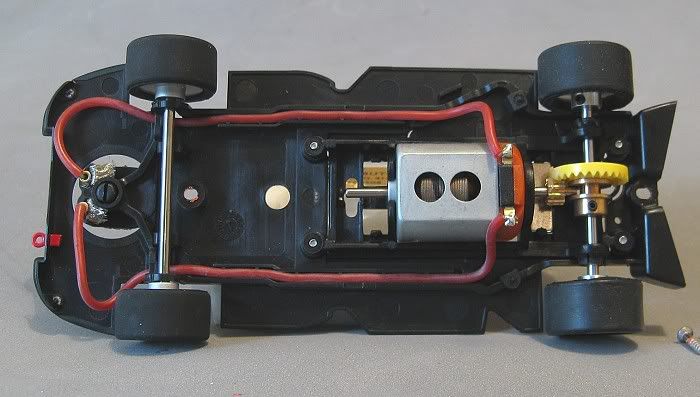 Moving on to the business end of the model we see a typical tried and tested Slot.it chassis complete, as far as I can tell, with a 21,500 rpm motor (I still have trouble discerning red Slot.it motors from the orange ones!!) complete in its 'inline' set up and raring to do the business no doubt. For the novice I will brush quickly over the accoutrements! Slot.it models invariably have the in line chassis out of the box and have an angle winder pod as an option. As with most models, you will need to remove the body before racing. Although there is a vestigial smear of grease or Vaseline on the rear gear, it will need distributing more universally, and the motor could do with oiling front and rear too along with the wheel bearings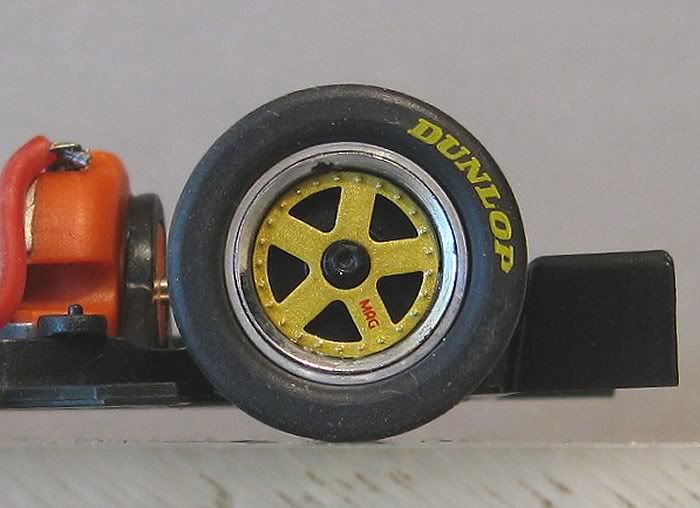 The front axle has the spacers on the front axle rests and the wires, as always, are neatly laid out and function as part of the guide self centring mechanism. In this case (and in a noticeable number of recent Slot.it models) the guide sticks when moved to its extremities. Something Slot.it need to address in my view. The front tyres are very soft too, I thought it had been generally established that front tyres needed to be of a more firm nature to reduce front end grip in corners. Front wheels are well made plastic and rears are alloy. The model also comes with well modelled wheel inserts. Another thing which is a bit puzzling is that both the front and rear axles could be a couple of m.m. wider! As it is, the wheels are tucked under the arches. Also, I would have expected the rear tyres to be a little wider but then it would require Slot.It to manufacture another line of tyres?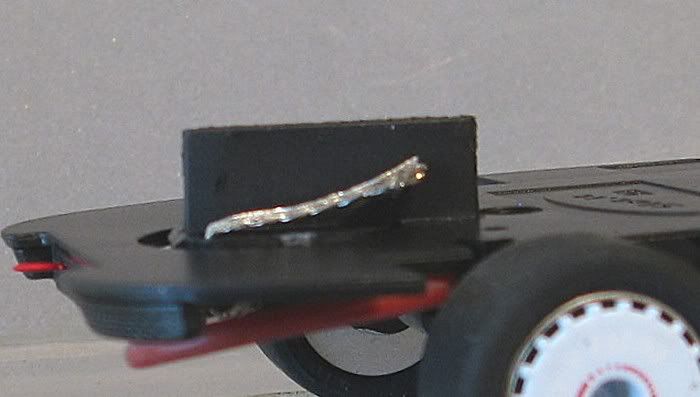 Again, lasting impressions are important and Slot.it have fitted this model with an adequate guide. A full seven millimetres deep and apart from sticking, ready to keep the model in the slot for some serious racing. All that remains is to put the little beauty on the plastic and run it flat out!!! Nope? Ah well, it's nice to dream. As a non collector, this one is going on the shelf, along side quite a few others.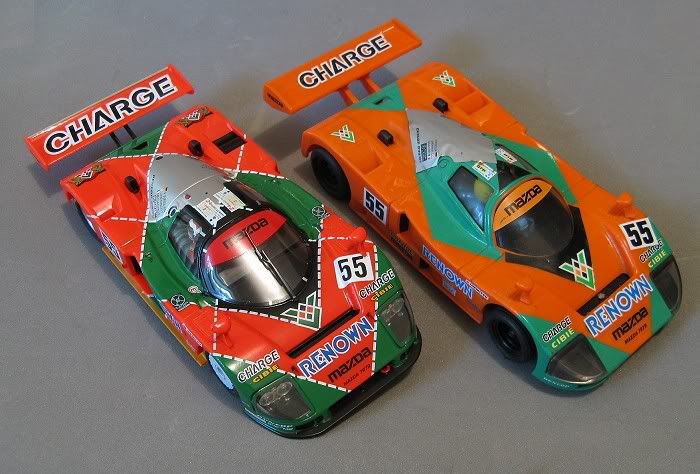 Not everyone is aware that SCX also made this model back when it was current (or just after). And side by side it is pleasing to see just how right SCX actually got it! The model came with decals on a backing sheet placed inside the box. This would have no doubt halved the production assembly costs at the SCX factory in its day. With its SRS 2 chassis and black motor it was quite formidable in its time.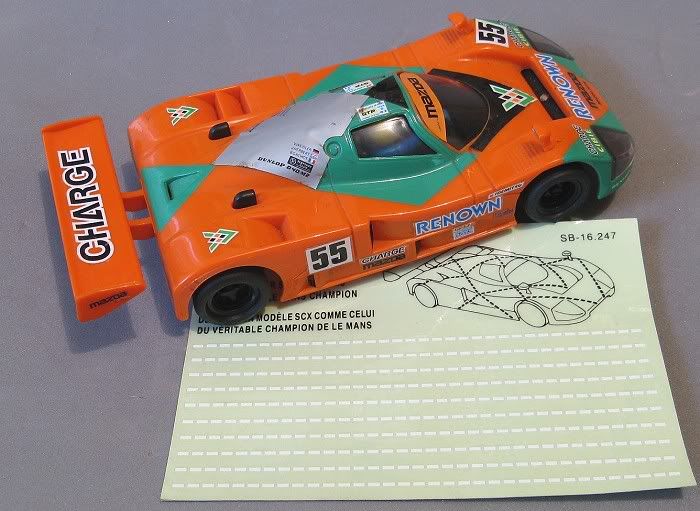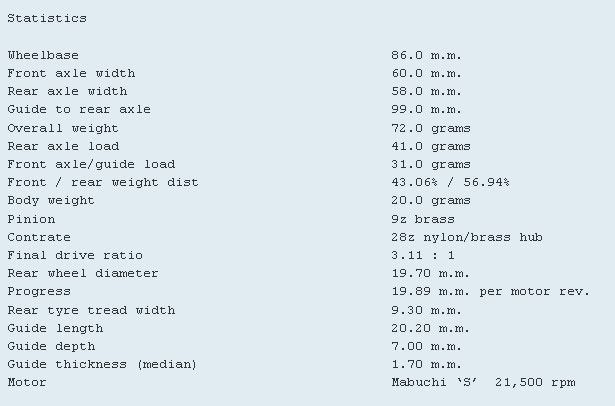 There is no doubt this is one of the nicest models to date and there is no doubt that with its heritage it could be a race winner, but if you want to race it, maybe the best solution is to wait for the plain white body to come out and don't desecrate this historic beast. The body seems noisy too? I suspect there is movement in the side pieces which is amplified by the body itself. As it comes it will take little extra work to make it a contender on plastic/magnetic tracks. But as for non magnet and board track racing it will need a tad more attention before it can even consider its chances. With just two body mounting screws you have the dilemma of either leaving the pod screws tight and slackening the body, or vice versa! Then, some well placed ballast and maybe a tyre change! Et Voila!