Slot.it Alfa 33/3
Sebring 1971




by

Phil Wicks


Aug08


I normally give a bit of a eulogy about the models I review and that includes some history and details. On this particular occasion I suspect Alfa have already been mentioned in other reviews so I will just give a link to a site that says it all (or most of it!) Needless to say, the name Alfa has been around almost as long as cars themselves and the more famous models include the Bi motors and P3's as well as the grand Prix cars of the fifties. Their last major appearance in world motor sport was as motor supplier for the F1 circus. Eventually Alfa were purchased by FIAT and it was decided that Ferrari would be the only FIAT company to take part in F1 racing and so Alfa drifted away from GP racing after three generations of participation.




Alfa history




I tend to be a more conservative racer than most, deriving enjoyment from racing well made scale models and not really attracted to the SCM side of the hobby. To me, Slot.it straddle this fence and whereas most of their recent models didn't even call out to me, there have been one or two which caught my eye, and in doing so have prompted me to purchase the odd model. I bought the Sauber Mercedes at a time when I was look in for the Scalextric version and am happy with that. I bought the Lancia simply because it was very appealing and have won with it and now, as there is a classic Slot.it formula in local racing, I was drawn to the Alfa 33/3.





Alfa 33/3 pictures






Again, contrary to my normal method, I will put the track tests up first as this is how things evolved with the model after receiving it from Cincyslots along with the GB Track Sisu Spanish army truck! The first opportunity to race the model was on a new track recently opened in the Northern Suburbs. A great flowing track with plenty of features to keep the racer happy. I gave the model the initial precursory look over just to make sure there weren't any silly anomalies that were going to affect its progress then on tho the track it was!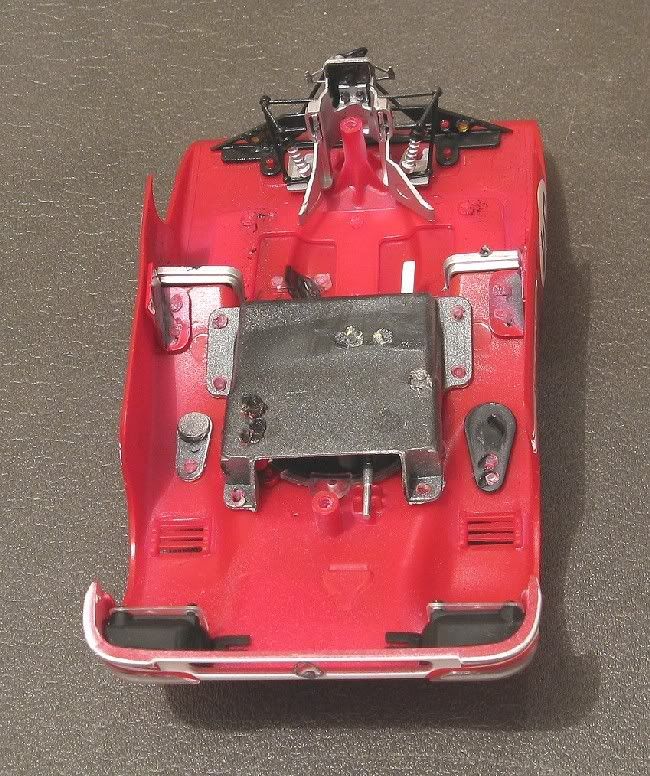 The first impression was that this model is very light, yes very! A look around it revealed two or three non fatal faults but putting it on the non magnetic track I was expecting problems, and sure enough the first problem was major. It wouldn't accelerate smoothly. In fact it juddered severely up to about a half speed. Further investigation showed that this model, SOOB, is solely a traction magnet racer. It is the first sidewinder I have bought from Slot.It and boy it is a million miles away from the Lancia and Sauber out of the box. The immediate problem is that as a magnet racer, it has most of the model weight over the rear axle. The front is very light and the braids are a particularly stiff copper braid, much like OFC copper. The problem starts if the braids aren't set to EXACTLY the same height.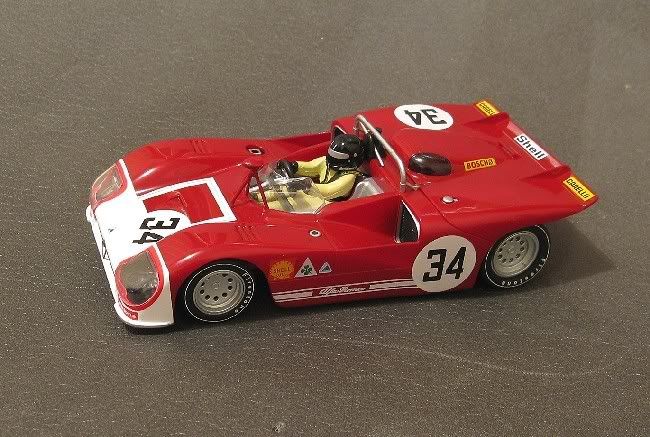 On timber or in non magnet racing there isn't enough weight up the front to press both braids firmly in contact to the conductor rails, hence the high frequency vibration as the model moves off. Unlike its stable mates with the in line motors which are inherently more stable 'sans magnet'. The second problem is that once the braids are delicately matched, the model leaped from the slot on hard acceleration. Again a weight distribution problem which is going to take tens of grams up front to rectify!! I abandoned the rest of the board track testing as it was becoming too frustrating to continue and there was some more serious racing on the agenda.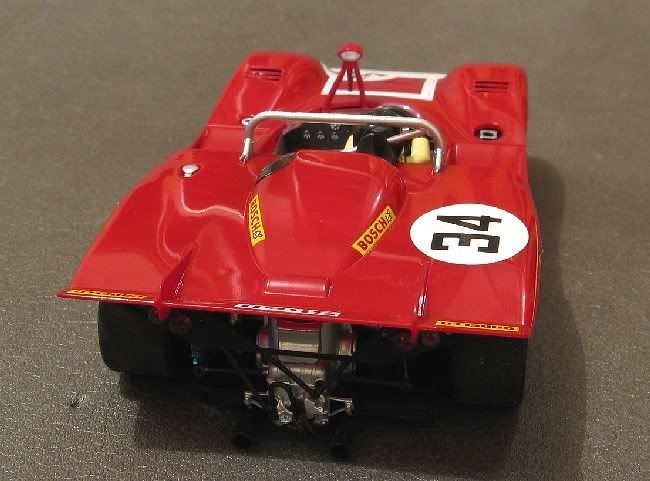 The following Monday was to be its plastic track debut, on the seventy plus metre lap length of the Graceville raceway. This I was expecting to be a lot better and getting there early I singled out the Alfa for the first run of the evening. The track has some mammoth straights and some very testing infield sections giving a good all-round test track properties. The track hadn't been cleaned prior to use so there was a little surface dust and a build up of dust on the conductor rails. After clearing one lane with some test laps I decided to push on to see what the model could do, using the tyres fitted. The first and most obvious problem was the guide depth. The guide is deeper that most plastic tracks allow. Scalextric and SCX are too shallow for this guide and so too is Ninco. Carrera is the only one that springs to mind which can accommodate the guide in its untouched form, apart from board tracks!!!! for which this isn't suitable???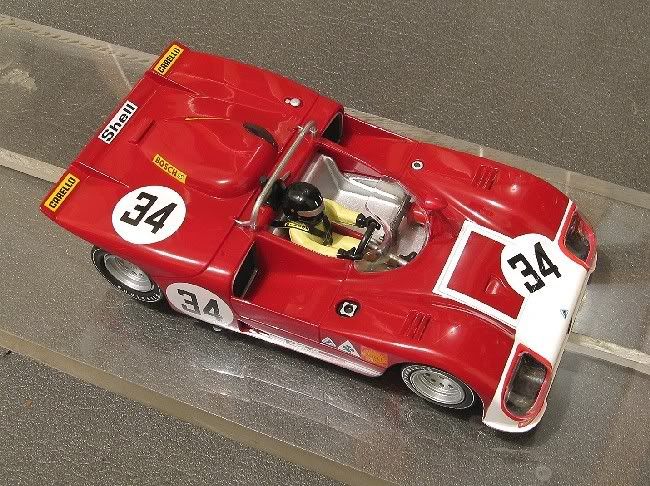 Curious? Still, its no big deal to trim the guide. But if, like me, you race both media you will need two guides to maximise the model's potential. Deep for board, trimmed for plastic! Anyhow, on with the test and its impressions. I am certain this is the 21.5000 rpm motor and assume it is rated at 12 volts. and as such it is a very speedy model down the straight. Top speed would possibly be unachievable on less that a three metre straight so for home use you would benefit from putting an extra tooth on the spur gear. Cornering was good and the flush fitting traction magnet does a good job to a point. The model will still break away in an oversteer deslot if you gun it in a bend, indicating the magnet letting go under full throttle. With its very short rear axle overhang, it demonstrates very similar characteristics to Fly Chevrons and 917 Interserie models but with a tad more straight line speed. A good track test but with a lot more reserved potential for those who like to 'tinker'.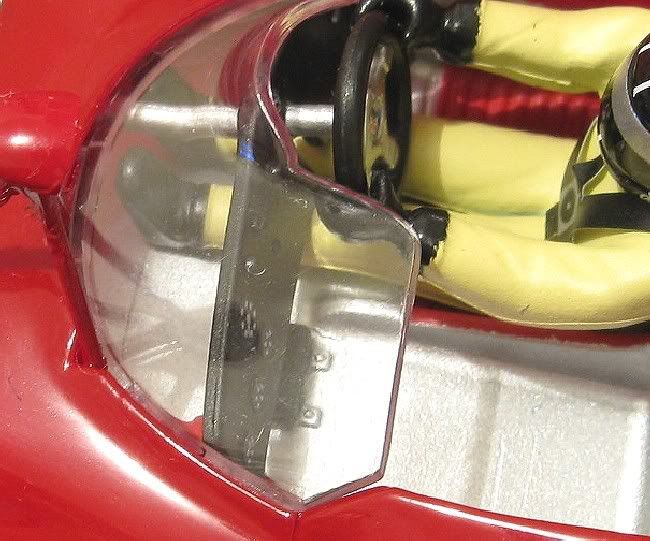 So what's it like as a model. Mmmmmmmmmm? First impressions as already stated, it is very light, with most of the weight at the back. Detail, good to very good. The first couple of faults notice were the 'dimples' in the clear coat. There are also dimples in the moulding in a couple of place but people will say I am nit picking if I mention this! So I won't! The body shell is in moulded in a 'natural' finish. This is uncoloured plastic that has an off white appearance. It has then been coated in red. To be truthful it is almost a light maroon and not the bright red which appears on the website pictures. The driver and cockpit detail are good but the very vulnerable looking rear view mirror is only attached by two legs!! The front one not fixed anywhere and its locating hole filled with paint. This particular one will be removed before racing as it's life will surely be measured in minutes otherwise! The fly screen hasn't been attached at the front edge either.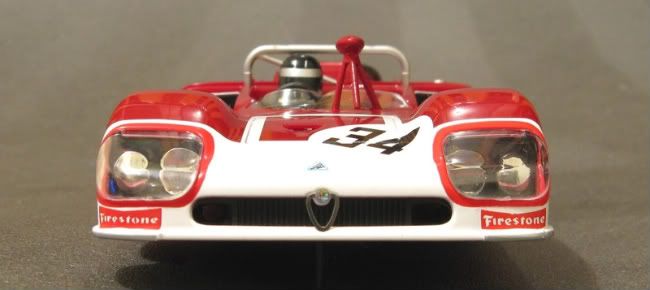 The lights are bereft of detail possibly in an effort to keep costs down. Four simple anodized discs represent illuminatory detail and look rather bland behind otherwise nicely modelled covers. The front too is very fragile. In an effort to capture detail there is a very thin Alfa grille and intake lower bar, both at THE most vulnerable part of the model. Another statistic in the waiting. Particularly nice is the gearbox detail. Very fine oil line and suspension detail, probably a little more protected from the raging hordes.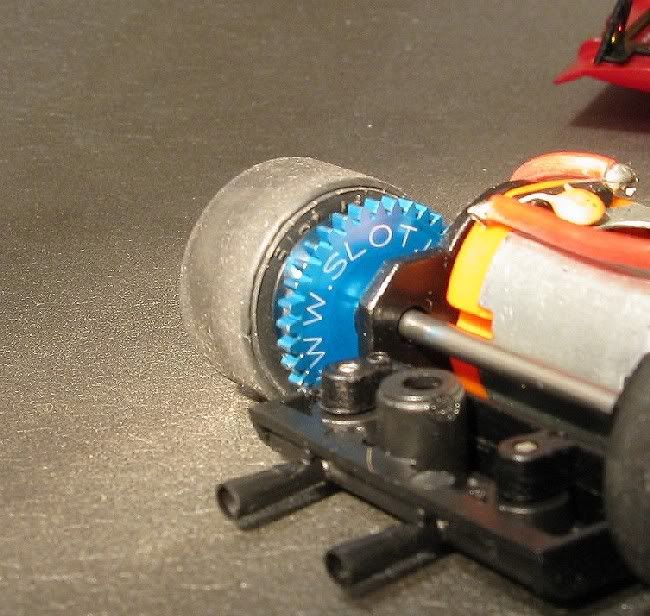 The last external features are the wheels and tyres. The front wheels are injection moulded and very concentric. The tyres are medium rubber compound slicks and a little concave in the tread area. I would leave them like this to minimise front end drag in tighter corners. The rear wheels are turned alloy with grub screw fixings and plastic inserts. Rear tyres are quite soft, I can't tell you their P number or other detail but they hook up quite well on plastic and wood, especially with a little cleaning. There are a spare set of tyres with the model which look and feel like silicones but as silicone tyres are probably not the best choice for board tracks and have now been superseded by the latest soft rubber tyres available, they may well stay in the model box, unless anyone has a use for them!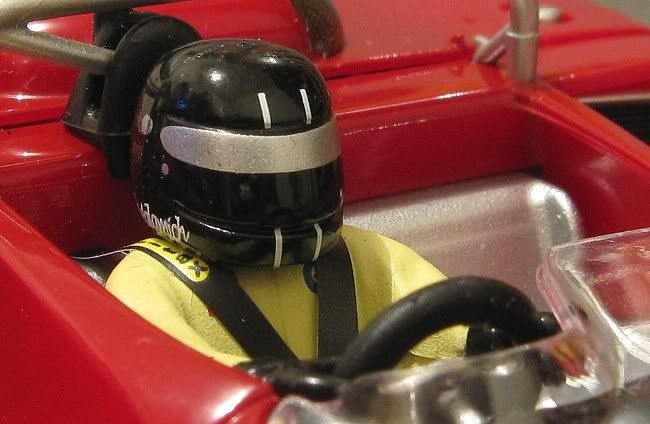 Now to the inside, and what to tell. Well! nothing much really. Nothing that we haven't seen a hundred times before except, the right hand lead wire is too long and rubs on the right hand rear tyre. For the few laps I did with the model it has already rubbed a considerable dent in the insulation. This will be desoldered at the motor, shortened and resoldered, or even shortened at the guide end. The motor is loose in its cradle. Again nothing new but its location next to the rear axle means it's going to be hard to hot glue in place. So it may well be a PVA or superglue job on the mounts themselves. The rear axle runs direct into the chassis, this is a luxury afforded by having detachable wheels. No loose bearings etc. and because the wheels are detachable the axles are plain and are a snug fit in the bearing holes. A lot of modern models have knurled axles to overcome the dreaded loose wheel syndrome. This in turn requires a sloppy axle bush to be able to slip over the knurling during assembly!!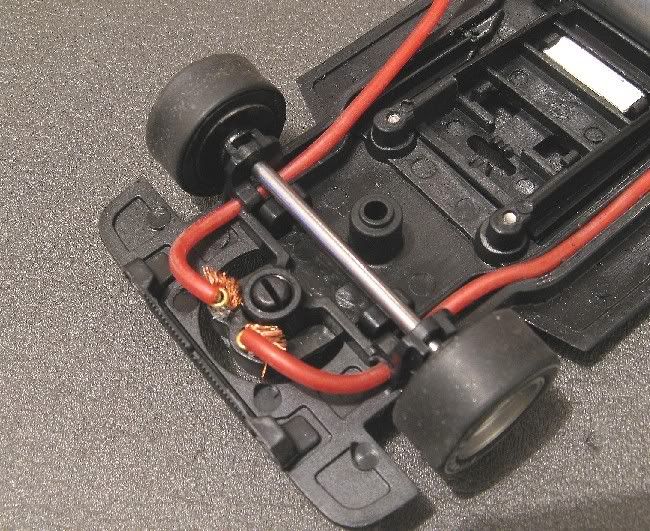 The front axle is basic and from the box sits on a couple of spacers. These can be removed if you require your model to demonstrate turning wheels at the front on such track as SCX and Scalextric which have raised conductor rails. Otherwise they might dangle akimbo on most plastic track occasions!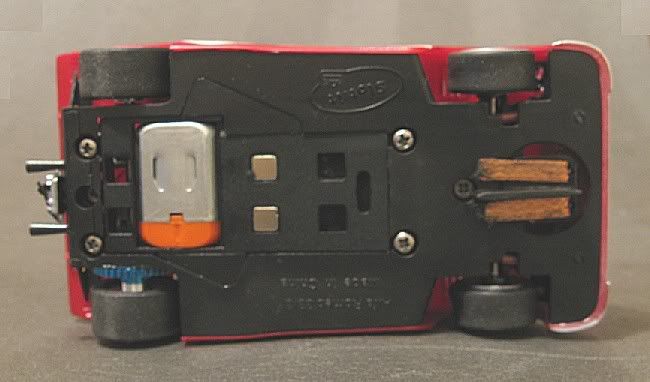 Finally, the motor and pod assembly is a commonplace occurrence now with many manufacturers implementing their own preferences. This allows the body weight to be decoupled from the chassis un uneven tracks and plastic tracks reducing the negative gravity moment on the tyres, guide and magnet. Hopefully increasing the probability of the model staying in the slot on fast turns and hard acceleration. Either way, I think by now that just about everybody runs their models with these screws being backed off to their own preferences. Not a bad think either. In this pod are three potential magnet positions. The centre one being the preferred position for all round purposes. The other two are sometimes used as specific race requirements and the addition of extra magnets surely would increase the model's plastic track performance but the increase in downforce may well decrease the life of the motor and axle bearers!!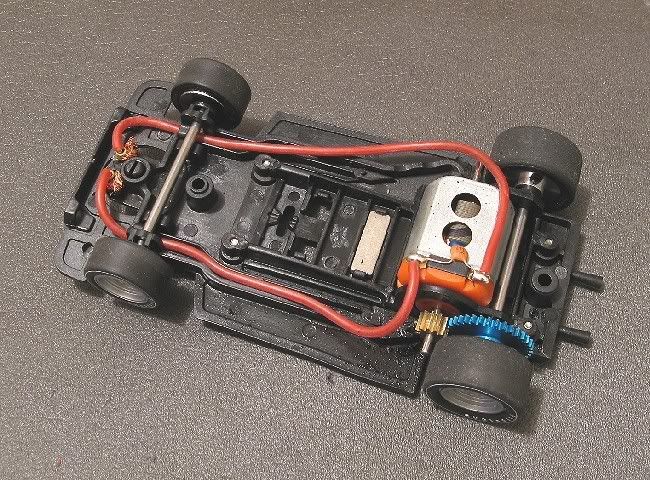 Statistics

Wheelbase					74 m.m.
Front axle width				54.3 m.m.
Rear axle width					58.3 m.m.
Guide to rear axle				83.m.m.
Overall weight					64.0 grams
Rear axle load					45.0 grams
Front axle load					29 grams
Front / rear weight dist.			37.5% / 62.5%
Body weight					16 grams
Pinion						11z
Spur gear					34 z
Final drive ratio				3.09 : 1
Rear wheel diameter				19.75 mm
Progress					20.08 mmpr
Rear tyre tread width				9.5 mm
Guide length					19.7 mm
Guide depth					6.8 m.m.
Guide thickness					1.46 m.m.
Motor						SIMF 06 – 21,500rpm@12v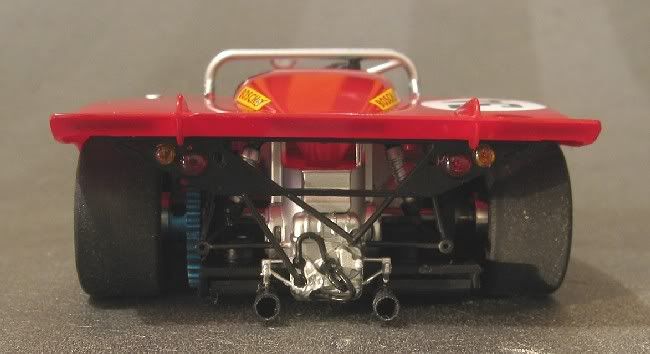 At sixty four grams this model has obviously been aimed at the SCM and also indirectly focuses on the NSR threat to their reputation. The flimsy body itself is only 16 grams and with the flimsy chassis, makes it almost an RTR womp! As mentioned before, Slot.it straddle the Enthusiast/SCM fence and this model takes them a little more to the right. It is purely and simply the subject matter only that has caused me to purchase it and once set up for board track racing it would be pointless to race it on plastic, There is no compromise for these two dissimilar disciplines. On plastic it will have a finite life as the rigours of this discipline will see the flimsiest of injection moulded bodies crumple and split very early in the piece. So choose your weapon and chose your discipline, it won't do both in one state of trim!!