.
.
.
Slot.It Lola Judd B09/60
Le Mans 2010 Drayson racing
E. Pirro, J. Cocker, P. Drayson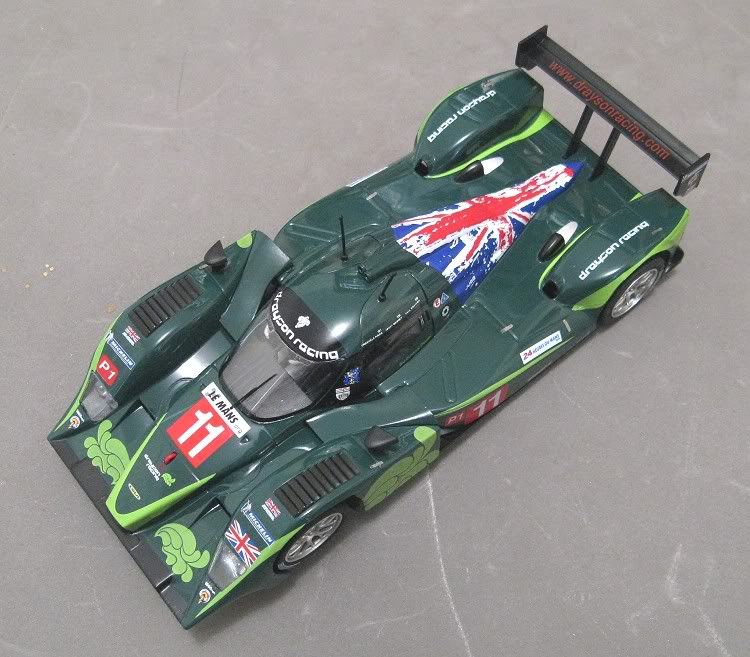 by

Phil Wicks





The model is based on a very real car which was raced by Drayson racing at Le Mans in 2010 and at other enduro racing events in that and the following year.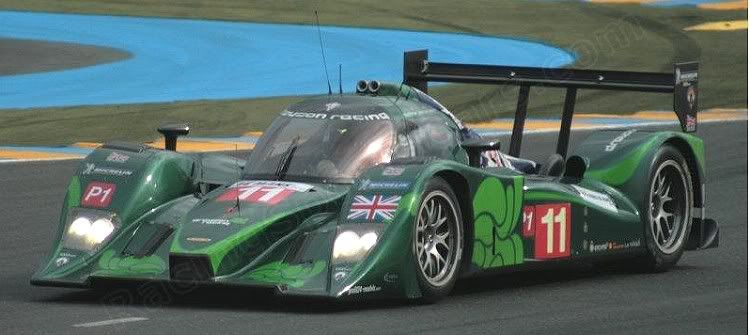 Drayson Racing was set up by (Lord) Peter Drayson as a Racing enterprise. After some degree of success running Aston Martins, Peter decided to branch out into LMP, particularly in North America where there is a strong following for this class. Peter himself was barred from Le Mans because he only has sight in one eye, but after running a couple of successful seasons in GT racing, the organisers of Le Mans relaxed the rules and allowed him to enter the team with himself as one of the nominated drivers. Drayson is one of the typical enthusiast non factory entries which make up a huge slice of motorsport participants. Without these people motorsport would be much poorer for it and entry numbers would be minimal by comparison.




Drayson Racing




Much like the NASAMAX Reynard from 2003, the Lola Judd was set up to run on bio alcohol fuel. The car had a progression of problems in the race associated with understeer and fumes in the cockpit and spent a deal of time in the pits; but the car did accomplish a finish even though it finished as an unclassified entry.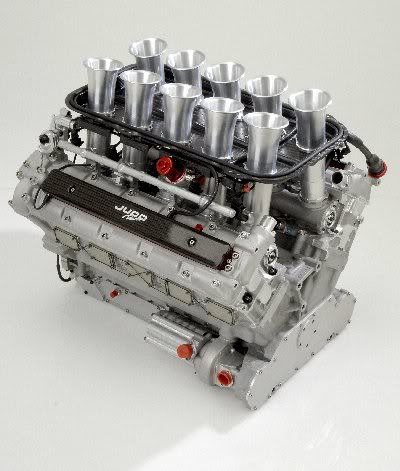 Engine Developements Ltd





The Lola B09/60 of Drayson racing was using the tried and tested Judd 5.5 litre V10 engine as mentioned, running on bio ethanol. The name Judd is synonymous with all forms of motor sport for many years. The parent company is Engine Developments Ltd which is a company originally set up in 1971 by John Judd and Jack Brabham. it was originally going to supply engines to the Brabham racing team but it was just a short while to fame and fortune. Cosworth awarded it a service and repair contract for the DFV engine and the proceeding years saw the business enter almost every corner of motorsport. Some of their early collaborations were with Honda, Yamaha, MG, and March engineering. Since these early days Judd have developed engines for a host of manufacturers and classes. Dome, Dallara and Indy cars are some of the more recent users.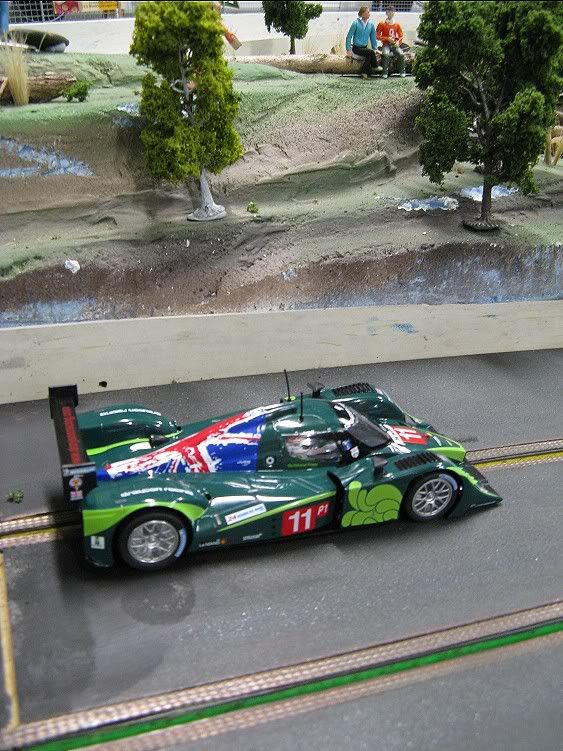 Slot.it aren't usually my first choice simply because they've always seemed a bit flimsy, and self destruct quite rapidly on the race track. The issue is compounded by the fact that they usually come with motors rate at 20,500 rpm @ 12v (24,000 rpm @ 14v!) which means if I race on small to medium tracks, the majority of which are non magnet, then they are overpowered; I have even seen well balanced NC1 powered cars set a faster pace than a lot of other cars simply because they can navigate the more technical circuits more smoothly.









A very plain rear end





But I do have several Slot.Its, most of which have been reviewed here, a couple are also dragged out on the odd occasion for some serious competition. One being the Sauber Mercedes and the other the Lancia LC2.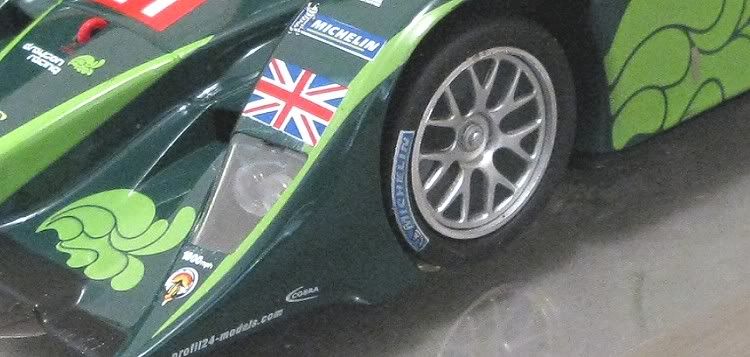 Not sure what compelled me to buy this model but I am glad I did. From the moment it arrived shiny and glistening from Topslots 'n' Trains I felt myself weakening a little bit. Will it get some track time, will it be a shelf queen? Mmmmmmmm, who knows.....but it is sorely tempting to put it on a vacant lane somewhere and turn up the volts. So.... what have I got, and what can you expect if you buy one?









I have to say here and now that I don't read other reviews of models I review, in fact, it is very rare for me to visit other forums full stop. Several years back before I took control of the Outhouse I used to visit one site in particular in the UK. After visiting it for a couple of years I was aware of a huge gulf between my slotcar needs and those of the general contributor, so that's when I branched off from other fora. I am aware that we all have different expectations from our slotcar purchases and whereas in the past I have read some very biased and very partisan views of slotcars, I try to keep things subjective and pragmatic, which brings us back to the Lola!!!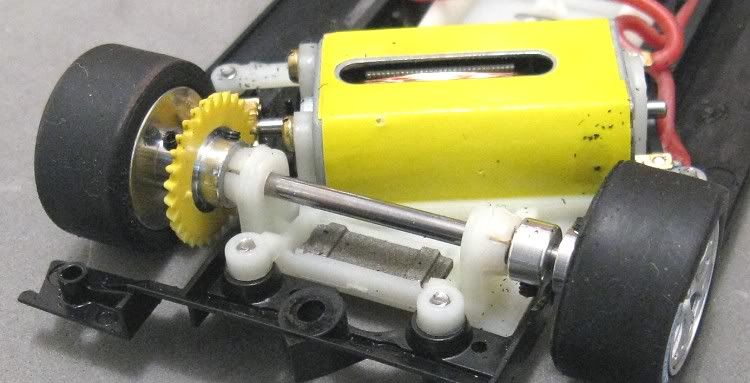 Slot.it walk a fine line with their models, they balance quality with functionality and in all their models there are sacrifices of detail for the sake of cost and performance, so out of the box I am not expecting a Rembrandt or a Goya, but I am expecting an eyeball pleaser and not a pencil squeezer!!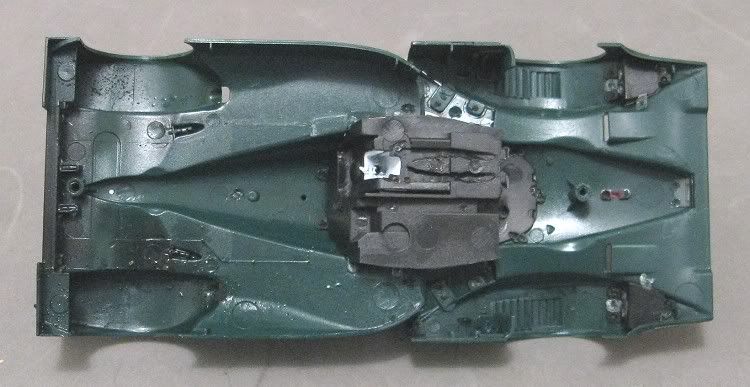 Sure enough, there is something about green in all its shades and Slot.it has faithfully reproduced the Drayson Racing Lola. Let me take you on a short guided tour.....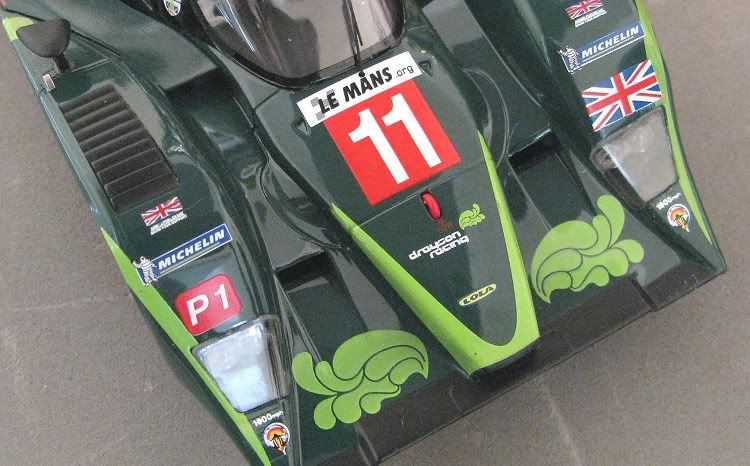 Excellent tampo throughout





The body is well modeled and Mr Slot.it has captured the feel of the model well. Tampo is high quality but there are a couple of paint defects, mainly in the clear coat, but it isn't in a prominent position and you need to look for it (as I did!) Tampo detail is crisp and very convincing, but here and there are sacrifices to production. Fuel filler caps are tampo, as are some of the 3D body details. Tail end detail could have been more realistic but again this is a model racing car and I suppose other things would need to be sacrificed in the tight budget of model making.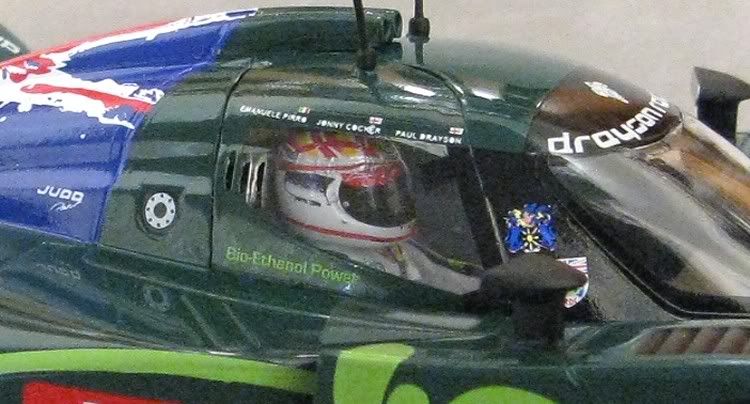 The driver looks well appointed






The driver has had a good turn in the paint room and Slot.it have done well to capture the detail in the cockpit. An effective steering wheel and dash gauge detail are all there if you look hard enough!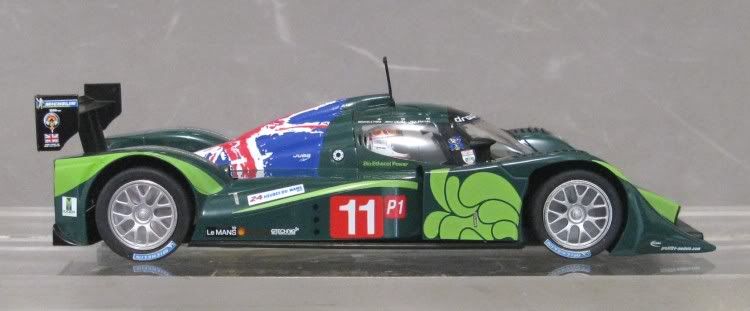 Wheels are a bit too bright!





Wheels and tyres are good and the Michelin printing looks good and fairly robust. It would have been nice to have the rims painted black inside to highlight the spoked inserts but as it is the alloy wheels are quite distinct and are another of the few detail low points. Telemetry antenna are in place and there is the finest of wiper arms adorning the windscreen. Tow hooks are featured too and the various louvres around the exterior make it a very nice model. The only criticism of any note would be that the rear view mirrors and rear wing are not detachable out of the box. These items are guaranteed to have a very short life!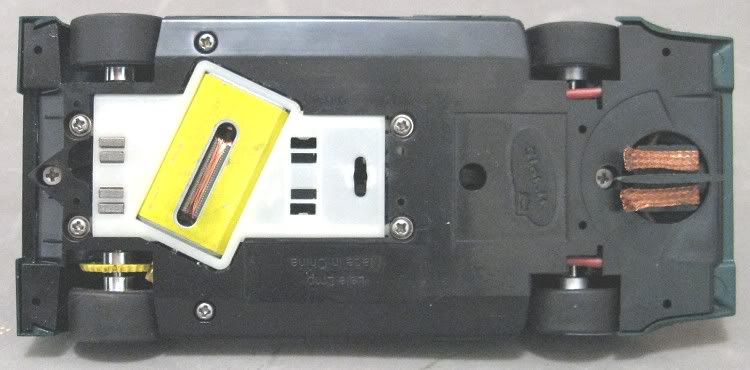 Under the model it is very business like and the first thing that struck me was the guide. I'm not sure if this guide is fitted to other models yet but it is new to me. Slot.it have fitted the lead wires to the back of the guide and have it so that the tinned end of the lead wire passes through a brass aglet on the end of the braid?? As far as I can see you will need to insert the braid, brass end first. When the holes align, pass the lead wire end through the holes and a short tug on the braid should see the aglet trap the lead wire in the guide quite firmly. Mmmmm? Is this a serious attempt at a quick change braid or are Slot.It locking us into purchasing their spares? There is also an identical spare guide in the spares pack along with a small Allen key and a couple of spare grub screws. Interesting to not the guide is tapered front and rear and wider in the middle Mmmmmm? Maybe a concession to some of the more tighter corners on plastic tracks!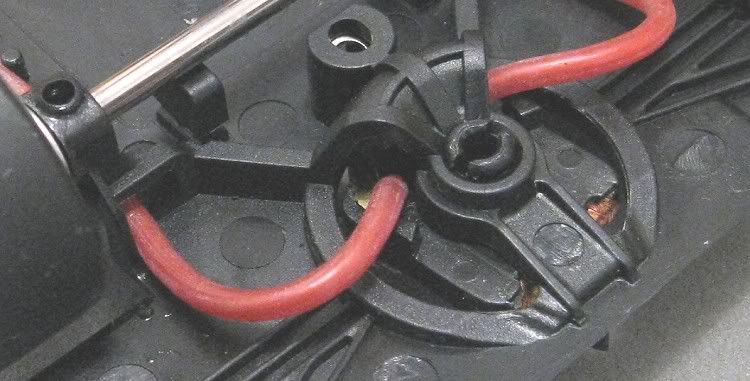 New guide technology?





The motor pod layout is clearly visible from outside and they have used the angle-winder set up which they have favoured for some time now. Interesting to note they have one of their traction magnets mounted directly under the rear axle. There is also a magnet position a little behind chassis centre and on faster circuits I would probably prefer this position. The rearmost position is OK for short technical circuits but I would expect the model to be prone to deslotting on hard acceleration from low speed corners. The braids are a medium soft copper and should work well on most tracks.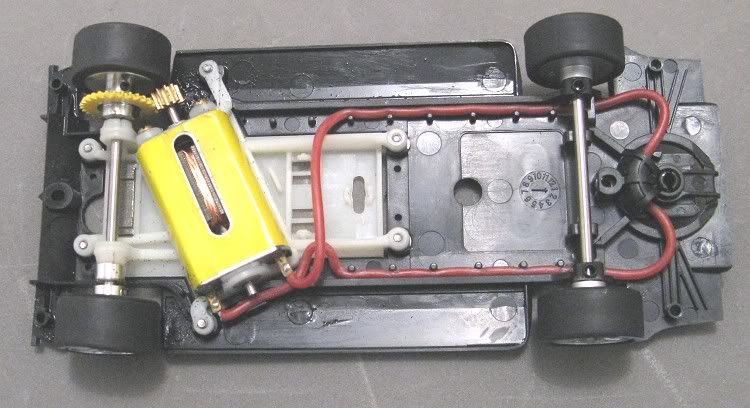 With the body off there is a similar view of the motive parts and some extra detail of the functional parts. The body is very light and very flexible, once again, probably an early statistic on a fast track. Body mounting posts are flimsy too and if you intended to race this model then reinforcing the post would be recommended, they are a known weak point with Slot.It models! As always with Slot.It the lead wires are tidy and secure and their fitting also ensures a degree of self centering for the guide. Moving back, the motor is the 20,500 rpm 'Flat Six' motor. This has heaps of torque and is reinforced by the fact that Slot.It have chosen a very high final drive ratio, 2.54 : 1 to be precise!!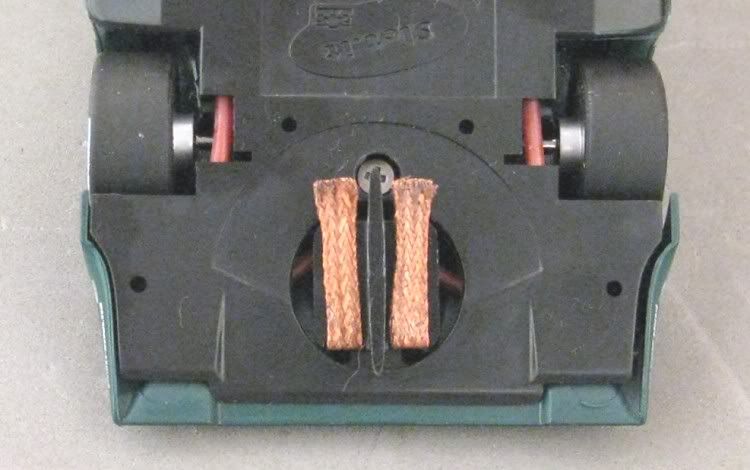 Note the double taper guide??





At the front end there is a normal axle and the Slot.It adjustable axle mount. This will help you set up the front axle height on a variety of different make plastic tracks. I myself usually set cars up with the front wheels taking the model weight but with the guide as deep as it will run.






This motor won't be moving!




Looking harder at the business end, Mr Slot.It has settled for self centering axle bushes which is good, and the drive reduction is via a plastic spur and a brass pinion. The gears are very noisy on the track (yes! I have had it out for a run!) and I can't see it getting any better as spurs usually get worse with wear. Another issue is that the axle is held in mesh via the spur adjustment and a collar on the other end of the axle. the mesh, out of the box, is not the best and the only foolproof way of holding it deep in mesh is to insert a thin shim between the spur gear and the left side axle bearing.





This gap needs fixing





The motor is well in position.... a couple of screws make sure that on plastic or board the motor is going nowhere. It is also interesting to note that Slot.It have dropped the motor by at least 1.0 m.m., this should help keep the centre of gravity low, and any unwanted aerobatics in check. An observation here is that the motor mounts are obviously adapted for both high and low set ups, this is achieved by having a shim at the comm. end of the motor.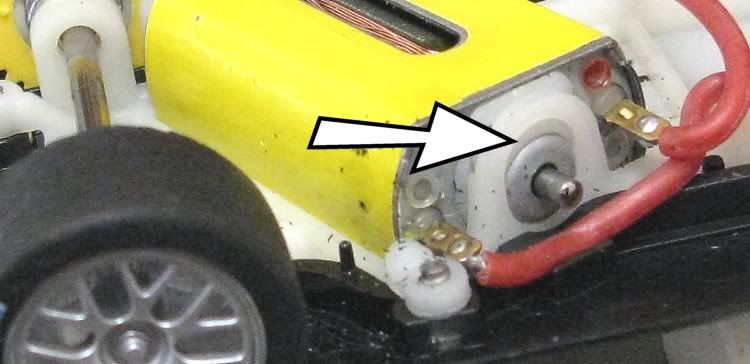 Be aware that this will fall out when the motor is removed so keep an eye on it when fettling the model. Tyres are standard Slot.It and out of the box the model comes with the C1 compound. Gone are the days when Slot.It supplied spare tyres with the model, but these should be fine for most applications. Front tyres are a soft compound too and unless you are running the 'tripod' type set up it would be nice to have something a bit harder of the front. I may well groove the originals to minimise sideslip drag in tighter corners.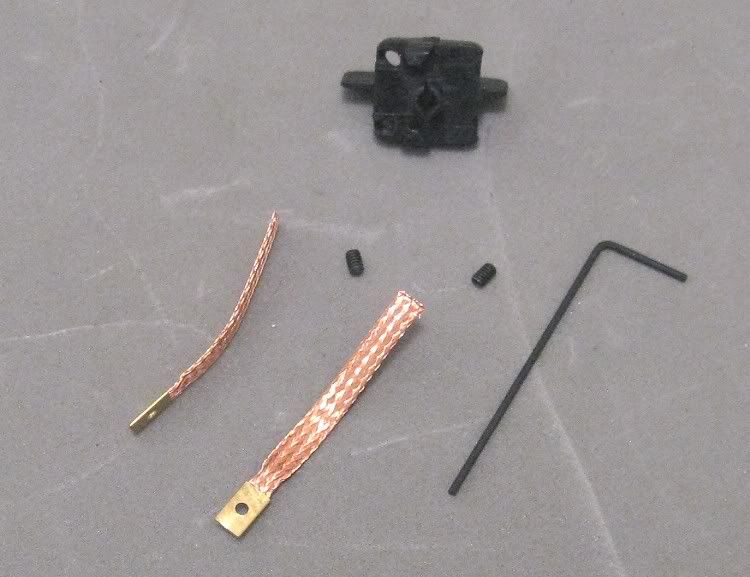 A good selection of spares





I have taken the opportunity to run this on a magnabraid track and I can only say that it has almost all the grip you need. The magnet has heaps of strength, and for all but the tightest of hairpins works well. This bodes well for plastic track racing and I would suggest on Scaley and Ninco track you will be dragging the rear end around !! It should be an instant success on Carrera too!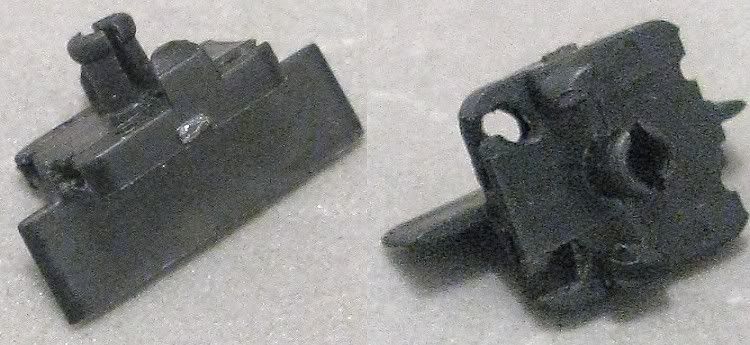 So what do we get? We get a very smart and versatile model which will do the business with little upgrading. But be warned, this model is light and fast, and that could well contribute to its early demise. It's not made from bricks and mortar... far from it! And you may well be taking it home in a plastic bag after its first race night!!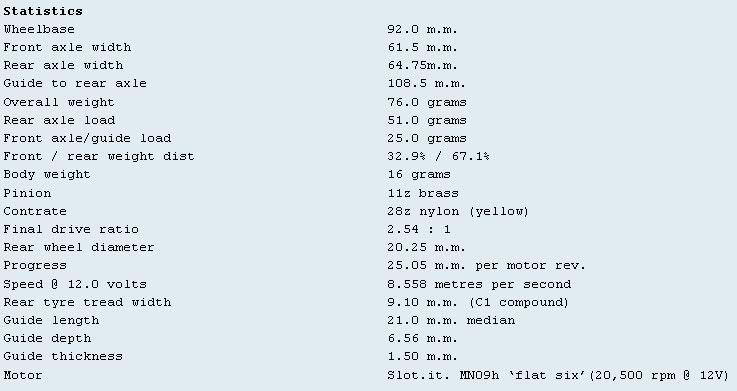 I think this is a very impressive model and I am glad I bought it. Would I race it?? Maybe. But I think it would be more a case of keeping out of the way of others. Is it a race winner? If you race set classes with rigid rules then yes, it should be able to collect the odd bit of silverware, but don't expect to race it next season too!