March 701
Chris Amon - Belgium 1970



By

Phil Wicks



March Engineering was a company who built 'customer' cars for the general racing public. The 'garagiste era which persisted through the fifties and sixties was coming to an end, and prospective racers were buying rolling chassis alternatives rather than trying to build one from scratch. This prosperity saw several companies form the core of the fields on many occasions; names like Lola and Cooper and Lotus.






March began production in 1969 on their first open wheeler which was to be a Formula three car; at about the same time founder member Max Moseley underpinned the company's projected development path by announcing a range of March variants ranging across the motor racing spectrum from F1 to Can Am! As well as setting up their own racing team, March started delivery of their customer cars, most notable being the Jackie Stewart Tyrell. Several other team drivers raced March including Ronnie Peterson and Mario Andretti. At this time, Chris Amon secured sponsorship from US lubricant manufacturing giant STP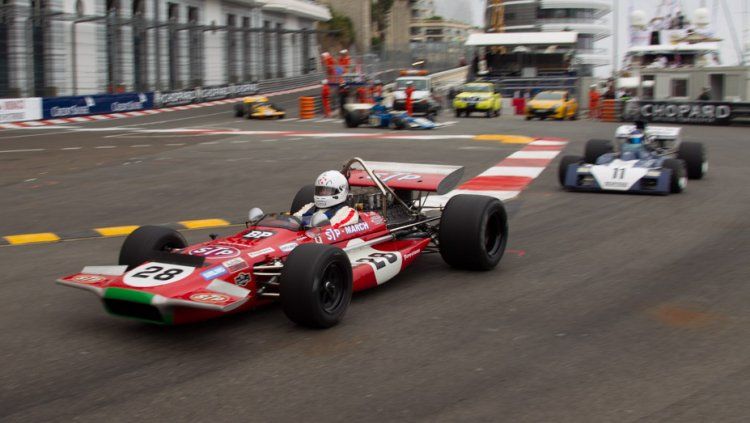 Policar Models



Although groundbreaking in its aerodynamics, and powered by the Cosworth DFV, the team ended the season with a third position for constructors in the F1 championship. The model was superseded the following year when a lone car raced alongside the new 711. March went on to success in various guises which include cars like the March 83G GT car, the March 86C Indy car. Through the 70's and 80's the company went through a period of different owners and finally ceased operations after the Australian GP in 1992. A consortium using the March name contemplated a revival in 2010 but possible rule changes, including funding limits introduced at the time scotched the idea.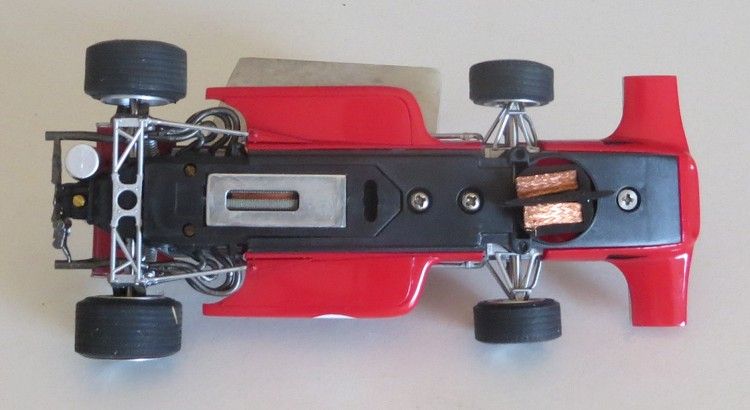 Chris Amon was a 'local boy' kiwi racer who was introduced to motor sport in his home New Zealand. Entering local motor sport events in the late fifties he had varying degrees of success until motoring impresario Reg Parnell (of Vanwall fame) spotted him at a rain soaked meeting at Lakeside and consequently whipped him away to the other side of the globe. In Europe he raced a number of different cars for a small number of teams and one promised drive after another seemed to vanish into thin air as the politics of motorsport took their toll.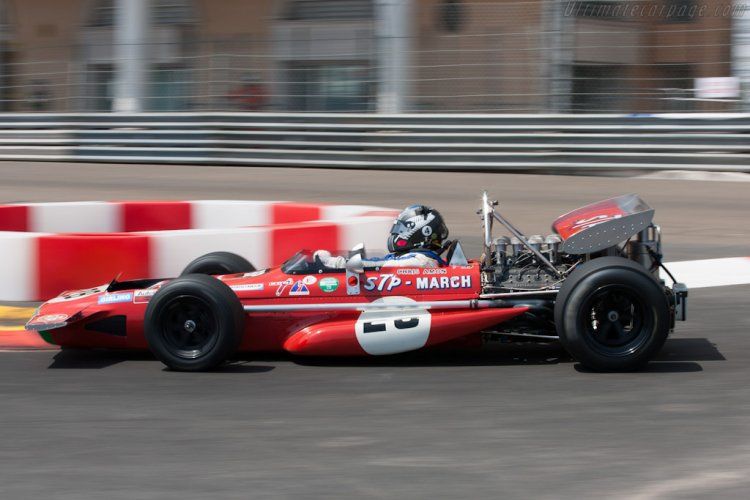 It was here he was befriended by Bruce McLaren and although it was an on again - off again relationship it helped open doors with the climax being his co drive with Bruce in the 1966 Le Mans and being part of the historic Ford GT 1-2-3 finish. This caught Enzo Ferrari's eye and before long Chris was testing 'Prancing Stallions' at Maranello. It was about this time that aerodynamics played a key roll in car development and as the nature of motorsport was to change forever so too were costs and expectations.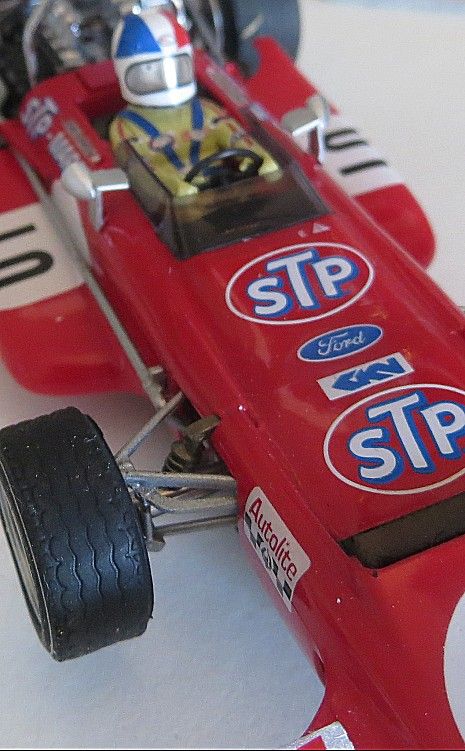 Chris tried his hand at managing his own team, drove more sports cars and entered a new phase, the next few years where chequered as far as rides and results were concerned. He briefly revived his racing team, took to supplying F3 motors; but after joining Ensign racing, an incident at the German GP caused him to retire from motor sport and his eventual return to his New Zealand home, where he became a local motorsport celebrity and farmer!.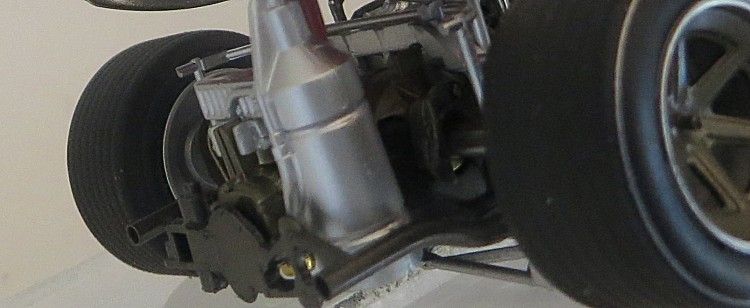 Policar are a German based company operating from Darmstadt, to date they have produced this model, the Lotus 72, the Ferrari 312PB and the Ferrari F40. While the company focuses on the design of these models, the running gear is extensively Slot.it. The car modeled here is the March 701 as sponsored by STP and driven at the 1970 Belgian GP by New Zealander Chris Amon.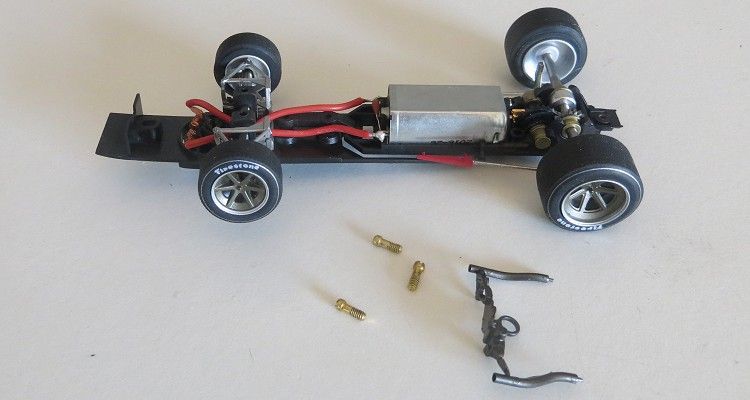 Those who have been in the hobby for a while will have noticed a marked change in slotcar evolution. Starting in the simple days of the early sixties with kids playing in the lounge with their home racing kit and dad, up to the sometimes complex and overpowered models which no longer race successfully on the average home track. Cars have gone from minimal moving parts and simple detail to complex engineering and intricate detail. This model helps perpetuate that image.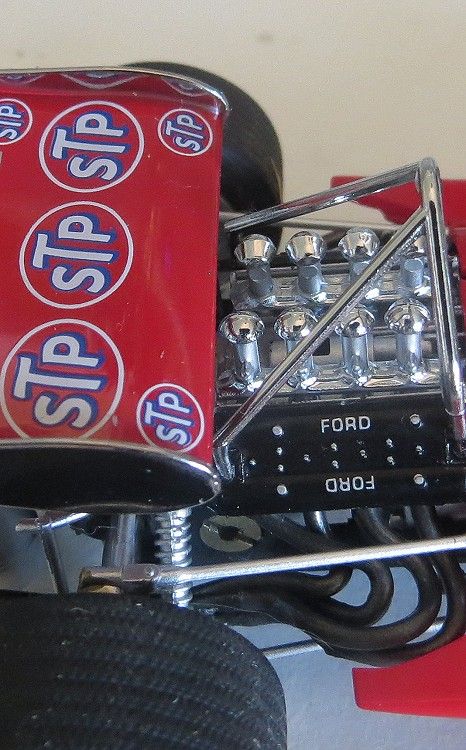 Out of the box the model is very striking in its STP livery. Tampo for the most part is very good but is a little blurred on vertical surfaces where the print layers don't quite match up. Moulded detail is ground breaking, not from a quantity perspective but from quality. The smallest of parts has been reproduced favourably and anodized to perfection. Engine and rear suspension detail are quite remarkable and in some ways quite unnecessary! There are plenty of vulnerable parts on this model; but, the complexity begins when you want to have a look around inside!






The chassis is in two main parts with a set of screws for the front piece and a set of screws for the rear. The tail pipes are suspended to the rear of this and are difficult to get either in or out. The motor is one of the FF 050 variety but I am not able to determining the motor speed. There is a part number on the side of the motor but I'm not game enough to pull it out for fear of it either not going back, or breaking something trying to put it back!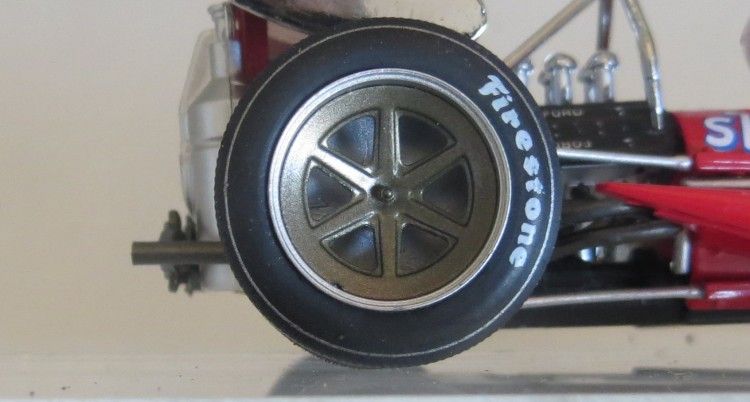 Front wheels have a lot of run out and the medium/soft compound tyres are eccentric too making the front end a little dubious and wibbley. Rear wheels fare better in the run out stakes but these tyre are also eccentric and if you intend to race this then some attention will be required to these items. Tyre tread detail is excellent but if you are a non magnet racer this will need to come off! Best idea would be to go straight to urethanes and save the originals for the showcase when the model is retired!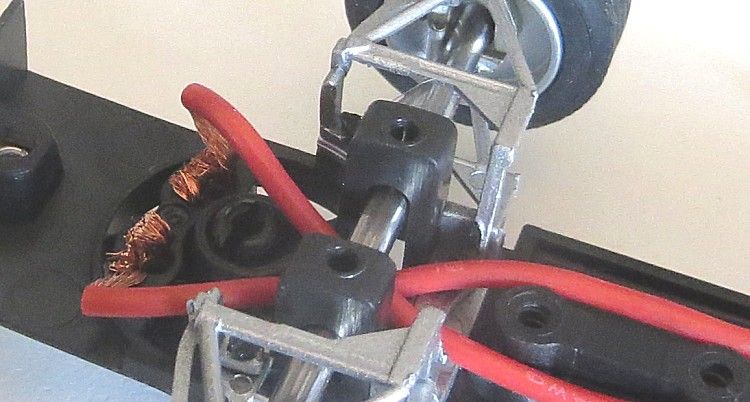 The front axle is a loose fit in its mounts but appears to be binding when turned, and will also need attention if racing. There looks to be a couple of holes up front in the suspension, probably to adjust the front axle ride height?, but there are no adjusting screws as per the Slot.it range. Again, front suspension is to be marveled at and hopefully will be longer lasting that some of its predecessors and peers!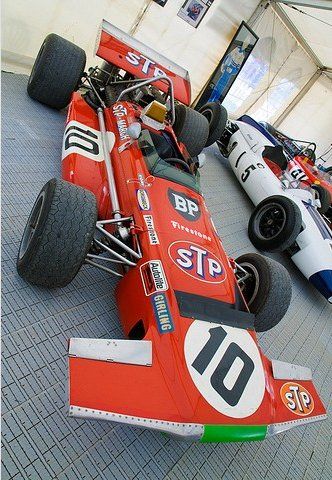 The 'piece de resistance' is the transaxle! So simple but so useful. It far outshines the attempt that Fly made with their last range of Classic GP's. So neat! So tidy and most of all…..so efficient. It is reminiscent of the Classic F1 Williams and Marches I created several years ago, (check out Williams FW08 and March 2-4-0 in the Scratchbuild section of this forum). The simplicity is in the idler shaft between the output pinion and the axle gear, and I just love the way it mounts into the chassis 'C'est magnifique!' or should I say 'das ist gut!'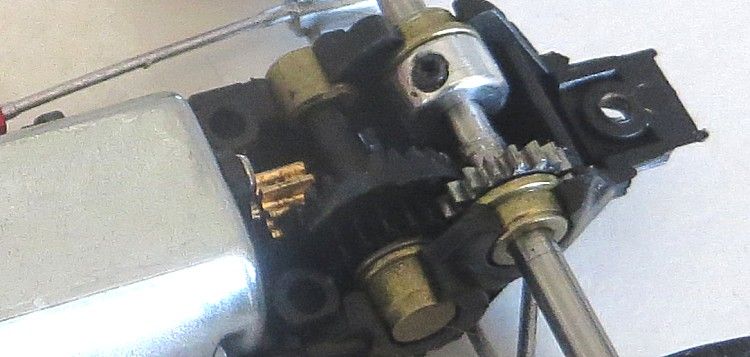 March 701 on eBay




This is a great model and it bridges the gap between shelf queen and serious racer as far as Classic GP cars are concerned. It all goes together nicely (if not somewhat testingly!), but I must point out a critical defect to 50% of the slotracing community…. there is NO traction magnet, nor is there space for one!! neither is one listed in the Policar on-line spares pages!! But I must add that the motor has some useful magnetic downforce but still only being as much possibly as 10% of the average traction magnet! So it could mean back to driving school for those SCM's who purchase it!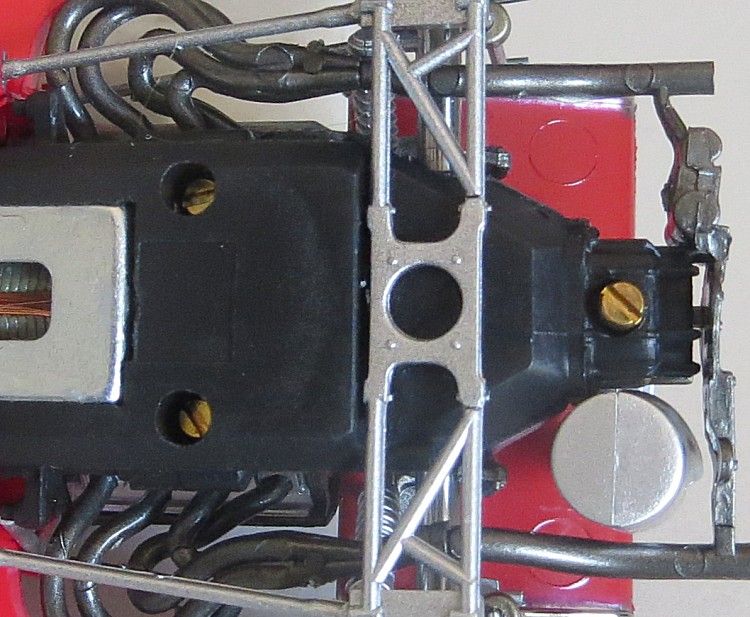 So just to recap on some lesser aspects, the guide looks to be a Slot.it type guide which has the tapered leading and trailing edges. There are six !!YES six, screws doing various jobs. Three slot head brass screws hold the rear chassis to the engine detail. There are two 2.0 screws which hold the front and rear chassis together, and a PK screw at the front. These latter three screws all have flat washers under them. When reassembling, the exhaust detail has to be pushed through the rear suspension, the centre loop then passes through the body/chassis joint at the rear which should be slightly ajar and the loop stem should slot into a groove in the body before the screw can be tightened.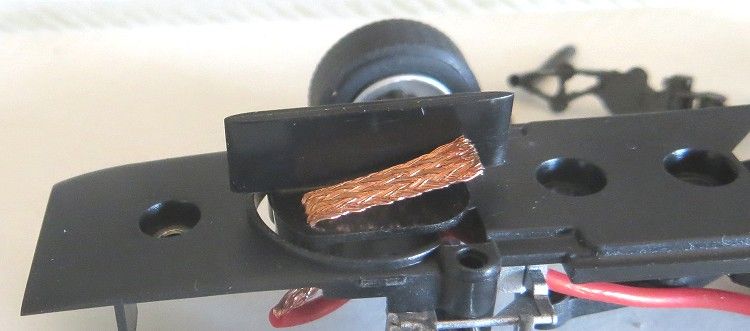 So what do we need to do to race it. Probably just two or three things. The first thing is turn the voltage down. The motor feels a bit like other 20,000 FF motors so get it down to NC1 speed!. Secondly, change the braid material. The OEM is very stiff and the model will scoot along with front wheels off the track throwing out sparks left right and centre!! There is very little space for weight at the front (or anywhere for that matter) and it's my view it would be counter productive anyway. And lastly, swap the rear tyres for a good set of urethanes. MJK 4213 (Slot.it 20x10) is a straight swap for the originals but I have found the MJK 4266 is a little wider and looks better on the rim.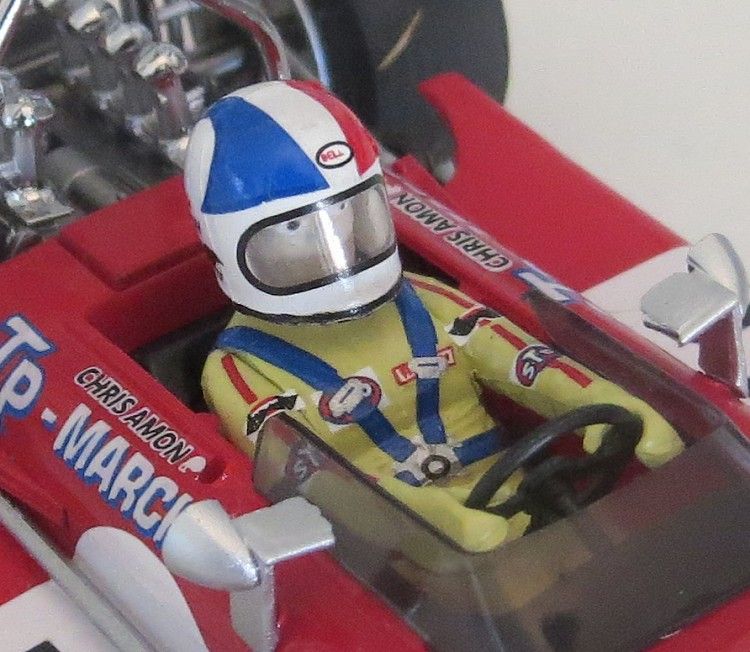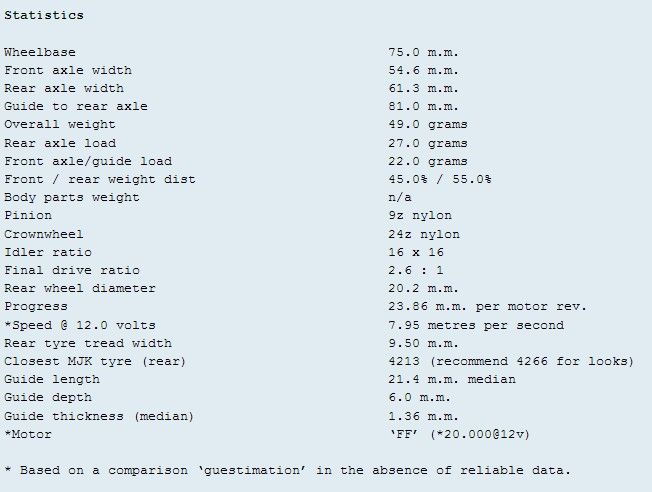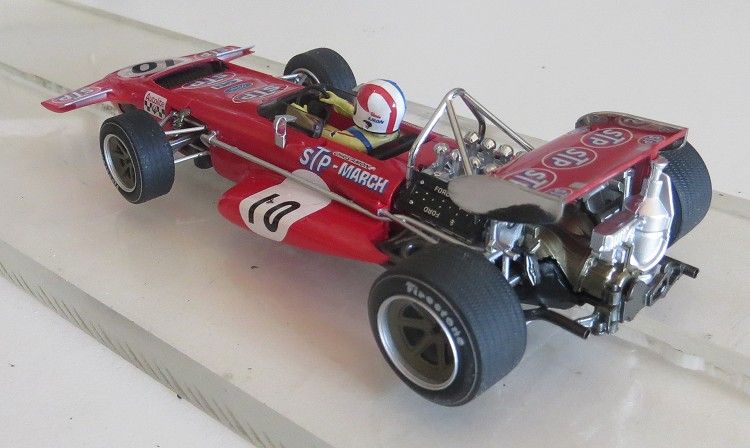 I am very impressed with this model but it is obvious from the abundance of sacrificial detail that it wasn't seriously intended to be a slotcar, never the less, the keen chassis tuner will no doubt get it to fly, and it would make a welcome addition to the Brabhams and Lotus' , McLarens and Tyrells already out there! The model is available at a great variety of prices from a gamut of retailers, so shop around; there is one out there with your (and my) name on it!!



Many thanks to Glen Perrin (Perro) of local racing group Q32 for the opportunity to review this model.