.
.
SCX MGA
Rallye des Alpes
Nancy Mitchell 1956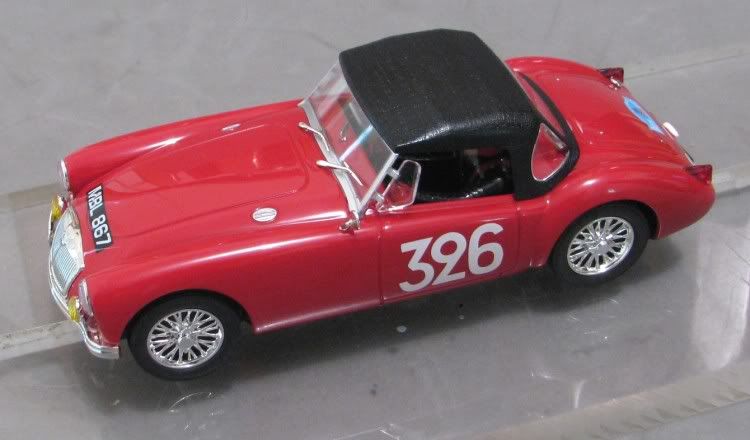 by

Phil Wicks




I have mentioned the birth and up growing of MG elsewhere in this forum so I won't bore you with those details; instead, I'll specifically touch on the MGA as this is probably the pivot point for Morris Garages as they were previously known. After the war years MG were one of the first motor companies who managed to circumvent steel and material shortages and to get the company back on a trading footing. Earlier post war models were the TC's, TD's and TF's; very pre war inspired sports cars, and sensing the needs of their customers they felt the need to produce a sports car for modern times.








The big advantage with the 'A' was that instead of building the body on top of the chassis, they widened the rails and built the body inside and beneath these rails. This allowed designers to drop the overall height of the model and to spruce up some experimental bodywork they had already been playing with.




1956 Rallye des Alpes





With the BMC acquisition of the company the plans were almost dropped because a deal had been done with Donald Healey some weeks before to produce the a Austin Healey. Eventually, sliding sales of the current MG models caused the board to relent and in 1955 the first MGA's rolled off the line. As with a lot of specialist cars of the era, emphasis was placed on export to raise international currency for the rebuilding of British Industry. Unsurprisingly, many cars went to North America and Europe, but this was no chance event.




MGA Sports Car of the Year





From its inception the MGA was always going to be a competition car and its first successes were to be in 1955 where at Le Mans three cars were entered and two finished respectably. Other competition success was in the form of rallying and SCX have chosen to replicate one of the more creditable cars from the 1956 Rallye des Alpes. The British Motor Corporation entered several MGAs in the '56 race where they achieved good results with the most noticeable achievement going to Nancy Mitchell and Pat Faichney who finished first in the factory results and also won the Coupe des Dames (Ladies Trophy)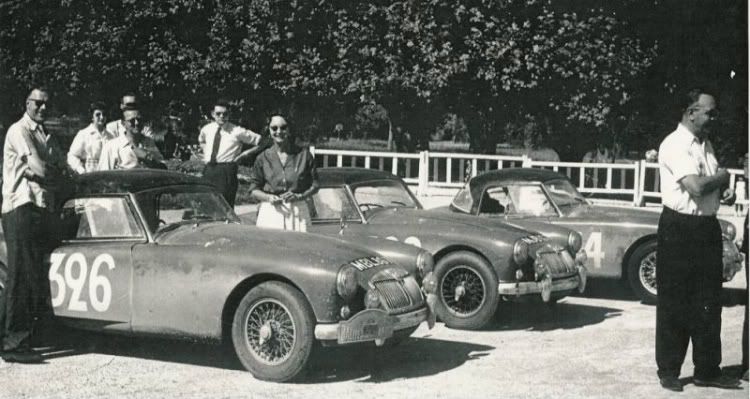 So SCX have decided to reproduce this great model. Not the first company to do so as a couple of slotcar companies in the 1960's also made very nice versions of the MGA. but our concern now is, how well have SCX done considering the modern technology they have at their disposal. Well, it is a great model, but I am saying that with one eye half closed, don't follow? well read on!








I have mentioned in the past about the obvious improvements SCX have made in their production. Considering they are probably the most commercial of all the slotcar manufacturers, one minute they make a very nice accurately detailed model, and the next they produce a highly desirable model such as this and leave glaring mistakes in the finished product??? These thing don't affect it as a slotcar, but as a shelf queen it is flawed. So let's look at its slotcar abilities first up.








The body looks to be very good scale and it has a very shiny finish all over which is nice. The wheels look a bit off, SCX haven't quite mastered the art of fine spoked wheels. They have made a fairly strong wheel, but this was achieved by fusing adjacent spokes together in the mould which does make them a little odd. On top of that the rims themselves are fairly concentric, but at least two of the wheels on this model had sprue material protruding from the wheel which affected the fit of the tyres. The tyres themselves also are a little wide for the rims. If you do touch the tyres you need to fiddle with them a bit to get them back straight, as the wheel centre ridge is narrower than the recess in the tyre material.








There is no separate motor pod for this model, being a little on the small side, but there are only two screws holding the body on which will aid body tuning if you intend to race it. A basic interior with a basic motor here. The RK41 motor is rated the same as the older RX41 which had a factory rating of 16,400 rpm @ 12 volts. Simple brass bushes for the rear axle, and the front axle runs in the plastic moulding of the chassis. The guide is also a bit old school. Loose in its mount and with more than desirable front to rear movement. One consolation is that it does at least have a good depth to it.








Out of the box the gear mesh is very stiff and I suspect it is going to sing a bit on the track. The traction magnet is the usual SCX fare and with the lightness of this model it shouldn't have to work too hard.








The motor as explained is designated RK41. This, I assume is a designation of its design rather than its performance. A new aspect is that SCX have redesigned the brush gear on this motor. No more the brush holders and hair springs not coping with the motor at speed, SCX have opted for side mounted carbon brushes. These are all part of the endbell metal work and hopefully will be more useful than the earlier brush gear. Another feature is partial enclosure of the armature. Not a big deal as far as reliability or access is concerned, but it does stop Wixwacing from tinkering with the armature to get that last thousand or so revs out of it!! Mmmmmmm! But at least the motor mounting is tight, SCX remain one of the few manufacturers which sell cars with a tight motor!








The whole set up is basic and not too new, but on the track the model is not a happy chappy. First thing I noticed was that the model was reluctant to move away from rest, and when it did, it accelerated with some speed! Some part or other was binding quite badly and the motor was struggling with this. Once moving, the model was down on speed and up on noise. It sounded very much like gear mesh issues but that would have to wait to be investigated. Driving further on the model improved slightly but was still very 'stiff', and smooth acceleration was difficult to produce. At this point I decided to abandon the test as the model was difficult to control in corners and kept deslotting.








So with a 'ground up' rebuild needed it will remain to be seen what will need to be done, but to date I haven't been beaten by any model so you may need to stay posted!! With the initial track test a disaster the only thing left is to see how much model we get for our money!!








As mentioned before, the body is very smart. A nice not too bright red finish and a very deep gloss lacquer coat. The little tampo there is , is also first class. From the side numbers and rego plates to the Rally plates, and even the little chrome screws on the boot lid which cover where the boot rack would have went on the real car. SCX have even supplied a cute exhaust tail pipe in hollow section just for realism!!








Front and rear light detail is excellent too, and when running there is the usual show of light which only SCX can do. There is a little light bleed around the headlights though but not instantly recognisable. Screen wipers, wing mirror and rear view mirror all add to the realism of the model, even though I suspect the wing mirror could be an early fatality, and the roof adds to this image. Mmmmm? But just a minute! The car driven by Nancy and Pat was a hard top?? No doubt about that. It was a hard top sure enough, with sliding side windows. This model definitely doesn't depict a hard top?? The worst bit is that it probably has one of the best, most realistic soft tops I have seen on a slotcar!!








Moving on in wonderment I notice that like a lot of SCX rally models, the Smothers Brothers are in control of this model, but hey! Shouldn't it be the Smothers Sisters!! No matter, perhaps that is asking too much. But detail inside has been skimped and there is no discernable dash detail and both driver and navigator are wearing the most un-fifties rally wear! Including open face helmets and seat belts!! I think not Mr SCX!!








Finally, looking around the outside trim, the model is quite accurately modelled. Once again, the only thing that lets it down is attention to finer detail, but SCX don't do that!!! A photo etched grill would have set the model off nicely; and as previously mentioned some nice wheels wouldn't have gone astray, and a nice set of scale 'Michelin X' tyres would have completed it for me, but it wasn't to be!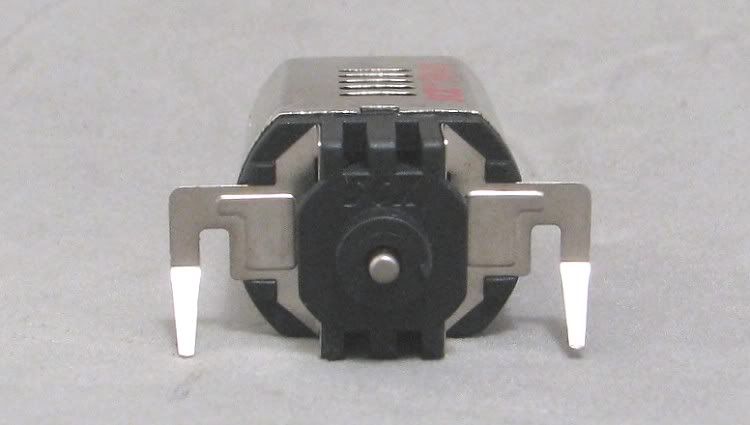 It would have been so nice to have tested this model three months ago, but here in Australia we are experiencing an SCX supply problem. They have disappeared from most of the toy shops and not much more than a couple of slot shops ever have more than some of the latest model on the shelf. Even my local supplier in Adelaide could not explain why supply for him was drying up? I did contact SCX Spain and I got a reply from the local importer, but it didn't address my concerns. With the local slotshops who do have them, they are charging top dollar; and 'almost Scaley' prices are too much for the very nice but basic SCX cars.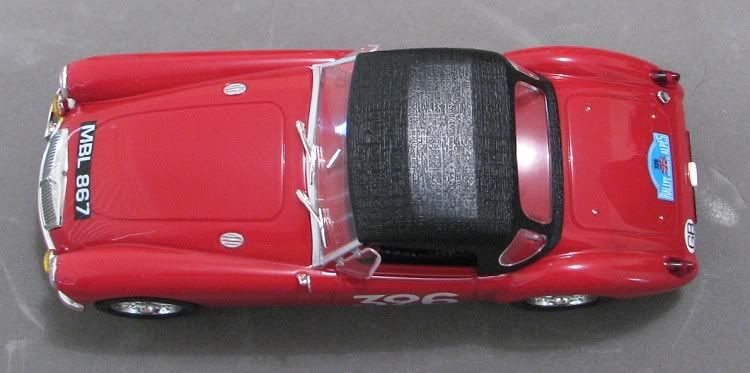 After waiting several weeks for my local to get one I eventually purchased this model from Topslots 'n' Trains in the UK. As it happened, I was also buying a second model. I landed both here in Aus for the princely sum of Au$93.00 inc freight, and they took just seven days to arrive. Locally I would have paid more than another Au$20.00! for the same service!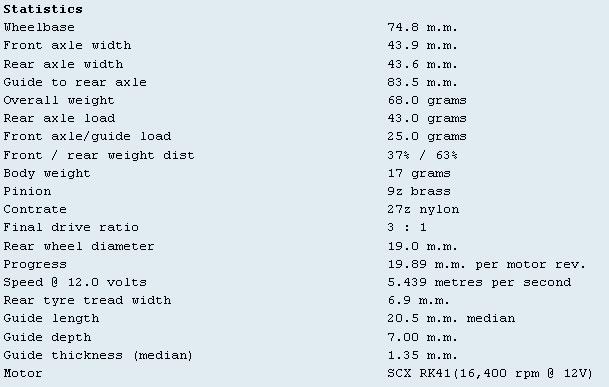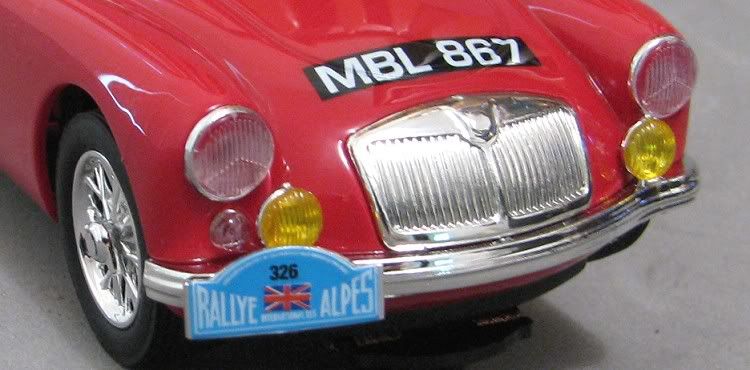 I love this little model and I consider it as nice as the Scaley 'B' and the Revell 'E' type but it is not in the same league when it comes to detail and model accuracies. I love to tune SCX cars and beat Scaleys and Flys and all other types and makes, but this one is for the shelf and if I feel I want to race it, then I'll buy another one! Yes the model has a few things to sort out, but I've been there and done that too many times with SCX for me to be concerned about it. So if you want to race one, buy it, but be prepared to work on it!