SCX Volkswagen Touareg

'Lisboa – Dakar'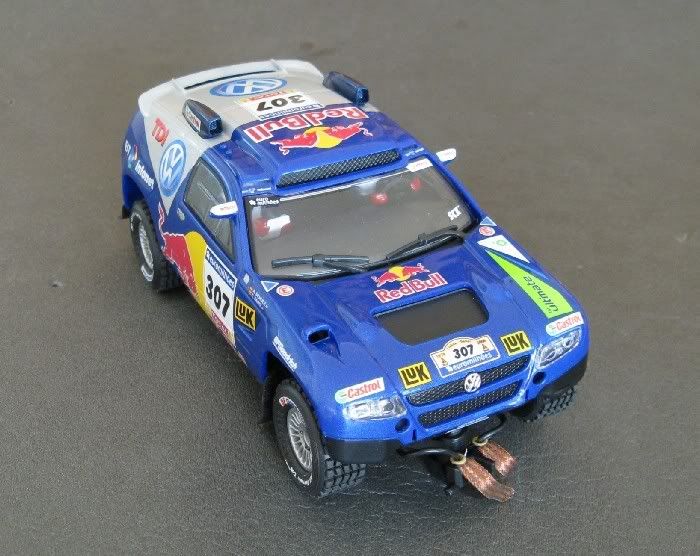 By

Phil Wicks



Being of European extraction it necessarily follows that, although living now on the other side of the planet, I have retained a bit of European identity and therefore with it, a liking for things European. Does that make sense? Well needless to say, even in these global village times there are some things which spring to mind first and when talking (or thinking) cars, most of us have a liking for German products. As a younger person with a small family I was fortunate enough to be able to own not one but two Volkswagen Passat Estate (wagon) cars. The four cylinder was my wife's and I drove a five cylinder. Both of these cars drove superbly for cars of the time and were almost problem free. No niggling little faults which drove you mad between services and what's more, no dealing with service departments that didn't have a clue. Volkswagen dealerships were (and I assume still are) totally switched on.







What's this to do with an SCX Touareg I hear you ask? Nothing more than something called brand loyalty! Just like when you upgrade your TV or washing machine, you are more likely to re invest in the brand names you are happy with. Well, I retired from my career in the motor trade some time back and now the expense of imported VeeDub Passat's are something I can no longer justify so perhaps it is subliminal brand loyalty which has attracted me to this model??!! Crazy I know, but that's the psychology!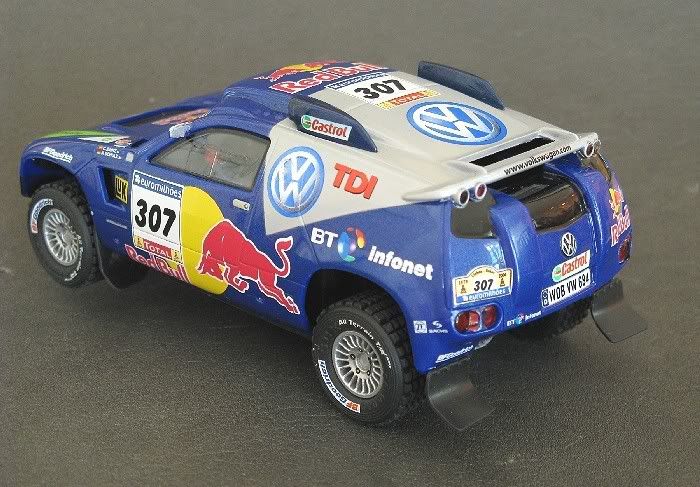 Before I start this review I will admit here and now that it is my view that Mr SCX has spent an inordinate amount of time and money developing this model. This is not the result of some casual and flippant securing of licenses and transferring of cad files. This time, more than one person has sat down and put a good deal of thought into what they wanted and how they were going to achieve it!








This model was part of the SCX off road set that a friend had purchased a few months ago and I had been waiting for the model as a release but as yet they haven't materialised down here. I took it for a good spin on Scaley sport and Classic first just to get the impression and then the obliging friend allowed me to bring it home for further inspection and I was quite amazed and delighted to see what lengths SCX had gone too to make this great little model. It has bells and whistles I haven't seen close up on other models.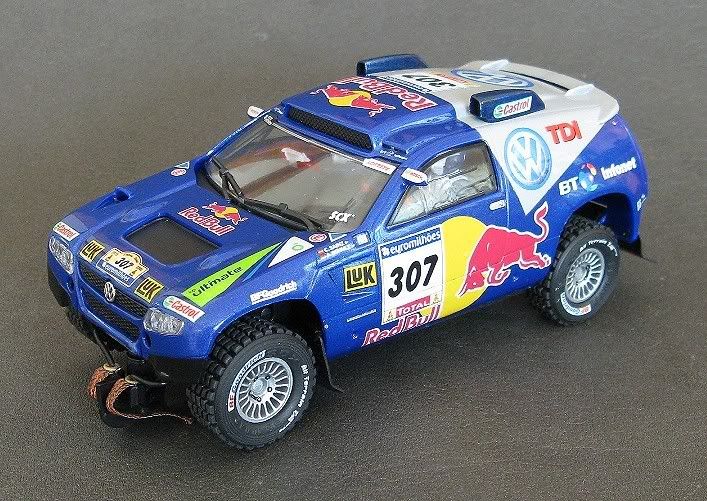 First up as usual was first appearances and yes, I really think SCX are getting their act together. There were a couple of minor specs in the clear coat but otherwise it had a crisp and unsmudged tampo and no blobs or spots of extraneous paint dotted around in the wrong places, and no greasy finger prints on the INSIDE f the clear parts!!

Mmmmm, Nice!

The livery on this model is the Red Bull logo and the model also carries the official markings of the Lisbon - Dakar rally. I had to smile when I noticed the mudflaps posed in a speed position, Fine whilst in motion! The model looks durable too with minimal vulnerable parts. The door mirrors seem to be the only thing at risk. To top it all, this model has good lights front and rear and extraneous light bleed is almost non existent.

I loved the tyres and wheels. Big knobbly mothers with logos and very effective 'sunburst' style alloys. Inside the model are a couple of very plain passengers. A half driver's tray has not been kind to them and to top it all the navigator is decidedly loose!! I can't imagine SCX have made a navigator with reflexes! Hopefully he won't detach completely as it looks like hard work getting to him! But the outside of the model is just passé when it comes to underneath!! Now this IS something different!








There are four screws holding the gubbins in and once the body is off, the full complexity of what is normally the humble slotcar is revealed. Firstly, this model is actually geared down! Not surprising as it comes with the unique SCX rally track set complete with obstacle course! The model layout is new, all new. There is a minor gear train to give extra reduction in the drive train and allow the model to have increased ground clearance and to be driven slowly without jerking. The motor sits 'piggy back' style on top of all this. The motor and drive are mounted on a central pod which is suspended from the chassis proper which carries the body! Unlike the Ninco models, this comes with a separated drive train which allows for body roll and flex over uneven track sections! Whatever next Mr SCX!!








The suspension is first to be scrutinised. It would not be correct to say it has four shock absorbers as some have said. It has four springs and springs only. As just mentioned, these allow body roll independent of the drive train. The bottom ends clip on the axles in a similar way to Ninco but the tops clip via a second bracket, into the sides of the chassis. The guide is to be marvelled at too. It is spring loaded and drops out 60 mm or more from the chassis. The arm itself is a bit flimsy though and I would just be a bit careful of it when handling it. If this is the same SCX sourced arm that proved vulnerable on the Sloter Opel Mantas then I would treat it with kid gloves!!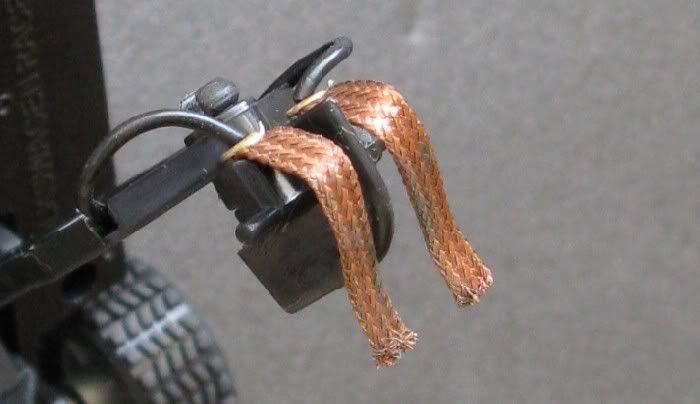 Finally from the guide end, the braids are attached at the top of the guide and stick out like mantis limbs but I can see this will increase conductivity on sideways undulations were normal braids might lift off one side!

Next is the motor and transmission side of things. This is more fascinating! The motor does not drive the front and rear axles directly, SCX have used what can only be described as a 'layshaft' which takes drive from the motor pinions to the contrate via a twin gear. The layshafts themselves are part of the motor 'pod'.






The shafts have the twin gear 'cluster' mounted over them. The gear clusters have a driven gear of 14 teeth and a driving gear of 9 teeth. The motor pinions are 10 teeth and the crown wheels have the usual 27 teeth. The combined ratios give a final drive of 4.2 : 1. So this accounted for why it doesn't run at great speeds. An observation would be that the motor shaft to layshaft mesh is tight. In fact, no free play at all and unless ZF had made this box I expected it to be noisy, and noisy it was, screaming at me down the straights as it trundled by.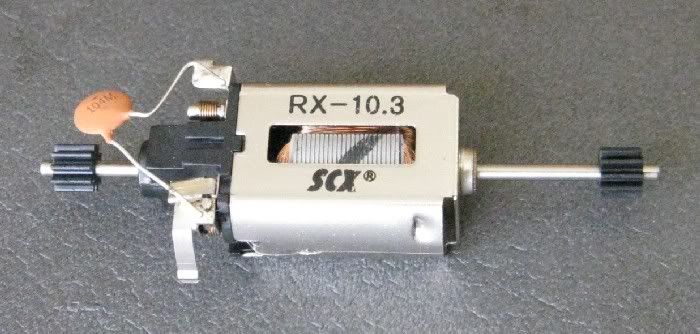 The motor is an RX 10.3 and at this moment in time I have no specs for it. Suffice it to say it has the necessarily long shafts to reach! Another observation would be that the centring slot in the contrates look unusually wide.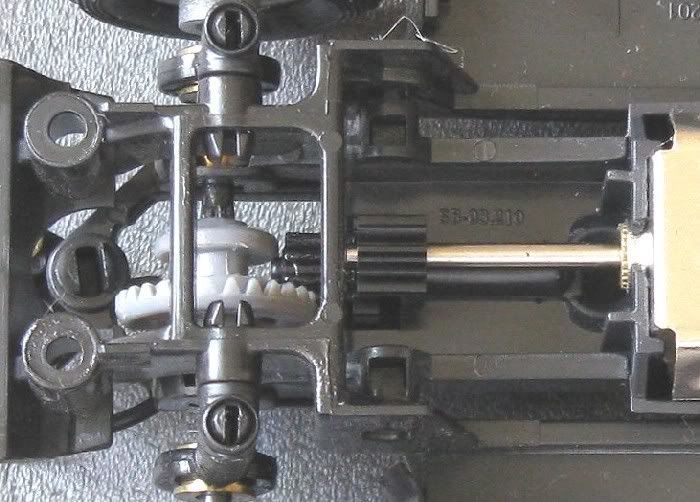 The plastic end of the layshaft clusters run in these, just! On measuring the slots I found that they are 2.2mm wide on average. A stripped gear on this model could prove problematic, as most recent contrates have on average a 2.03 mm slot.






Some old Small Johnson contrates go out to 2.15 mm and the original Scalextric contrate from the sixties averages a slot width of 2.65 mm so unless SCX are planning to issue a gear or axle assembly as a spare I would be keeping them lubed and nurse them! As most of these parts are plastic based the best lubricant might well be Vaseline (petroleum jelly).








The motor is hard to remove and refit so that might well be something not undertaken. When the motor is in place it has a couple of sliding contacts that pick up power from the sides of the body interior and these match up well even though fitting the body can be a struggle. The underside of the body is simple enough and I note there are two printed circuits at the rear?? One is mounted above the rear window??






Second inspection shows that SCX have gone to the trouble of fitting working high level rear lights as well as the standard tail lights!! Uncalled for, but very effective. I often wonder when slotcar manufacturers' R & D departments meet, how they decide what's IN and what's OUT?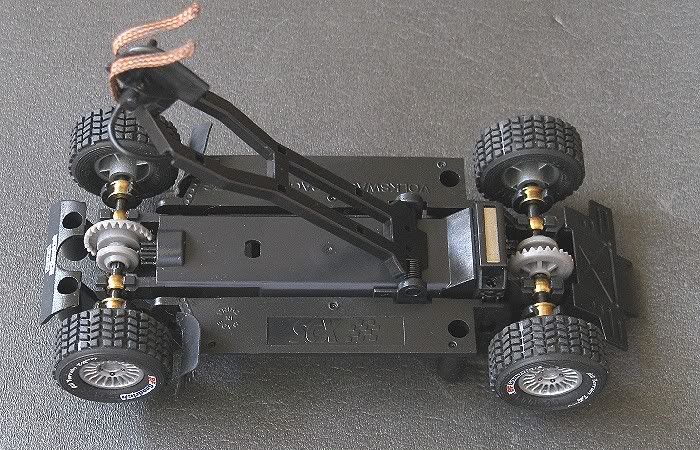 So what are the minus's? Not a lot really when you view the model in context. The rear suspension was a bit wishy-washy! Sometimes it worked, other times it stuck. I suspect that one of the multitude of moving parts wasn't!! A case of strip down sand and lube. Especially sliding shafts! The only other thing I thought was below standard was the rear axle bush fit in the pod. These slop about considerably! And when you check the fronts and they are tight you have to wonder?? A new approach has to be adopted when reslotting an errant model.








The sprung drop arm insists on protruding rather phallically into everything you want to do and can be a bit irritating after a while but the solution is to stay on I suppose!!

So we've ended up with a quiet surprise from Mr SCX and I must admit that I am looking forward to running it on its home turf so to speak. This model adds another dimension to slotcars which is always a plus and I am sorely tempted to buy the single model when it's available locally, but then I do have access to the rally track and a good board hill climb! And if all else fails it will look good in the display case in the study!
Statistics

Wheelbase				89.2 mm
Front axle width			61.5 mm
Rear axle width				61.5 mm
Overall weight				110 grams
Motor pinion				10 z
Layshaft input				14z
Layshaft output				9 z
Crown wheel				27z
Overall drive ratio			4.2 :1
Motor					RX10.3
Tyre tread width			8.75
Wheel diameter				24.2 mm
Progress				18.1 mm per motor rev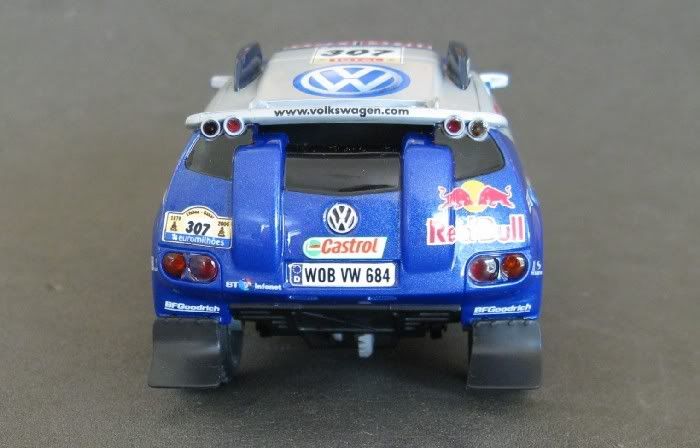 I haven't had the opportunity to run it on a board surface. The tyres are very similar to the Ninco models and I would therefore expect a similar degree of grip. But this model isn't fast and won't be competitive with Ninco and neither should it be. If you intend to or already have purchased this model outside of the set then I feel it is probably futile to run this on a standard track. Neither was it designed for nor will it be fulfilling on a flat featureless circuit. That's for the Ninco models! It was developed and does indeed shine on the undulating obstacle courses of the SCX rally track or on custom made rally tracks with suitable obstacles. It doesn't have the speed to thrill on flat track like Ninco. Its adjustable traction magnet will hold on mostly but the weight of the model will have it's say and it will career off the corners without warning and disappoint. So, if you HAVE bought one and don't have the rally track, then go and get the track!!! Simple as that! Don't whinge about its performance on forums here and there, it wasn't the models fault!!