Avant Slot
Renault Alpine A310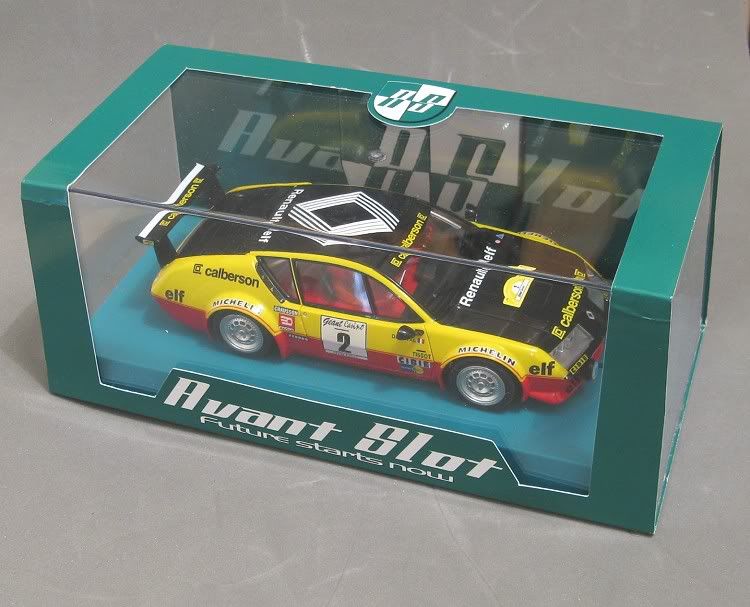 By

Phil Wicks



Ever since man put four wheels and steering on a stationary engine, Mr. Louis Renault and his brothers, and descendants, have been there doing it mechanically for the sake of the great motoring public. They have been in the auto game since 1897 and since then, barely a year has passed where Renault has either won or lost a fortunes in the great auto gamble of car production. The Renault brothers immediately recognised the importance of victory in competition and soon there was a Renault in every important 'City to City' event on the European mainland.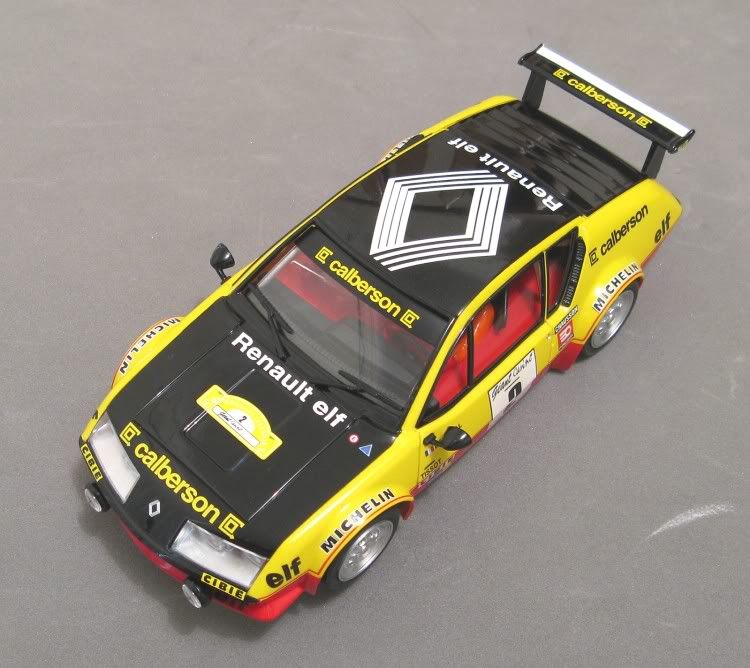 The intervening war years saw Renault managed by the Nazis and output was limited to commercial vehicles, but with the liberation of France in 1944, Louis Renault quickly decided to move back into car production. Unluckily, Louis was arrested as a collaborator at the end of the war and the Renault company was resumed by the new French government. Official motor sport was not part of the core business and Renault grew retaining market share in a post war Europe at the expense of the French tax paying public.




Renault Alpine A310 motor




It is about this time that the local 'garagistes' in France started to tune and race local product. With Renault it was people like Gordini who tuned the local product and attained respect on an international scale, especially in the newly burgeoning Rally scene. It wasn't long before the unmistakable Renault Dauphin, R5 and R8 were cutting a swathe through international Rally competition.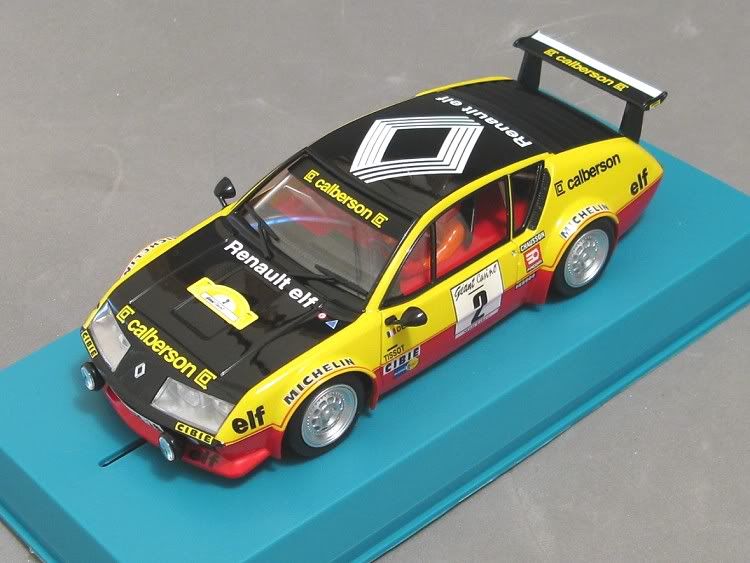 Another Renault tuning company from the sixties was Alpine from Dieppe. They too had an urge to put local products on the leader boards of European Rally and it wasn't too long before their Renault A110 'Alpine' won the Monte Carlo rally and the world rally championship in 1973.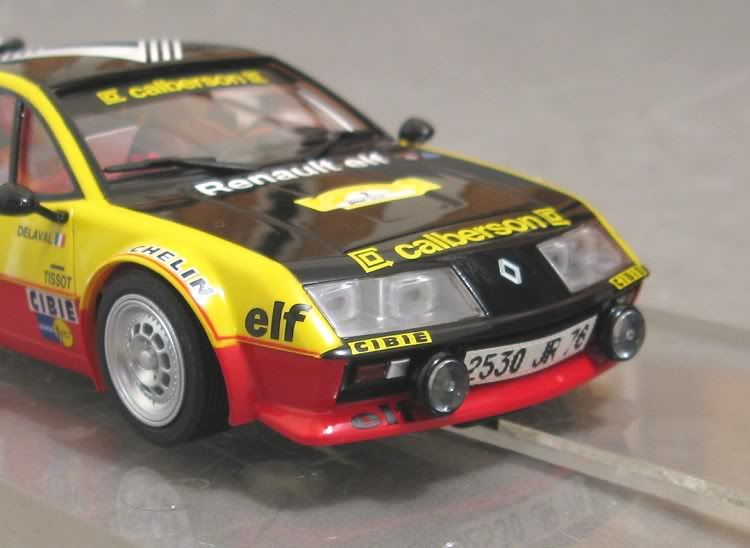 The 310 had been released in 1971 with a rear mounted four cylinder engine and it wasn't until 1976 that it got a much needed upgrade to the 2.7 litre Alloy V6 Peugeot/Renault/Volvo joint development engine. (The same power train used by the ill fated De Lorean!). This was obviously a panacea and the A310 went from strength to strength. A more memorable result for the model was the 1977 Criterium Cevennes and subsequent French Rally Championship, and this is the car our model represents.




Renault Alpine





This is my first 'Avant Slot' and I must say I am quite pleased with it. The body is very nicely detailed and there is a respectable drivers tray and roll cage. Other small detail like the front and rear lamps are fair and even though Avant Slot stand with a foot in both camps they have taken the bother to fit lesser detail like separate wiper arms and even the engine air vents in the 'C' posts.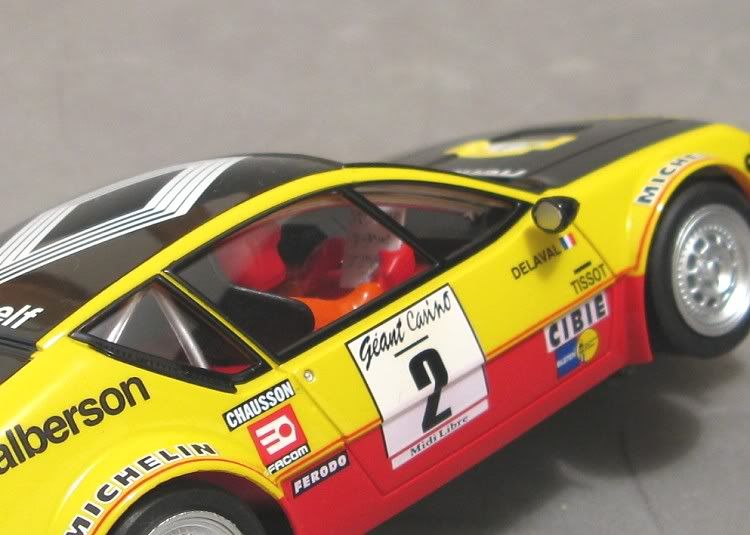 Better still, and almost totally unseeable is the engine detail under the well modelled rear louvers! My only negative observation would be that the wheel arches seem to be very large or the wheels are too small? Either way, from the side the model does have a slight 'wompy' appearance in these areas?









I was surprised to find that the model has no traction magnet. At first sight it wasn't saying this to me and I could have sworn it was going to be a magnet racer. Firstly, it weighs in at a mere 77 grams, and to look at it you would think more! The body itself is only 20 grams and all the time it's saying magnet racer, magnet racer. There is a skimpy chassis and a quick motor, a drop out guide and the axles and gears have all the preciseness of a more expensive model …… but no traction magnet? Mmmmmmmmm?.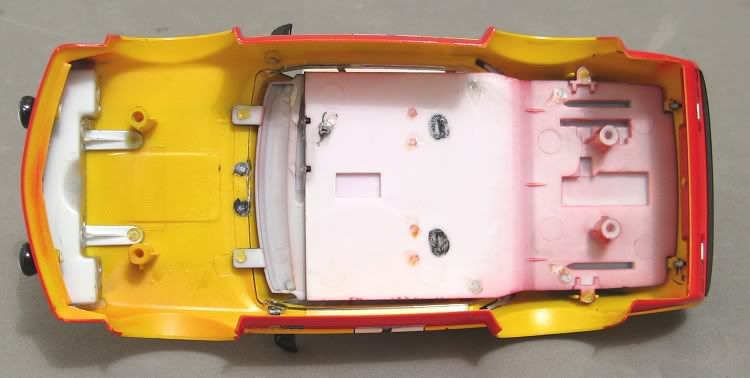 So what? So what! The model is built like an out and out magnet racer. Super light body, adjustable axle heights, low overall weight and even some ribbed tyres, something I wouldn't do with a board track racer. This is why I say it has a foot in both camps. In its current build state it would be potentially a winner on a plastic track with a magnet. Ribbed tyres will enhance its performance on more coarse surfaces like Ninco or classic Scaley and SCX. The sprung drop down guide will follow the rails better on the uneven and irregular corner track surfaces of Scaley classic and Ninco track.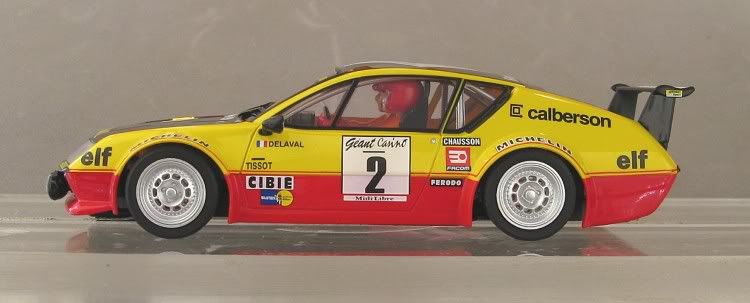 So what's needed in a non magnet situation, well excuse me for being a bit contrary, but it needs to be a fair bit heavier than it is. Even with the latest tyre technology a model at this weight is going to have problems against the opposition in a corner with anything less than a two metre radius.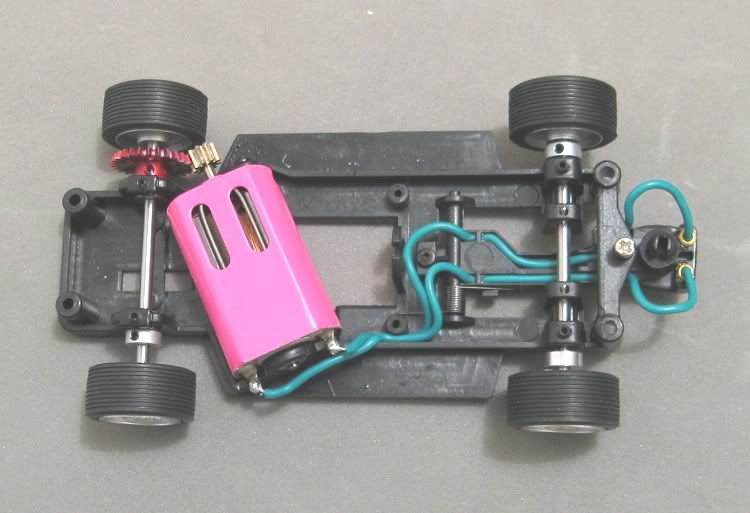 Unless I've missed something over the years and even taking in to account its low C of G and its 60 mil axle width it will be tenths off the pace against a finely balanced Slot.It or similar. But I digress. That is not an irreversible problem, more of an observation of its 'out of the box' set up. It does in fact have all the potential attributes you would be looking for in an all round racer (and there aren't many of those!!)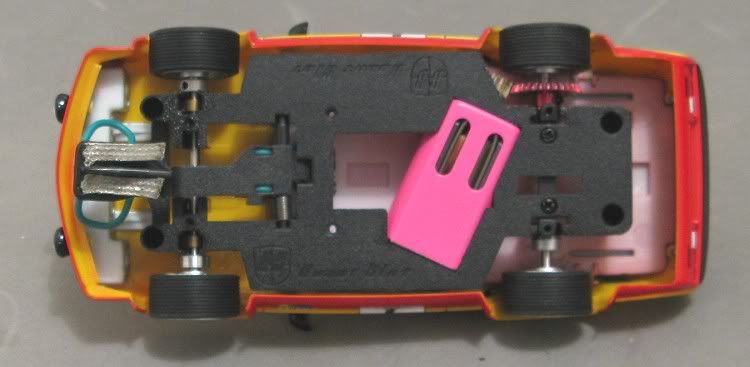 The chassis is a bit reminiscent of other high end market model products and if you check out Avant Slots website, they are slowly going down that road, with a bunch of well made goodies available to supe up your model even further. Teflon axle bearings, hollow axles, lightweight spur gears, alloy wheels, braid strips and a bunch of other stuff. The fact that the axles are adjustable in a couple of planes is testament to the seriousness of things. Axles are even centered with a couple of finely made, grub screwed alloy collars.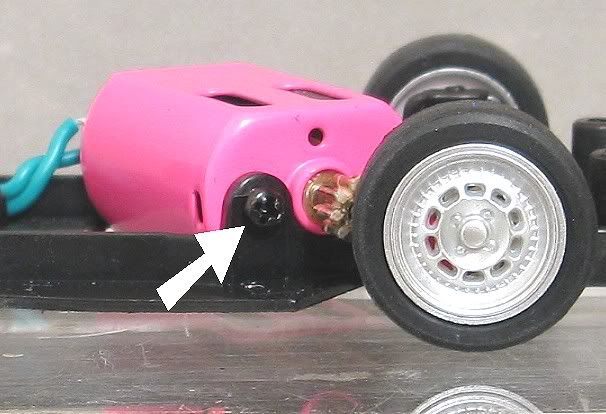 A feature I do like and something which is important to non magnet racing is the fact that the motor is held in place by a screw. It's about time some other manufacturers learnt to do this as applying hot glue to an angle winder just to stop the motor moving (Mr Ninco!) is precarious at best. The opposite end of the motor sits snugly in its well made mounting too. No snap-in axles here either. They will need to be dismantled for removal.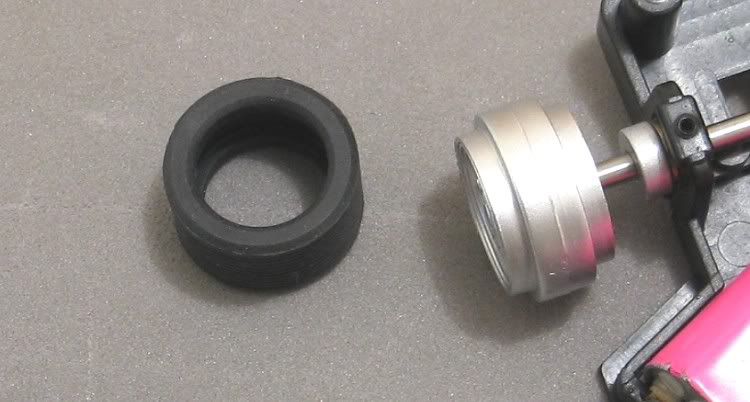 The wheels are well made and are about the most concentric I can remember seeing and although there are ribbed tyres on them, they shouldn't be discounted until they have been run. The tyres have a soft feel to them and as mentioned earlier they may well come into there own on plastic track with or without a traction magnet.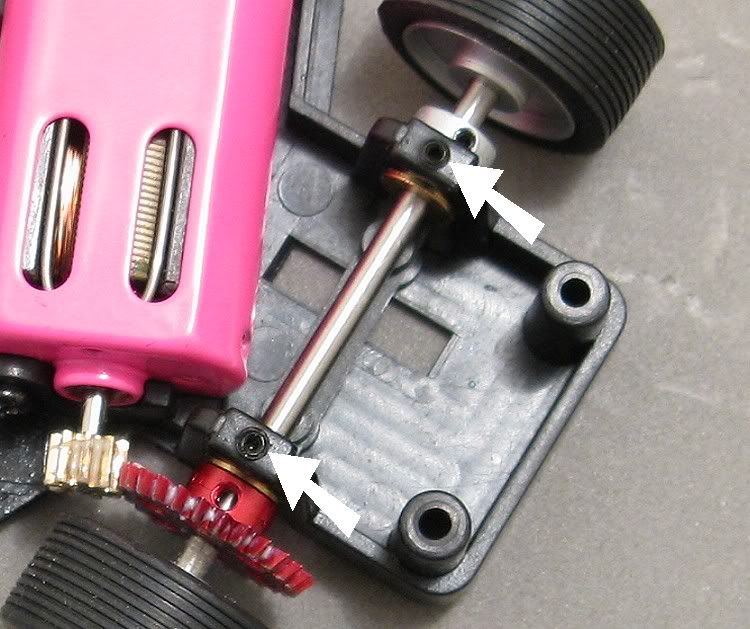 The rear axle passes through traditional brass bushes but these are held in place by a couple of grub screws, one over and one under the axle on each side. This way you can alter the model's ride height down to a ground scraping clearance, or up to a comfortable height for racing on the raised rails of an old Scaley or SCX track. Both gears are metal and surprisingly Avant Slot have gone for a 9 / 27 z set up rather than the more usual 10 / 33 or 11 / 36 some other makers prefer.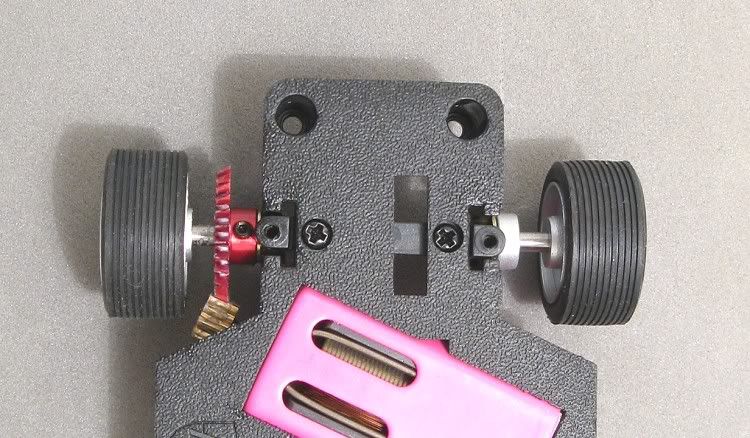 The front end is similar , having grub screws to adjust the ride height, but there are no bushes. Here, the axle rides straight in the chassis material, and that material looks to be a very coarse grained material telling me its not good old abs or polyprop or any of the regular compounds. The guide style is a bit unique in 1/32 RTR circles in that it has a sprung drop arm (nothing unusual in that) which is more usually seen in Rally Raid models these days.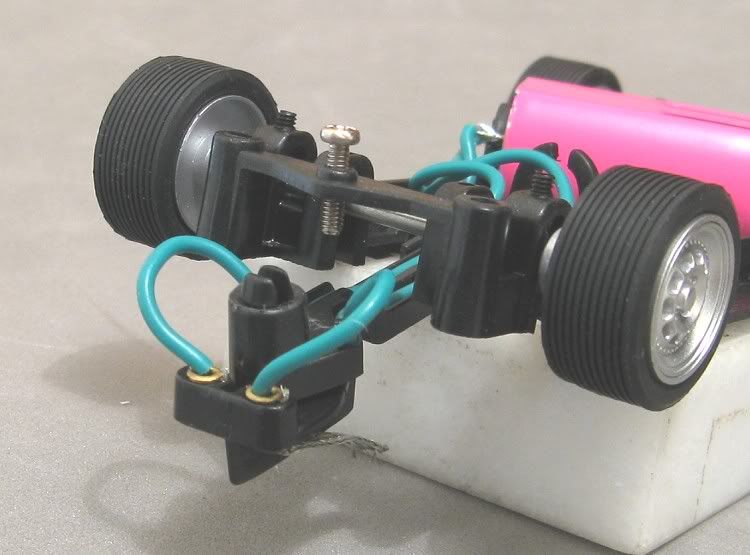 What's more, the guide upper limit is set with a two gauge screw. This will come in handy adjusting the upper guide height once again for wood or for the prominent power rails of some plastic tracks. And if you look carefully, there is yet another screw at the pivot end of the arm!! With this you can adjust the drop out travel of the guide arm. Either just a smidgeon or the whole raid clearance no doubt?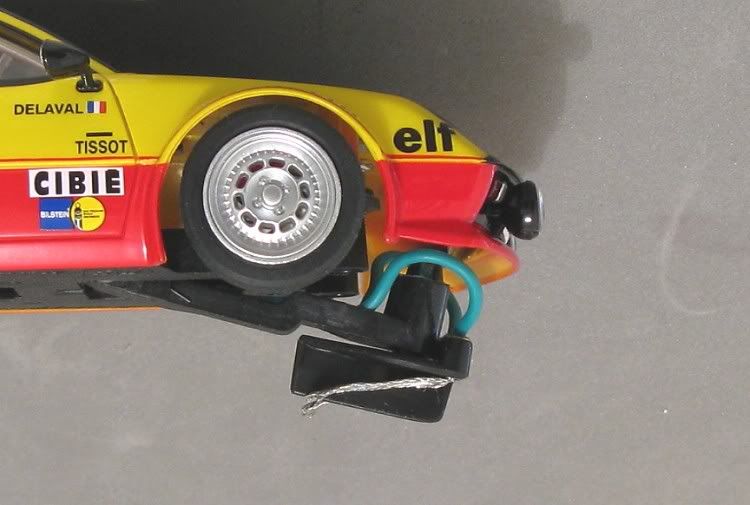 Guide braid is a nice medium material. Not too stiff, not too soft and the lead wires are very tidily held in place all the way along the guide arm, with the front giving rise to a couple of loops which will help as a self centering device after one of those senior moments. The guide arm spring isn't overpowering either and is not likely to jack the model out of the slot when you least expect it. But the guide, woe is the guide. So small for such an important job! It is my view that the guide is far short of being deep enough.









I can appreciate the manufacturers wanting the model to run SOOB on many a variety of track but for the more serious slotracer at play, the guide needs to be over six mil deep and possibly approaching seven! If there is a conflict of interest here and with guides probably costing 0.053 pesetas it would be my recommendation to supply a deeper one with the kit. Carrera have cottoned on to this and if you are reading this Mr Avant Slot, I suggest we have something like the Ninco prorace guide! As it happens, the Ninco Prorace guide, Pt No. 80112, goes straight in!! Voila!








Finally, from the chassis point, there is a space and a mount to fit an inline setup if you are inclined. There is also room under the body but there doesn't seem to be the rear motor mount and I'm not sure they list one as a spare part. Strange, as I can't see the chassis swapping into one of their other models, it's not adjustable? Also, I would have preferred a single body screw at the rear, if only for the fact that there's one less screw to take out in emergencies! And lastly, the one thing that really bugged me was the two box mounting screws and washers. No problem taking them out, but when it came to putting it back in the box I really needed two pairs of hands to hold the washers in place. Maybe they will get a spot of superglue on them!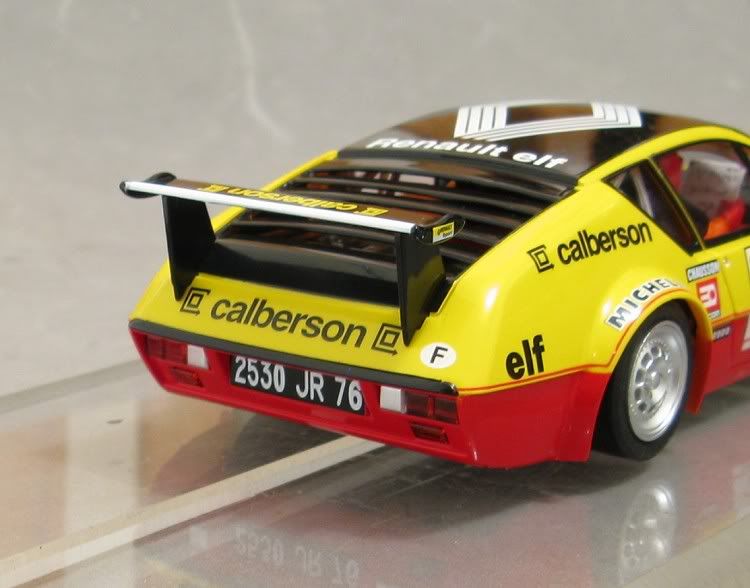 So there it is. All that is left is to put it on the track and see if it lives up to its promises! A word of warning. In my view, this model does NOT come track ready out of the box. The axles need setting up and possibly the guide needs adjusting to suit the track medium you are racing on!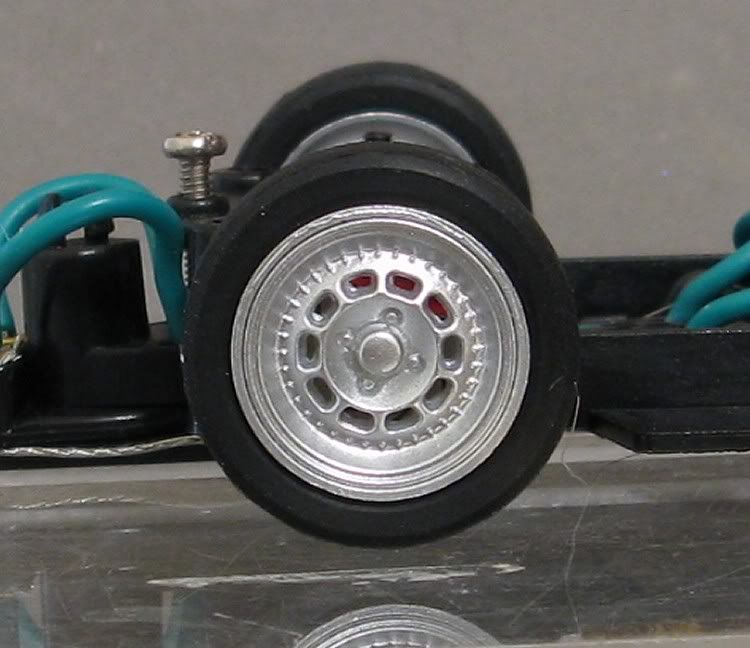 First up it is obvious that the motor is way over the top for the sort of racing that I do. We don't need 25,000 rpm at mega torque for the technical non magnet tracks we race on. After all, earlier this year I came second out of fourteen or so in a Slot.It race with an SCX F40 for goodness sake! I have a couple of left over NC5's from NC1/NC8 conversions, so if it's too much to handle, it may get a downgrade transplant. Next, it is important that if you have adjusted the ride height, you will need to make sure nothing at the rear is loose. In a non magnet situation this will translate into annoying hopping on hard acceleration, then, you might spend some time deciding what tyres are best for your application, but don't condemn the ribbed tyres it comes with, give them a run. They may surprise you!.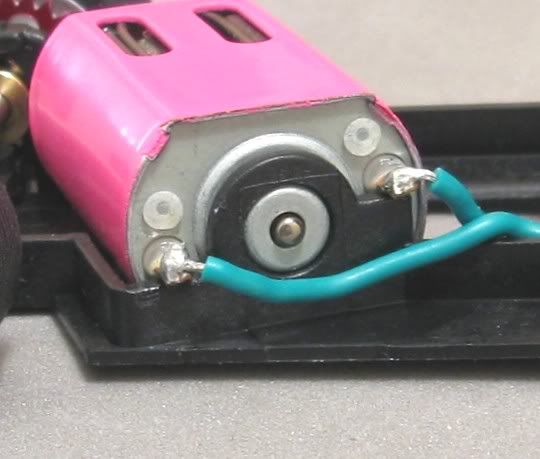 On plastic (Carrera) Non magnet, the story is fair. Again, at SOOB body weight you need to make sure the track is flat and even. No lumpy bumpy joints or gaps in the track sections. You are also going to need some good rubber and the guys at MJK have got their tyres off to a 'T' as far as that goes. There aren't any specific MJK's for this model but you will find that MJK4213 (Slot.it) does a good job after a light sanding.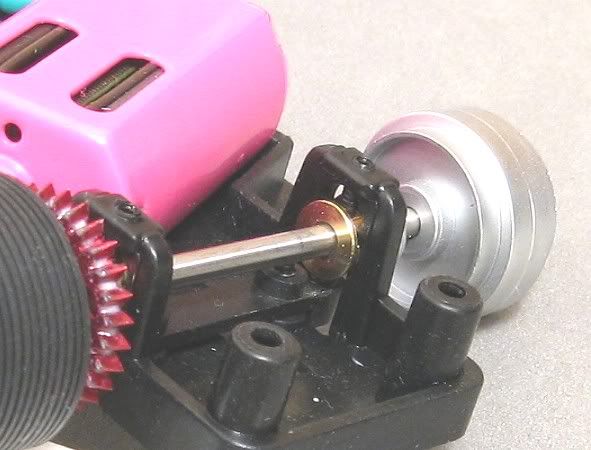 On full on plastic like Ninco you can expect fun and games. Again 'sans magnet', this car with its original motor is a handful on the coarse surface in some of the tighter bends and infield sections. A big problem is the uneven track surface. This motor will launch the model out of the slot within a couple of metres if there is anymore than the slightest surface ripple. I wouldn't expect Classic Scalex to be any different and whereas Scaley Sport and Carrera are a bit flatter, they still have that uneven surface from track section to track section, so it will be a detune, or run the model at about ten volts !!!

A good hand controller will help the novice tame it, but, if like me you run the more technical hippodromes then maybe something a bit smoother as a motor will pay dividends. What ever your choice, Avant Slot haven't made the complete slotcar. They have left a little bit to be done depending on your choice of 'piste'……which is nice!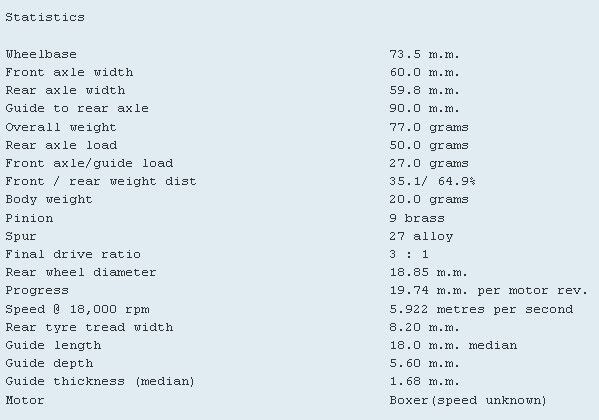 I, and several racing friends, are very impressed with this model's appearance and I'm sure several will be sold as result of reading this review. The motor seems to be about 25,000 rpm at a guess but at this moment I am not sure of its rating as the web site doesn't list this specific motor, and an email to Avant Slot as yet remains unanswered? Once again, if you are racing home circuits or technical club circuits you might need some sort of voltage control or motor swap. But whatever you choose, you will either love or hate its looks. I love it, and I look forward to getting it sorted for local racing. If you don't like red and yellow cars then wait for one of it's siblings, because it will only be the colour that stops you buying this one! There appear to be three others coming in the future, the 'Cote D'Azure', the 'Gitanes', and the 'YACCO' livery.