Pioneer 68 Mustang Notchback
Gary Goeringer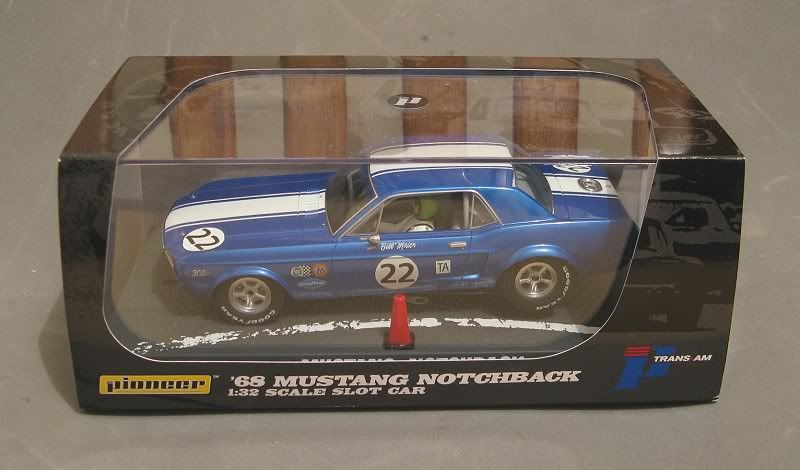 By
Phil Wicks
Pioneer popped up from no where back in '09 and the time from its public discovery to being in the shops was minimal, and once announced , never before has there been so much anticipation. But for the many purchasers, what was in store when they got it home?

I would love to have been , and indeed still like to be a fly on the wall in many a slot room, nation and world wide. The euphoria generated by the model pre release was almost tantamount to a second 'coming'. Much of the hype was generated by the subject matter primarily. If anybody had made this model, even Teamslot, with their iffy paint jobs and poor fit chassis' , they would have guaranteed themselves some sort of following. Dare I say that Artin would have been able to re invent themselves with a car like this!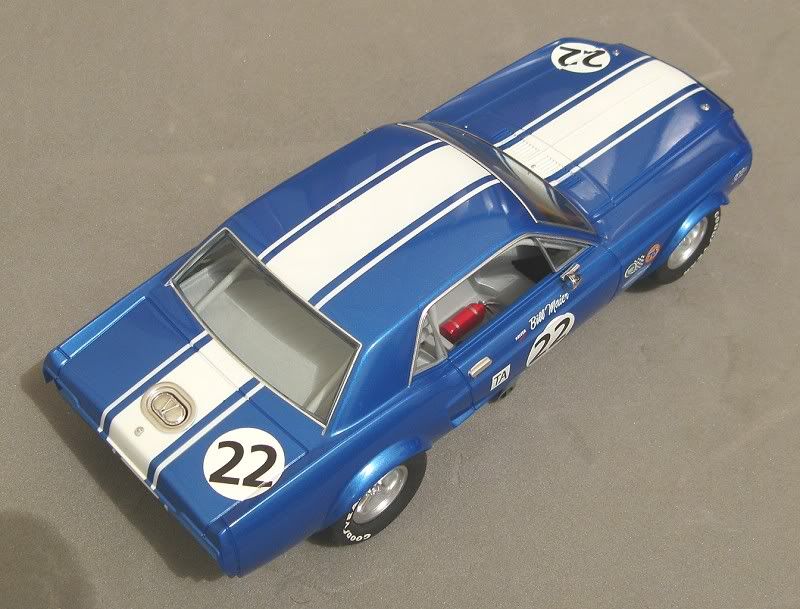 The fact that this is a Mustang, is great! The fact that it is based on a real car with a real provenance is better still, and the fact that Noble Hobbies Ltd have taken time and care to create this model makes it and instant best seller! This was illustrated by the first opening weeks of world sales. I would lay a pound to a penny that there wasn't a freight airliner anywhere in the world which didn't have one of these in its hold the first few weeks of release.




Trans Am Series




Wooh! Woah! Phil, slow down! Not so fast! Don't get carried away! But it is hard not too once you have seen one in the flesh! Standing a couple of paces back, taking off my rose tinted glasses, it's time to look at this model without the hype and without the celebrity which has heralded it on many a slotcar forum! Yes, it is a Mustang and yes, it is a Classic notchback and yes it does look fabulous, but it is a mere slotcar and it is time it was looked at subjectively for once.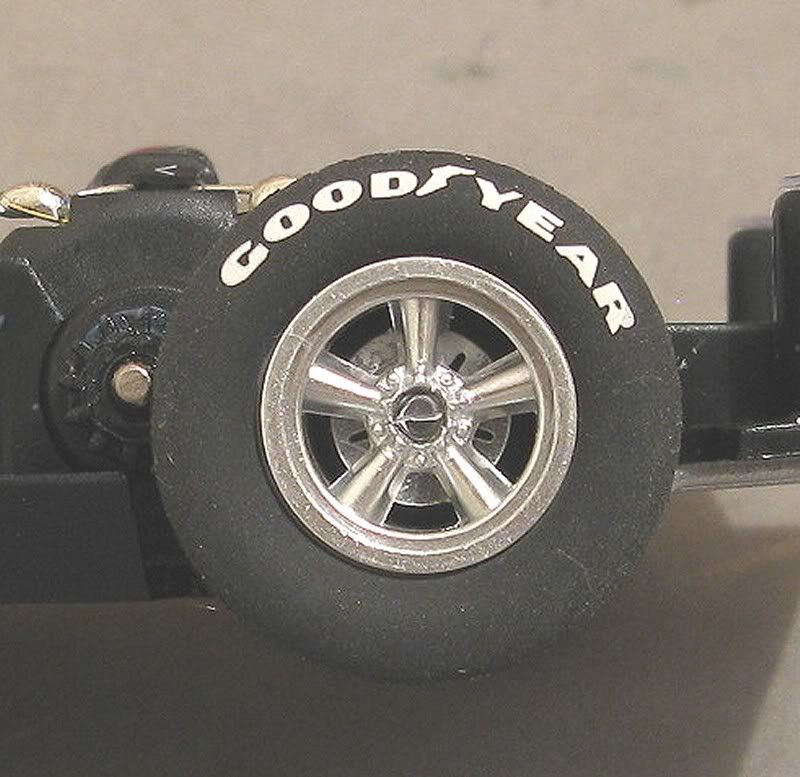 The car it is based on is real enough, but it is a restored Mustang from many years back. The livery of this model portrays its current state of restoration and not its livery circa 1968, although it isn't a million miles from it. There is a short blurb on a card in the box outlining its spec and a bit of its history, (vehicle data card!) Originally bought and raced by Bill Maier in the sixties, it spent several years campaigning until it was finally retired in 1976 and sold on. It languished for quite some time with numerous owners until it was purchased by Gary Goeringer in 2001. The car had already had major restoration work carried out in the nineties and Gary carried out some additional modifications after purchase. The car now currently complies with SCCA 1968 Trans Am regulations. So, peering through the hype and jingoism, what is it really like, the model, that is?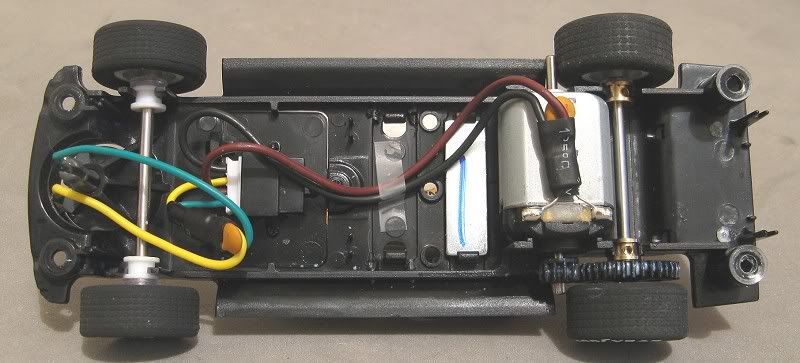 First impression….. very nice! Second impression……still very nice! But what is creating this impression? Presentation of this model is good. The box sleeve has attractive dark tones and the base is a mini diorama in as much that it has some track markings and a marker cone!! The model sits very comfortably and is posed slightly nose down by a clear plastic spacer under its rear. But that's in the box. Out of the box it's very much like unwrapping a Scalextric car and without logos and markings you could be forgiven for thinking you were handling a new Scaley model.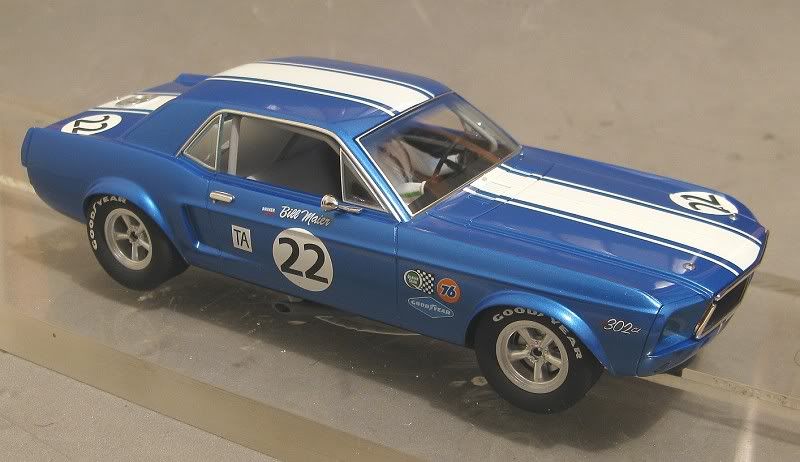 Close up and personal it doesn't have that 'hard' shine like a lot of models do (and a lot of 1 to 1's) which indicates there isn't a thick paint job on this model. The tampo is first class and as good as the best and the choice of livery has put the model high in the 'must have' category. The anodised bits really finish the outside off a treat and there are a lot of lessons on this model that other budding manufacturers could well learn from! Even though there are no antenna and bumpers to knock off, the door mirrors are still in a vulnerable position. You might need to count them after each slotcar sortie to make sure they get home safely. At worst there are a spare pair in the spares pack, but these aren't anodised. Lastly, Pioneer have even gone to the lengths to fit a graduated tinted windscreen. This tells me the model is based on the current Mustang and not the classic original, as these types of tints weren't available then!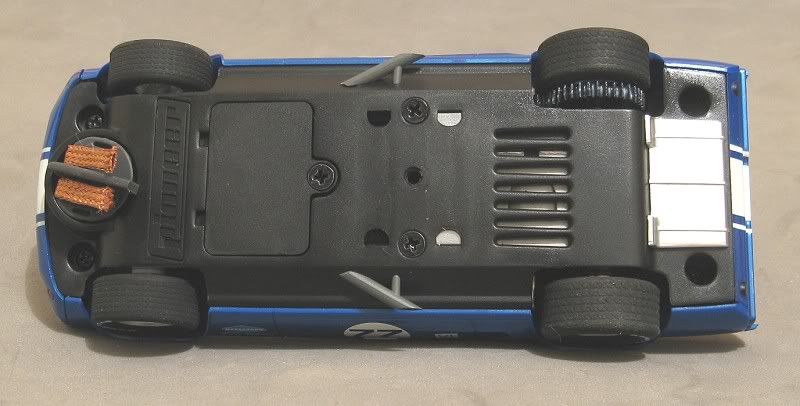 Looking under the model you could once again be forgiven for thinking you are handling a Scaley model (except for the Pioneer logo). There are six screws. Four hold the body on and the other two screw into the drivers tray and there is a DPR blanking plate towards the front of the chassis for those who want to convert it to Scalextric Digital. The traction magnet is similar to the Scaley magnet but is mounted a little further forward than the Scaley car. Also, there are only two positions for it which will minimise confusion for some people. The wheels are Trans Am traditional 'American Racing' five spokes with negligible run out and eccentricity. Tyres are a super soft compound of what appears to be natural rubber and vary in size between fronts and rears. The 'Goodyear' printing on the sidewall is very durable and should last a while. The tread area of the rear tyres seems to be a little bit irregular, almost concave across the tread and it may well be necessary to true them before running on board tracks. Closer inspection shows the centre wheel ridge is 4.5 m.m. wide and the tyre groove is less than four mil, causing the tyre to be curled outwards slightly at the edges by the ridge. Not a big deal but something to be aware of.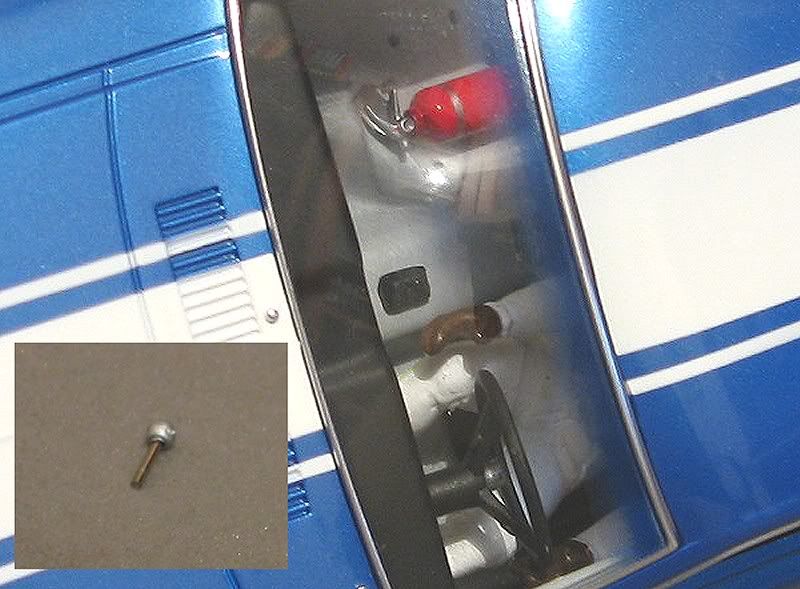 One thing I didn't expect to find under the model was the gearstick! But there, sure enough, was the gearstick, stuck to the outside of the traction magnet. This has been dislodged at some time in the manufacture/delivery process but I don't know when or how. Not only that, once the model was removed from the box it was apparent that the driver was loose!! The only thing holding him in place is the fact that his knees pass under the steering wheel trapping him, thankfully, in the seat. The drivers tray anchorages also don't look like they'll take too much tampering with so I might try and get some epoxy behind him at sometime! I can't imagine I have any manufacturer recourse with this so I'm pretty much stuck with it.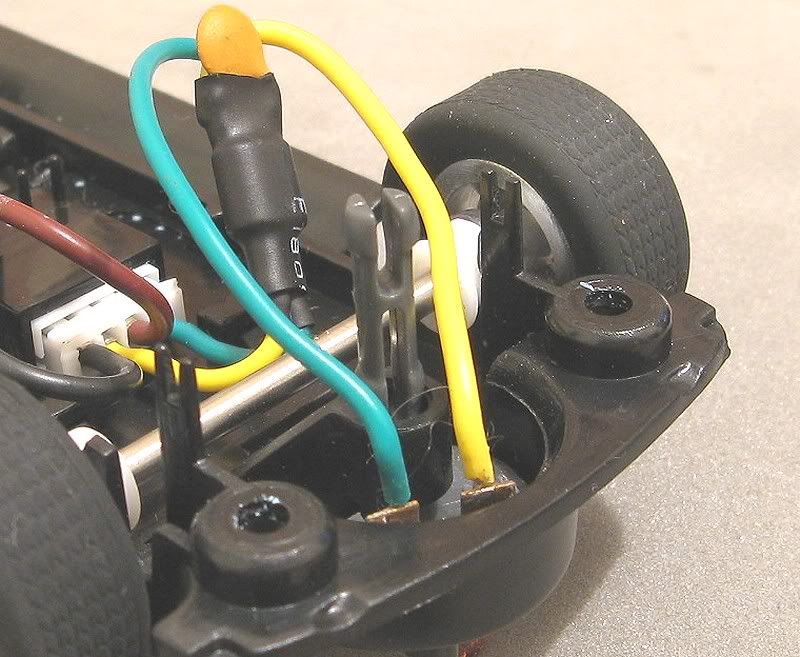 Lastly, underneath is the guide and braids. The braids are a nice medium soft compound. I would like to have seen tinned braids here but the ones supplied are fine for most uses. The thing to remember is that if you are going to race this model you may need to replace the braids more often. There is also a spare set of braids in the spares pack under the base of the display case. Now the guide Mmmmmmmmmm? I'm afraid I can honestly say this model has to have the loosest guide of any slotcar I have bought or owned!! Harsh words? Not at all. Worse than a Teamslot, worse than an SCX of any era! And worse than that, the deeper 7.00 m.m. guide in the spares pack is just the same!!









If you are going to be racing braided tracks it could exacerbate a problem. Braid tracks notoriously set their braid conductor strips away from the edge of the slot. This is mainly to minimise braid damage and 'whiskering' on corners. The result is that the point of contact between guide and slot is below track braid and tape level further down the guide! Picture a model in a hard cornering situation. The front of the model is under sideways load in a high stress corner. The guide, which is running on a contact point further down in the slot, tilts under pressure and the greater the guide tilt, the more likely the blade angle is going to encourage the guide to slip up and out of the slot, resulting in an annoying understeer deslot, especially in the fast bends.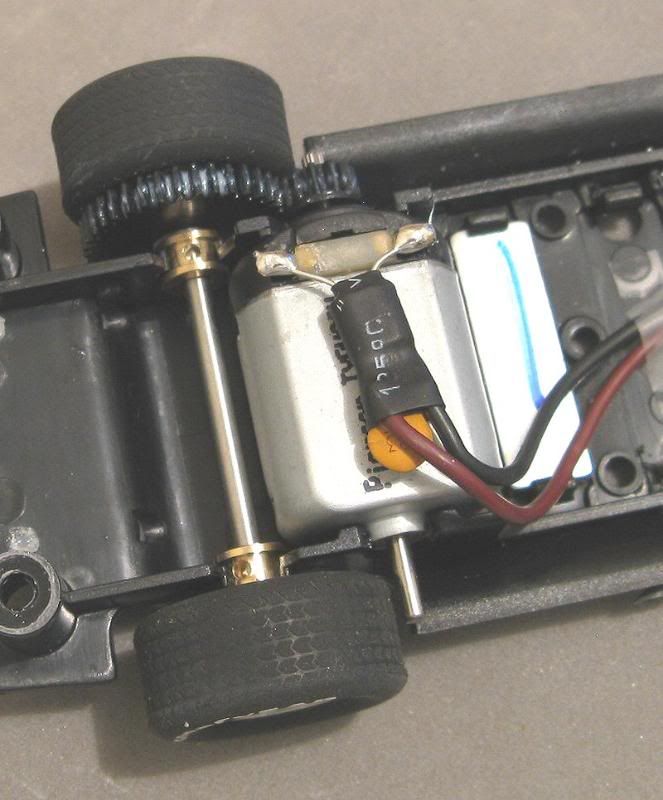 Another pre race set up would be to pack the guide down a bit in its mount. The guide has a degree of unsprung vertical movement when sitting in the slot, at least 0.4 m.m. The cure? Not sure at this stage but if I was going to compete with this model I would seriously consider changing the guide set up. An additional note would be that if you are racing on one of the many commercially available plastic tracks then these faults would be partially masked by the traction magnet and it would be far less of a problem, and on home racing tracks they would be negligible.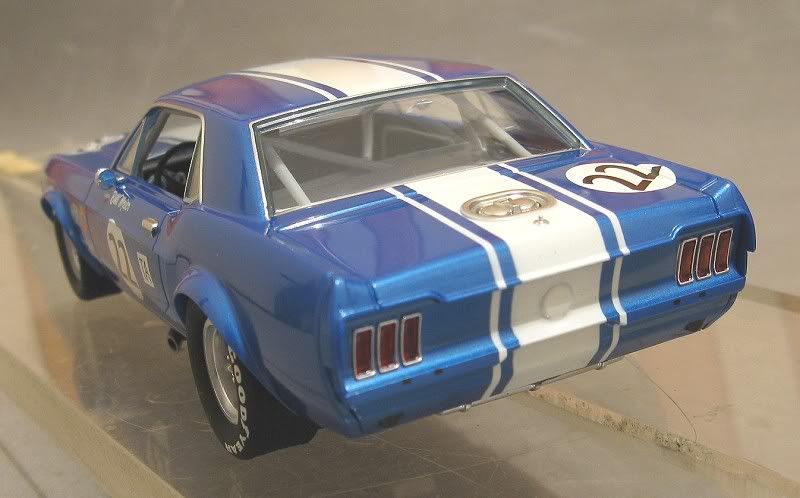 Next up it's time to whip the body off and see what Pioneer have pulled out of the bag for us in terms of novelty and innovation! As mentioned before, four screws hold the body on and another two countersunk screws hold the chassis to the drivers tray. If you were going to race this with body screws loosened it would almost surely be necessary to remove the drivers tray screws altogether. The chassis is a snug fit in the body too, so a quick trip round the chassis edge with a scraper and a round file in the chassis screw holes may be a pre requisite.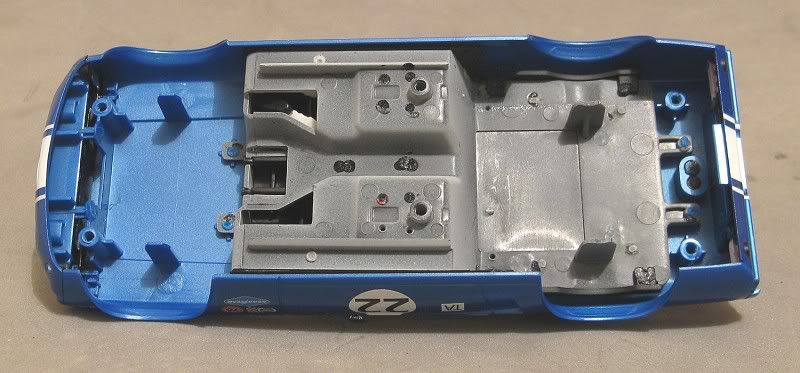 Firstly, the body with the chassis off is quite flexible and creaks a bit. Not a big deal in itself until it is combined with the fact that the drivers tray heat welds are really quite minimal as far as strength and quantity are concerned. The inside of a Scaley model is meticulously planned with almost all interior detail unclipable and removable. Nearly all other makes, like Pioneer, have opted for the heat fitted interiors. Some makes have substantial anchor points, others don't. Pioneer are in the 'don't' category.








What's the big deal I hear you say, well, without going into great detail I will say I have experienced more than one model having its interior tray dislodged, nay, ripped out in massive front end shunts on high speed plastic tracks, especially when driving into unmarshalled deslotted models at the end of twenty foot plus straights! The fineness and scarcity of the drivers tray anchor points in this model will almost certainly be a source of casualty.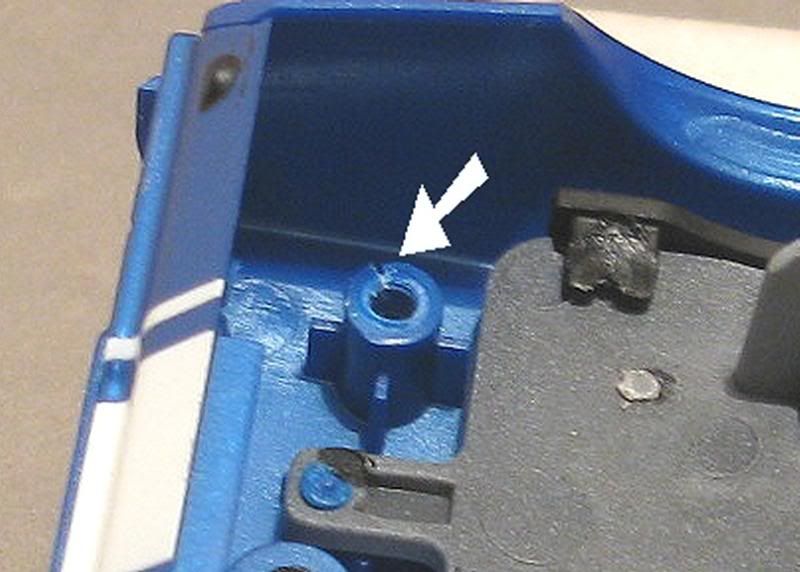 The body posts seem to be of sterner stuff but unfortunately, on my model, one was split down the side! Nice to see the posts reinforced against the body with four gussets each though. The rear posts seem to have some 'after moulding' shim washers stuck to them, again not too sure why. Maybe a QA rectification, wheels touching arches?? Who knows, and I'm not about to take them off to find out! Also inside are some unused brackets very reminiscent of driving light circuitry mounting posts? The model doesn't come with lights and I can only assume this is for some other application. The troublesome guide also seems to have a long shaft inside the body, longer than traditionally used. Maybe that too will be revealed in some later models. Moving on, the motor is tight and the magnet too doesn't look like it will be going anywhere. Also, the magnet is quite powerful too, with enough downforce even for Carrera track!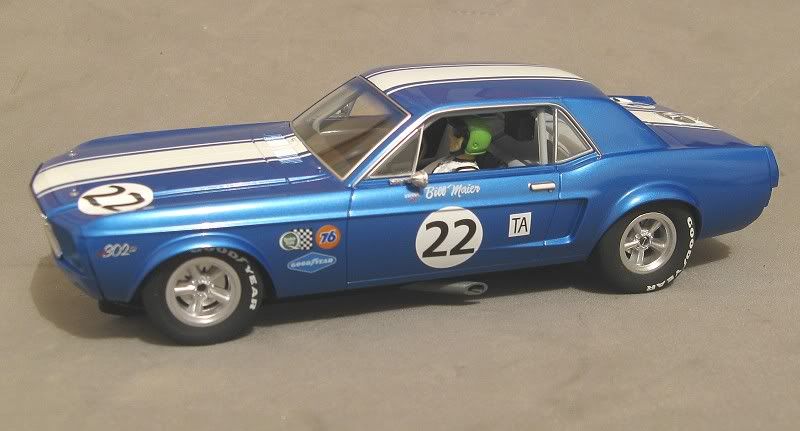 The front axle is a 'pinch' fit and is a bit stiff in its bushes. Closer inspection reveals that the axle holes are in actual fact, noticeably larger than the axle? Not sure of the plan here but it does allow the front axle to wallow a bit in the mounts and on a board track it will contribute to front end instability. The rear axle is a standard set up. Observations here would be that the brass bearings on the rear axle have some small holes bored into them, possibly a lubrication point, but not accessible with the body on, mmmmmmmmmm? The rear chassis in general is sturdy and pretty rigid. There'll be no Ninco chassis flexing capers from this model!








The final drive is 3 : 1 from a 12z pinion through a 36z spur gear. Once again, no major worries here but there is a lot of sideplay in the axle fit!. I measured my model at 0.6 m.m. sideplay which, although not a worry, I would prefer to see reduced. Tyres touching wheel arches in hard corners is one real scenario if not checked and adjusted. Lastly inside, I see the front axle bush bearers are particularly thin. One, in actual fact, being thinner than the other? Once again, a vulnerable point in the thick of plastic track racing either at the club, or at home. Lastly, the model comes with a spares bag containing a deeper guide, some braids, spare mirrors, a pair of rear tyres and a 'Pioneer' sticker!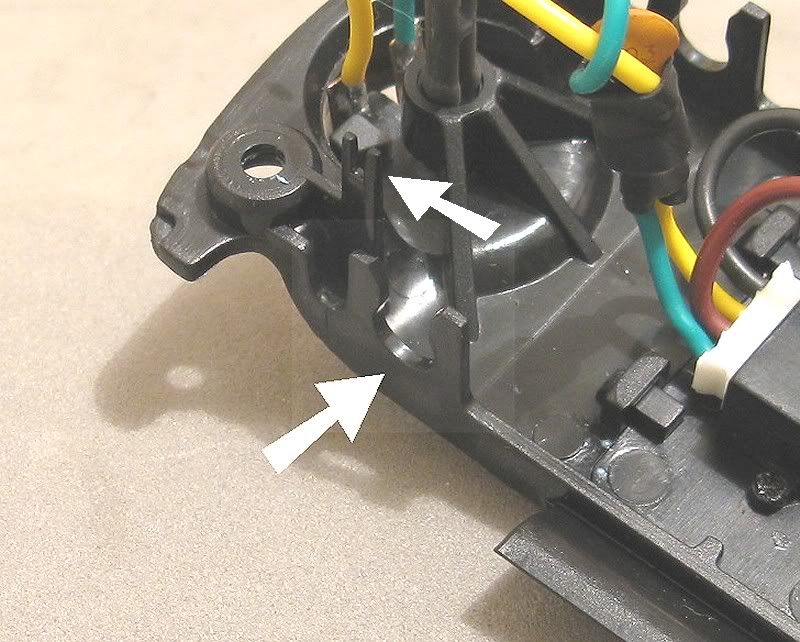 At this stage I have only been able to run the Bullitt Mustang as far as testing goes. I'm not sure there is too much difference in them either. On plastic it is reminiscent of the Scaley Trans Ams and corners and accelerates similarly. Possibly a little more straight line speed which might be attributable to the slightly higher 3 : 1 gearing (Scaley is 3.27 : 1). As mentioned elsewhere, the traction magnet is more than adequate and has a similar amount of magnetic downforce to current Scaley models. As far as board track racing is concerned the model is sure footed out of the box, and combined with the soft tyre compound, little work is needed to get the model circulating to its maximum ability.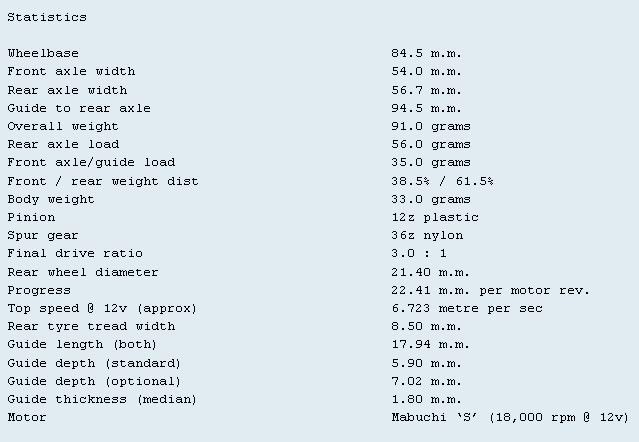 The model itself carries no external markings as to where it comes from, these are all on the box, and sure enough it is made in China, which is not a problem. I have had several models in the past that have come with pre-packaging problems and unfortunately, this model has a fine scratch across the roof panel. Not discernable on the track but annoyingly obvious on the shelf, especially now I know it's there!! There are also a couple of dust specs in the clear coat on the upper surfaces. It would also be nice to see a variation in the drivers on future models!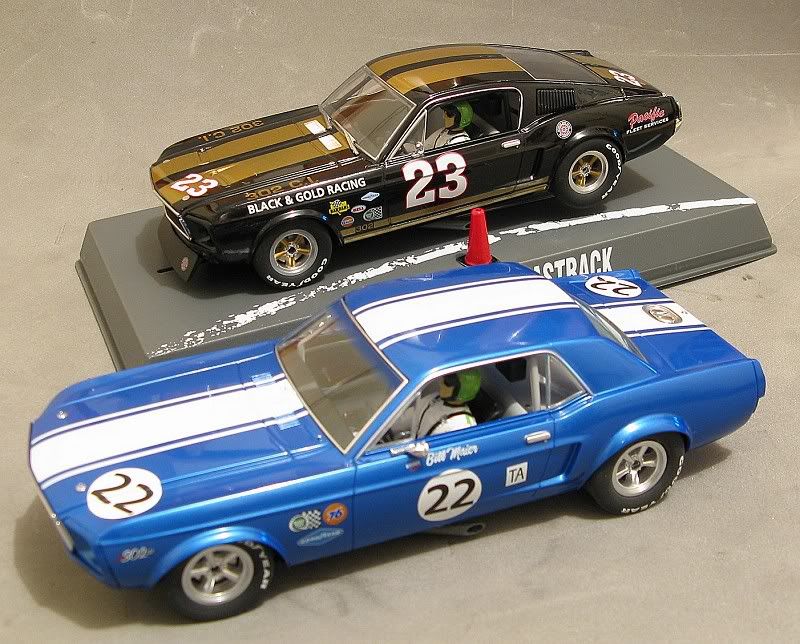 In spite of the list of problems I hope I haven't been too harsh on it, especially for those who love and cherish their's already. But there are no less problems with it than a host of similar models and we would be foolish to expect that there were. On both timber and plastic it is a great model, giving its peers a good run for their money. Is it faster….slower? I was unable to establish this and therefore I would say the difference would be with the driver. But it does have all the prerequisites in place to make it a great racer too, so if you haven't got one already, do yourself a favour and treat yourself to another slotting delight!