Fly Porsche 935 K3
'Short Tail'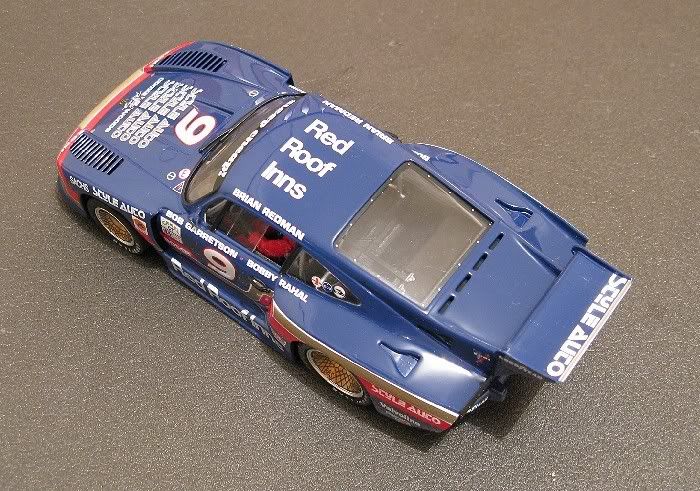 By

Phil Wicks



Here we are again at the great debate, that is, are Fly slotcars really worth the money??? Mmmmmm? Well, they certainly sell a lot of slotcars and the buyers seem more inclined to be SCM's or collectors rather than just ordinary blokes with a weak spot for slotcars. Until the arrival of Slot.it, Fly were reputedly the ultimate in mainstream slotcars. Something I had a problem with as it was my vowed intent to beat as many Fly cars with my SCX cars (with pro turbos, of course) as I could. At this I have been quite successful. On board track I managed to get the SCX cars to walk all over them but on plastic tracks things were a little harder but on aggregate I came out in front. So why this possessive phobia about beating Fly cars with reputedly inferior products? Well, it wasn't so much about the make but more about teaching slot racers of all abilities that it was senseless to throw money at the hobby to become a victor when time could be better spent with concise model preparation and fine honing of driving skills and race tactics. But that's another story which I have probably related elsewhere!








From the other side of the paddock we can look at this model from a collectors point of view because, with its motor mounted behind the rear axle, it is not a serious contender on either wood OR plastic, trust me! First up, Mr Fly has once again produced a very nice model. The body detail is good (but still no lights Mr Fly!!) and attention to fine points is a nice touch. The model has both side windows posed in the open position which on a real car at a couple of hundred K's per hour must be very off putting! Tiny detail like door handles etc are very good. A nice black grille to the front, rear screen rivets picked out in silver. Very nice front lamps mounted on the outer edges of the air dam and effective clear and coloured rear lamp lenses. The exhaust looks a bit more stylish too. Door mirrors are totally sound and well out of harms way and Fly have even gone to lengths to reproduce the air intakes on the rear body by using heat welded parts applied on the inside.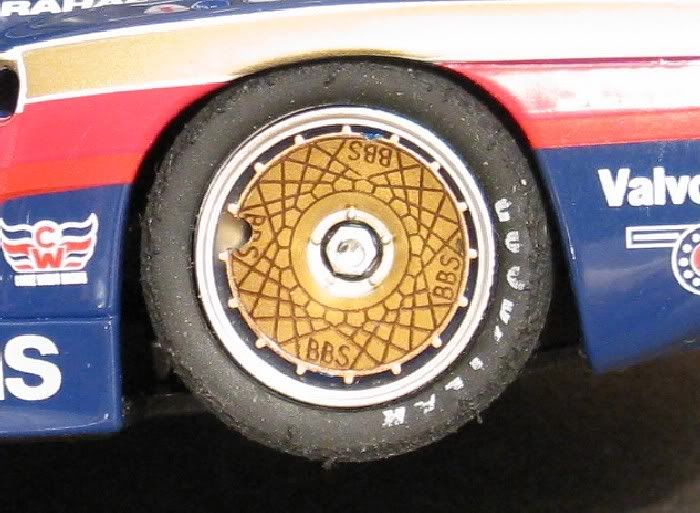 Mmmmmmmmm!





But for me, what caps it all are the wheels. These wheels are amazingly attractive and I'm a sucker for nice wheels anyway. A rendition of the old Gp5 BBS wheels that had the huge conical inserts which acted like a massive fan, centrifugally sucking air in from the back across the brakes and throwing it out at the outside of the rim. The wheel rims themselves are very nicely anodised and I had to look twice to see if they really were plastic.








Interior detail is well up to scratch too. The dash detail, hard to see as it is is all there and the drivers seat belts go right to the back of the model and under some nicely modelled anchorages. First disappointment was the driver. A good model, but covered in a fine white 'something'. The bucket seat too has a similar look. A bit like air dried superglue??









Flat as a witches ...!




Lastly from an exterior point of view. There is a messy tampo on the front and lower edge of the right hand door but more strange is the finish. The model has had a now common high gloss clear coat applied to the dark blue finish but all the tampo, without exception, is printed on top of this? I can only assume that Fly have tried to simulate the satin finish of vinyl decals which would have graced the original model. Not a major problem but if you are game to race this with and against other models you are at risk of abrading these fine details in a spill.










Ship shape and Bristol fashion.





So that was the outside. Underneath is the 'same ol' same ol' so there is nothing new there. Under the body, the driver's tray is well secured and not a creek to be heard. The body weighs in at 30 grams which is slightly above average for Fly and the serious magnet racer would have to think about lessening this somehow. The body is secured by two screws to the front and one to the rear. Again, spindly little posts which really should be reinforced if you intend to campaign this model.








Give it up Mr Fly, you're pleasing few!!




Now down to the inside of the chassis. Sorry, can't get used to this motor placement idea. I know it emulates the real thing etc etc but modelling isn't meant to be totally like life or it would have full torsion bar suspension too!! So. Not happy Jan but we're stuck with it. So what is good and bad about the business end of this model?

Well, firstly, the motor is unacceptably loose! It is! Mr Fly, with all his pesetas, has let R & D create a motor cradle that is miniscule and flimsy. The motor is readily twisted in its cradle, and almost out of it!! And with the motor sitting amongst the mountings and the axle it will be very difficult to secure it to an acceptable degree. It may well be a nightmare on board tracks and I suspect it could be troublesome on plastic too!!.

The motor has had its armature shaft trimmed both ends and removed the annoying bits that stick out on some models (Racer is one that comes to mind) and foul the wheels. There is slightly less than a millimetre sideplay in the rear axle which is good news and the final drive is quite stout and looks durable. Rear axle mounts though are made of plastic but do clip in very firmly. The traction magnet is a small bar type. This is not that secure in its clips and a swift front ender might well see it travel to the front of the model, and at the front will be a single axle waiting to catch it! Perhaps a spot of glue before racing would be nice.








The front axle is the normal solid type and there is about 1.5 to 2.0 mm side play. There is also a little up and own movement which is not discernable on a flat taped track allowing the front wheels to stabilise the model a bit. On plastic tack with raised rails there will be enough movement for the wheels to drop to the track surface while the front end weight is taken on the guide and braids.




The offending article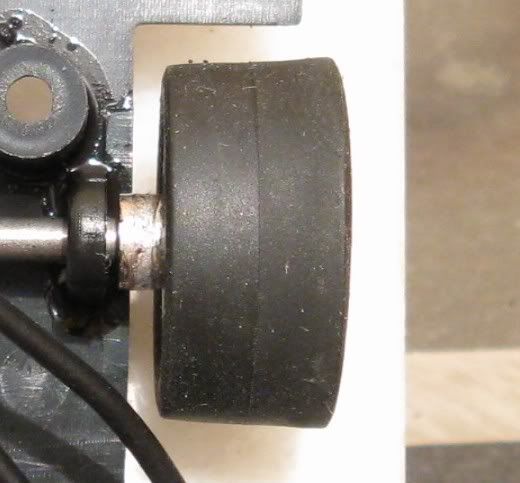 The tyre is somewhat flared by excess rubber inside!





Right at the front is the normal Fly guide, in fact it is almost 20.0 mm in front of the front axle!!. Very unassuming and by modern standards, almost not up to the job. But it does work well and there is no cause for alarm. A final observation would be that the rear tyres are quite large and true even if the tread area is a bit convex. Wheels, too, have little sprue flash on them. The front comes with its own special effects. On this model, the right hand front tyre is a poor moulding and the tyre has an extra bead of rubber on the inner side of the outer edge!! This has caused the outside of the tyre to flare out and give a larger rolling diameter??







So the model has many pluses and the odd minus is not insurmountable. Its biggest problem as already mentioned is the motor over the rear and a small traction magnet. This model has had a 10.0 gram wheel balance weight added to keep the front down on both wood and plastic and this works well but the model is still not a winner against mainstream models which is a pity as it looks the part and ought to play that part. It will be expensive to fit some generic chassis to it just to peg up the points!









Complete with ten grams of ballast





On the track and in its own time it drives well. The excess weight in the rear of the model causes it to step out noticably on fast corner entry on board and it will execute a rollover deslot on plastic just when you thought you had mastered it, but not to worry. Straight line speed is good for this motor class and general drivability is OK. Its biggest plus is its stage presence on the track. Almost up there with Racer as far as looks are concerned, but without that 'solid' feel that racer has at speed.
Statistics
	


Wheelbase 			72.5mm
Front axle width		56.0mm
Rear axle width			59.5mm
Body weight			30.0 grams
Overall weight			76.0 gms
Rear axle load			62.0 gms
Front axle load			14.0 grams
Weight dist			18.5% / 81.5%
Pinion				12z
Spur gear			36z
Final drive ratio		3 : 1
Rear wheel diameter		22.2
Progress			23.25 mm per motor rev.
Guide length			18.8
Guide depth			6.0 mm
Guide to rear axle		92 mm
Motor				Mabuchi (black line)18,000@12.0v?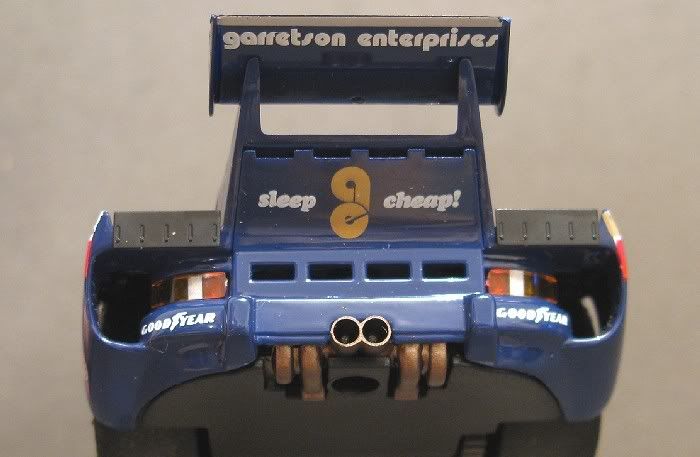 A very special model and at over $100.00 locally one you might like to keep special. But surely all models have been made to race? The model drives respectably on plastic and after a bit of judicious ballasting and tyre swapping will go, probably more competitively, on wood! No Aerials sticking out of the roof and no door mirrors in the danger zone so it is feasible that someone will race it! I will give Mr Fly nine out of ten for this model because I am feeling generous tonight and probably more so because I didn't have to buy it. I thank Lindsay Smith from the local 'Slotcar Legends' racing group for the generous loan of this model for which I am grateful.