Fly Alfa Romeo 147
'GTA Cup 2003'




By

Phil Wicks



Mmmmmmmm! Another non mainstream model, Mmmmmmmmmm? Why do we torture ourselves. Well, I'll tell you why. Among the slotracing fraternity are several groups of racers. As mentioned a hundred times before and possibly a hundred times to come, we have different reasons for indulging in this hobby. A lot of people's needs overlap others, but no two's needs are the same. Also, as mentioned before elsewhere, I could go down the road of several other fora and get carried away with a model's raceabilty and what to do to make it a winner. If you thought Plafit, womps and wings already had that covered (apologies if I have offended you here, please read on), then you'd be right. For the youngsters amongst us, slotracing is about speed and competition, for the older ones it is about a little bit of that and a bit of collecting??, and for the oldest amongst , a model is about a good cleanskin red, to be hunted for, acquired, opened and savoured. This model is not for the SCM, possibly more so for the older hobbyist and certainly for those who are looking for something to stimulate their demands from the hobby. I'm not saying that the 147 in general is the car, not so. The white model with the female driver is so, so. There are a couple of variations too, of track models, with lairy colours to boot. This model is a bit more demure and to me sits nicely among my stylish (note: not classic!) slotcars. It will also need to be able to turn a respectable wheel so that when I do look at it on the shelf, I will smile, not scowl!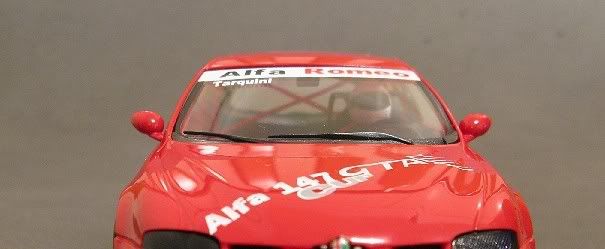 Foretaste is a handy experience when buying possible unknowns and in this case I have had a 'foretaste' of this model. A pleasurable evening at a friends, racing the 'also haves'! brought this one to the surface, and rightly so. We had been running a selection of loved ones when friend Lindsay produced this model from his selection. The model had only the rear tyres substituted for MJK's and on his four lane high talent circuit we ran it for a while and were taken by its sheer pleasure to drive. Let me explain. Firstly, when you are running a few models, you tend not to run at race speed, but just tail each other, still at high speed but not on that slippery edge where deslots abound. So, lap after lap, you can exchange bumps and nudges (Lindsay's track has its fair share of converging lanes) and trade sideswipes and still keep en route. This model does that and does it well, even though it is a front motor and a sedan (saloon) model with a high C of G! No extra ballast, although this will no doubt add to its drivability, and no magnets to spoil the occasion.

So, after looking for one for a bit, it fell into the darker recesses of my mind, almost forgotten, until I took a trip to South Australia on family business and called in my local dealer, Scalexworld. I had gone in initially to catch up with Clive and Kevin and have a bit of racing too. Whilst there I expected to spend some money. A selection of (urethane) MJK tyres for the slot box for a start! And a mission to kit myself out with a newer GT model for non magnet / board track racing. Clive and Kevin have a 'specials' bin mostly consisting of stuff that's been around for a while. Motorbikes and the like. But in amongst a lot ordinary stuff were three Alfa 147's?? No, mistake. One white one with the lady driver, another track version of which I can't recall the livery and the little cutie which is the object of this review! With the memory of my evening at Lindsay's several months earlier and also being marked at a give away price, I put it with my other purchases on the counter. Returning home a few days later I took it out for another inspection. Not bad at all.








This model has a very nice red painted finish and a good clear coat on top of that. A very solid looking colour indeed and it gives the model that 'hard' look. Apart from the minimum crisp tampo the extras and accessories are well modelled and fitted. The general feel of the real thing has been well captured in the modelling and features like the lights and glasswork contribute greatly. Amber side repeaters and door handles put it ahead of a lot of other leading makes and even the depiction of the Alfa badges front and rear adds a nice finishing touch to these areas. Another hidden gem is the photo etched metal grilles front and rear. Nice work! Vulnerable parts would have to be the same as most models. Door mirrors are outside the roll over zone. The tow eye on the front has a definite short life and the wing on the rear roof could potentially be something you'd be looking for after a hard fought race. The front air dam looks to be a separate moulding but you would have to be unlucky to loose this large fixture, but that depends on your driving style I suppose?








Underneath the model, Fly have done their best to faithfully reproduce the business end of the real thing and apart from a fully modelled exhaust system, lesser detail like the front and rear suspension and fuel tank are all there. Inside is another well appointed area. Again, detail which is on a par with some diecast models is in abundance. Driver and bucket seat are well modelled and along with the detailed helmet of Tarquini is a full set of five point seat belts, anchored through and behind the seat. There is a full roll cage, too, and the dash detail is also an interior feature.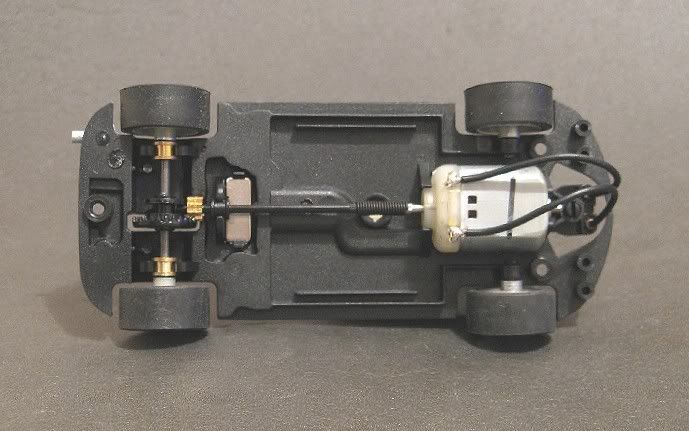 Inside the model is well laid out and not too much of a departure from already tried and tested layouts. The drivers tray is fixed into the body quite firmly and it doesn't show any sign of creaking or movement, which will contribute to its quietness on the track. The heat welds don't appear overdone either. On the chassis top, the guide is mounted in a well reinforced hole. I must admit that the guide movement is a bit sticky at its extremes which could cause some hard marshalling moments. The front stub axles are quite common on fly models and I haven't had problems with these to date. They can become quite floppy with age and as they aren't taking the weight of the model, they could really be a little slimmer. But I expect they are the same as the rears and an economy measure. The mounts are sturdy and also todate, I haven't heard of these breaking.








The motor is loose! Surprise, surprise! After all this time, leading manufacturers STILL send models out with poor motor mounts. Not too important for plastic track magnet racing, but an essential fix for non magnet and board track racing. Even in a front motor set up like this, this model will judder down the straights! And because of the proximity of the front stubs to the motor, conventional hot gluing will be hazardous. The rear axle is held in firmly and no work is needed there. The (prop) tail shaft is well fixed at the rear and unlike some models, there isn't a retaining pin moulded in the upper body to hold the bearing in place. A judicious spot of superglue on this will minimise the risk of unwarranted pit stops in the heat of a race. Final drive is a conventional pinion and contrate type set up. The gear feels a little bit harsh but a few minutes with the cutting compound will alleviate this. Not too much, we don't want the mesh sloppy, this will be noisy on over run. The traction magnet is the common small bar magnet found in most Fly models. One observation is that the final drive comes well lubricated, more than can be said for its costly Racer cousins!!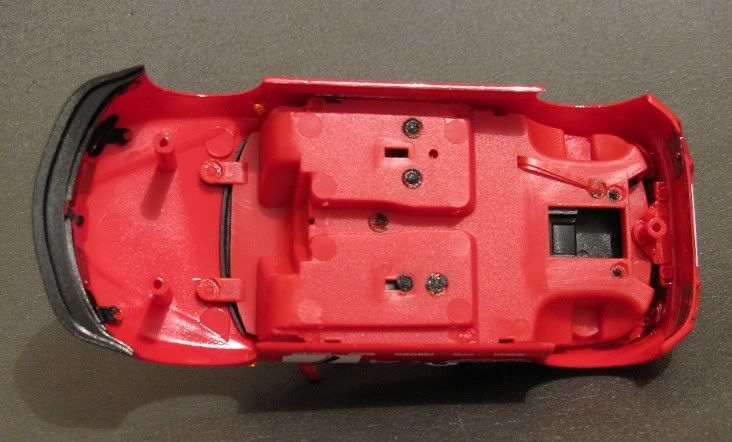 Lastly, I can't help but note that a lot of Fly models still don't have lights. Important? I suppose not. But ever increasingly, with the advent of better model lights, so comes an increase in 'lights off' racing. Night sections in endurance races or simply, feature races in the course of an evenings events. I love 'em and without lights a model is pretty well out of the race. I must admit to once racing a rally event with a night stage. The marshalls were duly equipped with torches for deslots only and when it came to the night section I realised my (SCX) model's light weren't working!! I then proceeded to latch on to the rear of another contender and finish the heat in his shadow!

So what have I been raving on about? As mentioned before, it's about racing or running something a little different rather than putting a full race tuned model on the track which runs pretty much like all other race tuned models. Variety is the spice of life and the ability to master a harder drive will pay dividends when it comes to out and out racers. Timing and controller operation become more of a science instead of an on off switch. So without further ado we need to get the simple things in life sorted and set off to the track. The simple things consist of fixing the motor and truing the tyres and removing the hard edges front and rear.

Track Test.

On plastic the model is quite predictable. I am always amazed at how tight Fly cars will hold on. The diminutive magnet on this model belies its capabilities and the model clings on tenaciously in sweepers and hairpins alike. Once in the corners the power can be applied quite heavily with little fear. But unlike its GT brothers, this model doesn't like hitting corners too hard. Braking needs to be a tenth or two earlier than normal and if you do push it too hard through a tight bend it will respond with an unpredictable roll over deslot or career off into the outfield on two wheels. Probably a bit more attention to the tyres would reduce this. Nonetheless, as mentioned early on, this was neither bought or expected to be a GT car in performance. Acceleration is smart and the motor at the front no doubt contributes greatly to keeping the front in the slot. The gearing is quiet but it did have a preliminary running in session and body noise is minimal making this a very quiet model in motion. Not too much else can really be said about its plastic track performance but I personally think high magnet race cars have less on track personality compared to their board track personas.

Board track racing for which it was bought was a different matter. At 81 grams, this model is a few grams heavier at the front than the rear. The back weighs in at about 37 grams and even if this were a rear engine model it would still be 15 or so grams lighter than the motor torque and tyres need for reasonable progress. Needless to say. the power needs to go on quickly but steadily. MJK tyres are a good counter for this behaviour but the model needs to be at least 10 grams heavier on the rear to make more use of its performance. No matter, this is a model for cruising with and even in SOOB condition, on board it can be driven lap after lap with great delight, just marvelling at its antics or the lack of them comparatively.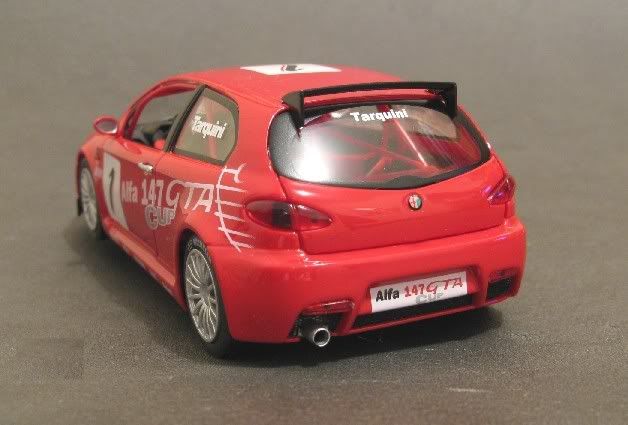 Statistics


Wheelbase				78.0 mm
Front Axle width			56.0 mm
Rear Axle width 			54.5 mm
Overall weight				81.0 grams
Body Weight				31.0 grams
Front Axle load				44.0 grams
Rear axle load				37.0 grams
Front/Rear weight dist.			54% / 46%
Pinion					9z
Crownwheel				27z
Final Drive ratio			3 : 1
Rear wheel diameter			20.2 mm
Rear tyre width				10.0 mm
Progress 				21.15 mm per motor rev
Guide depth				5.5 mm
Guide length				17.8 mm
Motor					Fly P1. 18,000rpm @ 12v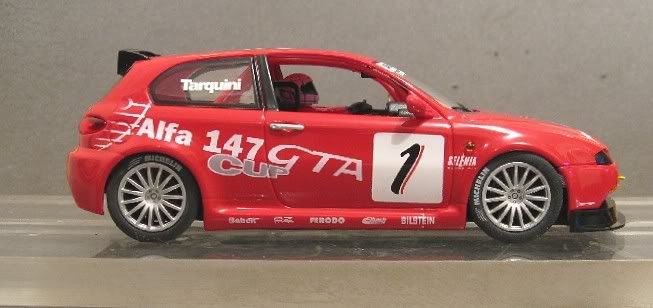 After all is said, this is not a competition car outside of its fellow stable mates. It won't be featuring in the results of many slotcar meetings unless it's a GTA race but that's fine. This is one for a Sunday drive with some good friends, also out for a Sunday drive!