Fly Porsche Carrera 6




1966 Nurburgring 1000 Km




by Phil

Wicks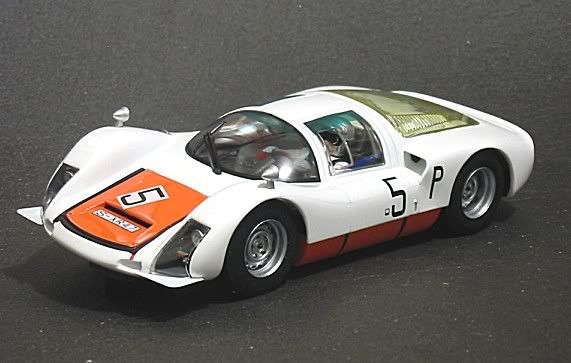 The Porsche Carrera 6 is one of the models I remember earlier in my youth. It was an Airfix kit and one of the many that a whole generation of schoolboys tried to motorize in their own simple way. It usually consisted of buying one of the few proprietary chassis available at the time and trying to shoehorn a huge Mabuchi into what little space there was, using blocks of balsa, woodscrews and tubes of Araldite. No time or room for a driver let alone a drivers tray. A couple of quick coats of Humbrol and off it went! It was a technique known as 'race 'em wet'! (Paint AND glue!)

Other more older, more sophisticated modellers would neatly mount a Kays or an MRRC motor and steering unit underneath and run it with some success but the challenge to get it all in was always there. Probably the reason why Scalextric started off with 1/30th scale! A bit more space to fit the gubbins!

With the advent of progress, slot car manufacturers became plentiful and the contemporary models they depicted also blossomed. In my neck of the woods Scalextric became a poor cousin to the new kids on the block. Names such as Revell, Monogram, AMT, Cox, Strombecker and the like were making big inroads to the disposable income of young boys with a paper round. The older grown ups were now into the fast stuff with home made brass chassis, hot motors and rewinds, sponge tyres and custom controllers.

But most shared one thing and that was to have the latest model or body on the market. 1966 was a good year for new models and the real race tracks were starting to bristle with new race cars from the leading manufacturers. Ford, Ferrari, Porsche Chaparral and Shelby were still busy and the flow on to slot cars was quick. For the local home racer, fast, fierce, flat cars weren't so important and it was these that snapped up slot car kits by the thousands. It was essential to have a Ferrari, a Chaparral, a GT 40 and not least, a Porsche and at this time it would be the Carrera 6. This must be were I first encountered this model and not having a paper round meant I'd be making this one from scratch and a two shilling Airfix kit was going to be the donor. I don't recall how successful my conversion was but I do remember it being a fluorescent lime green and being pretty quick in a straight line with its MRRC five pole. I also remember as I grew up and grew older and slot cars dropped out of my life, it would always turn up over the years somewhere in a cupboard or a draw as if to say 'Don't forget me!'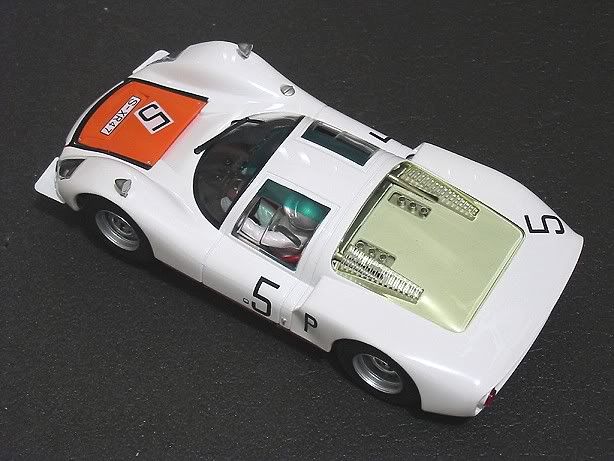 But I did and to this day I don't recall its fate and had forgotten all about it… until now! The Fly Porsche had leapt at me from the computer screen a few weeks back as if to say 'Remember me!' and a pang of guilt caused me to track one down to John Hayward at Classicslot. A good deal later and five days in the post saw the familiar brown carton on my doorstep. Postie had been and left it in the absence of anyone being about. I took it in and after the normal evening's ablutions I sat down for dinner with the opened box in front of me.

Some of you who have read my reviews know about my love – hate relationship with the Fly slot car company. It's my view that in the past they have been blatantly guilty of not producing the goods 'out of the box'! Some quality issues have muddied their pool a bit and just when you think it's all over, they do it again. Well, once again I have stuck my neck out and am determined to be objective and unbiased in my review. I tend not to bother too much with mainstream model reviews as they are done to death by every man and his dog on every forum but as this model was an inevitable purchase and having read a couple of reviews and comments so far, I decided to give it the once over, so here goes.


Out of the box this model is another slot car beauty! I'm a sucker for a good slotcar and this to me is good. Another model which isn't plastered from head to foot in sponsor's decals must be a plus!
The model version is of the Jochen Rindt – Nino Vaccarella Carrera 6 as entered in the Nurburgring 1000 Km race of 1966. The car was a two litre air cooled single overhead camshaft flat six with a five speed gearbox mounted in a tubular space frame and fibreglass body.


The main body of this model is a beautiful Polar white and sills and the front cover are finished in orange. Fly have picked out detail such as the two front spoilers which were added to put more feel into the steering and the tinting to the tops of the screen and door glasses to reduce glare. The louvred rear screen is also tinted orange as were the originals and my favourite features are the twin megaphone exhausts under the rear valance.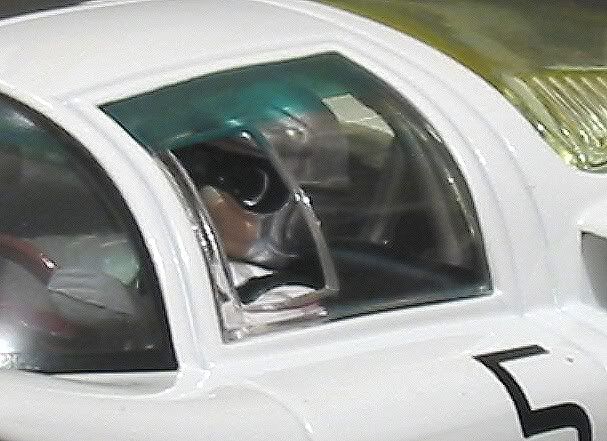 There is a regular Fly driver which fills the left hand cockpit and ample dash detail even if it is all black. Another marvellous addition is the faithfully reproduced five stud steel 15 inch wheels and deep walled tyres. The rubber feels good to the touch and I'm looking forward to some serious track work. Underneath the rear screen are the roll cage braces and two sets of ram pipes. The lights are well detailed, showing head and driving lights as well as indicators at the front and plain red round tail lamps.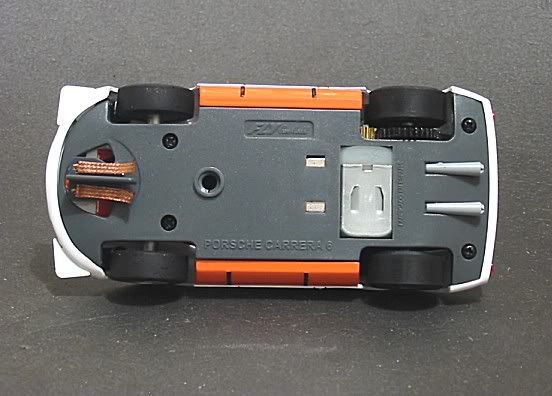 The underside of the model is very tidy and uncluttered. The traction magnet is the now familiar oblong neo mounted in front of the motor. The guide is a very good fit with minimal side and end play. The motor is clearly visible and the first black mark is the rocking motion of the motor! Not good for wood! Next loss of brownie points were the wheels. I nearly let their cuteness distract me but on testing, both left hand wheels are eccentric, the front more so than the rear. Moving on…

Next was the top off and a good poke around. First thing I noticed was the material that the chassis is made from. It has a feel of polyurethane about it instead of the more rigid ABS. It's a lot more pliant too and readily twists. It may be a plus. Time will tell. One of the lead wires has been pinched in a front mounting screw so it will pay to keep an eye out when putting it back together. The solid front axle is mounted either side in a shallow groove type mount, a bit like the Slot.it axle. On a flush track surface there is very little up and down play to notice but on Scalextric or SCX with raised conductor rails the movement increases considerably, allowing the front axle to rock. Again, maybe not a problem with traction magnets but without? Also, the wheels will push on 'til the axle pinches the chassis! Another thing to keep an eye on.

Hmmmmm….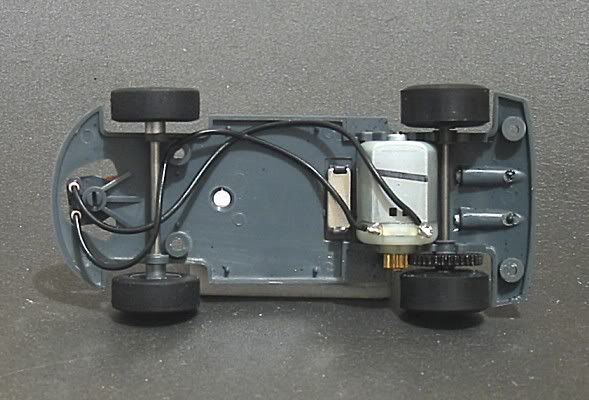 The motor is definitely moving in its mounts and that will need to be addressed for either plastic or wood. This new chassis material may be contributing to that movement and the very thin strips of chassis that run under the motor mounts are all that keeps the front in touch with the back!!!. Rear axle side play is the best I've seen in a fly car!! Very tight axle bushes and minimal sideplay. Was this luck or has Mr. Fly been listening? The underside of the body too shows healthy signs. The heat welds are good and tidy and on shaking the body there doesn't seem to be any extraneous noises to aggravate the connoisseur!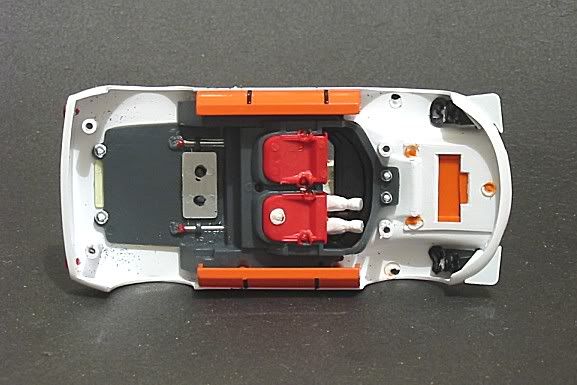 Lastly, a couple of little niggles were remedied at this stage. The front spoilers are lovely. Very scale, very…. ',je ne sais quois,' The rear view mirrors too are very scale and a pleasure to behold but there is a little voice in my head saying 'Danger Will Robinson!!' I have bought this car to race and these items are causing me to tremble!









The solution was quick and painless. With the body removed, I carefully removed the spoilers. These are mounted through the body and are obviously installed at the same time as the headlights but with a bit of a wangle, I eased them both out from under the lamps without too much fuss. The wing mirrors required the assistance of a forty watt soldering iron. The iron was left to heat up and once at running temperature, I gripped a mirror betwixt thumb and forefinger and whilst applying moderate pulling pressure, I held the tip of the soldering iron about five millimetres below the mirror inside heat weld. Sure enough, the mirror stem softened and the mirror slid out of its slot intact. These items were then taped to the base of the display case to be replaced at the end of its career.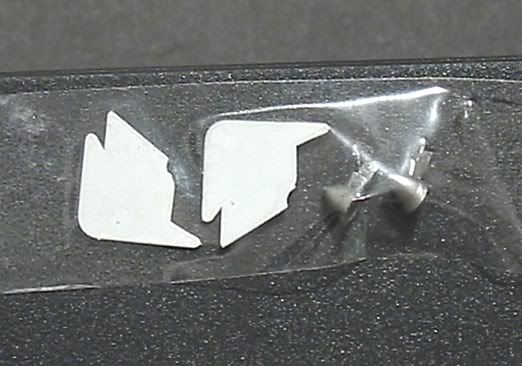 Four screws hold the body on. Not my ideal set up but at least when they are backed off a little the chassis doesn't catch up anywhere. Replacing the body, I returned the model to its case and put it with my Friday night stuff.

Friday night comes around and it's time to run some old stuff and some new stuff with good friends. First up are usually some old 60's Scaley F1's and we drop backwards and forwards in time racing a variety of makes and models. About half way through the evenings we have a lull and with the track clean and warmed up I will put something I am testing or building on. Out came the Porsche and with full confidence I placed it on red lane and pushed off. The first thing to hit us all was a terrible scream from the gears. Most modern side winders usually have that smooth 'zippy' sound. This one could have, but didn't. The noise from the spur gear really was loud and erratic. Closer inspection showed that there is no backlash between the pinion and the spur gear. They are constantly hard against each other!! Motor is fine in its mountings (apart from a twisting moment) and so is the rear axle, I can only hope it will quieten up with use. If not, it will be the 'Tamiya' fine polish compound treatment. Noise uses energy and if it's making a noise then it's energy which isn't driving the model along!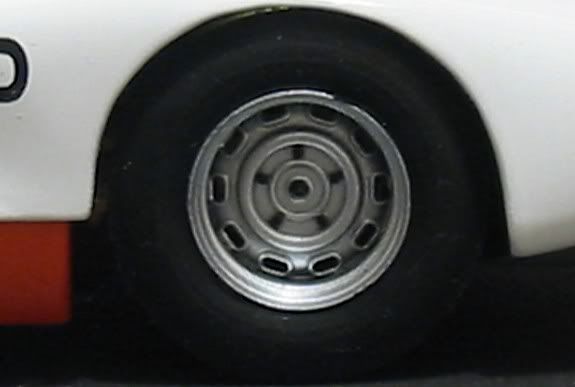 After a few steady laps I started to push it harder. The Fly rubber on this model is excellent for painted surfaces, I must say. In SOOB condition the grip was as good as a lot of stage three tunings! Cornering was good with minimal side slip and no tendency to tip. After running it for twenty or so laps I took it off for a quick check over. The gear was still tight but the rest of the model was fine. It wasn't going to take much to get this flying. Next step was stage two. The body screws were backed off about three quarters of a turn to give noticeable lift, especially in the rear end. The tyres were treated to a sanding with the eccentric one getting special treatment. Definitely good rubber. Fly rubber sometimes doesn't quite gel with board tracks and a degree of ballast is needed to convince models to grip but this one's fine. Also, on hard acceleration it doesn't show a tendency to lift from the slot but the gears have to be freed up yet! At this stage, deslotting is an attack of understeer with the model spearing off after high corner entry. Deslots in corners tend to be over steer which tells me the guide is doing its job. After several minutes running I don't feel the inclination to add weight anywhere so the balance of this model is pretty well set.
Statistics


Wheelbase				71.0 m.m.
Front Axle width			54.0 m.m.
Rear Axle width				55.5 m.m.
Overall weight				67.0 gms
Front Axle/guide load			24.0 gms
Rear Axle load				43.0 gms
Front/Rear weight dist %		36% / 64%
Pinion					11z
Spur gear				36z
Final drive ratio			3.27 : 1
Rear wheel/tyre diameter		22.0 m.m.
Note. It was not possible to do its lap time testing this week for technical reasons but I will endeavour to have it done soon.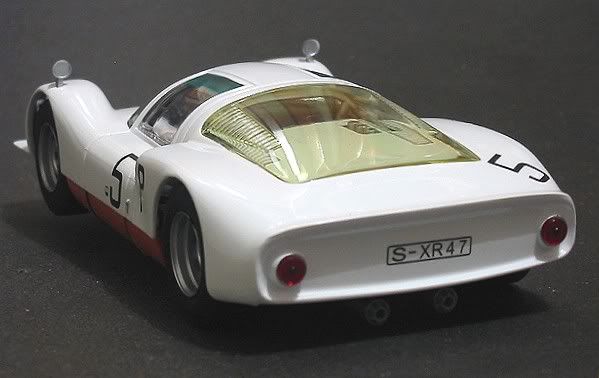 This model is a good drive SOOB on board and I am shortly to test it on plastic. It is a light car and could probably take up to 15 grams well distributed without ill effect. It's one of those models I would leave alone unless it showed any individual traits that needed attention and it will be another long time resident in my race box (which is getting pretty crowded!!) Again Mr Fly has managed to produce a model which doesn't need an overhaul out of the box but eccentric wheels, tight gear mesh and loose motors realy ARE a thing of the past Mr Fly, so what are we going to do about it, Mmmm!