FLY MARTINI LANCIA 037



By

Phil Wicks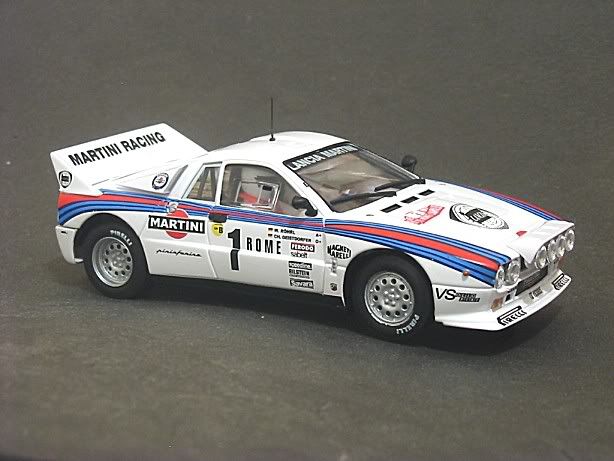 This was one model that crept up on me! Whilst waiting for the Carrera A4 and the still to arrive Revell Cortina, Fly nearly sneaked this one past the watch tower at Wixwacing. It's no secret that Fly have sent shivers down my spine in recent times but I have been prepared to bite the bullet for cars that will spend more time on display than on the track.

This car was purchased for the Aussie equivalent of $74.00 which included post and packing from John Hayward at Classic Slot in the UK. John is a wholesaler for Teamslot cars but he does get selected Fly, Carrera and Revell models.

Taking it from the box gave me the same feeling as putting on an old pair of shoes! Having been the owner of the Scalex / SCX? Lancia 037 it was a feeling of De ja vu. Same familiar shapes and colours only better! Once again a model with excellent tampo detail right down to the Abarth Scorpion on the lower rear of the front guards. Did I ever mention that I love wheels? Well, I do. Only now it seems I may well love lights too! Extra driving lights, that is and this model has the full Monte (Carlo) when it comes to those!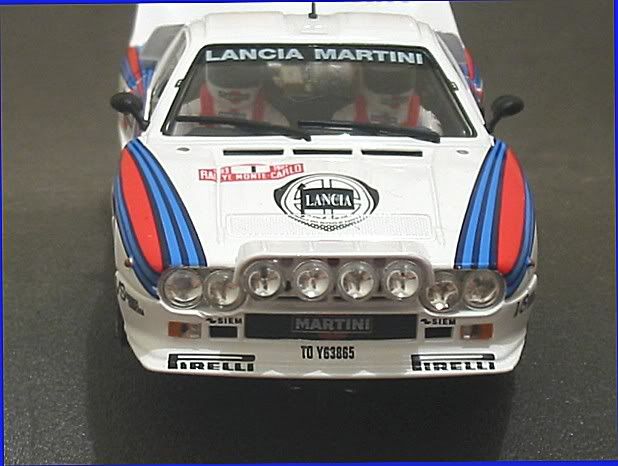 Also once again, interior detail excels all that is required of a model slot car! Not only do we get two full length figures, the navigator even has notes on his pad! (not readable though!) Both have full face helmets which strikes me as strange for people sitting INSIDE a car? Both have full five point harnesses modelled as a separate part and even the fine detail like column stalks have been included!

By far the best modelling feature is the engine detail through the rear screen, this time in glorious Technicolour, showing cam covers, Super charger, air box et al. The rear of the 1/1 is fairly plain as is the model but Fly have made a nice job of the etched metal grille across the back. Behind this and just visible through the rear screen is a representation of the muffler which leads to dual reverse megaphone tail pipes. The Aerial is plastic and could be an early casualty and the door mirrors aren't detachable which puts them in the endangered species list. One thing missing in my view is the massive rear mudflaps that SCX saw fit to put on their model!




The front is festooned with lights and one wonders what their life span will be. Simple answer is to stay out of trouble and avoid crashing into other deslotted cars! All up a very nice finished model. The Martini livery is one of the world of motor sports classic liveries along with Vodafone, Gulf and Marlboro.

The chassis detail is uncluttered. The chassis is fixed by four screws (ah well!) but it is fairly loose in the body and a degree of useful movement can be achieved. The main magnet is a sliding magnet in front of the motor. This is reminiscent of Revell and Carrera. It is mounted close enough to the track to allow a useful amount of downforce and there is a recess directly behind and at the centre of the front axle! Although not supplied, this will accommodate some of the popular 8mm round neodymium magnets in circulation.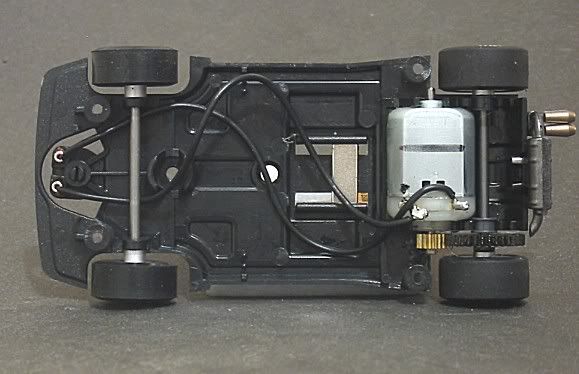 Now to the business end! The rear axle has minimal end float! Yes, you heard. No more shimming to stop the tyres hitting the chassis and pinion!! The wheels rank beside the Scaley Peugeot 307 for run out and concentricity!! And the rear slick tyres are spot on! Shocked and more than a little amazed. I can feel that ice cold heart of mine start to melt a little. What's more! the rear axle bushes are a very snug fit in the chassis!! and the surplus armature shaft has been trimmed off the motor!! It's TRUE, YES, IT IS!! This is a no mess, out of the box, BUSINESS rear end !!!

Sitting in silence I move to the front. Fly have opted for the one piece axle in this model. Some one up there HAS been listening. The axle is the floating type so the car still runs on the guide and back wheels which in general is not a bad thing but not my first choice for magnet racing. A quick spin of the front axle hit me between the eyes! The left hand front wheel and tyre were massively out of true and wobbling well. Probably the worst I've seen out of the box. Closer inspection showed that the front wheel, although on as far as it could go, was barely on. Probably sitting on less than 3 mm of axle! The front axle was removed and both wheels were pressed fully home. The gap between the hubs was measured at 32 mm. The measurement to the outside of the front axle mounts is 34.5 mm !! which left a deficit of 2.5 mm once assembled. Also, the wheel lost its wobble when pressed fully home. I will be making a new front axle from 3/32 music wire tomorrow, this should fix that problem.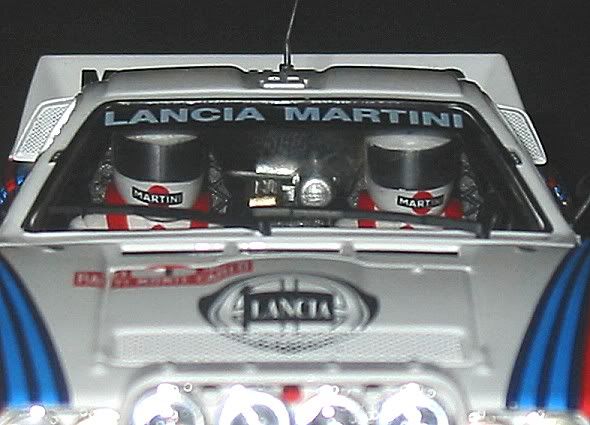 Whilst inspecting the wheels I noticed they have used a new manufacturing process for these. It eliminates the flash and sprue remains normally found on most makes of wheel. The wheel is moulded as a drum and has a solid back. There is detail inside the wheel which means the outside detail containing the wheel holes and stud details is a separate part. Glued or press fit? Who knows, but keep your eyes peeled after each outing. You may well be missing a wheel detail!

That about sums out the construction side of things and all that is left is to take the beast to the track and give it a veritable flogging!! Well, a stiff drive, anyway.

Stage 1

It's first outing was a joyous occasion, yes you heard right, a JOYOUS occasion (mostly)! Putting her on the track (red lane, warmed up) and booting her into orbit was a pleasant experience. First impression was the rather loud gear noise from the spur gear. Not like Fly at all? Closer inspection showed that there may well be just a little too much play between pinion and spur? A heavy greasing with petroleum jelly quietened it a bit but not greatly. Loosening the body also helped but it was still a lot noisier than I would have liked.

Running the car steadily revealed a nice well balanced drive. Corner entry was stable and controlled. Power through the corners was fair for stage 1 SOOB and acceleration out of the bends too was good. There was a little bit of hop but further inspection revealed the motor was loose in its mounts! (Unlike Fly?) The mounts are sturdy enough but the chassis land between the motor mounts and the rear chassis and axle are VERY small! Just a replica of the rear trailing links in size! This motor will need to be hot glued regardless, if only to reinforce the rear chassis! Testing resumed to more strenuous efforts, the car had a bit of an early slide in the corners but as yet there had been no truing.






Stage 2

This involves tyre truing and chassis tuning. So, tyres were run up in reverse on some 600 wet and dry until there was a fairly evenly distributed band across both rear tyres. The body was slackened off a half turn on all screws and a couple of the screw holes were enlarged with a round modeller's file to allow free movement. Back on the track the car was a bit quieter and a lot smoother. Braking was less hoppy and cornering was pretty well controllable but the Fly rubber is still a patch behind Scalextric and SCX when it comes to painted surfaces. It feels to be a little harder compound and has that dry clammy feel normally associated with silicone tyres?


Stage 3


Stage three is tyre cleaning with WD40 or the like, and another quick sand. This certainly improved the model as it does all cars. Acceleration was very smart and cornering was improved to the point that I was 90% happy with it but there was still that nagging hop, much like out of the box Nincos on wood! Their cure is to glue and true everything and by now I'm starting to think the loose motor and flimsy rear end have a hand in this. There's not a lot of room inside the rear end of this model but I will endeavour to solve this problem soon. But from the point of this review the car has all the hallmarks of a good board track car but with this nagging hop.

As for plastic track, the magnet will surely cover a multitude of sins. I am due to run it on plastic in the very near future so will update the review with my findings. But for now the car has stopped ten percent short of where I would have liked it too! Another Fly disappointment? Well, lets say no. I was expecting problems but there weren't nearly as many as there could have been. I feel confident that the solution is round the corner. Relying on other peoples good will to test cars fully is a bit restricting and a cancelled review often means a six or seven day wait 'til the next time.

I am over the moon with the cars general level of detail and finish. A few mods to be made would be to put seven or eight grams of weight in the front to keep it down on the exit of sweepers. The guide, contrary to previous offerings, is quite stiff. I suspect this is due to the absence of end float in its mount. This will cause marshalls no end of frustration in a reslotting situation! Some of the exterior parts would cause me anguish in a race but until its hop is fixed it will only stand on prominent display as there is no point in racing it as it is!
Statistics

Wheelbase			78.5 mm
Front Axle width		57.0 mm
Rear Axle width			56.5 mm
Rear Tyre dia			20.0 mm
Overall weight			80 grams
Front Axle load			31 grams
Rear Axle load			49 grams
Front/Rear load %		38.75% / 61.25%
Pinion / Spur z			11 / 36
Final Drive Ratio		3.27 : 1
Once again the track test figures have eluded me and a new test will be done this coming Friday.



29/07/05

I've managed to complete testing and after spending a little while reducing the rear end hop was able to complete the lap times.

Best lap in (almost) soob was 7.905 secs on red lane. After re-sanding the tyres for the third time I was able to reduce the hop to a bare minimum but there is still flex in the rear chassis. Final lap testing was a pleasant surprise. The best lap after chassis tuning and tyre cleaning came down to 7.251 secs which is up there with the best! The Proslot Porsche being only tenths better!