Fly 'Flyer's'
Riley MK XI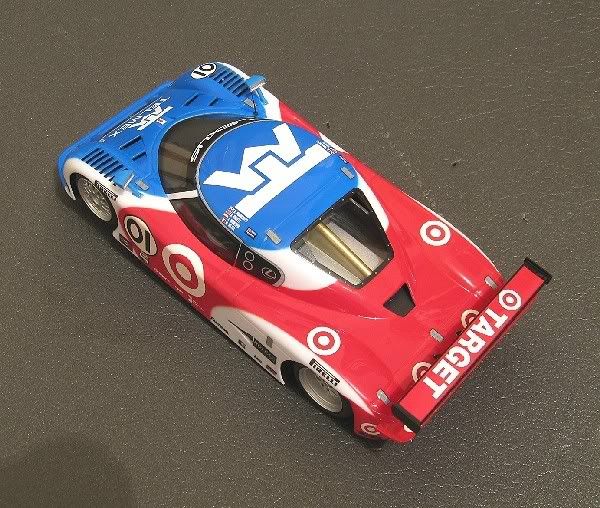 by
Phil Wicks
The Fly 'Flyers' series is obviously an attempt to put Fly cars back on the affordable racing arena. Their mainstream product has become very expensive and although still highly raceable, you feel disinclined to put them on the track because of the delicate nature of their exterior. The Fly owner has to be prepared to have quite a few bits knocked off their models and at the same time has to contend with a model which really needs to be set up properly before turning a wheel. Not every bodies cup of tea and certainly not within the scope of a lot of racers.

With the Riley, Fly have put together a decent little package which shouldn't make people wince when seeing the price. A slotcar which isn't going to take endless practice laps getting it to run right and stay on and a model with not too many glittery bits to loose on the far side of the track just when your attention is distracted! And lastly the subject matter is new and refreshing instead of being another Porsche or another Ferrari or another BMW!!!





Telmex - Chip Ganassi Racing





The subject matter of this mini meandering is the Riley XI of the Telmex team. A part of the Grand Am series which runs in the US. Riley, like a few manufacturers have had a chequered career too and have been owned by other manufacturers as well as being independent race car builders. They started life in 1990 as Riley and Scott, specialising in upgrading sports cars with a degree of success. They helped General Motors with their Corvette program and had input into the Cadillac Northstar LMP. In 1999 they were acquired by Reynard Motorsport but Reynard had overstretched themselves and the whole company went into receivership, never to recover.

Bob Riley founded Riley Technologies in 2001 along with his son, once again setting out to improve on their previous achievements. This time the emphasis was on building cars from the ground up using new chassis technology. Their cars soon dominated the Daytona Prototype class of the Grand Am series by sheer weight of numbers. Their chassis have been teamed up with Pontiac (GM) Lexus and Mazda (RX) to name some of the more successful and the future looks rosy for a company which will no doubt eventually be feted internationally.




Riley Technologies




This model endeared itself to me at the first meeting. These models have a 'cheeky' stance sitting in the box. None of the sleek low down lines of an LMP or the outward signs of 'pure grunt' exhibited by GT cars. I suspect it is comparatively very small and without having seen one in the flesh I get the feeling they are marginally bigger than a Go-kart! The model itself is a good size when siting along side some previous sports car and LMP models. On the track it looks good too and four of these on a grid would be worth looking forward too.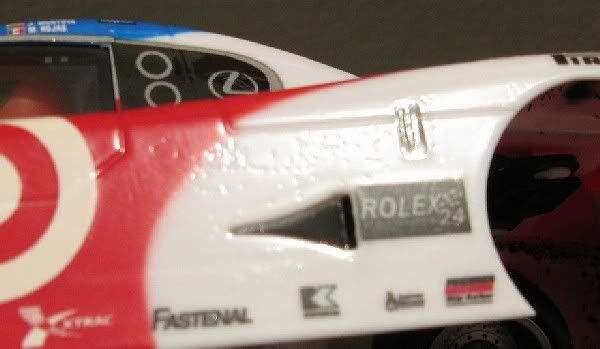 Some very average paintwork!




So what do we get for our money? Well, starting as always on the outside we can see that Fly have taken some shortcuts with this model, probably in an effort to keep costs down. The most noticeable shortcut is the longest journey!!?? The words "Made in China" stamped on the base of the box tell it all and no doubt somewhere in a suburban Spanish city, several hundred amigos will be joining the dole queue soon. But, isn't this what we've been waiting for? At any cost!!!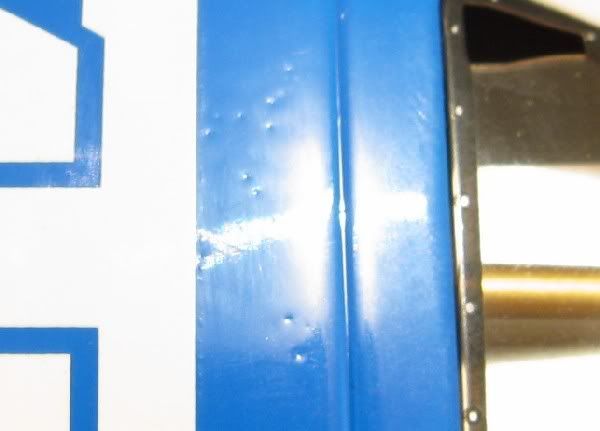 The turret gets it too!




If I had been handed this model for inspection with no previous knowledge I could probably have told you almost exactly where it came from. The pock marked heavy clear lacquer coat is a give away and the sharp lines of the body colour fading into the base coat in places are a trade mark of sorts. At least it doesn't have sweaty Bettie's thumb prints on the inside of the clear parts as other makes have had! But I digress. The tampo is good! Very clear and defined. Along the sides and down to the drivers names on the turret, fine! But still the body colour fades around openings and vents, but hey! This is a race car! Trust me!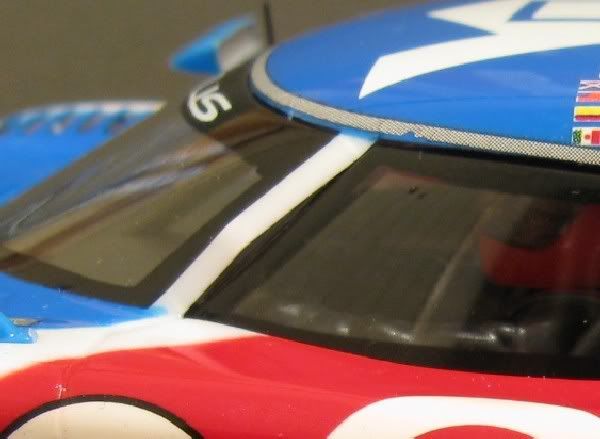 Damaged before assembly!




This particular model has come with a damaged left hand roof stay. This had to have happened before the screen was put in as it would have sustained more damage to the screen to achieve what it already had! Also, the tampo'd alloy screen frame is also damaged above the stay. Driver and interior are a basic half driver tray but they're hard to see anyway, almost everything else inside being black. The rear wing is very true to life and also a bit delicate. Reminiscent of the Scaley Indy car rear wings in fragility. I think fly could have made a concession to scale here seeing as this is an out and out racer and beefed up the pylons a bit just to give them a fighting chance in their first scrap.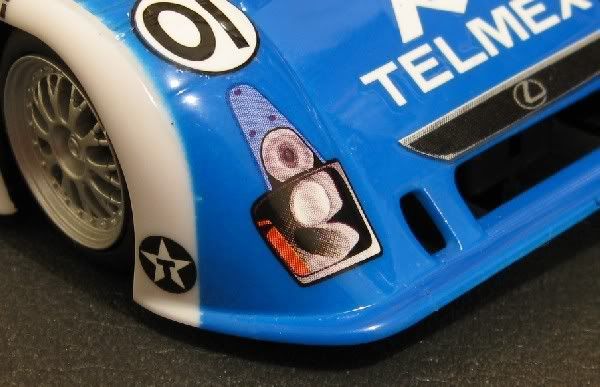 Stick-on lights? Surely not!!




One other item that intrigues me, seeing as I made an ass of myself with the Nascars. That is, the headlights on this model are tampo'd too, but this car ran in the Daytona 24 hour?? And the cars on the Grand Am website have real lights?? Someone tell me this time I'm right, do we have tampo'd lights as a cost cutting exercise or simply as a damage minimising measure??? Mr FLY,...anyone????

Going underneath shows a business style chassis, very minimal, very functional, and two magnets.............TWO MAGNETS!! By Jove, whatever next. Sure enough, there are two magnets underneath. Not punishingly strong ones, but good ones all the same. This IS a race car and no mistake! Two 'fine boned' magnets, one front, one rear 'a la' Mr Carrera! They have a moderate downforce effect and combined with the low C of G and the super grip tyres, they could well be more than adequate in the magnet racing stakes!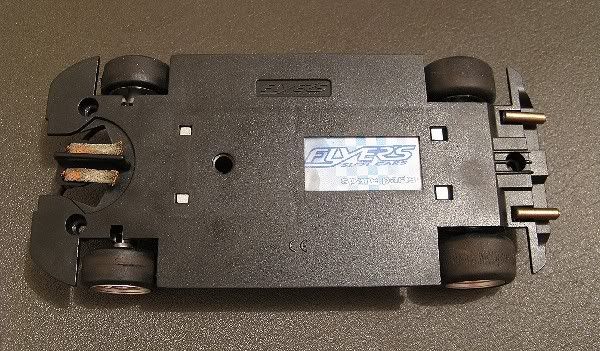 Lastly, wheels and tyres are good... no, great. The wheel rims are as concentric as you are going to get in plastic and the tyres are this new formula 'torch handle' rubber!! I could only mark down the fact that Fly have opted for the indented sprue attachment on the rims. This allows for Xhing Zhung and her girl friends to rip the wheels off the sprue and assemble without any on going fettling, but alas the recessed sprue does still stick up above the rim in a couple of cases. So, if you have this model, whip the tyres off and trim that final bit of sprue! Other than that the wheels are well modelled and very fine boned. Discs are attached behind the rims to give a realistic finish to the wheel department. As mentioned before, the tyres seem to be made of this new fangled 'torch handle' rubber we find everywhere these days. Don't get me wrong, it feels plenty grippy and I was looking forward to putting this potential beastie on the slot!! I kid you not!! Also, the tyre profile, new, is a bit reminiscent of the original Fly March rear tyres, having a convex surface which got better and better as it wore flat! Lastly outside, the guide is excellent. Minimal sideplay, minimal endplay. The only observation I would make is that like many, the model runs on the front edge of the guide. This is shown by the rub marks on the braids at this point and not conducive to all round performance.

Next up was to remove the body. Three screws, fine, suits me! Three very fine mounting posts calling out for reinforcing and one of the thinnest bodies I have seen to date. At 0.85mm median thickness (that's LESS than one millimetre, kids!) it seems a bit vulnerable. I'd like to be a fly (insect) on the wall when these are hard pressed in a magnet race on a six laner or better. I haven't seen a grown man cry for a little while now! But the body weighs in at 22 grams so it could well be stronger than it appears. Heat welds are minimal and fine and there are no body rattles, which is nice.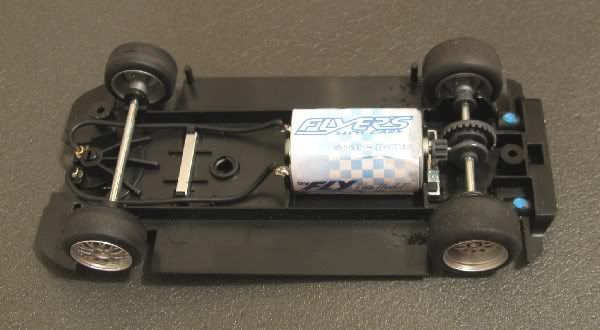 Inside, the chassis shapes up. Very much a 'ready to do the business' type set up. This must be Fly's first twin magnet model but I am prepared to be corrected on this one. Nonetheless, a departure from the norm which demonstrates how the main stream manufacturers vie for position when it comes to innovation.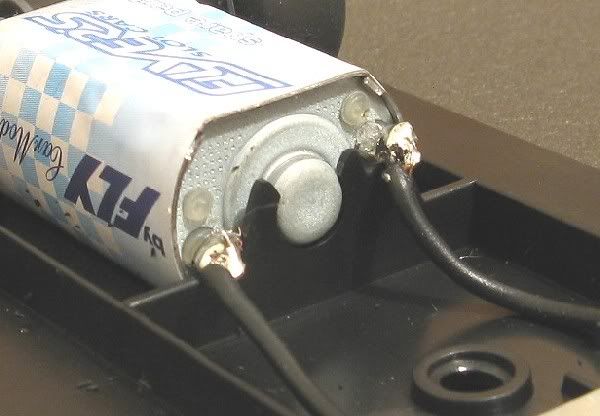 No loose motor here!




The motor is tight too, they must have spent months perfecting the tight boxer mount, Let's face it, Ninco have been trying for years! The secret was simple. To make the brush end mount asymmetrical and have the motor terminals rest hard on the mount when clicked into position, now why couldn't Ninco have thought of that, or have they?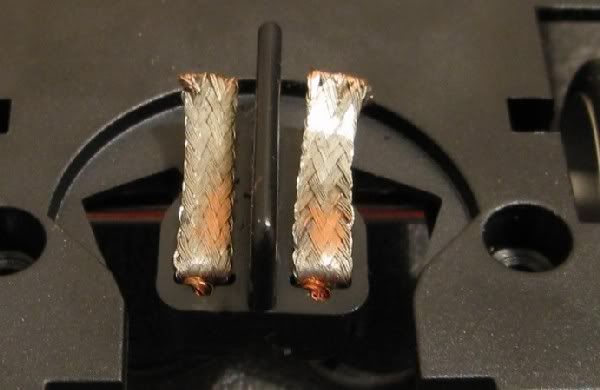 Guide runs on the front




The front axle runs directly in the chassis moulding and there is a minimal amount of vertical movement and side play. The rear end sees a grey nylon gear on the motor and a grey nylon gear on the axle. Silence assured here and to finish the rear end, the axle runs in nylon bushes. Not so new, but in this case the axle bushes have very minimal free play and the axle is held well and truly firmly in place.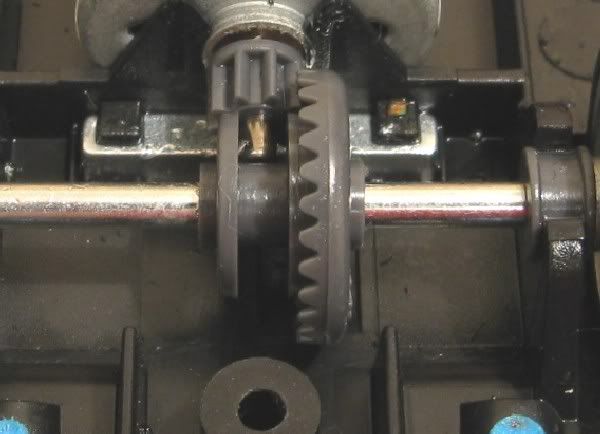 A huge slot in the contrate?





One surprise though is the width of the slot in the contrate. At 2.5 millimetres this makes it as wide as the original sixties Scalextric contrates??. The motor shaft is only 2.00 mm and that leaves an air gap of 0.5 mm which is huge by this scale of modelling?? The only thing which stops the slop is the motor shaft running against the outer edge of the slot and the pinion bottoming out against the contrate teeth?? Is there something I have missed here? Back to the lab, time to experiment!! I can see a few Fly axles being sold to collectors wanting to renovate some of those old RX powered models from the sixties. Fill yer boots boys!!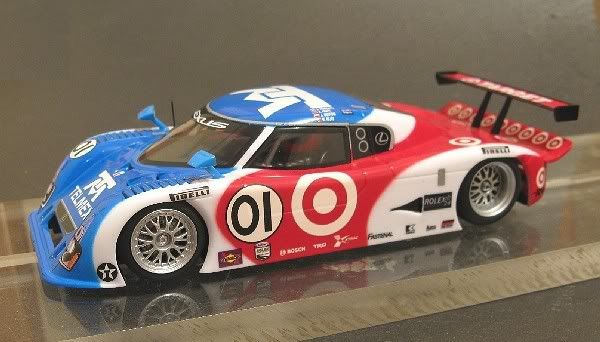 Anyways, the chassis is thoroughbred, made in Barcelona or China, it makes no difference. Fly have designed this and with the help of Mr and Mrs Zhung have made a fine racing model. Not such a good shelf queen, but a model which will end its short life in several pieces in a recycle bin somewhere and a couple of trophies on the owners shelf will justify the broad grin they will wear. So, how can I say that before I have raced it. Well, I have raced it figuratively, on the Eggdome of all places, on a clear track and with plenty of space to experiment. Model owner Rob (Cyph) purchased this model on the way to the meeting and at the end of the day with an hour to spare we set about running it against fellow slotter Perros model. Rob and Perro achieved a good 6.5 sec. lap and for non magnet, untested and unballasted models this was an exceptional time. Rob handed me the reins and as the tyres wore down so did the times. I eventually achieved a mid 6.3. The more the model was driven the less taily it became and the more it settled in to a good controlled drift and fast corner exit. The torch handle rubber was coming good and the dilemma began to appear. Will this model even need ballast!!

I have it on good authority that after we left Eggy's, a couple of late stayers ran their Rileys, with exceptional results. As the tyres took hold the 82 grams worked well with them and it is reputed that they eventually lapped in the high fives. Amazing indeed, but believable! With the exception of the March GP car, this model is gong to be hard to keep with on a lot of tracks, especially the quick ones.
Statistics

Wheelbase					87.5 m.m.
Front axle width				60.7 m.m.
Rear axle width					59.3 m.m.
Guide to rear axle				96.5 m.m.
Overall weight					82.0grams
Rear axle load					49 grams
Front axle/guide load				33 grams
Front / rear weight dist			40.0% / 60%
Body weight					22.0 grams
Pinion						9z nylon
Contrate					27z nylon
Final drive ratio 				3 : 1
Rear wheel diameter				21.0 m.m.
Progress					21.99 m.m. per motor rev.
Rear tyre tread width				8.6 m.m.
Guide length					18.4 m.m.
Guide depth					5.79m.m.
Guide thickness (median)			1.50 m.m.
Motor						Boxer type 18,000@12v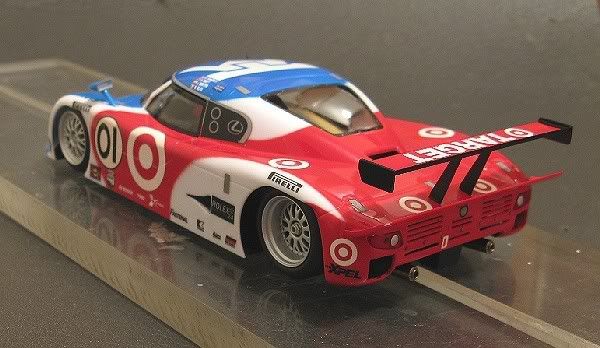 So Fly have bitten the bullet and moved (some?) production to China. The outside of this model is very basic. Attractive from a distance but it does not stand up to scrutiny. I would go so far as to say I have seen better finished Teamslot models!! Also, the retail price for this Chinese car is very high for a model of this outward quality. Externally it is forty bucks worth at most! Fortunately for Fly, this model is going to be an exceptional track car and I suggest all club organisers think long and hard about this model and what potential class it will be in? The Flyer's slotcar range could well be one of their best in recent years but time and new models will tell. This model is vastly different from their other models in many ways and for some it will, as they say, open up a whole new can o' worms! Well done Fly, now get the paint job right or I'll send mine to Teamslot for a respray!!

Many thanks to Rob (Cyph) for letting me test and review this model, inspite of its exterior problems it is one of the more awesome in its motor class.