Fly/GB Track Sisu SL 250
"Fuerzas Armadas"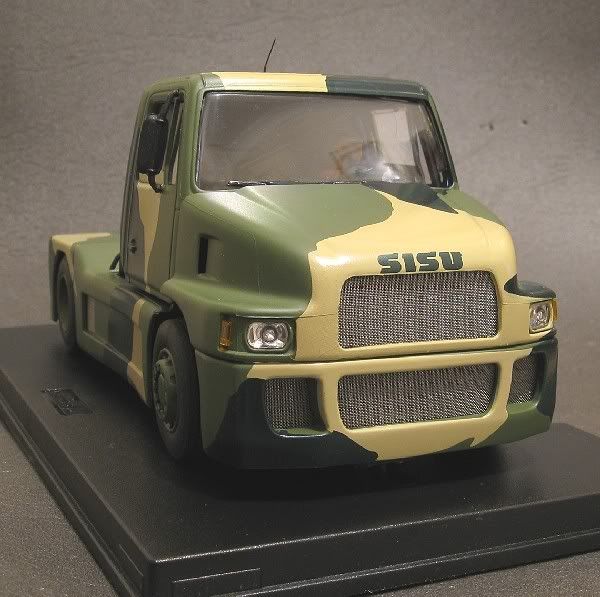 by

Phil Wicks



Who' would of thought that one day I might buy a truck to race!! Those that know me understand I am a bit of a pragmatist and a purist and I don't normally get side tracked in the hobby. But I suppose you can debate whether trucks are 'sidetracks'? All the same, there was this bargain not to be missed at Cincyslots, and with the opening of another track in the area which lends itself highly to truck racing, it then must have been inevitable that Wixwacing would be wacing twucks!!

This truck though is a little more novel than the usual offerings which, 'til now, have really not stirred me. This by no means detracts from some of the trucks of the past. My first recollections are the old Scalextric trucks in less than 1/32 detail, with full length trailers too. Resplendent in their chrome bull bars and everything shiny. Great little trucks powered by the little box HO motors and geared accordingly. Not fast but I'm sure they entertained for hours when they were new!

Later on, SCX were to produce a 1/32 scale truck, as far as I'm aware, just the one model. These were a pale blue colour and also weren't that fast. But they were fast enough to have a bit of fun with and I remember racing them on plastic Scaley and SCX track with trepidation back at the turn of the millennium! Still available on the open market at a reasonable price and I'm sure with a bit of fiddling, they could be re geared and up graded to join in with the GB Track models.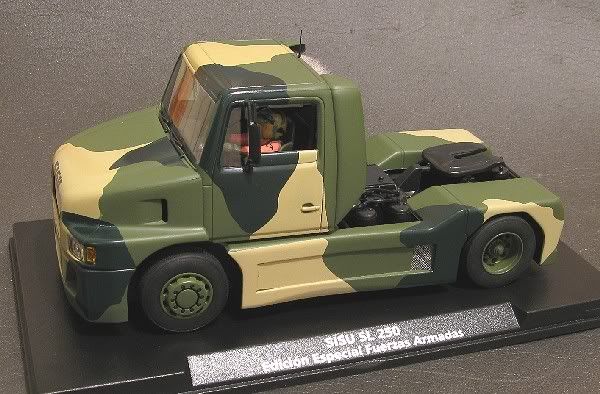 So, back to this model and my first question is 'who is Sisu'?? Well I'll tell you!
Sisu is a Finnish 'bespoke' truck manufacturer. By bespoke I don't mean fully custom built for the customer but Sisu sell their products ready to roll. If you want a tipper then they make it complete. If you want a crane then they build the lot etc..... No having to go to a third party to get your 'cab/chassis' fitted out for your requirements. By doing this you get a 100% custom made truck and not a patched up relic which is a poor excuse for the finished product.




Sisu Trucks




At some stage in the history (1980) Sisu branched out into military vehicles and with the UN becoming one of its biggest customers it was inevitable that they would expand their production. Their military application now extends to several armed forces around the world and one in particular is the Spanish Fuerzas Armadas (Armed Forces). Spain being an important UN and NATO participant. And as with most modern armies, there is a trend towards these enormous institutions having a competitive and fun element about them purely from a recruiting aspect. The British army have a Nascar racing team! In this instant, it appears that either the Finnish or the Spanish Army entered a Sisu Truck in a truck racing series somewhere. Otherwise it is Fly's tribute to their defence forces.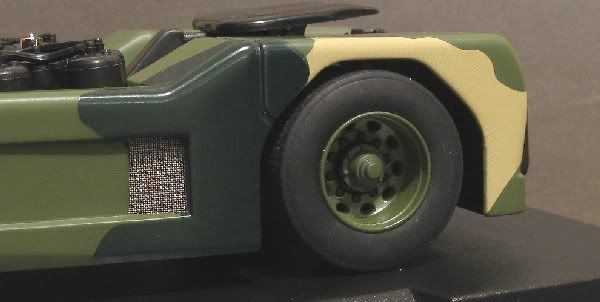 But let's not digress, The Sisu is raced by several teams and with a degree of success and so GB track, in their endless search for a new and novel livery, have come up with this little treasure. Rob has touched accurately upon the Mercedes trucks elsewhere on the site so I won't enter into the Fly truck debate as Rob has given a very accurate account. I will just move on to this model in particular.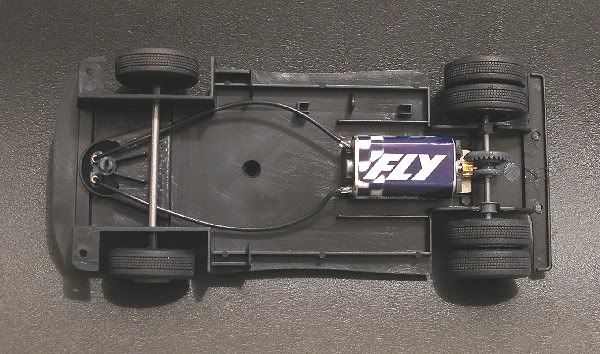 The truck is pretty big, even at 1/32 scale and this has posed a problem in the past for home track builders. More than once the ideal layout has been planned and come opening day the cry of 'my truck won't go under the bridge!!" etc etc has rung out. But apart from that there is little else to worry about with the huge beasties. Up close they are bulky and feel bulky and look bulky. The Sisu in particular looks a lot more track worthy than most trucks. Almost built to race you might think and trust me when I say it does race and well too!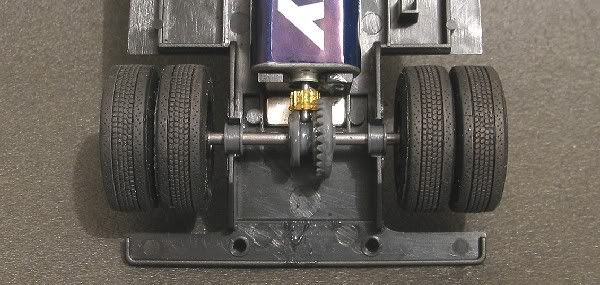 Firstly, the livery may be a fantasy livery but in choosing it Fly have opted out of crisp tampo and shiny paint jobs, Yes, good old flat black and khaki camo finish hides a multitude of sins and doesn't create any in the first place. But, this is one of the things that caught my eye whilst browsing the unbelievable bargains at Cincyslots! The only criticism I could make is that there are a few moulding seam lines about the body but very minor. With no corners and angles to disguise them they have to cross the open savannah of body panels and therefore get noticed.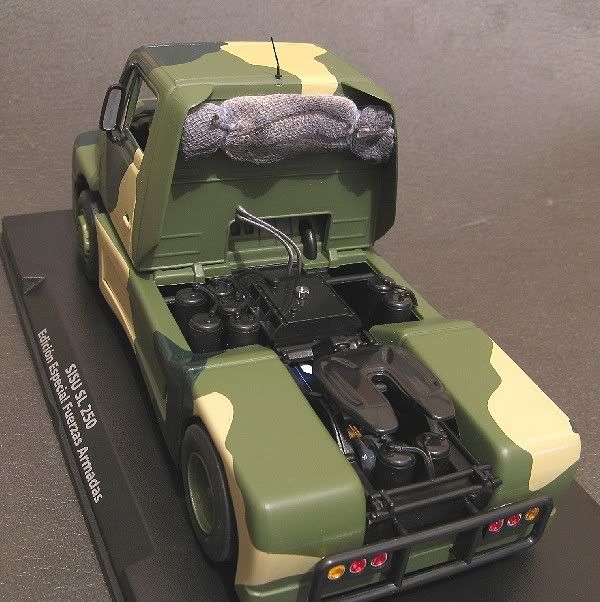 The lights look as if they would take led's but this model is unlit. Probably a simple task to fit a light kit though. The grille is made of a very effective fine gauze and there are also gauze intakes to the rear sides. At the rear is a pivoting turnplate and a whole host of cylinders representing some of the more obscure functions of a heavy goods vehicle. A nice touch are the two flexible coils which run from the rear into the back of the cab and an unexpected surprise was the rolled up cloth behind the cab. Probably a camouflage net or similar. The model comes with an effective pair of door mirrors but they look vulnerable and I have already been warned to watch out for them!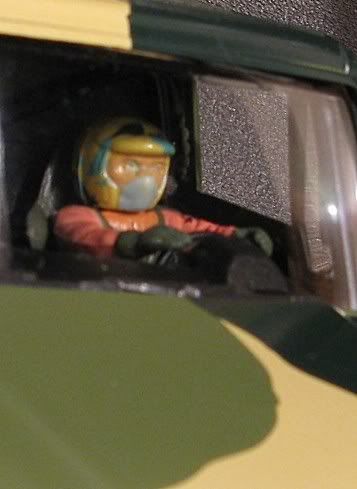 Inside, the cab has respectable but not great detail. A driver in camo dungarees and helmet sits in a bucket seat and looks like its five seconds to the flag. There is a shiny light set up at the rear built into the rear bar and lastly, my weakness, a huge (by slotcar standards) set of split rim wheels and tyres. I wonder, do trucks have to do a tyre change in a pit stop?








Underneath the model there is no fuss with the magnet being slung between the motor and axle, only millimetres above the track. Plenty of assistance here as it was to prove later. The motor is a Fly 'racing' motor in the blue and white 'toffee paper' covering and the guide is the now long familiar sprung guide with copper braid.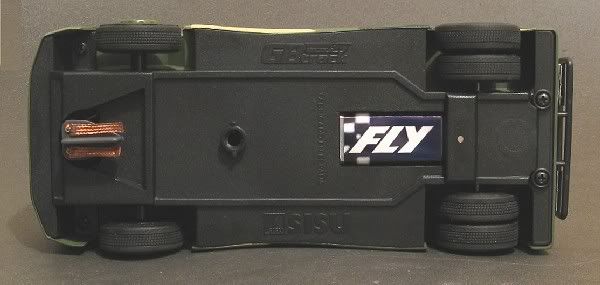 So what's inside, well, not a lot. Just as plain and bare as the outside really. The motor is loose .....(yawnnnn!) but the axles are secure, which is nice. The final drive is a healthy three to one and the front axle is firmly, if not a little noisily, held in place One novelty is that the cab separates from the body after the screws have been removed but this is probably to aid manufacture rather than for any other reason. So, a very simple model and inspite of its size, more simple than the vast majority of other contemporary slot cars. In this light it is time to move to the track test.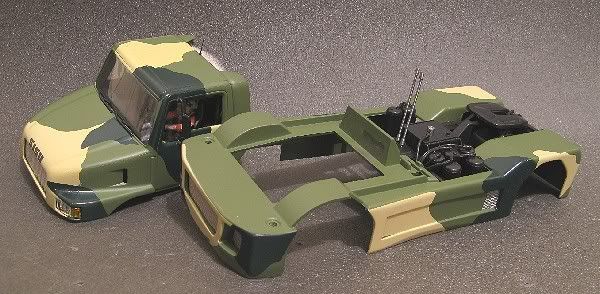 The first test was on the new Northside track a week or two back. Fresh from the post and fresh out of the box I placed it gingerly on the brand new circuit and sent it into orbit. Mmmm, very impressive. None of the tail antics I was expecting, good straight line acceleration and inspite of the large wheels, reasonably good brakes at the end of the straights. As I got more comfortable with it I pushed it, bit by bit, harder and harder, until I was lapping at a pace the average slotcar would be happy with! Eventually it reached a point where the model was slewing sideways through the bends, but still staying in the slot! A good outing indeed and although there is plenty of scope to ballast this model I suspect it would detract from the fun that it is SOOB!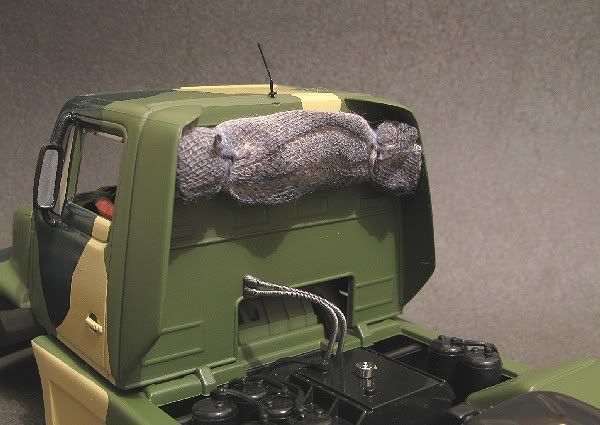 Next up was a plastic track. First problem, where is there a plastic track that has enough headroom under the passovers to let a truck through, well, I'm still looking. The alternative was to give it a run at the Graceville mega track for three quarters of a lap then lift it over the 'car park' and start again. Not to worry. With its four lane seventy plus metre lap length there was still plenty of open road to give it a fang. And that's what I eventually did. Straight line speed had already been demonstrated on the board track and that was not in doubt. The up rated 'Racer' motor gave its all and the large drive wheels made sure the model got a move on. I played safe in the corners and backed right off but there was little need to. The model is not that heavy and in the corners it was probably easier to drive than the Ninco Hummer which is an ordeal in itself. So yes, the corners were fun. Not as fast as a car based model, but still fun. These models are surely meant to be raced as a group and therefore, four of these, side by side, will conceivably supply a good few hours of fun for the owners.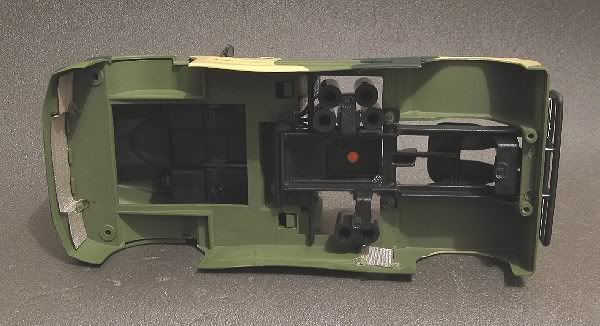 Statistics

Wheelbase				106.0mm
Front Axle width			71.0 mm
Rear Axle width				70.50 mm
Guide centre to rear axle		122.0 mm
Overall weight 				147.0 grams
Front Axle load				64.0 grams
Rear Axle load				83.0 grams
Front / Rear weight dist		56.5% / 43.5 %
Pinion					9z
Crownwheel				27z
Final drive ratio			3 : 1
Rear wheel diameter			26.5 mm
Progress				27.74 mm per motor rev 
Rear tyre tread width			15.5 mm (7.75 X 2)
Guide length				18.00 mm
Guide depth				6.5 mm
Median Guide thickness			1.67mm
Motor					Fly Evo 2 (22,00rpm @14v)
In conclusion. the best trucks are not necessarily the glitziest and there can be some good results from some unassuming models. The Sisu does have the racing motor and does handle well but models like the Buggyra do seem to be a bit more balanced and easier to drive, so, what's it to be!!??




Looking for a truck? – click here!




Mmmmmmmmmmmmmmmm?