Spirit Porsche 936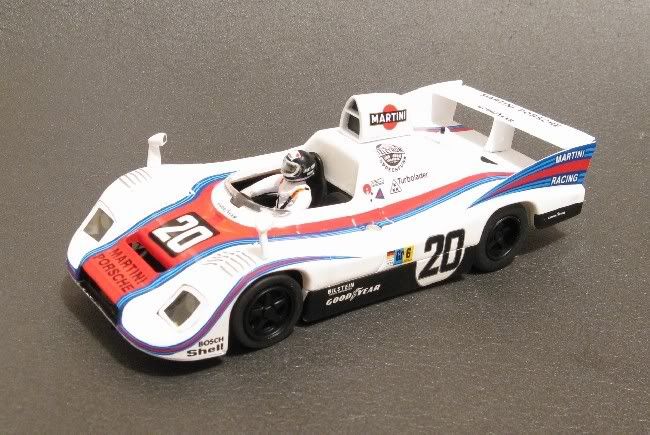 By

Phil Wicks




I have to admit you would be hard pressed to find any make of car which has had more prolonged and sustained coverage in all media than the Porsche family. Borne of one mans dreams to overcome his father's reluctance to make a car he would drive, Ferry Porsche put in motion the wheels that would produce arguably the first true Porsche, the 356. Built to his specifications using Volkswagen parts when and where necessary.

As mentioned in other reviews and in the historical press world wide, the rest is history. Porsche started cranking up the pressure on other manufacturers. The arrival of the 908 must have made other major manufacturers despair. While Ford were going all out to steal the racing crown from Ferrari they didn't notice the Stuttgart manufacturer coming at an advanced rate of knots from one season to the next until it was all over.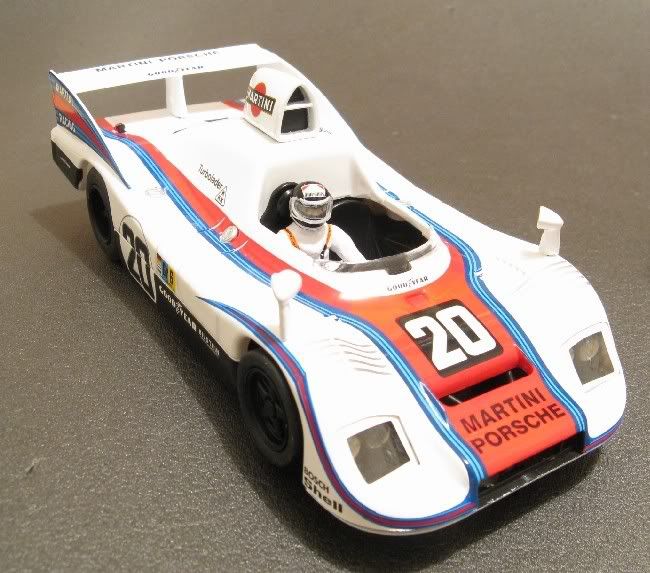 908, 910, 917, 935, 936, 956, 962 etc All numbers which other makers have carved into their memory and the 936 played a good part in this. With wins at Le Mans from its inception, the car was designed to be a group 6 contender and shared its first chassis and many parts with the legendary 917. Not being available as a customer car probably accounts for why there seems to be less recognition of it compared to its siblings before and after.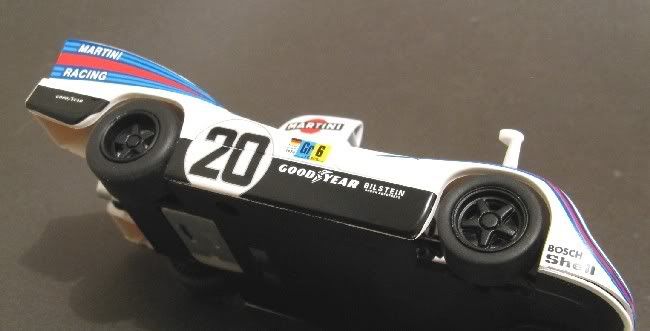 Spirit have done a good job in reproducing the lines of the model. Fairly true proportions and detail. It's first stumbling point is the body finish and the tampo. Having produced a good model they have let things slip somewhat as far as decoration is concerned. The first and most noticeable is the overlap on the longitudinal stripes either side of the cockpit, Closer down at the wheel arches the tampo stops unevenly before it makes the arches.







Again some blemishes in the clear coat and some paint over run onto the white. A bit disappointing to me as I have been looking forward to reviewing this model eagerly. More tampo problems where the paint passes over the always controversial panel seams. Again the paint is fine in some spots and patchy in others.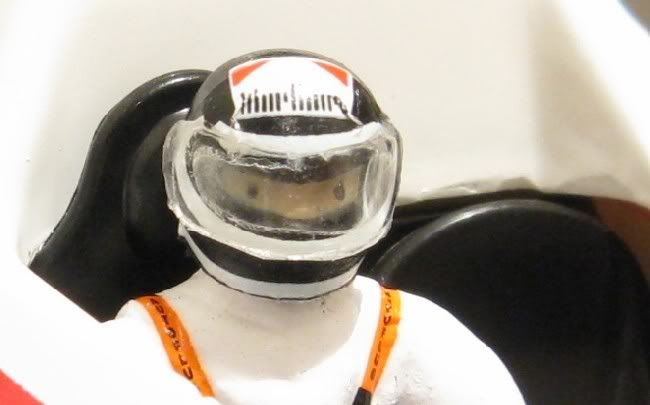 I must admit I had to chuckle inwardly when I saw the driver. His visor looks like it is full of water and I was expecting a goldfish to swim past his face at any time!!








But the most unforgivable fault is revealed at the rear of the model. The rear wing is a separate component to the body and it is blatantly too large for the space between the two fins, but it has been wedged in with the resultant deformations in the photo. Disaster!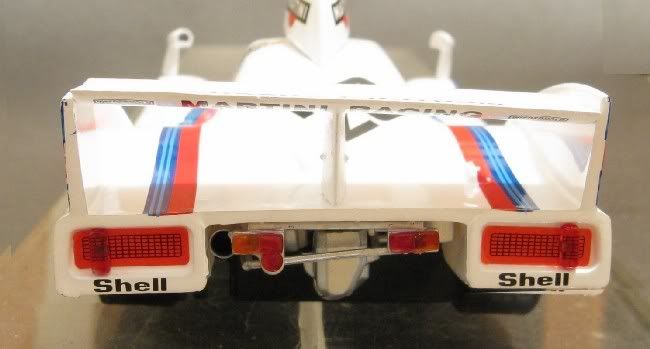 Underneath the model is a bit better news, we are now venturing into the business end of the model and problems here would be totally disastrous. Fortunately, all is pretty much right with the world and although there is some fairly basic moulding and fitting, it shouldn't prevent the model doing what it was purchased for!


[img][http://img.photobucket.com/albums/v169/wixwacing/Wixwacing_too/Sprit936pinion.jpg[/img]


The motor is mounted across the back in sidewinder fashion and unlike some more prestigious makes, it is secure!! Absolutely, no wobbly bits and slack motor mounts! It appears to be firmly gripped in place! The rear axle is a good fit also with its brass bearings and the rear of the chassis seems to be quite rigid. Helpful for non magnet racing.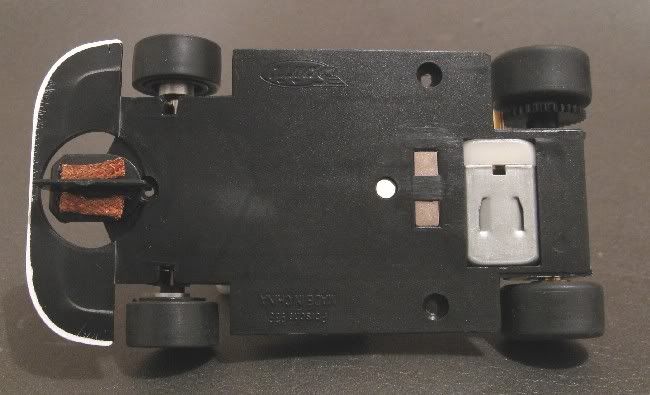 If you are into artificial down force in a big way then the magnet supplied will be inadequate and a replacement will need to be found. The one supplied exerts little downforce to the model and will place the model between a non magnet and part magnet situation with corners on plastic tracks being unpredictable. Axles and wheels are fine and there shouldn't be any problem with these although there was a brake disc loose inside a wheel on one of the front wheels.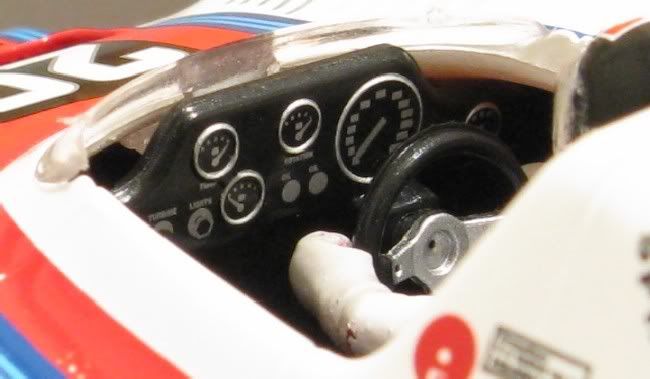 The driver's tray is fairly basic but Spirit have gone to lengths to depict a set of gauges on the dash. Fairly convincing too, and with a painted steering wheel the driver looks quite at home. At the front of the chassis is the Spirit front axle set up with a pair of tiny grub screws through the front axle mounts. I'm not too sure how Spirit would have us set these up as they are considerably different in setting out of the box.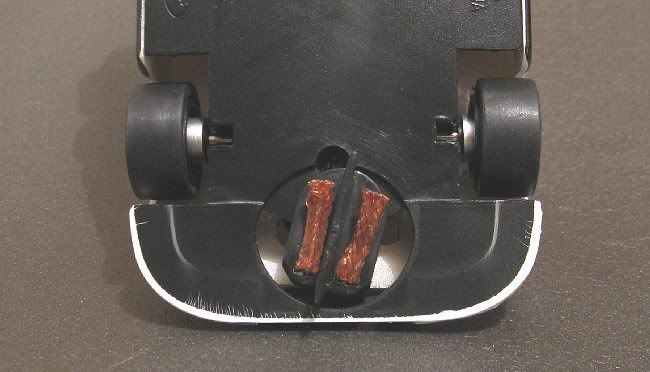 Lastly, a useful guide blade mounted at the front with what I would consider to be very hard braids in it. The guide also sticks at its extremities and could present a marshalling problem if you were unlucky enough to deslot. Another plus is that Spirit have captured an essential aspect of the real thing in giving the model a minimal ground clearance.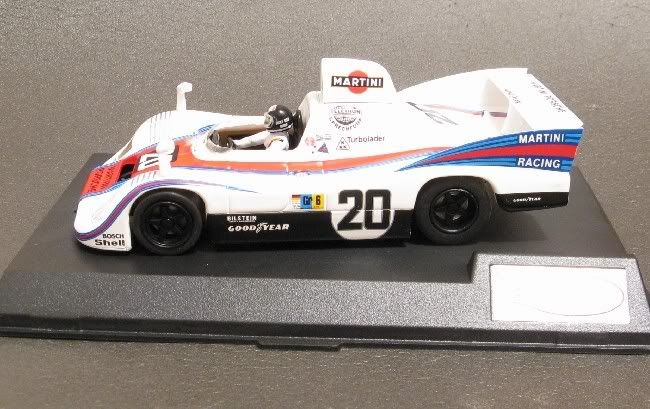 Pluses to the review so far are a tight motor, good guide depth, tight rear end, simple chassis configuration and some concentric wheels. I would have liked to see a closer mesh between the pinion and spur as there is a noticeable degree of backlash here and it may well shorten the life of either the pinion or the spur gear or both. Body screws are lengthy which is always nice to see. If you are a proponent of loose screws then hopefully these are long enough to minimise the risk of loosing them.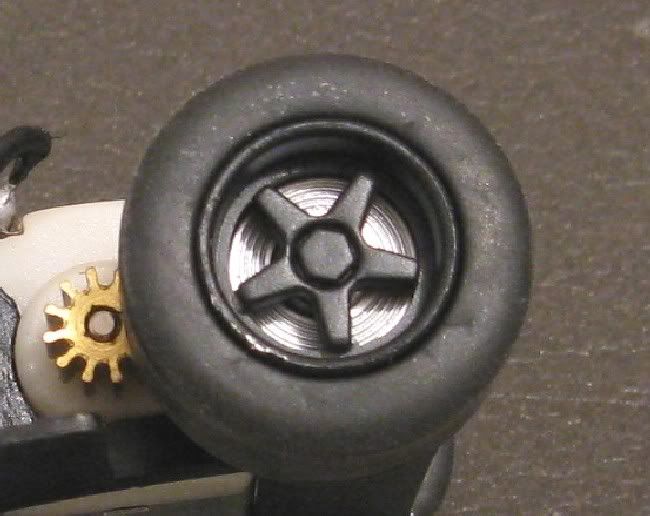 Lastly, the rear tyres feel to be a good solid natural rubber type much like the Scalextric tyres of yesteryear. These will no doubt sand down readily but their excess concave profile means a good deal of rubber may have to be removed before they are flat!! My instinct tells me too that maybe they won't have the grip I'd be looking for so, for competition, I would hunt down a good set of generic tyres.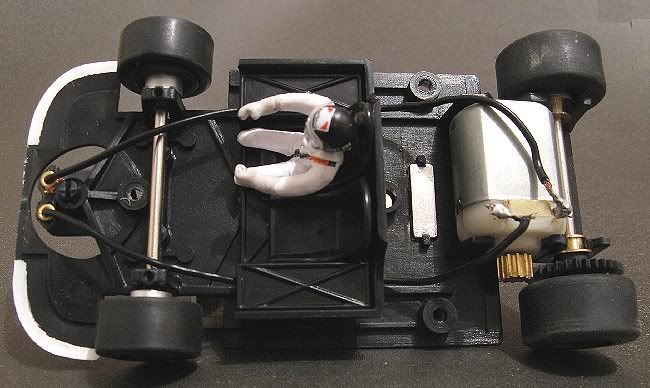 So what can we expect on the track? We had a pleasant surprise when it came to track work. Firstly, the model was reasonably quiet, no howling of gears and minimal body noise. Next, on my local board track the tyres, in their unsanded condition, hooked up quite well! There is a heavy 'blue groove' on the track and most models with natural rubber tyres or urethanes take to it fairly quickly. In this model's case it was smart off the line and well behaved in the corners when driven fairly hard. No unexpected bad manners and a pleasant drive all round. Corner entry speed is fairly high and a deslot is a typical oversteer situation with the model tending to slew round rather than drive straight on.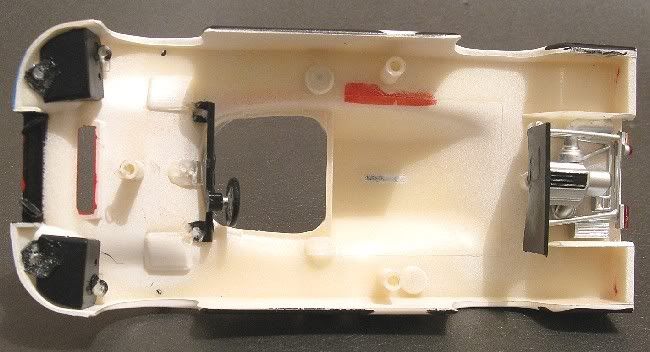 Pushing on, the tyres showed more tendency to grip. The 'S' can type sidewinder had smart acceleration but not break neck as some models do, probably attributable to its over gearing. It will come in to its own against other similar models on small to medium circuits. Cornering, too, was still good and it had a tendency to just hover on the inside wheels telling me the model could probably do with about 10 grams of weight just in front of the motor and five beneath the front axle for board racing. Plastic racing would require a rethink of the magnet situation as the one supplied is more of a token event.
Statistics


Wheelbase				75.0 mm
Front axle width			60.7
Rear axle width				58.5
Guide to rear axle 			91.0 mm
Body weight				24 grams
Overall weight				74 grams
Front axle load				24 grams
Rear axle load				50 grams
Front/rear weight dist			32.5% / 67.5%
Pinion					12z
Spur gear				32z
Final drive				2.66 : 
Rear wheel diameter			20.85mm
Rear tread width			10.0 mm (slick)
Progress				24.63 mm per motor rev
Guide length				21.6 mm
Guide depth				6.7 mm
Guide thickness				1.4 mm
Motor					SX01	('S' can)
Motor rating				20,000rpm @14.8v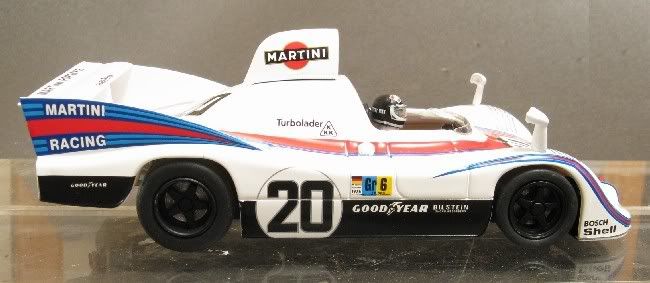 If this were my model I would start the outside all over again. Strip it back, rectify all the moulding anomalies, and with a set of Patto's decals, give it the body befitting the rest of the model. Even so, a great little model even if close up to another will show it to be a bit wanting in several departments but one thing it won't be wanting in is the racing department. With a little time spent on a judicious approach to the model this, in my opinion, will make a good classic Le Mans model and Group 6 racer in its motor class. Well balanced to start with, a couple of finer tuning tips and some ballasting should turn this model into a contender!


Many thanks to local racer Jordan for the loan of this model