Cartrix Gordini T32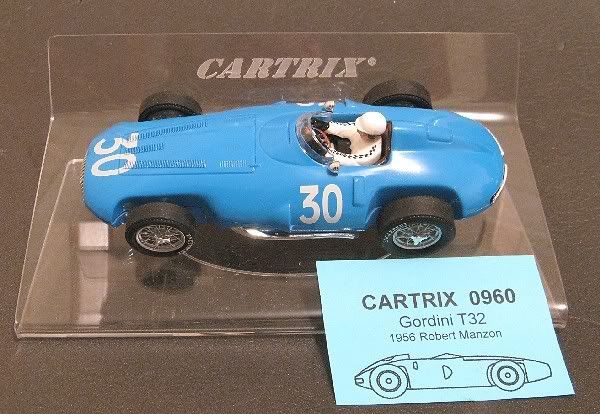 by

Phil Wicks



After starting production with a series of Hyundai models, Cartrix then branched out into JGTC country with the Honda NSX. I think Diego AND CO were finding their feet a bit and in doing so were going head to head with the majors in what could only be described as a bit of a futile effort Both models had a good wrap on most web fora but it was soon apparent that in spite of their quick motors, there was a little something missing to make them a good all round model. On board they were a bit of a non entity and as this could be potentially half their sales it was a no brainer. I couldn't put my finger on it but they just had too many bad habits for non magnet work. It seemed as if the magnet, and it was a good one at that, held every thing together!









Well, that was their attempt at mainstream modelling, luckily, they decided to try something a bit out of the ordinary with the Mercedes W196. This model took off and before long there was a second livery and then a second model! The Maserati 250F. Since then Cartrix have made a continuous line of Classic GP models with the Ferrari 555, BRM P60 and the Lotus 16 adding to the growing list. Which brings us to their latest offering, the Gordini.

Gordini are more famous for their race preparations of sports cars and sedans but in earlier times were constructors of their own namesakes. Resplendent in pale blue they were one of the few makes that had a degree of success alongside if not against the dominant Italian cars.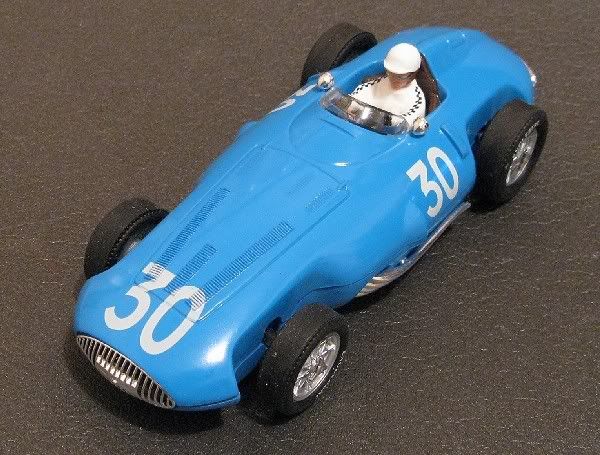 So Diego and the gang finally got down to producing this car, and I dare say there were more than a few 'over fifties' waiting to snap one up. In spite of my avowed intent to buy this model, as yet, I haven't. Why's this, well firstly, I do really want it but I was a bit concerned about the price hikes consecutive models have taken. The Merc was fine, the Super Squalo was acceptable, the BRM was on the limit and the Lotus was really over priced. This model is dearer again and I'm not sure that I really want to pay full retail for it!! There are a lot of desirable slotcars currently on the web for sale so, budget restraints dictate that this may well have to go on the back burner until I spot a straggler on eBay or in a hobby shop web site. But I will eventually turn one up on my terms. Trust me!

So why the turnaround. Well fore mostly because of the build quality. Its predecessors have been fine models and against other products have been acceptable but as all other makes move forward, Cartrix are standing still, and by standing still, they are moving backwards against the competition!! This model has some niggling external defects which grate against good modelling practice.??? What do I mean, well..... listen on.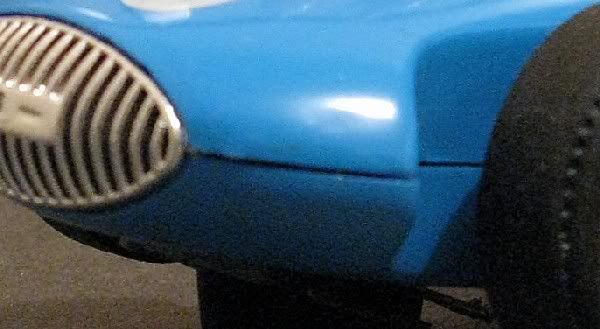 The first major problem is the poor fit of the body halves. Not so noticeable in the other models with their darker liveries, but here they are blatantly obvious. The dark join sticks out like the proverbial against the pail backdrop of the blue body. I think it is about time Cartrix developed a one piece body and one of the lesser tuned FF style motors up front, this would let us have a full cockpit detail too.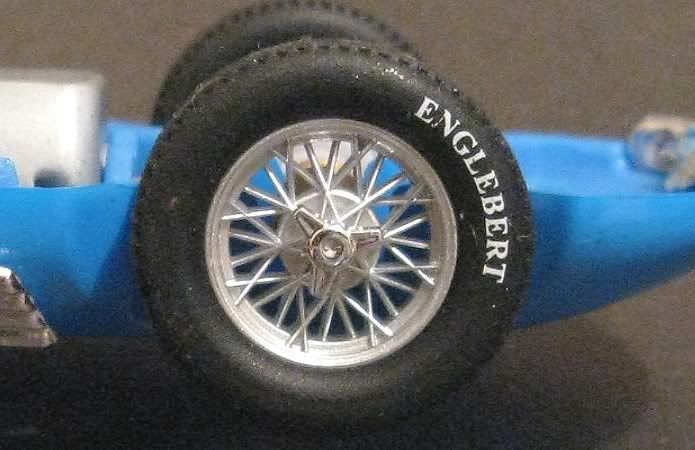 Next up there are paint 'webs' on the wheel spokes. A fine skin of paint strung between the spokes during manufacture, which doesn't do it any favours. Also, the wheels are silver painted which may well have been as per the real thing, but the knock off wheel nuts are the Ninco style chrome spinners? Which looks a bit odd too. Other than that, the spoked wheels are very well made for the scale and don't demonstrate any eccentricity or run out.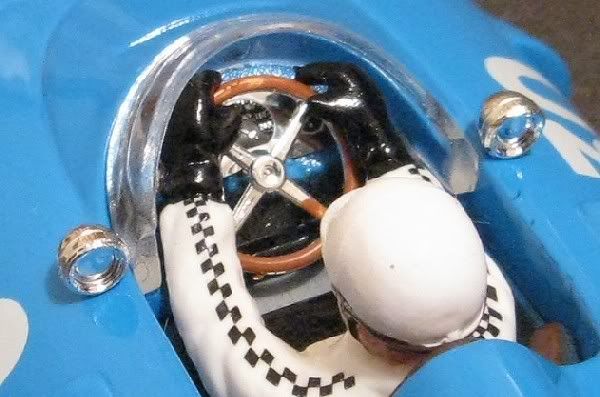 Inside the model cockpit there is some nice detail, with a well appointed dash and some good driver detail. The painting has been a bit lax though and there are splashes of paint in the wrong places. The body itself has a nice finish and the clear coat is evenly applied and blemish free.

Just two screws to hold the model together, and once inside you could swear you had just stepped back into the sixties. Space to spare and some simple engineering solutions to axles and guides. The rear axle is mounted in brass bushes and these in turn seem secure in the plastic moulding of the body. The front axle is similar to its predecessors and the axle has the now familiar 'rivet heads' which space the axle in the body. The guide is not too sloppy and works fine. No sticking points and no suspect braids or wiring.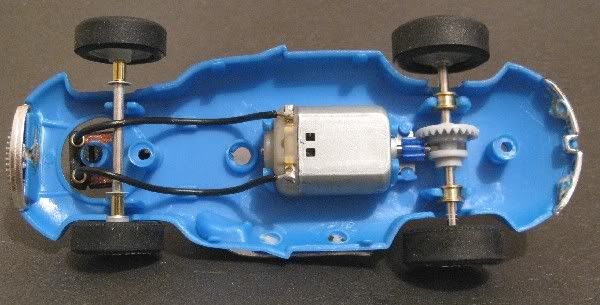 Next up is the motor, this is where the potential problems would start. Firstly, the motor is quite loose in its mounts. The mounts aren't that sturdy and as I look at it I notice the front motor mount is stressed. The plastic at its base is distinctly white where the plastic has been stressed at some point. Also, the motor comes with a straight through type pinion. This is where the tooth valleys run from front to back!! Makers like Pro Slot and Scalextric have long since proved this to be a flaw. Pinions will crack along this line at the slightest provocation and will leave the motor revving freely to the driver's dismay!!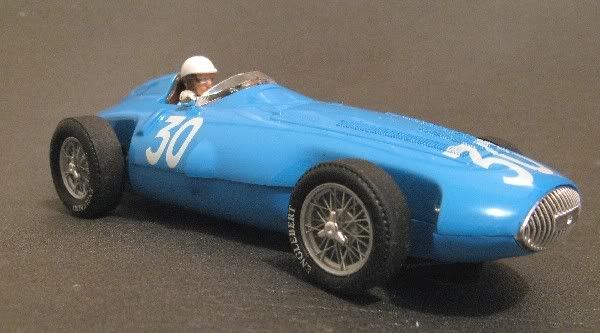 There is not a lot of model to preview so the next step will need to be some 'on track' testing. For this I reverted to the home of the 'Red Team' at Alex Hills' two lane twenty one metre board track. In keeping with a long line of model tests I waited 'til mid evening so the track had seen some good use and was in top condition. Between conversations I slipped the model from my race box and placed it on the track. Pushing off, the model was surprisingly quick away!!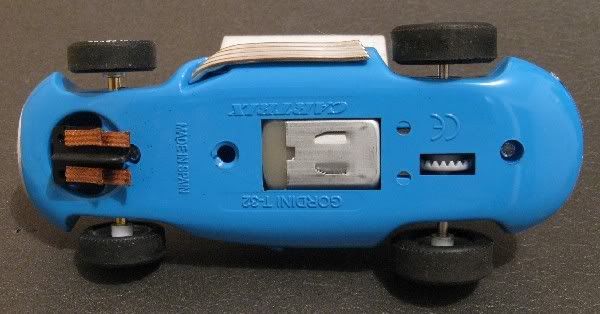 The first and most noticeable defect was the noise from the gears. This was going to be a case of running the gears in, I could see. But putting that to one side I carried on and continued to put the model through its paces. Suffice it to say, the model is very quick. We have had this with one of the earlier Cartrix too. It escapes me for the moment but this model, along with a predecessor, has a very quick motor for what I was expecting. Far too quick for the weight of the model on wood and no doubt, far too quick on plastic for the vestigial traction magnet it carried. The series now has a couple of slower models and a couple of quick ones, which, to the uninitiated would prove a problem if they were looking for some real time parity with friends and previous models. The motor is a Mabuchi 'SD' can in style but is unmarked. Further inspection of the motor reveals a straight slot in the end bell, contrary to other models with a curved slot. Does this signify anything?? It used to with the older Scalextric models.

The conclusion to the test was that this model is really too quick for its weight on non magnet wood. It weighs in at 50.0 grams and at this weight, and with a progress of over 25 mm per motor rev, is not heavy enough for the tyre grip which itself is quite good. The model will roll over if pushed hard out of fast corners. It brakes well enough but can be just a bit too over confident going into bends.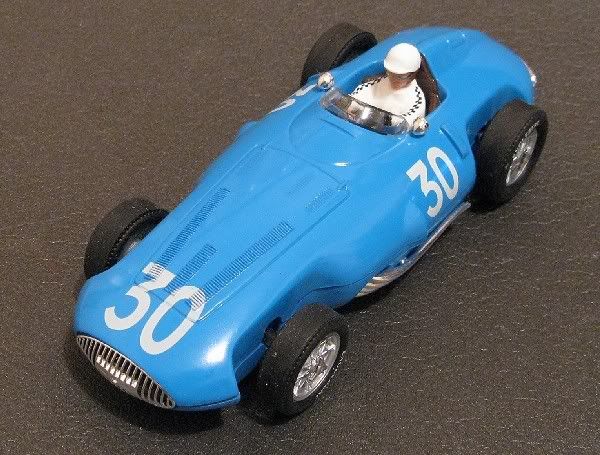 The Alex Hills track has a 'dial in' power handicapper. I dialled in about twelve ohms resistance and the model quietened down considerably. It still had some good straight line speed but was just a bit more controllable through the corners and on the exits. This in itself was enough to LOWER the lap times by a few tenths once it became controllable!!

A little while later in the week I had an opportunity to run it on a twenty five metre Ninco layout and again, the problems manifested at regular voltage spoilt it a bit for me. The poor traction magnet was not enough to take corners at a respectable and realistic speed.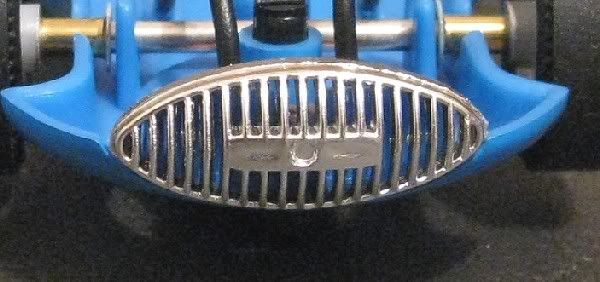 Statistics


Wheelbase				72.5 m.m.
Front Axle width			50.0 m.m.
Rear axle width			        54.0
Guide to rear axle			78.5 m.m.
Overall weight		        	50 grams
Rear axle load			        32 grams
Front axle/guide load			18 grams
Front / Rear weight dist	        64% / 36%
Body weight		        	10 grams
Pinion				        9z
Contrate			        25z
Final rive ratio			2.777
Rear wheel diameter			22.3 mm
Progress		               	25.2 mm per motor rev
Rear tyre tread width			6.3 m.m.
Guide length		        	17.5 m.m.
Guide depth		        	6.5 m.m.
Guide thickness (median)	        1.53 m.m.
Motor		        	        unmarked Mabuchi style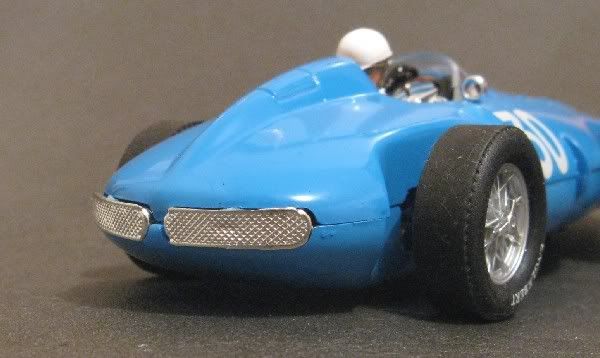 In conclusion, I think this is a great model! UHHH? I hear you say, after all I have said! Yes, you heard me right. Its main winning point is the unique subject matter. No one else is making this model as yet. It is also well painted and detailed for the model. It has a nice set of wheels and tyres and.... the immediate problems it does have are surmountable, except for the gaping body halves. So, I do like this model as a model, very much. And, in the absence of any of the majors ever making it, I will one day purchase it. It looks fabulous lapping the tortuous and twisty slotcar tracks of South East Queensland, especially along side its stable mates. Yes, I will have to work at it. A bit of ballast and maybe a detuned motor, but whatever, it will fit in along side its siblings! So, I'll keep a search tag open on My eBay and one day one will turn up at the right price and I will be happy.

This model was gratefully loaned to me by friend and fellow scratchbuilder Terry Cosgrove.