Cartrix Lotus 16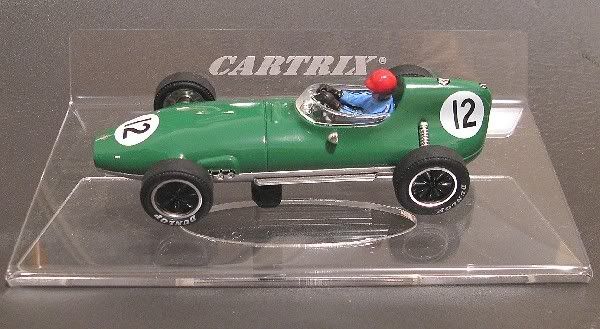 By

Phil Wicks



There have been few pivotal moments in Motorsport which can be acclaimed as definitive moments. Moments that heralded a new direction and a leap of faith in technology. The names that go with them will always be recorded in the motor sport halls of fame for what they did. One of the most notable names in pre and post war motorsport is Alfred Neubauer! Who's he, how dare you ask, he was the brains behind the dominance of 'Die Silberpfeile' or Silver Arrows, the all conquering German National Racing team powered by Mercedes and Auto Union.

Names like Campbell who helped push piston engine technology to new limits and names like Fangio and Moss who turned motorsport into a strategy often winning in what was technically inferior equipment. None of this was possible without backing and expertise and when it came to selling new products the team managers were in the front line. One such pivotal moment was the arrival of Colin Chapman on the GP scene. Motorsport was having a torrid time with changing regulations and teams were hard pressed to keep up with the times financially. Some previously successful teams falling by the wayside and a new era emerging from the ashes. Club racers were always on the lookout for new equipment and customer cars were an added bonus to some manufacturers output.



Colin Chapman



Colin Chapman formed the Lotus team in 1955 after a few years of self driven competition and his creative genius soon appeared in the cars he was producing. His experience with Vanwall and BRM paid dividends and in 1958 he entered the gladiatorial arena of World Formula 1! Approaching the sport from a different direction than most he was soon building cars which, on paper, were not competitive but in real life as we now know were far from losers. It wasn't long before this 'Garagiste' designed the first truly monocoque body and that, they say, is history. Lotus' legacy to F1 is almost immeasurable and what we see on the track today still carries the hallmarks of Colin Chapman's dreams and realities.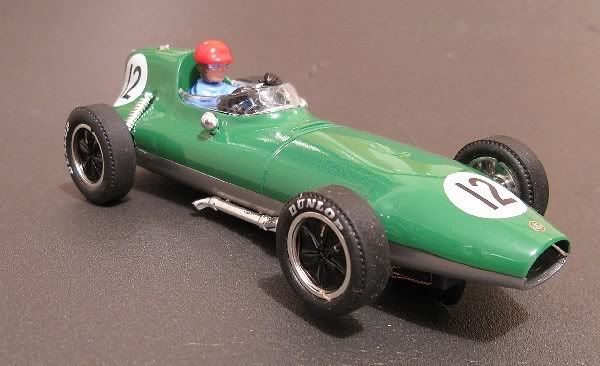 The Lotus 16 known as the 'mini Vanwall' was not the runaway success that we might think. It spent more time off the track than on at a race meetings. It was dogged by mechanical failure and even with the up rated 2.5 litre Coventry Climax engine it was still behind the pack, but it was the reality check that Colin Chapman had to have in his first year of GP racing.


It's successor, the Lotus 18, was a different story!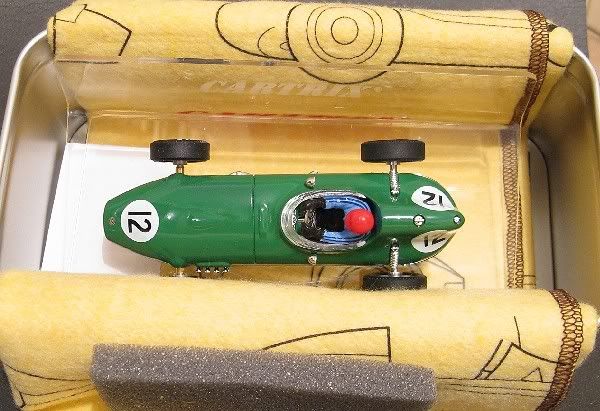 So what have Cartrix to offer us?? Cartrix themselves have to date had as chequered a history as Lotus!! They entered the slotcar scene with a bang several years ago and now specialise in niche marketing these beautiful old models. I must admit I have a soft spot for this make, Call me sentimental, call me a silly old fool but they have a challenge to offer! Yes they do, and all who know me know I like a challenge. So what is the challenge, well potentially, on paper, they are race winners, but, get one on the track and a myriad of drive impairing faults leap up at you and thwart your most concerted efforts. Problem one is that the chassis are way too weak and even with motors glued in, you have to stiffen up all of the area around the drive train. Next they can't quite make up their mind as to what motor to put in a model?? One time you might have a boxer type screamer and another model may well have a sedate little can for Sunday driving. It pays well to check out what the 'donk' is before buying a Cartrix model!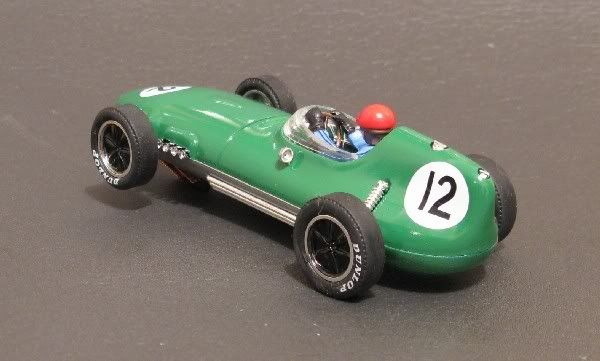 On to the 16, what do we have here. Well, seeing that Cartrix are the only current makers of this model as an RTR to my knowledge we have no other option if this is the model we want. But option is not the best word as it imparts a tone of 'is that all we have' about the model when actually, like its predecessors, it really is a nice and highly drivable model......after a few minutes work!!

Firstly, like the rest of this range, it weighs in at 45 grams!! Yes, you heard right, 45 grams! But don't let that put you off. It has a small bar magnet between the motor and the crownwheel and first impressions tell me that it ain't gonna be enough but truly, the model holds on to the Wixwacing 'magnet marshall' until it is at 90 degrees which is truly impressive. Apart from that, most of the rest of the model is straight forward.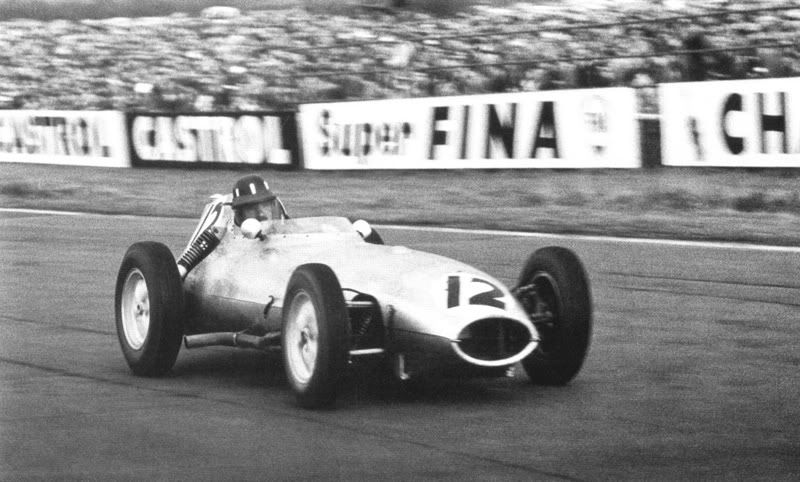 Diego and the team have managed to capture the essence of this model and although Lotus diehards would have liked to have seen the model's 'wobbly web' wheels in yellow, Cartrix have decided to portray an alternative in the form of the Cliff Allison car which was officially classified as tenth in the 1958 German GP at the Nurburgring. Maybe Graham Hill's model will be next!! Anyhow, moving on, the model has a very nice set of wheels. Possibly a little undersize if you are talking true scale but they work well on the track. Nice also, that the rear track and tyres have been narrowed on these latest models giving them a much more realistic appearance. Lastly with the wheels, the model reproduces the two different wheel diameters front to back. A QA observation would be that the plastic rims have been anodised and over painted with black. On my model, both right hand wheels have the black paint scratched through to the chrome in a couple of places. This could only have happened before boxing!








Other anodised parts are quite effective. Rear springs, filler caps, side coolers, bell mouths and steering wheel have all had the treatment and the exhaust has even had a minute dob of black on the end to give the impression of an open pipe. The driver is well painted but the 'pudding basin' helmet is a red natural plastic finish with a moulding seam across it. It would have been nice to see this fettled and painted red! The dash has a full set of gauges. Some effort has also been put into giving the steering wheel that alloy wood rimmed appearance! Lastly, the paintwork is a convincing Lotus Green of the time and nicely applied. The model has a silver underside and the body splits down the centre when disassembled.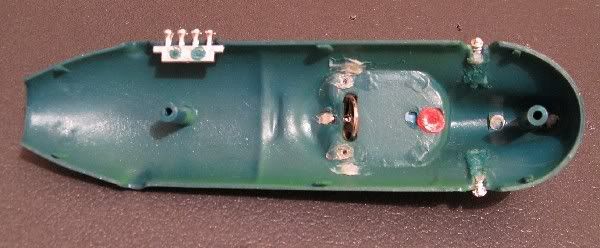 Inside, the upper body is very simple and the heat welds are minimal and neat. Again on the inside there is simplicity. A motor, a magnet and a couple of axles. Not much to go wrong. Up front the axle has a couple of brass flanges to keep it central.






The model has a floating front axle so it will be running on the guide and both rear wheels, sometimes referred to as the 'tripod' system. The guide is a snug fit and has minimal sideplay and front to rear play. The only observation here is that it does tend to stick at the extremities of its movement, but that appears to be the braids touching the guide mount.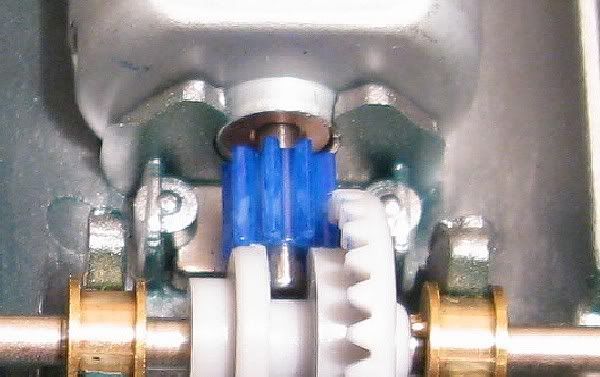 The rear axle is well mounted too and again minimal slop in the bearings. The contrate is one piece moulded nylon. The pinion gives me cause for a little alarm because it is the same type of pinion that early Scalextric cars and Proslot cars had problems with. The tooth valleys extend the entire length of the pinion and on the makes previously mentioned, these had a habit of splitting down the valleys unannounced, allowing the motor free rein to rev with no forward motion!! They do look as if they are Scaley compatible though. If this was to be a competition model I would pre-empt the situation and replace it before all else.








The motor is not fixed firmly but my experience is that this series of models don't have a juddering problem, the motor being about on par with an NC1 Ninco ? Or is it!!

Apart from the above mentioned, the model is cute. A last observation would be that the body halves are not the best of fits. Even with the two screws turned up tight there is a quite pronounced gap at the front and more tightening only makes it worse, and to go with this, the rear body seams are quite a mess where they join. A little more care and perhaps some locating dowels in the moulding may perhaps have helped a bit??







So, moving on, to the track for a better impression of what it is really like. First up was my local board track. This is a twenty one metre fast circuit which you can get into a rhythm on. My other Cartrix GP Legends perform well on this circuit but they do have extra ballast and weigh in at 65 grams. This model will be tested SOOB.

On to red lane and using Parma 45 economies I push off into the unknown and..... Whooooooah what's this!! The model shoots off into the first bend like a missile!! How can this be? I will tell you how this can be! Cartrix's first GP Legend was the Merc 196. This had something called a 'Sun'; motor in it?? What's that? Well, I didn't know either at the time. It promised heaps and delivered little being high revving but slow on the uptake. It also ran hotter than desired!! A sign of the magnets not being up to the wind! Next was the Ferrari 555 Supersqualo and the BRM P25. Both of these models have can drive 'S' can motors and the performance of an NC1. Considering the weight of the model, this proved adequate. But the Lotus sixteen seems to have Scalextric/Fly type 'S' can performance!. The motor revs hard up to max which could easily be 18,000 rpm!! Not good Mr Cartrix, what was the idea behind this. The older motors were ample for the model. We now have a model which is bent on a path of self destruction?? In fact, after little more than a few laps testing I dialled in a bit of resistance on the Red Team's patent lane power controller to bring the model back to earth. I can't imagine what possessed Cartrix to put this motor in but it's not good. I would have much preferred any SCM's which buy this model to carry out their own motor upgrade rather than foist it onto the GP Legend collector.

Once the model was under reasonable control it displayed most of the traits of its predecessors and was a pleasure to race. Well behaved into corners and a pleasing amount of 'tail out' through the bends with a smart but controlled sprint down the straight. The tyres worked well on painted wood straight out of the box and it felt a little like putting on an old pair of shoes (metaphorically, off course)c comparing well with the Supersqualo and the P25.

So I'm happy with most of this model but annoyed about the motor. Now I can't race this with its stable mates at any track without individual lane power control unless I change the motor for an NC1. Locally this model costs almost $100.00. Another motor will add at least $20.00 to this!! Fortunately I was able to buy the model from the UK for a bit less but a motor change would still push the total price over $100.00.
Statistics

Wheelbase					71.0 mm
Front Axle width				52.5 mm
Rear axle width					51.0 mm
Total weight					45 grams
Front axle/guide load				18.0 grams
Rear axle load					27.0 grams
Weight dist.					40% / 60%
Guide length					17.5 mm
Guide depth					6.5mm
Rear axle to guide centre			76.0 mm
Pinion						9z
Contrate					25z
Final drive					2.77 : 1
Rear wheel diameter				21.4 mm
Rear tyre width					5.5 mm
Progress					24.27 mm per motor rev
Motor						'S' - Can end drive



This is a must have for GP Legends fans and hopefully it will be followed up with at least one more livery. Again, disappointment with the motor but not the end of the world! I have revisited the Ferrari and BRM and they both, without exception do NOT rev as hard as the Lotus!! There are a couple of QA issues exacerbated by local prices but the shopper will find what he's looking for in the global village. Mine came from Topslots 'n' Trains and took only five days from time of purchase to transverse the globe. Final price was less VAT too! (17.5%!!). My local racing group had a non magnet Classic GP event recently, one race featuring GP legends models in the Fifties range. Not everyone had one and I was quite happy to loan out what I had. Each driver, without exception, commented on how nice they were to race, Recommendation indeed.