Cartrix Porsche Carrera Boxster




by

Phil Wicks




Cartrix are a relatively new kid on the block but they have quickly got down to producing some serious slot racing equipment for the 1/32 RTR market, Elsewhere on the board is a review of their rally cars. Not to be sniffed at and certainly a match for just about all other offerings. The Ninco NSX's may well be the most popular JTC available but the Cartrix would possibly be the most competitive! I remember running the pre production versions of both here in Aus. on board track a couple of years back and was duly impressed! There were several things I noticed then that I noticed this time with the Porsche Carrera Boxster which I will talk about later.

Cartrix have a diverse selection of spare for their products and for hotting up other manufacturers wares. These vary from drivers to wheels, chassis to motor pods plus a supply of motors to suit most makes. They have been more prolific in their range of spares as most and have equalled the like of Hornby Hobbies.




CARTRIX





Bodies and chassis are available as separate parts and pinions and gears are widely varied to fine tune most models. Rally cars with different tyre sizes front to rear have their gear ratios altered to match the rolling circumferences.

This little model has all the hallmarks of a great slot car, I chose this car in preference to its stable mate the BMW Z3 as it is a rear engine car as opposed to the front-engined BMW. The rear engine cars are a lot easier to tune for board tracks which are also my preferred choice. It is a smart and faithful reproduction of the Stuttgart factory's product and under the glossy exterior it is set out as a potentially successful slot car should be!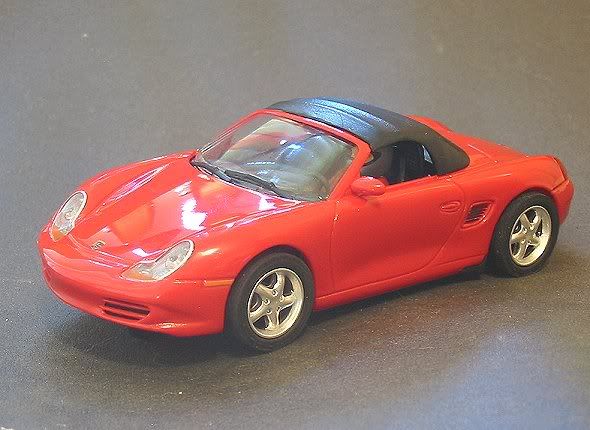 Having worked with 1:1 Boxsters, I feel qualified to make judgements on dimensions and the model in question looks the part. The pictures in the right light and setting could be mistaken for the real thing and Cartrix have done a good job in getting the proportions right and the standing height convincing. Wheels too are good replicas and even the tyres look scale in their low profile.

The detail on the body is of a good standard and most of the external points like vents, handles lights and badges are well depicted and the door mirrors are silvered, not painted!. Even the high level? brake light on the boot is part of the rear lamp cluster moulding. On closer examination it looks like this moulding has a bulb recess in it although it doesn't come with working lights. The front lamps too are a one piece moulding and also have a lamp recess.

The driver's tray includes the front screen panel with the smallest pair of separate wiper arms I've yet seen! Dash detail includes white gauges and the rear of the tray and head restraints are clearly visible through the rear screen of the soft top. The soft top has been well modelled but on this particular car is a poor fit along the front edge! The driver too lets the side down as he is moulded in plain red with no tampo and the helmet is a dull grey. Not what is really expected from interior modelling these days, considering time has been spent picking out centre dash features like heater controls and radio equipment!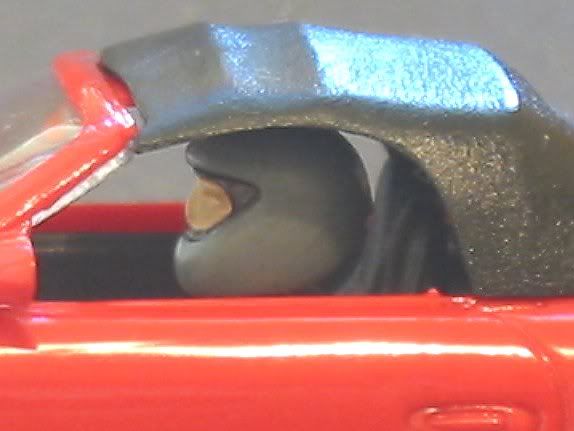 Body removal is easy, two screws, one front, one rear. This is how all slot cars should be. It is an undisputed fact that RTR slot cars performance is improved when the body weight is decoupled a little from the running gear. Scalex and SCX acknowledge this by running their pod system of drive train. But watch out! Mounting posts are very small. Also, the front post is a lot shorter than the rear, requiring a bit of diligence when replacing the different length screws. One other drawback is the addition of small mouldings at the front of the rear wheel arches which prevent free movement of the body. This is a bit reminiscent of the Ninco M3 BMW side exhaust opening which has to be enlarged to allow body movement.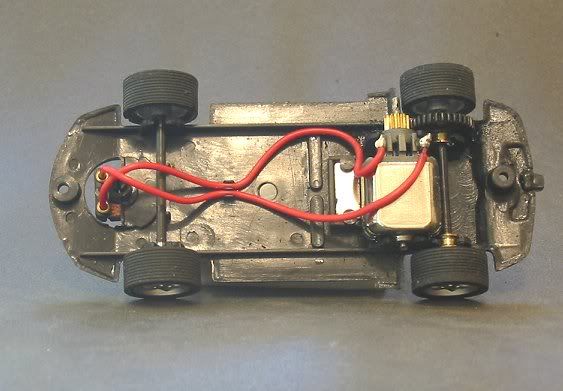 With the top off, the basic, uncluttered and simple lines of the chassis are exposed. A standard snap fit guide, floating front axle, traction magnet and sidewinder motor. In my view, the combination for success on wood or plastic. The brass bearinged rear axle could be mistaken for a dozen similar makes. A critical observation at this point is that compared with some of the more robust offerings, the Cartrix trend is to keep all mouldings to a minimum. Things like the motor and axle mounts are VERY thin. I can't see they would take a lot of handling and because of this I would advise against regularly removing axles and motors! The neodymium traction magnet is fixed snugly against the motor and as far as I can see, removal of the motor is the only way to remove it!

So eight out of ten for the body and chassis, even if the body is a lot thinner (and lighter) than regular cars. Ten out of ten for the wheels (I love these wheels!) and Nine out of ten for the tyres. Now to the tracks! Yes, this is a Phil Wicks two track review!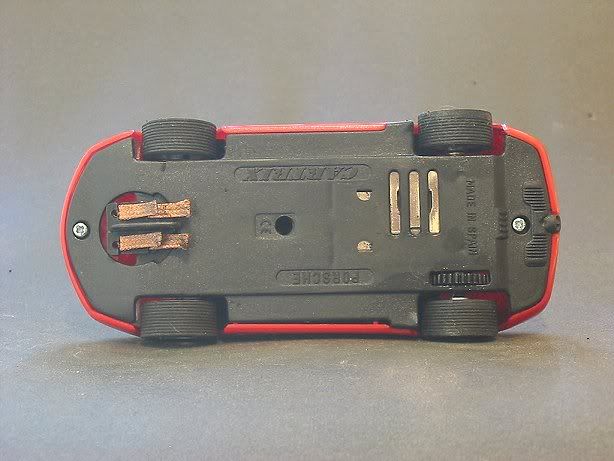 The first track I tested it on was the Four Seasons slot car club Four lane Scalextric/SCX layout with 45 ohm Parma Economy controllers and SCX 15v power packs (one per lane).

I have driven this car before but not objectively so I threw caution to the wind and set off apace. Immediately I was struck by the mismatched controller! This car has the Cartrix X-perimental motor rated at 20,000 rpm at 12.0v. There was considerable trigger movement before the car showed any pace and I suspect that it would have been better matched with a 15 or 20 ohm controller.
I ran quite a few laps to get used to running on one third of trigger movement but eventually I felt comfortable enough to open her up. Driving streadily, I concentrated on powering round the corners and once this was consistent I hit the corners harder to again trim a few tenths of the lap time.

In SOOB condition, (this car has been driven before but has had no mods) the car was nippy but not quick. I expected it to be faster considering the power plant! The tyre condition was evident in cornering. The traction magnet doesn't 'pin down' the car like some. Having a very light body possibly negates this and on standard out of the box tyres the model slewed controllably out of several of the faster bends. A time of 7.65 secs was the final fastest lap (Scalex MG Lola does 5.8's) on this track and I was a little disappointed. As the rest of the car is pretty much de rigueur this left only the wheels and tyres to tinker with.

All tyres removed, good wheels with minimal or no moulding flash and tyres were round! One tyre was slightly eccentric but 90 secs or so on the sanding bed fixed this. Back on the track and minor improvements brought the fastest lap down to 7.499 secs. Not a lot but then it didn't feel much different? Final treatment was the WD40 treatment to the tyres as described in other test. The tyres were wiped dry and off we went. Well, again, not what was expected, only another couple of tenths gained with a final time of 7.225 secs.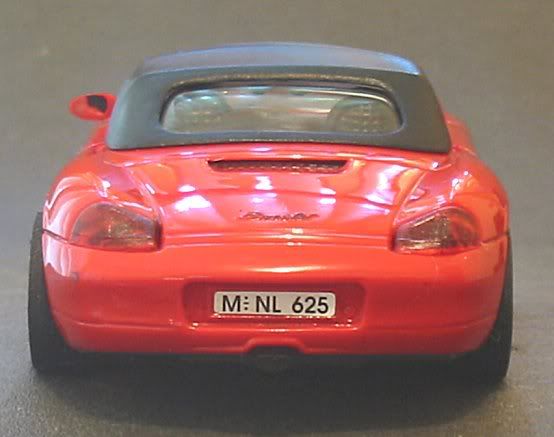 The main source of frustration is the motor. This isn't the first time I've come across this motor and in a previous scratch built model I experienced the same frustrations with a similar Cartrix motor. That car ended up with a spare Fly motor I had! The X-perimental motor spec promises heaps and delivers.... not a lot! It lacks the punch on take off which greatly hampers corner exit speed and top end is also lacking! On the same track I was passed on the straights by Scalextric DTM's! I suspect this motor is one of those that delivers in the 17 to 18 volt range? So Mr Cartrix! It might be prudent to review the use of this motor in your more desirable models!

Moving on to the following evening I had the opportunity to test the car on my local board track. The car was again run for several minutes to get me acclimatised. The car was left to cool for half an hour while we ran a few cars to warm the track up and shift a bit of overnight dust. Putting the model on the track I again took off quite quickly, (I love this track, I'm sure I could race it with my eyes closed!) The controller ohmage didn't seem as much of an issue. I have to assume the traction magnet was partly to blame for the cars response on plastic. So, quickly getting in to the swing I ran hard for several minutes before checking the lap timers. Red lane gave a result of 8.689 secs from cold (Remember the tyres were trued the night before). Slackening the body achieved very little and after several minutes a fastest time of 8.589 was recorded. The car was showing an improvement in acceleration and top speed . I suspect the X-perimental motor has a torque deficiency but even without magnet down force the motor didn't show the promise of its spec!

I then gave the tyres the WD40 treatment and back onto the track. Well this was more like it, good acceleration, rock steady cornering and fair corner entry speed. The model is more inclined to slew round on a fast entry than to tip out which showed me it was a good balance. In pursuit of friends I pushed harder with the odd deslot. Board track is a great leveller when it comes to different makes and the Boxster was very predictable lap after lap with the few deslot I had being more to old age and driver error. A fastest lap of 7.624 was recorded and at this point my faith was restored and the car once again shone in my estimations.

Main observations would be that the car, once having had a few minor alterations like improving body roll on a loose chassis. Possibly five or six grams of ballast up front and a REPLACEMENT! Motor, would improve on plastic and wood. The tyres were good from the box but a retro view is that the Cartrix tyres can be a bit fickle. They split along moulding seams readily and can go crusty very quickly. If the models are left on their wheels they can even severely flat spot. Storage in the case where the wheels are suspended is preferred. Damage during testing was limited to the right hand door mirror. The mirrors are part of the body moulding and it isn't possible to remove them so it is inevitable that they are going to get broken. Also spotted after good running were loose rear axle bearings. These required a drop of superglue to refix them. Maybe the victim of a lightweight chassis?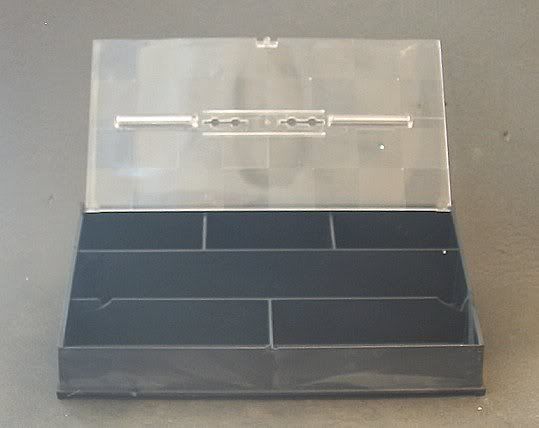 The rest of the car is fairly durable even if the model feels light and the body flexes under a normal grip. One novel plus is the storage case it comes in. Mr Cartrix has decided to incorporate into the base a little bunch of storage compartments! Along with this comes the car spares sheet with all the changeable components listed and numbered. Invaluable to the ardent racer who may brake or wear things out along the way.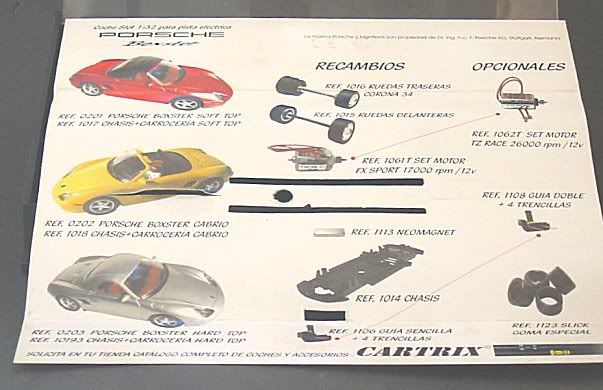 Statistics :

Weight						70 gms
Weight on Guide		        		27 gms
Weight on Rear		        		43 gms
Front/Rear Weight distribution	        	38.5% / 61.5%
Wheelbase					72 mm
Front Axle width				55 mm
Rear axle width		        		58 mm
Final Drive					11z/ 34z   3.09:1
Overall Rear tyre dia.		        	19 mm
Another lovely model and with the motor change and a 20 ohm controller it may well be competitive. For just driving it feels good too, no nasty behavioural habits. Treat it well and it will reciprocate! The traction magnet allows for a little artistic interpretation in corners and the car is very quiet too. I drove this car until fellow racers got fed up with it and took it off the track so's they could get on with some racing!
In the light of the Scaley offering this car is a picture but it's dark secret will be revealed if you try to race it against Scaley's Boxster! Cartrix have a habit of offering their models with different motors so if you like this car and are keen to get it, make sure you have a choice of motor. You won't be disappointed.