SCALEXTRIC PEUGEOT 307



By

Phil Wicks



I wasn't going to purchase this car off my own bat as I have enough rally cars already and quick ones at that. Also, when I first heard of it's FRONT ENGINE layout ! I decided that this was to be avoided at all costs. Not because it was unconventional, far from it! The layout complete with traction magnet at the rear made good sense. The motor should provide good downforce to the guide and weight over the front wheels and a good magnet would keep the back on the black stuff. As long as provision was made to allow the guide not to carry body weight then everything should be Hunky Dory!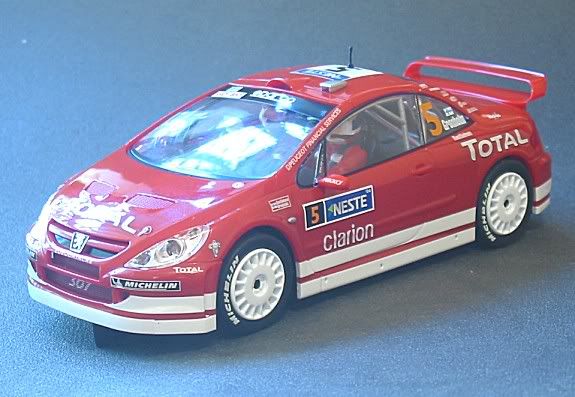 Sharp modern lines of the exterior




With the car being outside of my board racing parameters but being well inside my curiosity it wasn't long before I came across one on ebay languishing at ten pounds sterling with hours to go. I decided to put a low 'doesn't matter really' bid on it and a day later an email in my inbox informed me I was the new owner of a 'Scaley 307' for Fourteen pounds ninety five of the Queens money! (AU$35.60 of Mr Howard's ill gotten gains).Postage was half of Five pounds as I also won a very well priced FLY Lancia Martini 037! from the same place.

Out of the box the model is very impressive. Apart from the very modern body lines the car is modelled in a very striking red. In actual fact the red looks as though the car is finished with a clear lacquer over the natural plastic. The red looks a bit, no VERY! … plasticky. Not only that, the rear wing is a different shade of plasticky red! I don't know if this is a trend because I notice the latest Ninco Toyota JTC's in yellow look VERY, VERY plasticky!! I suspect this was a cost saving exercise which did away with the application of body colour! It hasn't worked but I'm sure most people wouldn't even notice or comment.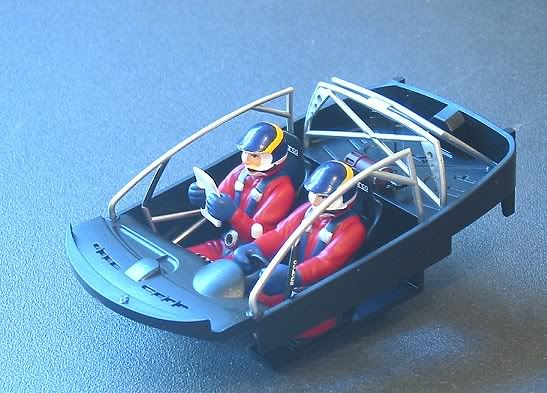 Everything but the kitchen sink




Moving on from this minor point, the tampo is as we have come to expect. Text not visible to the naked eye turns out to be the driver and navigators names in perfect text under the magnifier! Brand names emblazoned on a full race roll cage. A host of centre console detail and a sequential stick shift looming up from the depths of the interior. Seat belt buckles picked out in silver and helmet and face details picked out to the N'th degree. Maybe the day isn't far away when we won't see TWINS in rally cars!

Headlight detail behind the lenses is good too. This model has fully working lights as well, amber front and red rear enclosed behind beautifully modelled and fitting lenses. A minus is the inadequate masking of the light units as extraneous light causes almost all of the rear of the car to glow red. (Did anyone own a Scaley Alfa 155. You'll know what I'm talking about).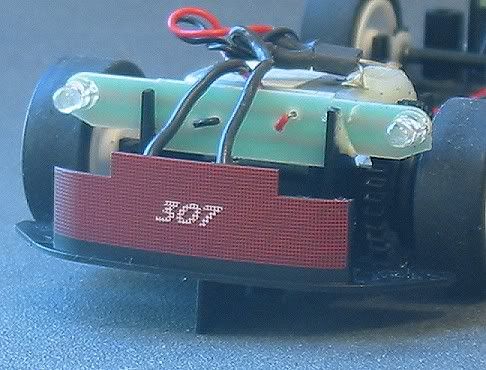 Front lighting board showing high intensity LED's




Scalextric have also put some thought in smaller detail. A rubber antenna graces the turret and an anodised tail pipe highlights the exhaust at the rear. Removable door mirrors complete the exterior detail. The rear wing seems to be fixed fairly firmly and is the only part I would consider to be vulnerable.

Body off, the model looks a little odd but your eyes soon get accustomed to the layout. Motor east-west up front and a single round sectioned elastic band from a pulley on the front axle to a pulley on the rear axle. The band has reasonable tension and turning the front wheels while elevating the front and with the rears on the track shows there is plenty of grip to the rear. Turning the rear wheels will also transmit to turning the motor! This belt set up has been designed to work! Unlike the Ninco Suby, this car DOESN'T throw the band off every fifth lap!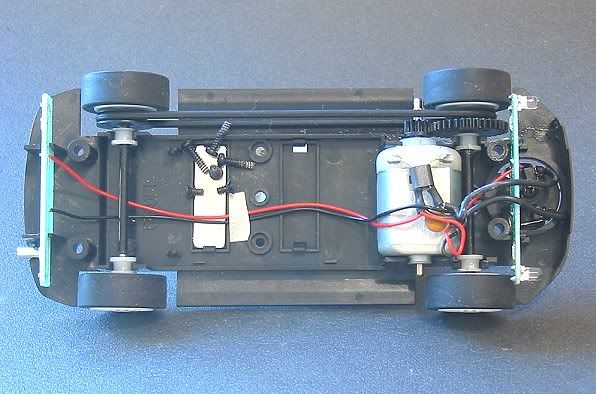 The new radical layout and single drive band (and body screws)





The traction magnet has two positions but I can't see the front being used much if at all. Both axles are mounted in well fitting nylon bushes and the bushes are firm in the chassis clips. The light boards are mounted very business like at the front and rear and are very tidy. The motor looks to be the normal Scalextric 'S' can and my criticism would be that the motor mounts look very flimsy. Very reminiscent of the Aussie V8 mounts and we all know what happened to a few of THEM after a good workout!

The most amazing thing with this model though is the wheels and tyres. I would have to say that this model comes with the most concentric wheels and tyres I have EVER found on a RTR slot car. Run out and wobble are almost non existent, so much so that during the driving test I didn't bother to true anything. The remainder of the chassis is very clean and tidy. My last observation before testing would be that this car has SIX screws between the chassis and the body. Four PK screws into the normal mounting posts and two small countersunk screws into the bottom of the drivers tray. It doesn't help with essential body tuning Mr Scalextric!

So off to the track for its first outing. This was to be my local board track as anything that can be tuned to run on wood should not present many problems on plastic. I did run it on my figure eight Scalextric classic test track at home and was surprised by its zip and tenacity. It displayed very encouraging comparative signs on such a small circuit.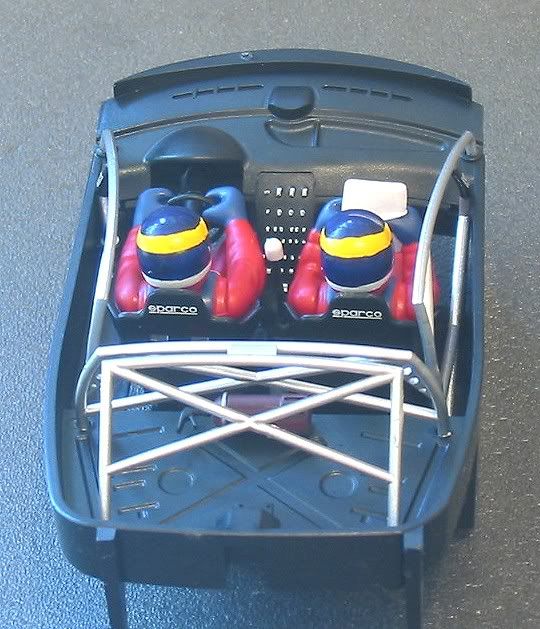 What would the license fee for Sparco seats be?




Stage 1



Down at Garry's we ran a few heats and laps and during a lull in the action for wine and mini spring rolls and at a time I considered the track to be clean I quietly slipped it onto red lane for its big time debut. As always with an unknown quantity I took off fairly steadily and got the feel of it for fifteen laps or so. To my surprise it drove and handled in a very civilised manner at mid speeds. I then decided to take it up to a comfortable 'ragged edge'. The car has heaps of straight line speed, certainly comparable with other Scalextric Rally offerings, and to my amazement it demonstrated very predictable cornering characteristics. No judders or hops. It went lap after lap very steadily. The weight distribution surprised me as I was expecting the front to be a lot heavier than it was. In SOOB form it showed a tendency to 'WAG' its rear end through and out of bends. Not violently as I was expecting but very reminiscent of the real thing on a loose gravel surface. Was this realism or what!


After pulling over and getting both compadres present to take it for a rush of adrenalin we all agreed that it was very impressive even if it was not going to break records. Stage two is normally tyre truing and chassis tuning but I decided to abandon this stage as the tyres were as good as there! and there are too many screws in the car to let the body work. Also, there is a considerable side 'pinch' effect between body and chassis to such an extent that a lot of plastic would need to be removed to get the slightest of movements.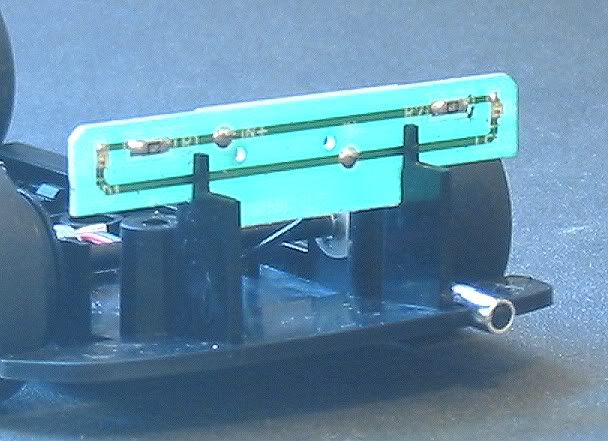 'No mess' circuitry for this model, a far cry from the Porsche 962's




Stage 3

The only thing left to do in the limited 'no cost' tuning I do to my reviews was to run with cleaned tyres. It occurred to me to clean the rears only to see how much they were contributing to the whole picture so with a clean cloth and WD40 I massaged a small drop into the rear tyre rubber and thoroughly wiped off the surplus.
Back on the track and away. The model zipped off the line and cornered well (the term 'on rails' springs to mind) and as lap speeds increased the model showed a reluctance to do anything but behave. After twenty or so laps both front and rear tyres were cleaned and the transformation was complete to the point that the car was showing a tendency to lift in hard corners.



In its own way, this car is pure driving pleasure on board. No doubt improvements can be made for competition purposes but its layout in the end may well be its undoing as a race winner. The car is very quiet which is a plus. The guide is very sloppy. It has some up and down movement which allows the body weight to be carried on the front wheels but there is considerable front to back slop and sideways movement too is a bit alarming. Whilst cornering is in there with the best, it doesn't have that edge on corner exits. There is no kick in the back as you hit the straights. This may be partly related to the final drive ratio. All the same, one of these on each lane would be good racing.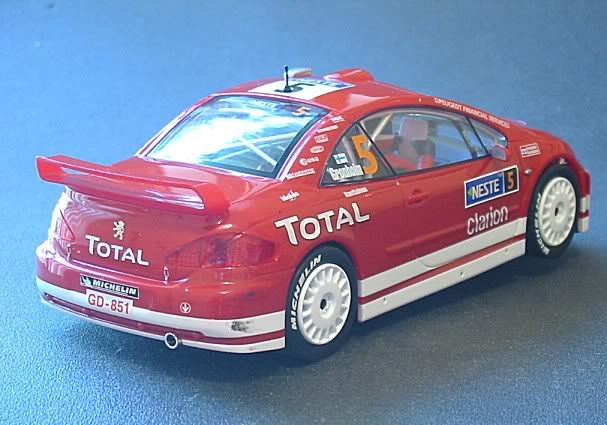 The rear view complete with landscaping rubbings on the rear bumper!
STATISTICS

Wheelbase				82 mm
Front axle width			56.5 mm 
Rear axle width	             	       	56.5 mm
Tyre diameter	             	      	21.0 mm
Overall weight	            	       	91 gms
Front axle load		            	43.gms
Rear axle load			      48 gms
Weight distribution Fr / Rr     	47.25% / 52.75%
Pinion 			      	11z
Spur					36z
Final drive ratio			3.27 : 1
This car is destined to spend a good few weeks in my race box as I will enjoy its drivability until something newer presses for attention. Mr Scalextric has impressed me with this model and I look forward to running it against other rally cars in anger and to driving further Hornby products like this.



Lap times :

Best lap out of box 7.809
Best lap after stage three tuning 7.319


All in all a good show and certainly no slouch on board.This car is very quiet and well behaved in most situations. With clean tyres it did show a tendancy to lift the inner wheels in harsh cornering but it didn't deslot. Bring on the next one Mr Hornby!