Scalextric Lotus 72
Team Gunston Racing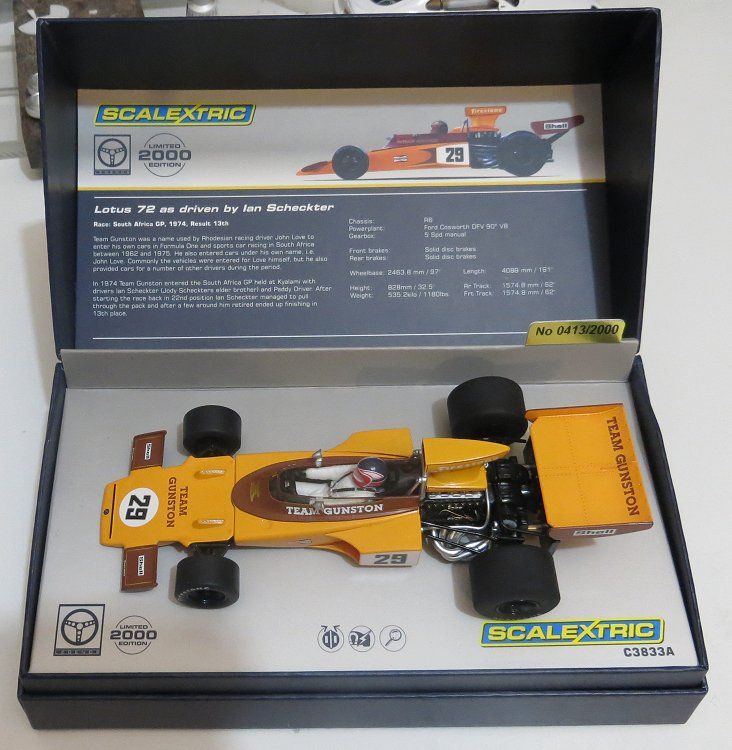 by

Phil Wicks



John Love was an avid motor racer from Southern Africa (formally Rhodesia). As well as his own mounts he would engage semi notorious racing drivers to drive his cars. The name Team Gunston was coined from their sponsor which was the South African Gunston cigarette company, and indeed the cars used to carry the Gunston 'canon' logo somewhere , as this model does, on the bodies, usually centre front of the bonnet/nose. But as with the racing team, the cigarette company has long since disappeared. Interesting to note that Gunston also sponsored a South African Surfing championship in the eighties!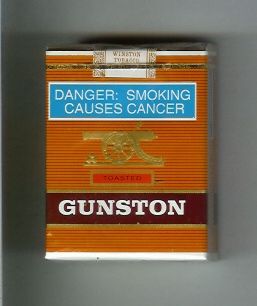 Mention the name John Love to an older South African and they will let you know exactly how good John was on home turf. He started his racing career in 1962 with formula 3 Coopers and a variety of motor cycles. He went on to become several times F1 champion in South Africa and also shone in the European Formula Junior championships where he raced under the guidance of Ken Tyrell.





As well as being successful in his homeland of Rhodesia, he was a regular in the International South African GP and the model in question is one of his mounts. He left motorsport in the seventies but continued to support a host of motor racing disciplines and had several vehicles enter international endurance events in a variety of cars. Outside racing he owned a Jaguar dealership in Bulawayo. John finally succumbed to cancer at the age of 80, in 2005.



Team Gunston results







The model in question Is the Lotus 72 from his GP days although on this occasion, the South African GP, 1974, it was driven by Ian Sheckter, Jody's older brother. In its distinctive Gunston livery the model has several vulnerable areas where the trim and fittings may well be very short lived. There is plenty of detail in the front and rear suspension whose days could also be numbered. Not to mention the various radiators hanging down at the rear; so it might be prudent to buy two of these! One for the track, and you know where the second one is going.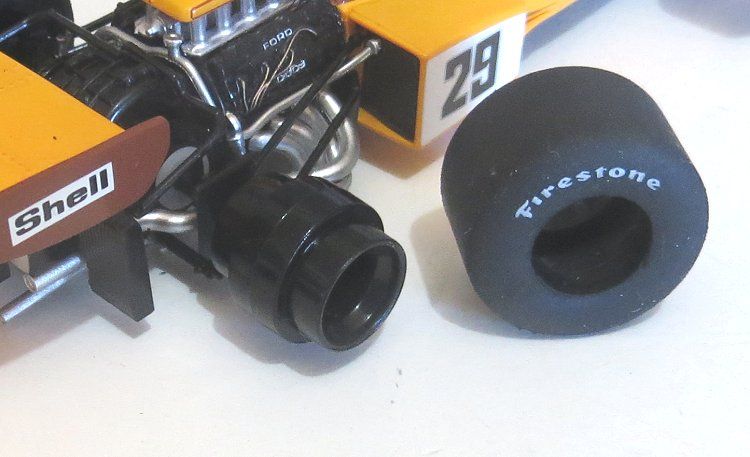 The tyres are pretty good and as with other recent models, Scaley have moulded them in a reasonably soft rubber compound. Great for their home turf but I suspect as always there is going to be some tyre changing for board tracks and low magnet tracks like Carerra and magnabraid. But not to worry, most of the leading aftermarket slotcar tyre makers have them covered and there are a variety of urethanes just waiting to be fitted.



Time to brush up on your Afrikaans!!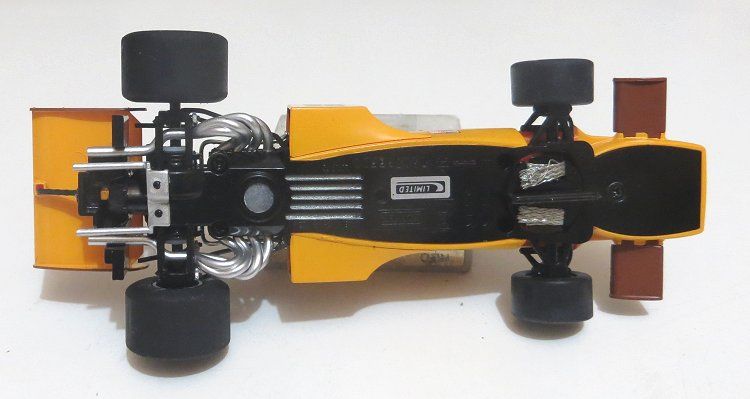 Some detail has been downgraded on this model and there is a distinct lack of photo etched parts. But then they go to the lengths of reproducing the ht leads across the cam covers! Driver looks good but still we get a driver with cervical spondylosis (stiff neck)! The colour looks good but if you collect the Fly Gunston cars from the same era, there is a distinct mismatch there somewhere. Front wheels rotate independently and all wheels and tyres have an almost acceptable degree of eccentricity; a little light sanding should easily get them in shape.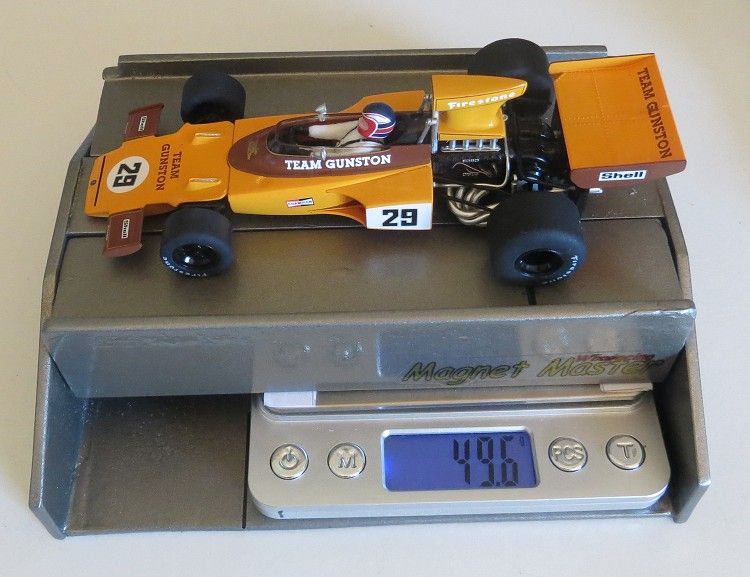 I wanted to look inside, but unfortunately the body refuses to detach itself from the chassis; try as I may it appears that there are a couple of inseparable parts in the region of the back axle mounts and all reasonable efforts to separate them were to no avail. So, moving on I will have to assume some facts. The motor looks to be an FC slimline type rated over optimistically at 18,000 rpm (more like 20,000!) But a consolation is that the inaccessible motor appears to be secure! Another inaccessible but clearly visible part is the traction magnet! Bad news is it is a thin 8.0 m.m. disc which can barely exert 49 grams of downforce, rendering it almost useless as a magnet racer. And what's more, there is no space to fit anything larger!!




With the likelihood that this model will come in several liveries and could well be raced, it is a shame that it is as delicate and as light as it is. And there is little space inside to offset this so my recommendation is to either race this non magnet or run it at 9 volts or less; Overly dramatic? We will see!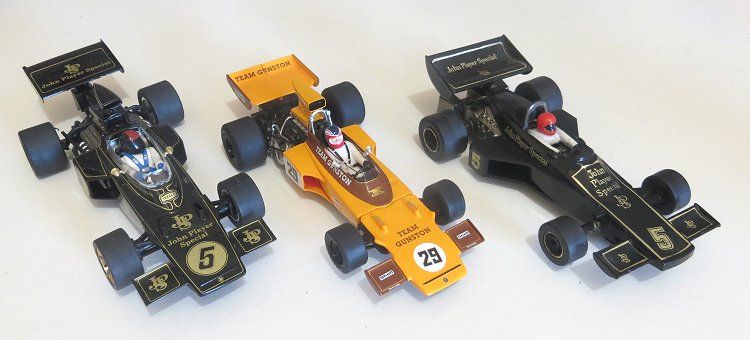 MG Vanquish        Current Scaley          Early Scaley


This version of the model comes as a limited edition and has a run of 2000 units which will at some time in the future make it a hard to find model. Probably the good news is that John Love raced a variety of open wheelers through the seventies so hopefully we will see some nice GP cars also, but not only in this livery.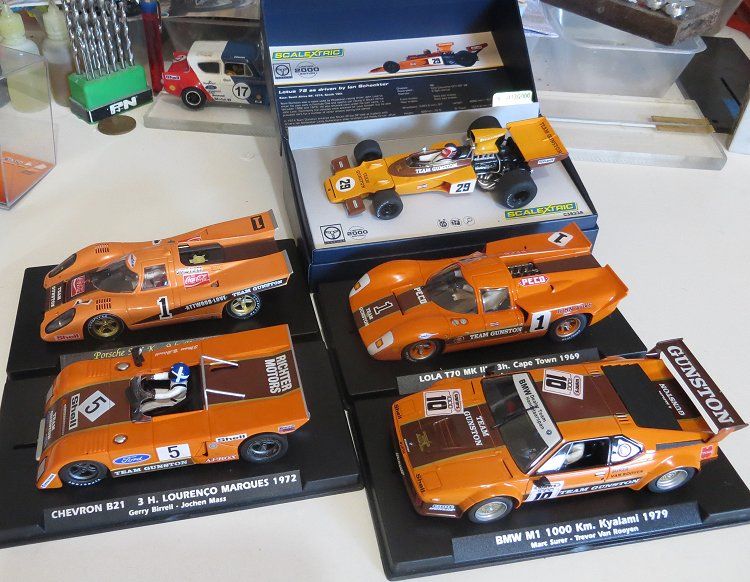 Lotus 72 on eBay



As I already have GP race cars from this era it is unlikely that I will race this model but someone will race it no doubt, and a vision it will be on the track.
Statistics



Wheelbase					79.0 m.m.
Front axle width				55.5 m.m.
Rear axle width					66.5 m.m.
Guide to rear axle				78.0 m.m.
Overall weight					60.0 grams
Rear axle load					38.0 grams
Front axle/guide load				22.0 grams
Front / rear weight dist			37.0% / 63.0%
Body weight					n/a
Traction Magnet					8.0 Ø  slim 
Downforce (approximately) 			50.0 grams
Pinion						9z nylon (Ø 5.5 m.m.)
Contrate		                    	27z nylon
Final drive ratio 				3.0 : 1
Rear wheel diameter				22.2 m.m.
Progress					23.25 m.m. per motor rev.
Speed @ 12.0 volts				6.975 metres per second*
Rear tyre tread width				11.4 m.m.
Closest MJK tyre (rear)        			N/A
Guide length					18.1 m.m. median
Guide depth					7.0 m.m.
Guide thickness (median)			1.7 m.m.
Motor						Mabuchi FC50 (18,000 rpm @ 12V *)
* factory rated. may be faster
Correction, Closest MJK tyre is MJK4288 (Tyrell F1) which is a straight swap.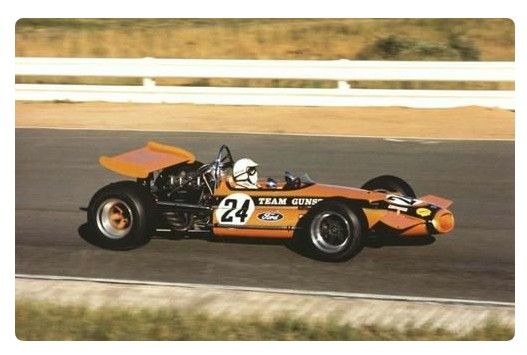 Brabham BT26
Team Gunston archive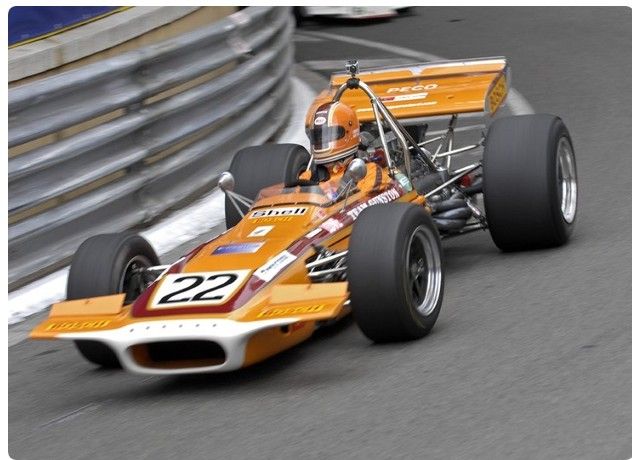 March 701