.
.
Scalextric
BMW Z4 – GT3
Nurnburg 24h 2015


by

Phil Wicks



Nürburgring is one of the first 'composite' circuits in motor racing. From early times the track has had two or three different circuits as part of the overall facility. Varying from the short 5 km type GP circuit, up to the massive 21 km Nordschleife circuit, the motorsport complex has a track for all classes. The Nürburgring 24 hour race is raced on the Nordschleife circuit usually towards the end of May. The race can consist of as many as two hundred and ten entries supporting as many as five hundred drivers!



Nurburgring









The race itself is made up of a series of classes much as Le Mans is, but without the LMP cars. Most of the field being cars from GT's 1, 2 and three. But entries are as varied as Audi R8's to Renault Clio RS's. As expected, the race also attracts a lot of current and past racing drivers and veterans and there are few motor racing drivers worth their salt who have not raced this event at least once.






The current event has been organized by the German motoring organization ADAC (Allgemeiner Deutscher Automobil-Club e.V.) in cooperation with the Zurich insurance group for a number of years now, and the race history goes back to 1970. It was originally an endurance race which took place over several days.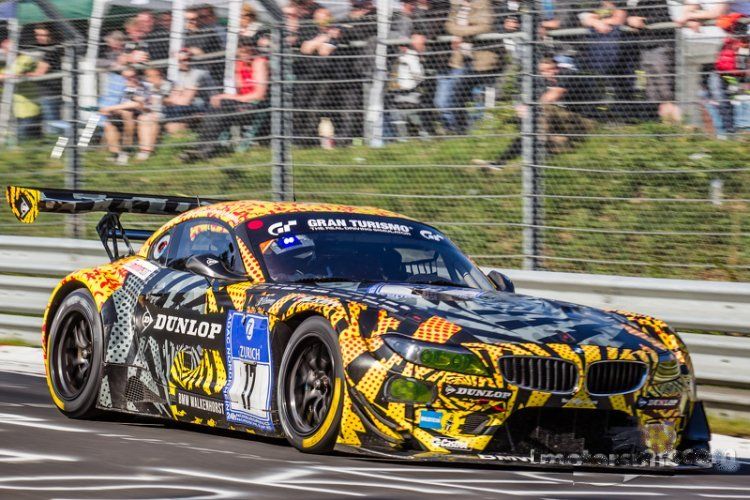 Walkenhorst are a German auto retail chain who sell such makes as Audi, BMW, Dacia, Ford, Hyundai, Renault, Nissan, Skoda and Volkswagen to name just a few. A grand line up indeed considering their origins in the nineteen-fifties selling mopeds and scooters, Gogomobiles and BMW Isettas (Bubble cars)! They eventually became a BMW agent which lead them inexorably to the race track.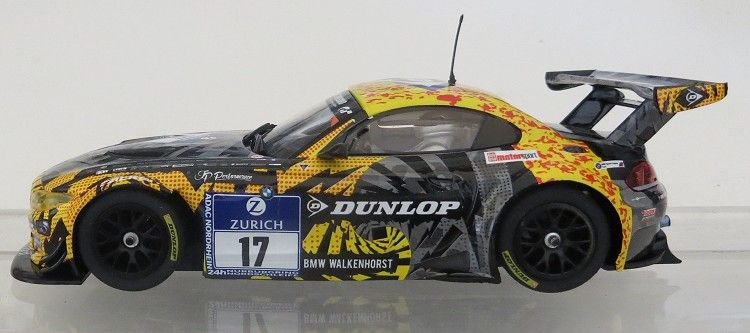 BMW need no introduction, from their beginnings as a pre war aero engine manufacturer they were to become the largest privately owned motor manufacturer in the world.



2015 - results










Scalextric - Carrera



Scalextric have chosen to reproduce the reasonably successful BMW Z4 E89 as entered by Walkenhorst Motorsport in the 2015 Nurburgring 24Hr. The 4 driver team started 26th on the grid, ran around tenth place for most of the race, and finished in sixth place three laps behind the winners. An unusual livery is the first thing to strike you but it is very real if somewhat way out. As with more recent Scaley issues, this model is good news for plastic track racers and non magneteers alike. A lightweight body and well distributed weight have ensured that this model will keep itself at the front of the pack.






Looking initially at the outside and as mentioned before, Scaley have faithfully reproduced this cool livery. Many yards of vinyl must have gone into the original for sure but as mentioned twice already, it is striking. Again, there are not too many vulnerable parts or not too much detail in the event of impromptu deslotting activities, and all going well you should be able to keep this one tidy and together. Again, Mr. Scaley has opted for regular tyre profiles and it will be no surprise that Slot.it tyres will slide onto the front and rear wheels of this model quite comfortably, negating the frustrating search we get when looking to upgrade models with extra grippy urethanes.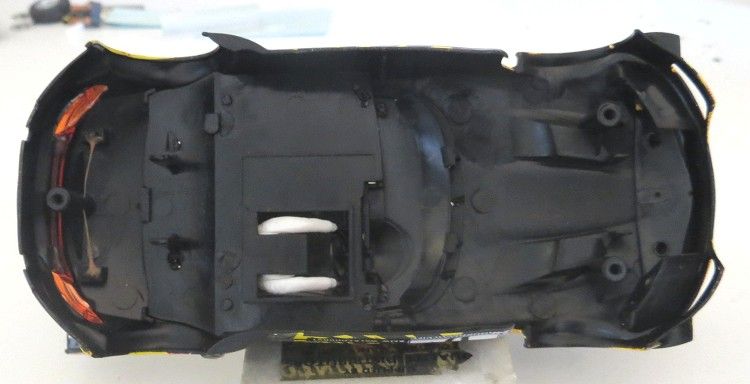 Underneath is reassuring too with no complex pod assemblies and no complex suspension set ups to bamboozle the novice or seasoned slotista alike. In actual fact, simplicity in its most functional form. Again a model which is DPR ready and a glance through the underside grille tells us it comes with the now standard 18,000 rpm green motor as do the regular Scaley cars like the BTCC's and similar.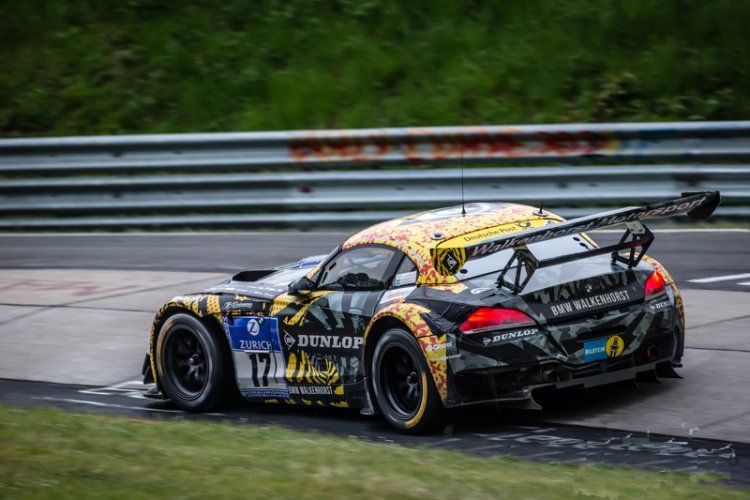 Grabbing a screwdriver we soon have the body off and again no surprises or disappointments. The body which is fuss free weighs in at 14.2 grams which greatly lowers its centre of gravity, and gives the traction magnet less work to do; the half driver's tray is also contributing to low down weight but breaks with Scaley tradition, It is hot welded in place !!!! Not the normal clip in/pop out drivers tray we have been used to since almost Scaley's inception!






I noticed on my new Scaley VW Passat (reviewed this board) that the rear wing was readily removable; this model looks to share this convenience. Inside there is what looks to be a string of hot glue of sorts on the rear wing pylons inside the rear of the body. This is readily removable and makes the rear wing easily removable if like me you do not subject these parts to the rigours of racing; good news indeed for those who are tiring of making/repairing rear wings after a weekend's heated racing.








Minor sponsors




Drive train is the norm and has pretty much not changed since Noah built the ark but hey! It works, and if it's not broken……! The chassis inside is also much as we are now getting from Mr. Scaley and the lightweight chassis is kept rigid by the ribs in the chassis. The guide is a healthy7.0 m.m. deep. One aspect of detail which has taken a step back is the distinct lack of photo etched parts, I was just getting used to this contribution from Mr Scaley but it seems inevitable that the accountants got their way with this feature in a very real effort to keep production costs to a minimum.








Z4's on eBay



Traction magnet is the standard 1.5 m.m. offering and as mentioned earlier it seems to have less work to do anyway. A quick trip to the new wixwacing 'Magnet Master' shows that downforce is a healthy 350 grams which only needs to work with a mere 72 grams total model weight. The non magnet racer also has plenty of options for ballast but before contemplating a trip to MDF I would suggest gluing the motor in as the new thinner motor brackets struggle to keep the motor in place! Also, if this were mine I would give it a 'wixle' independent front end.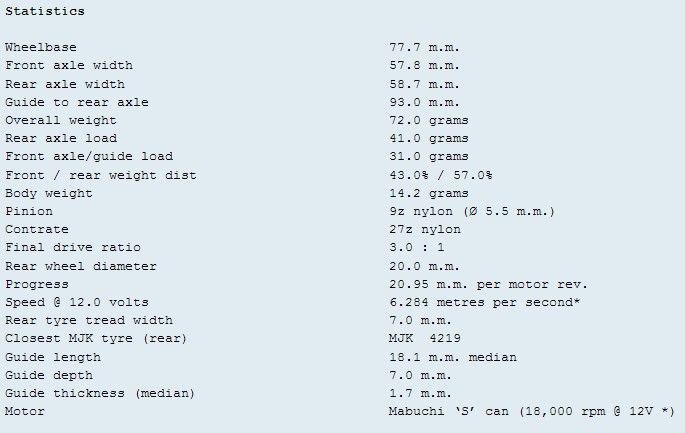 So this model has turned out to be a pocket rocket, there is no lack of either speed or grip, even with oem tyres. Fragile bits are the antenna; its days will be numbered in minutes! Next to go are the door mirrors! But, if you want to be at the front of the GT pack, then this is for you, with or without them! Shop around as there are some good prices out there!


Many thanks to Chris 'the Stig' Dietrich for the opportunity to review this model