AUTOart Lamborghini Murciélago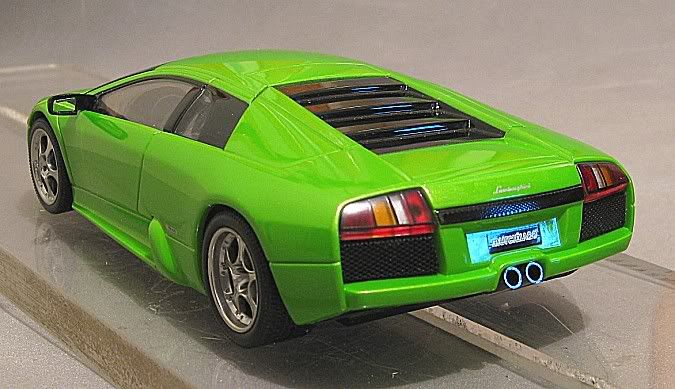 By
Phil Wicks
I make no excuses for reviewing this model, especially after recently doing its smaller sister, the Gallardo. In fact, the Gallardo was one of the main reasons for this models purchase anyway. I have a small number of select AUTOart products already and their rally cars are second to none when it comes to slotcar detail. The Lambo Miura is also a fantastic model (and ooh I just love those wheels!). The '05 Ford Mustang FR500C is another first class reproduction and the 'C' type Jag…. UH!. And the list might well go on! But there is one thing that sets the Murciélago apart from these slotcar Mona Lisa's, and that is its driveability.

It has to be admitted that anything other than true scale and high detail was not going to come from Autoart. Such fine points as lamps and interiors and decals; and wheels! Never before in slotcar history have I personally known such an array of well modelled and highly detailed wheels! Next time you are passing their 'C' type Jag, just check out the spokes and disc detail behind them, I dare you!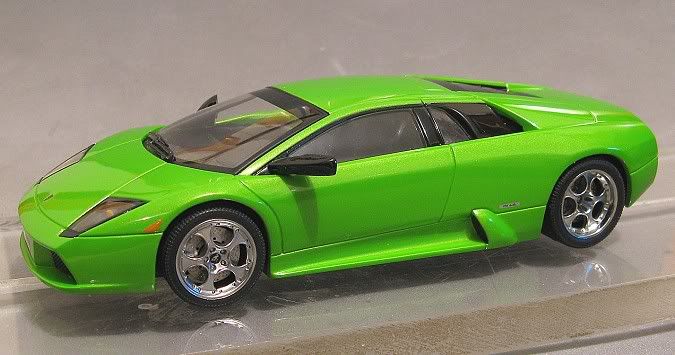 But as with all things in nature, a flaw always comes along in what seems a perfect creation. Autoart, for all their attentiveness to detail, still disappoint the connoisseur with unexplainable lapses in concentration! The rally cars are built for the shelf and not for the track. Understand me when I say they go well on plastic. Twin longitudinal bar magnets do their job fine, but in their pursuit of perfection, the true scale tyres leave them wanting in the grip department, and any attempt to rectify it with aftermarket tyres will see handling deteriorate somewhat due to their high centre of gravity,

Racing Autoart against Autoart is fine on plastic and some good speeds can be attained. Braking early for bends is necessary to minimise the odd tip over deslot and power has to go back on conservatively out of corners or they wag their tails worse than a Border Collie with a new ball! On board, much the same too. It is advised to keep the original tyres on or too much grip will exacerbate their inherent high C of G syndrome. The alternative of heavy ballasting underneath is unthinkable on one of these beautiful models.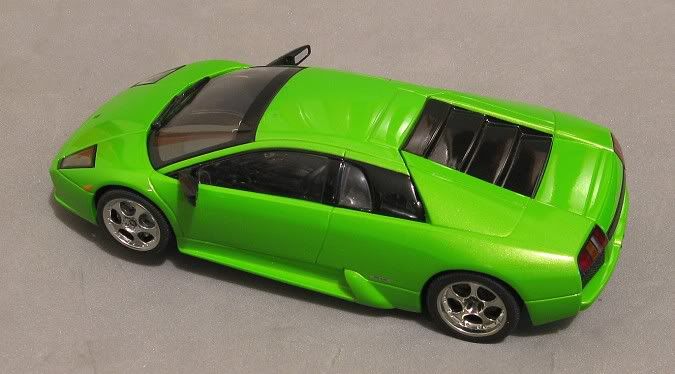 The other AA Achilles tendon is their drivers or lack of them! They look like ex Scalextric Mr Blobby hand-me-downs and although highly tampo detailed, that bulbous face and helmet stares out from a beautifully crafted interior as if to say 'April Fool'!! Or you get a superb 1/32 scale Jag only to find it has a 1/64 scale driver! And worse still, you get an inimitable Lamborghini……. to find they don't have one at all!! Paaaah…..Humbug!!

But all is not lost! If you have read my Gallardo review you will see that it is easier than it appears to remedy the situation, and a very presentable model can end up looking the biz. So, where does this all lead to. "Get on with it man" I hear you say, so, pour yourself another shiraz or merlot or Jack Daniels and I'll tell you!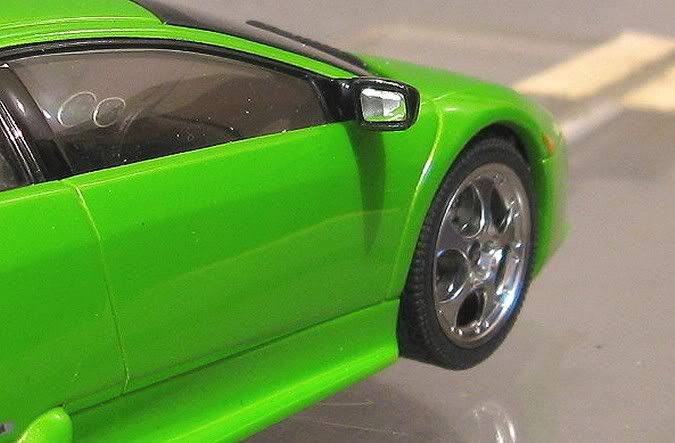 I recently made a statement elsewhere on the forum that I was going to put a bit more quality into my collection and bugger the expense? So what is the yardstick for quality, ….Mmmmmmmmmm…..? Well, it has firstly to be subject matter. This doesn't mean an unusual or rare model, no. An 850 mini can be quality, providing its livery catches the imagination. True scale reproduction? Again, the closer the better, but this is part of the equation and loss of points here can be made up in other areas. Next, finish. Very important. A good finish will carry 'Brownie Points' and as year passes on year, nearly all manufacturers are adding extra good detail. Even SCX have managed to stop Li Chin Fu from putting her sticky fingers on the inside of the clear parts! Lastly, performance!! Basically what it's all about. Even the most attractive slotcars will not occupy that little spot in the corner of a slot racer / collectors heart if it's a driving dog! Likewise, if you have a demon slotcar still mint and in its box, you can pass it a smug grin every time it catches your eye in the display cabinet or brandish it at parties!.

With me, the Autoart Murcielago may well be able to do this. Superb finish, beeeeeauuuuutiful wheels and what a footprint!. Its all over green doesn't have a blemish anywhere, truly! I'm not sure if it is a clear lacquered plastic finish like its sister or if it is painted but there is a difference between the body and unexposed surfaces (much like a real car!) and there is a slight metalflake fleck in it to throw back the light with just a slight red pearlescence.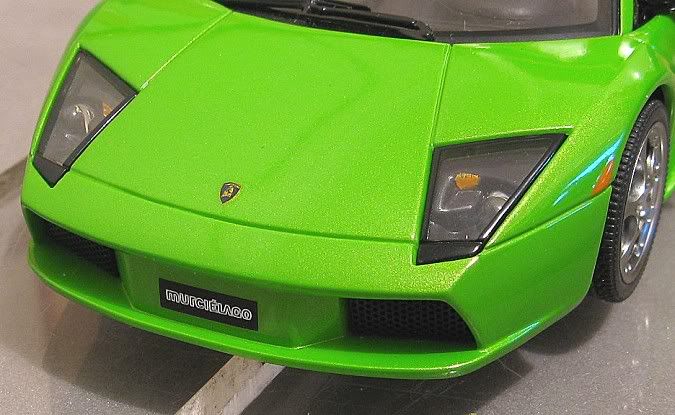 The lights are something to write home about too. 3 m.m. led's throw an excellent beam out front and the headlight recess' are tidily produced. I think I am getting a thing about tail lights too. This model also has excellent rear end lighting and the tail lamps and exhaust are excellent. Not only that, there are a pair of what appear to be photo etched rear grilles finished in black. The light system also works full time if you run the model without dynamic braking, much like most current models. Quite spectacular when running a night stage. None of that lights on – lights off business. Unfortunately, because of its tall gearing and low engine braking as standard, running without brakes requires a good deal of stopping distance, something I have addressed with the Gallardo and this model!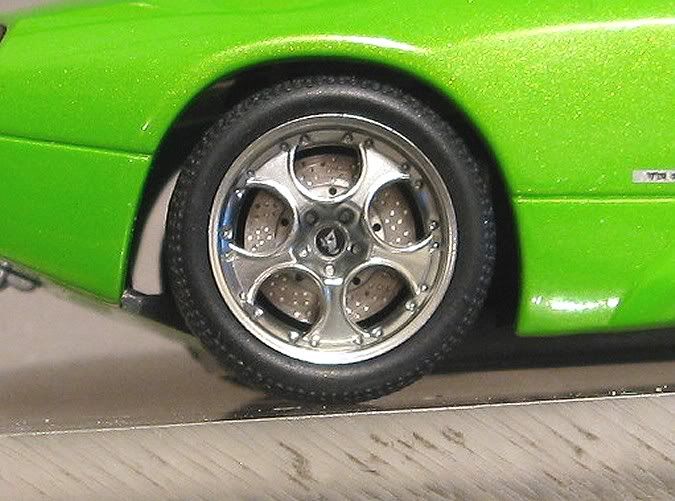 Next up are the wheels and tyres. Forgive me while I take a cold shower……. Brrrrrrr! I have no doubt that there are better wheels and tyres out in the slotmos. But as yet, I personally haven't seen them. We are of course talking about scale reproductions and not random custom jobbies. I would NOT be surprised if the brake discs are faithfully reproduced with the correct number of vent slots on them!! And the tyres are spot on too, not necessarily the best race tyres, but impeccable reproductions no doubt. Inside the model we see more anal modelling with a very convincing dash and centre console complete with climate unit vents. Even the gear shift gate has eight slots in it and a selection of switches at its top. Seats too are excellent! But no driver, sorry!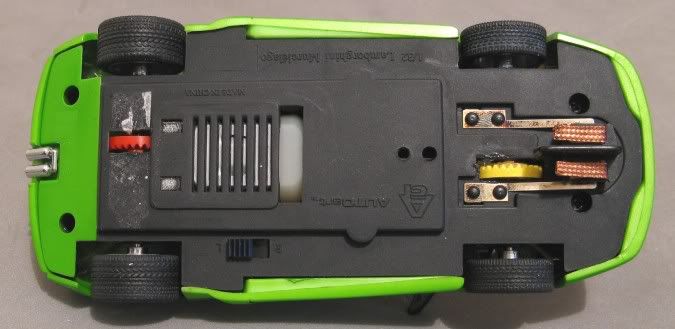 Underneath the model we can see some old favourites and some new features. The pseudo Scaly conductor springs work well and the guide has a generous 6.80 m.m. of useful guide depth although there is a bit of SCX about the guide's side play! Behind the front axle is a convenient hole where the front prop shaft bearing can be accessed for oiling. To the left hand side of the chassis is a polarity switch. I haven't previously come across this on an AA model but my only concern would be a manifestation of the Carrera syndrome on undulating plastic track joints, especially on the up and down ramps of elevated sections. Those Carrera collectors amongst us will know what I mean.

Inside the model it is very similar to the Gallardo. Features missing are the neat little plug which allows you to detach the body from the chassis wiring. With this model you will need to wrestle with all the internal components when working with the body off, or unsolder the connections at the motor. Because we run technical tracks in the Sunshine State I decided to rectify the poor brakes and over gearing before I actually purchased the model. I bought Slot.it gears and pinions in anticipation for two reasons. Firstly to replace the tall gearing and secondly to rectify the under geared front reduction. Also, as with the Gallardo, this model comes with smaller front wheels than the rear but shares the same gear ratios??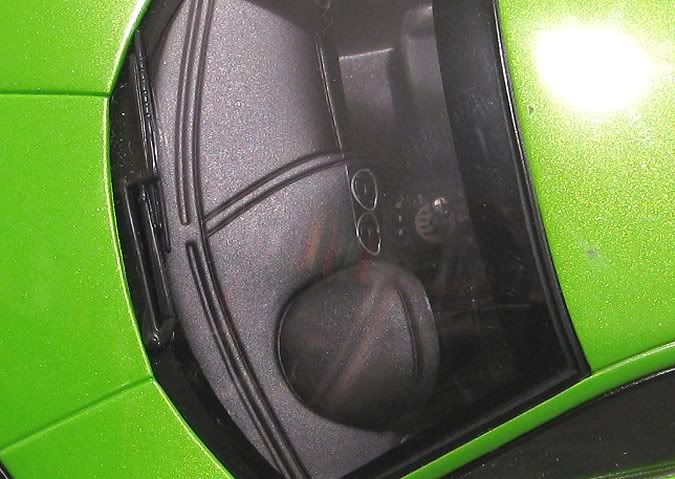 Using the Wixwacing patent gear ratio calculator I recalculated the gears to give the front a bit more 'over-traction' than the rear. The theory being that the front will be clawing in a corner instead of snow ploughing! I have some competition SCX cars which have larger front tyres achieving the same effect and they are very sure footed going into and accelerating round the tightest of bends. Because the motor is rated at 26,000 rpm and the model weighs in at 100 grams, I chose to reduce the ratios to help with corner exit speed and acceleration and to improve braking characteristics. The front axle now has a 28z crown and the rear has a 30z crown, both driven by a 9z Slot.it pinion. I also bought and trimmed two 55.0 m.m. axles and fitted the original wheels to them. The wheels are not splined or knurled onto their original axles and come off relatively easily.

Lastly, the twin longitudinal traction magnet system has been dropped in favour of a single bar magnet across the chassis behind the motor. I tested this on a piece of Carrera track and was impressed by its downforce and I expect it to be fully useful on steel rail tracks. So, outside the (rectifiable) lack of a driver and possible incompatible tyres, the model should be a potential good drive. As with the Gallardo, I might well fit SCX type 7 tyres to the front and Fly Capri urethanes to the rear. Time will tell. If I can get through a race without loosing the door mirrors I will be in front!!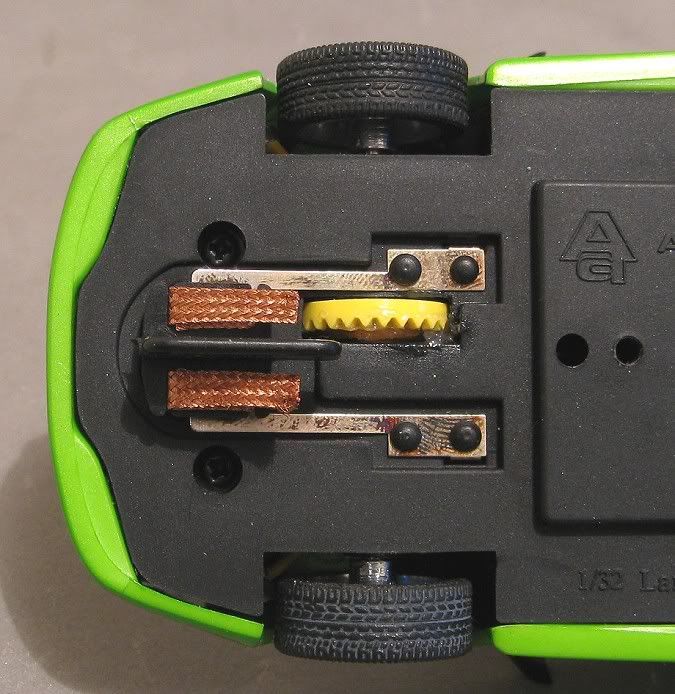 Statistics



Wheelbase					84.0 m.m.
Front axle width				59.0 m.m.
Rear axle width					63.5 m.m.
Guide to rear axle				100.0 m.m. 
Overall weight					100.0 grams
Rear axle load					60.0 grams
Front axle/guide load				40.0 grams
Front / rear weight dist			40.0% / 60.0%
Pinions (original)				10z nylon
Contrates (original)				28z nylon
Final drive ratio 				2.80 : 1
Rear wheel diameter				20.5 m.m.
Progress					23.00 m.m. per motor rev.
Rear tyre tread width				9.30 m.m.
Guide length					18.40 m.m. median
Guide depth					6.8 m.m.
Guide thickness (median)			1.60 m.m.
Motor	 (4x4)					Mabuchi 'S' (26,000 rpm @ 12.00v)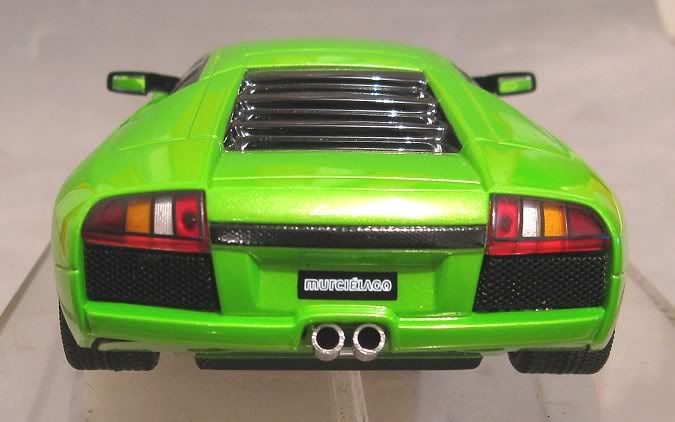 I'm looking forward to running this either in competition or in a friendly and I don't expect there to be too many problems. The huge 63.0 m.m. rear axle width will help with that, I'm sure. So, getting back to quality in the collection. This model has all the hallmarks of a quality slotcar. One that could sit amongst other offerings with panache! When you take into consideration the quality and finish of some of the $150.00 plus models available, in my view this beats them hands down! Buying a Lambo?? If you buy a Ninco Gallardo, it's $79.00 for no lights and an average body. A Scaley Gallardo is $55.00 for black windows and tampo'd lights! I bought this model locally for $50.00 plus P+P. Say no more!




Addendum:



Since I carried out the review I have had a greater chance to look further 'in depth' at the model and a couple of anomolies soon became apparent.

Both this model and the Gallardo have self centering guides. Handy they are too, but for some unknown reason, if you spin the Murcielago, the guide will inevitably pop either part way or all the way out. This was annoying but curable. The other problem was a little harder and is still a work in progress. The nylon axle bushes are a little slack in their mounts. So too is the front propshaft! The upshot is that, because of the harder chassis material, the model has an annoying background rattle all the time it is moving. I have noticed this on another Murch too. I have glued the axle bushes and the tailshaft bearing in place and anything else that rattles too. In the meantime I am waiting for another opportunity to give it a fast outing!!! Possibly this Friday at the Red Team meet!!!Stay tuned.