AUTOart Lamborghini
Gallardo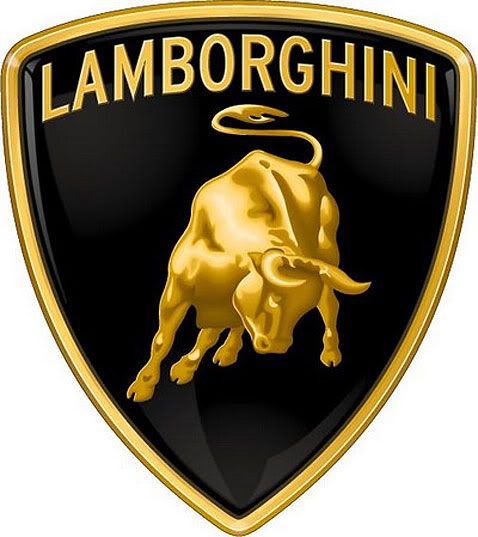 by

Phil Wicks



So what are we doing messing about with a shelf queen? Especially when there are enough on the shelf to start with!! Good question! But as always, the answer may seem a little bizarre…..at first. I was prompted into buying this model for a couple of reasons, the first being the price, which was Au$50.00 from a local slot store. The second which is probably a bit more complex, was that I had the opportunity to see a sister model in action recently and I was mightily impressed and being one for a challenge I couldn't resist the opportunity of creating a proverbial silk purse from a very attractive sow's ear!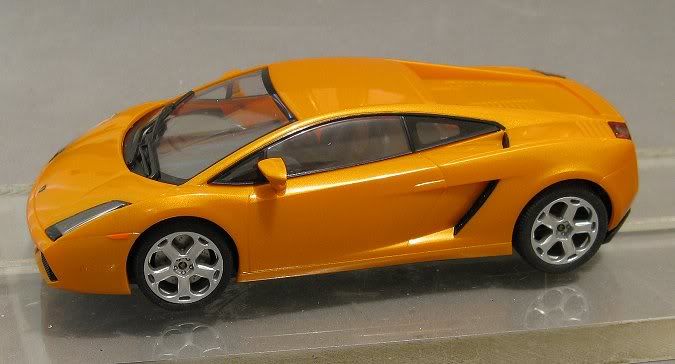 The Legends Slotcar racing group are running a trophy class which is for unmarked supercars. Some races will be on plastic but the majority will be on wood. I already have a plastic track contender in the shape of a Cartrix BMW Z3 and very handy it is too. It ran second overall in the first round on Ninco track. As for a car for a board track I was lost for ideas. The simple solution would be to buy a Ninco Fly or Scaley and convert it into a non marked car but that would be easy! The challenge would be to get something less likely into competetive trim and give it its best shot. Having won last season's Trophy event, there is no longer a sense of urgency to win.

In the past and even now I have specialised in getting SCX to out perform Nincos and the like on the highly technical tracks we race on, so the idea was to get a model with potential and wave the magic wand over it 'til it is a contender. I saw an AUTOart Murcielago in action up the coast and was very impressed with its performance, it being only slightly off the pace and almost SOOB! So, whilst looking for a Murcielago, I came across the Gallardo (pronounced guy-ardo), which has identical running gear. Black line 'S' can Mabuchi and four wheel drive. The biggest bonus is that it was thirty dollars cheaper than the plain, box standard, two wheel drive, no lights, poor finish Ninco alternative!! That must put it in the 'can do' category! The big MINUS is that it is shorter and narrower than its big sister!!! Mmmmmm? But what were the acceptable mods to be made, well, more of that later. Let's look at the model firstly.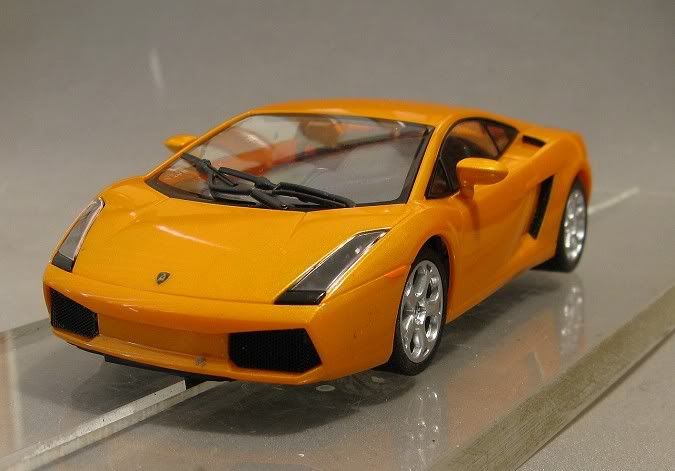 As expected, the Gallardo is very well appointed. Finished in a glittering metal flake finish which looks to be the plastic finish it has all the detail of a die cast model….. and more! Firstly, the lights are brilliant. AUTOart have created a good set of front and rear lamps and the wiring and detail are first class too. They have gone to the trouble of mounting the front lights inside black plastic. This eliminates any light bleed through the body. The rear light unit too is sleeved to prevent the same and the quality of moulding and installment far exceeds what we are getting from other manufacturers. Around the model are several air vents and intakes. These all have their own etched metal grilles in place and believe me when I say a lot of manufacturers may not have bothered where Autoart have boldly gone. Door mirrors are well modeled and have true reflective mirror surfaces. Screen wipers are faithfully reproduced right down to the trammel arm on the left hand wiper. Two chromed tail pipes with their own etched grilles sit at the rear end of the model and with the aid of a magnifying glass it is possible to make out the Lamborghini Fighting Bull on the bonnet badge!!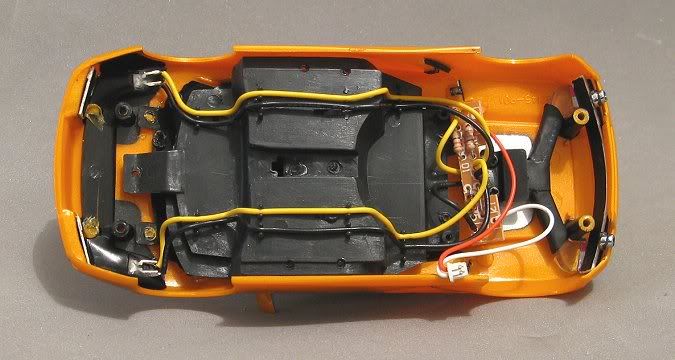 A lot of 'upstairs weight! Mmmmm!





The chassis is very functional and Autoart have learnt a lot in the few years it has been making slotcars. The axle mounts emulate a lot of established manufacturers. The guide and the crown wheels are Scaleyesque too and the general layout is similar to what mainstream manufacturers have been doing for many a long while now. The guide flag is a good depth and has a self centering spring which is very marshall friendly. The motor has a good supply of RI components and unlike others, I'm not convinced these are detrimental in any way and in my model they stay on……for now!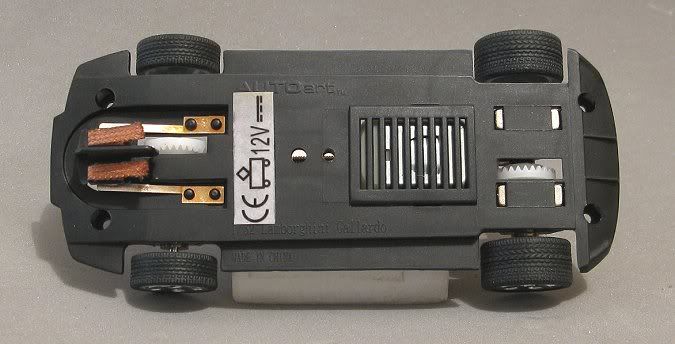 Breaking from the norm and in line with previous models, Autoart have stayed with the twin rear magnets. Unorthodox, but when tested, theoretically, they are well placed. In a straight line the magnets sit just outside the conductor rails on most commercial modern slotcar tracks. This minimises downforce and moving part friction and allows the model to make the most of straight line speed. In a bend the theory must be that the model slides across the track until one of the magnets engages the conductor rail longitudinally!! This means the full length of a bar magnet holds the model in place. I must admit that I did run the Autoart Mustang FR500C some while back and this was the impression it gave … and very good it was too!
Because of all the channels in the chassis the model is also very rigid. This has its pluses too as a chassis which flexes too much causes gear mesh to move in and out and binding becomes apparent in the axle bearings in certain situations like hard cornering. Lastly, the guide wiring is very tidy and I have no problem with the method used to take power via spring loaded pick ups to the motor. Wheels are another favourite of mine and in this case they are beauties. right down to their own 'fighting bull' on each hub cover.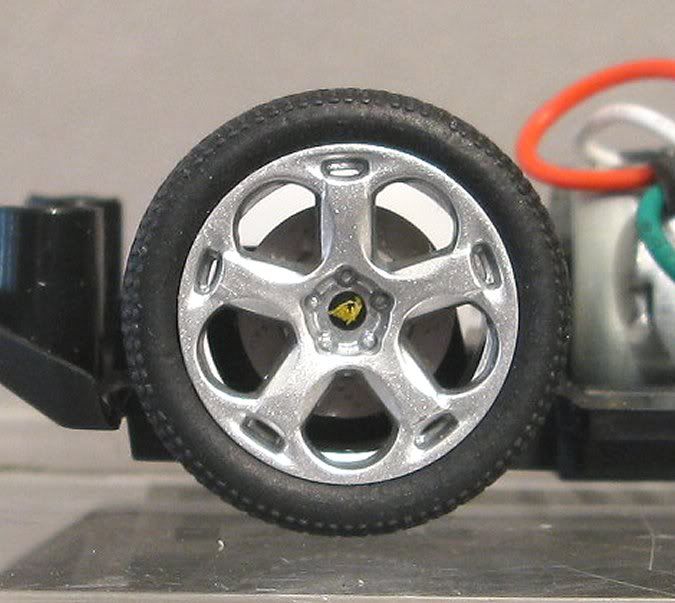 Original rear wheel and tyre





So the model is a rear motor with a propeller shaft to the front crown. Again I have no problem with this and unlike other four wheel drive models like the SCX extended armature and the Ninco and Scalextric drive bands, the prop shaft and bearing idea ranks top of the list in my estimation. I am looking for real front wheel drive to help out in this model and not slipping and stretching bands or unsupported vibrating shafts as is so common; and this time, I think I have it!!!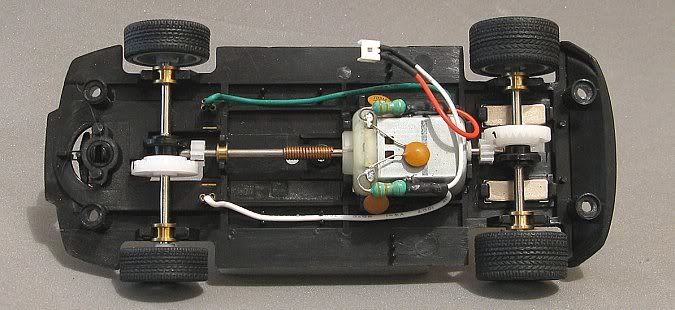 Next question is 'do I race this SOOB??? or do I spend a little time on it before its debut??!! Mmmmmmm? ' No, no, it's all too hard! It will be raced soon enough, but there is one thing that bugs me and is incomprehensible. There is no driver!! If I were making a static model it would be understandable that a driver isn't needed. I might even have opening doors and bonnet and posable front wheels.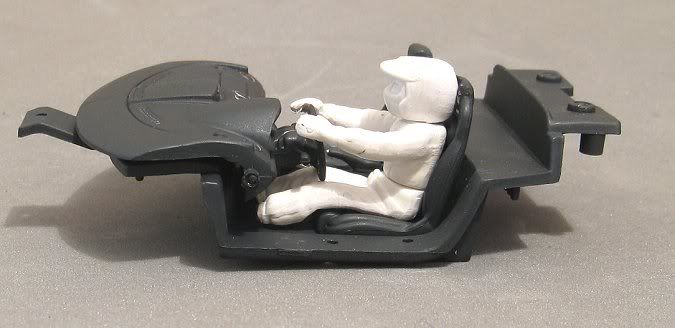 Everything fits and ready for painting





But WHY, WHY make a slotcar, a car to be raced, on the track and everything!!! AND NOT PUT A DRIVER IN IT?? Beats me… but I suppose we're stuck with it… But not me. It bugged me immensely. So much so that I resolved to rectify the situation. And in rectifying the situation, I decided to keep going and upgrade all the doubtful parts that would stop the model working well!!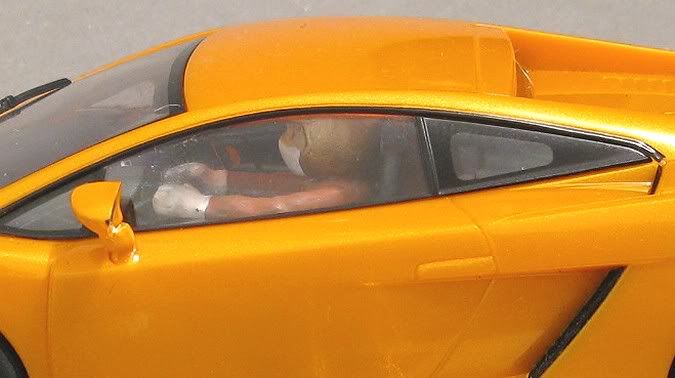 So apart it came and the body was carefully stripped out. The dash was detached from the drivers tray and measurements were taken to facilitate the fitting of a Fly full length driver figure. The problem was going to be with his arms as he sat straight limbed and it was going to be touch and go as to whether the seat to steering wheel distance was going to work out. The solution was to remove the seat and elongate the slot it sat in. I then scraped a good portion of the centre side rear of the seat. This gave me another precious half a mil. Next, with a sharp modeler's knife I scraped the panel behind the drivers seat for five minutes at the salient spots.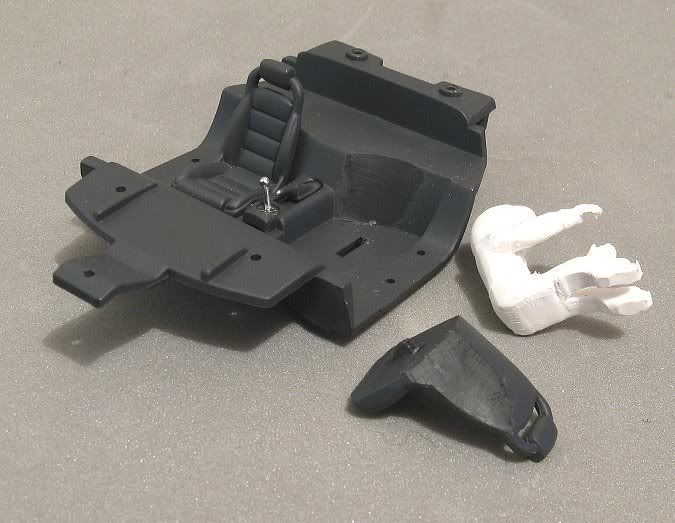 You have to be cruel to be kind!




This gave me another 0.3 or 4. Still not enough!!! I then scraped away at the back of the driver and his helmet, this combined with scraping a curve in the headrest, gave me a few more microns!!. I scraped at the guy's seat until he sank down into the seat and looked quite at home. A little under tension, but at home. The final test was to reinstall the driver's tray into the model and as expected, the helmet touched the clear window material and prevented the chassis going right home. With the tray out once more I took a little more off the drivers legs and bum and as a last ditch measure scraped a flat area on top of his helmet. This won't be seen from outside the model and anyways, if it's good enough for Racer, then its acceptable to Wixwacing. I could have removed the glass moulding from the body and drilled a hole where the helmet was to go. After carefully studying the clear moulding in situ I decided it would be tempting fate and went with the helmet idea!!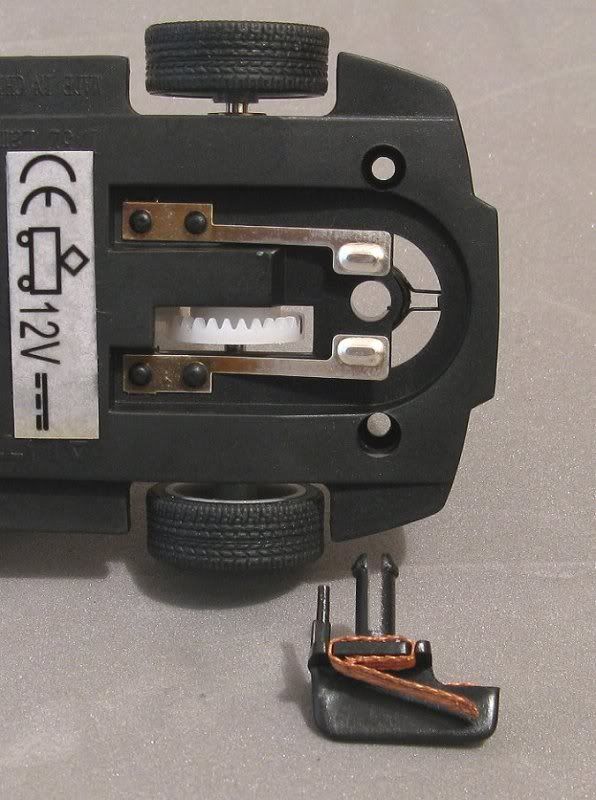 All fired up, I then went to address the final drive mismatch, yes you heard me right. So what's up with the final drive. Well, both front and rear reductions are the same! 10 : 28 or 2.8:1. Yeehhh! So? Well, the front wheels are a little over 20 mm in diameter and the rears are a little over 21!! This gives the drive line a 'snow plough' problem. The rear wheels are travelling a couple of millimetres further than the fronts per motor rev! This would need to be addressed as it would cause all sorts of problems, under braking especially. Do I increase the rear ratio or reduce the front? Mmmmm? This would give me the choice of two mm per motor rev (I refer to it as 'progress' in the statistics). I could have reset the front and had a high progress but instead, as we race on technical circuits, I opted for a lesser progress. The rear drive ratio was reduced to 9 : 27 (3 : 1) as the rear tyres are large enough already and braking could be reduced if the progress was too high.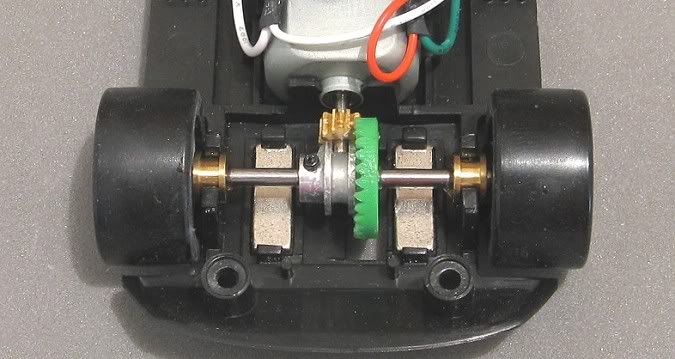 New rear end





So, after the maths I ended up with a front wheel (20.50 mm dia) progress of 23.0 mm per motor rev and a rear wheel (21.9 mm dia) progress of 22.94 mm per motor rev. This will give me my favourite four wheel drive scenario where the front wheels slightly overdrive the rears, helping to pull the model through corners and not juddering under hard braking. Rather than salvage the old axle I used a new axle and an SCX pro contrate plus a Slot.it pinion and the original wheels. When the model eventually retires to the shelf it will be a simple case of slotting the old axle back in and refitting the wheels and original tyres.


As far as weight goes I'm hoping it doesn't need anymore as the model with its new driver weighs in at just over the 100.0 gram mark. The upper limit for models on tight circuits. Every thing else is fine as far as I can see and it's going to need a good run before its next outing just to sort out any unforeseen problems.
Statistics - modified

Wheelbase					79.5 m.m.
Front axle width				59.7 m.m.
Rear axle width					58.5 m.m.
Guide to rear axle				95.0 m.m. 
Overall weight					100.0 grams
Rear axle load					58.0 grams
Front axle/guide load				42.0 grams
Front / rear weight dist			58% / 42%
Body weight with lights)			40.0 grams
Pinion front					10z plastic
Contrate front		                        28z nylon
Final drive ratio 				2.80 : 1
Front wheel diameter				20.5
Front axle progress				23.0m.m. per motor rev.
Pinion rear					9z brass
Contrate rear					27z alloy/nylon
Final drive ratio				3 : 1
Rear wheel diameter				21.9 m.m.
Rear axle progress				22.94 m.m. per motor rev.
Front tyre type					SCX type 7
Front tyre tread width				8.70 m.m.
Rear tyre type					MJK urethane compound
Rear tyre tread width				10.9 m.m.
Guide length					18.5 m.m. median
Guide depth					7.10 m.m.
Guide thickness (median)			1.65 m.m.
Motor	 (4WD)					Mabuchi 'S' (26,000 rpm @ 12.00v)
Next up was the proof of the pudding and suffering from withdrawal symptoms, not having raced for a couple of weeks, the Red Team convened for the first time in a little while and the Gallardo was in the box. Initial laps after warming the track up saw the model to be a little tailey; a little disconcerting but not the end of the world. After studying the underside I came to the conclusion that the MJK's on the rear were uneven and not hooking up as best they might.








SCX type sevens and MJK 'Fly Capri' tyres





A short period of sanding saw the model respond by super zippy off the line performance and an annoying tendency to lift up on two outside wheels in a hard corner Mmmmmmm? The outside edge of both the front and rear tyres were sanded and of we set again. Still a tendency to tip and what's more, an unreasonably long stopping distance. A bit like some of Carrera's early offerings.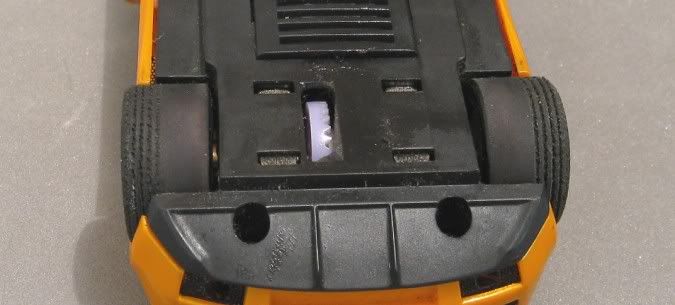 The degripping grooves. Maybe one or two less is needed?





No matter. Once home I carried out some mods to the boots. I ran them up on a tyre truing jig and cut four grooves in the outer edge of the front and rear tyres and rounded the outer tyre shoulders a bit more! This hopefully would introduce an area of lesser grip when the model started to transfer its weight in the corners, reducing, if not eliminating the tipping tendency.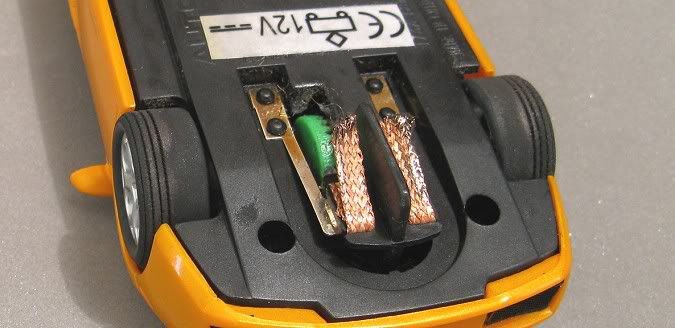 The following Monday, a phone call saw me heading off for a fellow racers tortuous and technical track. After a good session of slotcar sparring I put the model on the track. Still a slight tendency to wag its tail, but no where near its previous best! I sanded the tyres flat one more time and pushed off for some more hot laps. By now I was getting used to its handling characteristics and was doing some good (but not great) laps Mmmmm?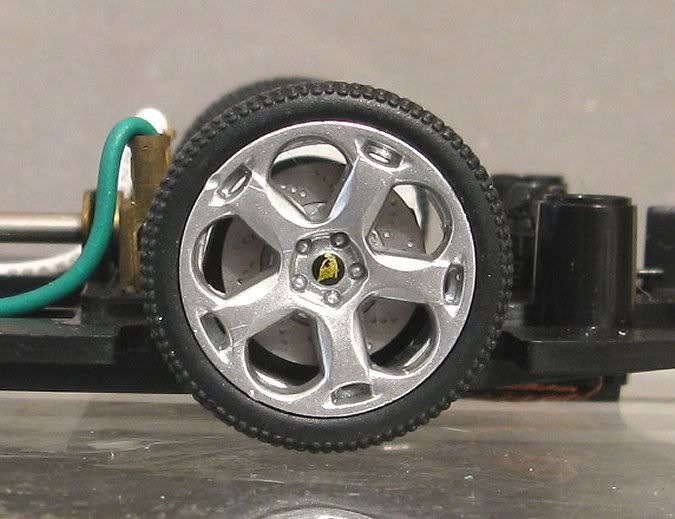 Original front wheel and tyre





The main problem was that after spending an evening racing some top models I was still in 'fast' mode. And although the model was fast, the braking distance wasn't. It was taking a good three or four hundred millimetres more to slow sufficiently for the bends. This was obviously a result of its high gearing and so it would have to be addressed again. This time I moved the 3 : 1 ratio to the front axle and set the rear up to 29 : 9 or 3.222 : 1 this would reduce the high gearing and improve the braking. The fact that I race mostly on technical tracks didn't deter me from this action. The minor loss in top end (21.88 mm per engine rev) would be compensated by the shorter braking distances and an increase in acceleration out of corners.

This time there was no time to practice. Race day was the approaching Saturday and with only a couple of days to get the spares there was no more time left for testing.

So what was it like? Well after running it in its first heat it still seemed to wag its tail too much, but it wasn't tipping over. Straight line speed was more than adequate and it kept up with all the rest in this respect. I ran the second heat and tempered my driving excesses and gained another 0.3 or so secs but it was getting too hard to remain constant. I finally put the non grooved tyres back on the rear whereupon it rather frighteningly cocked its rear wheels but discipline prevailed and I brought it home second on the same lap. Last heat and I was pretty well much up to it. Some steady driving saw it again come home second half a lap down but this time I had learned a lot more about driving the model and my lap times were with the main bunch of Ninco's and Scaleys. It eventually finished six out of fourteen and some earlier prep could well have seen it higher.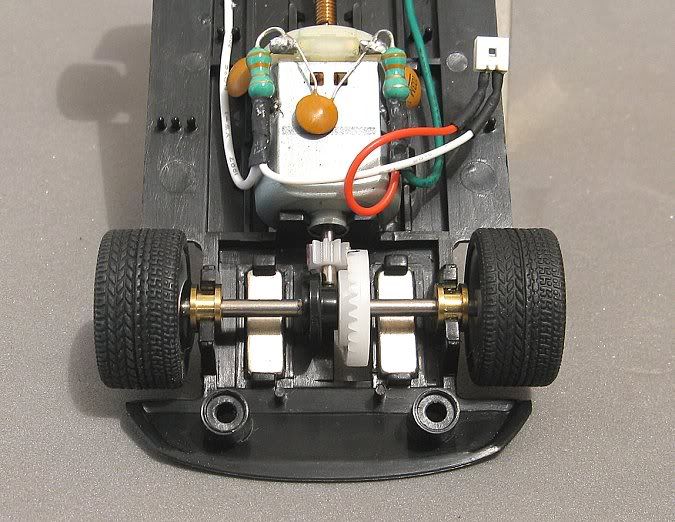 Original rear end





The main problems to overcome with the model were its comparatively narrow rear axle width and relatively high centre of gravity, but, compared to 'straight out of the box', it is greatly improved. The rear tyres could well need some soft rubber instead of urethane but that would mean a wheel change as the rims on the model are an unusual profile, having a wide centre step, and, unless you strip the interior and put in a lightweight drivers tray, there will always be the overall weight problem.


So that's how it is. I have had great fun playing with this model. Too many times we go for the soft option when choosing an RTR model for competition, or we go to the other extreme and buy a model, only to replace just about everything at twice the cost. Apart from trying to get 'underdogs' competitive I have always picked competition models which are close to the finished item before starting on them. This way there is little work to do and much satisfaction to be had when it all comes together. Mind you, there are still some things which could have been better on this model!! Firstly, the body colour is the plastic colour. No paint on the outside of this model. The drawback with that is that the model is slightly translucent. There are discernable dark patches on the exterior of the model where the light units are fitted beneath. Also, the brake disks have come loose on the hubs which is a bit of a pain as I have glued the wheels in place now. The tyres that came with the model are exact scale copies no doubt of the real thing but on all but Ninco track they would be a bit of a liability and next to useless on a smooth board track. And lastly, even though the motor is held in with the early Scaly style grips that fit in the can tag recesses and clips front and rear, it is loose! not a lot. But enough in my opinion that it may judder when pushed too hard.








I have no regrets buying this model. I have learnt a little more along the way. And I look forward to giving it a good 'fang' every now and then when least expected!