Autoart Peugeot 206
Rally Argentina 2003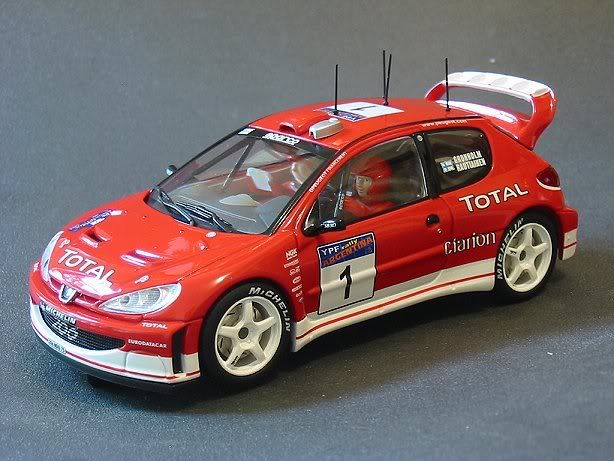 By

Phil Wicks



Having already purchased the Citroen Xsara and been very pleased with it (see review, this section) I decided to put my neck on the block and buy its stable mate the Gronholm Peugeot 206.
Why am I given to such moments of impetuosity? Who knows, but I'm pleased to say I am not unhappy with the model.

There are a select group of cars in each racers collection which are dragged out for race events time and time again. You know that if you race anything else you're in for a hiding, so the race cars become those that are not necessarily the most attractive or endearing but the ones that can do the business regardless. Now and then when there's a new release which shows promise, the temptation may be there to replace 'old faithful'. As for the rest of the collection, they are there purely for visual delight or driving pleasure far from the cut and thrust of competition.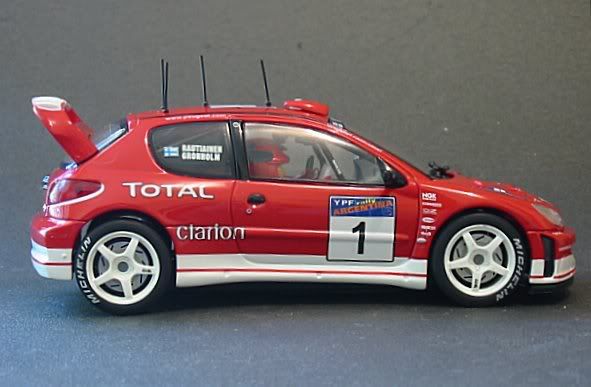 As with the Xsara, the Peugeot fills both these requirements. Not only is it a beautifully executed model of a classic Rally car but it is also a great driver, even though it won't win much. The detail is Autoart all over, inside and out, even down to the scale tyres and tread pattern and the four antenna on the roof ( I still don't know why they need four??) The finish is impeccable and I love the high gloss finish they give their models. Fine detail also includes putting the rear screen demister element onto the clear rear screen! Some very effective satin chrome finish discs sit behind the best model OZ RACE wheels I have ever seen. The mirror part of the door mirrors too has a high sheen material in it giving a very good impression of mirror glass. The bonnet vents have a fine grille detail that a lot of manufacturers wouldn't bother with, barely visible unless you can crane an eyeball between the bonnet and the screen! Once again, even the finest tampo is well executed and I'm sure if you took a magnifying glass to it, legible too.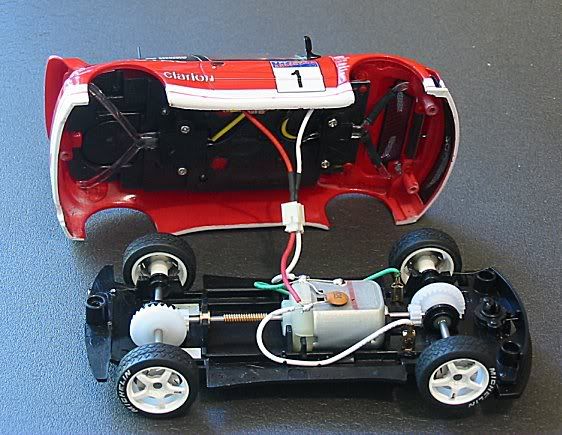 This model has been covered by other manufacturers. Not necessarily in the same livery but still the 206. SCX is the first one that springs to mind. It is also available in resin form. Compared to the 1/1 it is probably the most accurate scale representation too and the body shows more curves and recesses than its predecessors. Because Auto art have stuck with a conventional 4WD system were the motor armature drives both front and rear axles it was necessary to fit a shallow drivers tray in stead of the full cockpit most manufacturers are now using. In spite of that the cockpit is well detailed and busy! Once again we have the 'Smothers Brothers' driving and navigating. (There must be a high incidence of twins in the Rally world). The dash and centre console have good detail but Autoart have decided to leave the dials and gauges off the dash. Quick release handbrake and Gear shifter are present as is a full roll cage in black and silver. The spare wheel is depicted through the rear screen.


Underneath the model is a very tidy layout. Autoart choose to mount two magnets longitudinally either side of the contrate. I'm still not sure about this method but it seams to work reasonably well. The power pick up is a similar idea to previous Scalextric designs and a pair of spring loaded contacts run against the braid on the top side of the guide. Interesting to note here that the free play back to front and side to side is amongst the lowest I have tested. The self centring guide is moderately firm and has a medium strength return spring.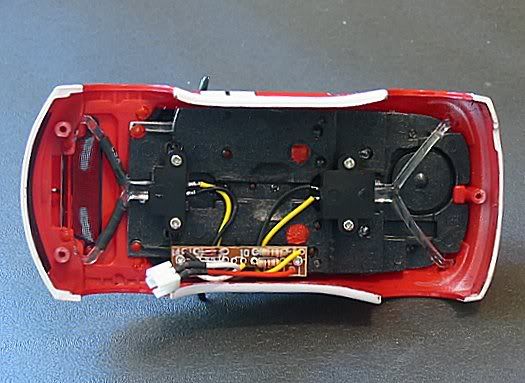 Just three screws hold this model together. Two at the front and one at the rear. Probably one of the best setups for this type of model. Inside too is very tidy. No messy heat welding of parts and badly burned plastic here. The drivers tray is securely held in place and shows no sign of looseness which might manifest itself as a rattle down the road. Auto art have opted for a hybrid lighting set up. Whereas a lot of older models had a centre light source and optical transmission of the light generated to the front and rear, they have gone for the clear plastic light conductors but seem to have two light sources, maybe LED's attached to the underside of the body shell. The electronics too are mounted to one side and the whole is connected to power via a neat two pin plug and socket to aid body detachment. The front light conductors have some black heat shrink over them obviously to prevent light shining through the body but in low light there is still a glow through the body at the front light source.

The layout inside the model is very tidy with the motor driving the front wheels directly and a short prop shaft being used to drive the rear. The shaft is firmly mounted in a bearing at the rear and shouldn't break loose when the body is slackened off. The pinions are a bit suspect as these are very reminiscent of the Scalextric pinions of yore, which used to split down a tooth valley. No doubt the Scalextric pinions with the reinforcing collar will substitute if there is a problem down the line. Front and rear axles are mounted in black nylon bushes which are a fairly snug fit both for the axle and in the chassis. The chassis pan too doesn't have a lot of reinforcement to it ensuring a little bit of movement after body tuning.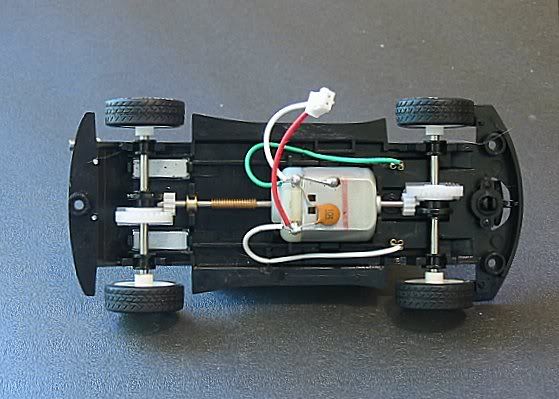 I took this one for a spin firstly on my local Board track. 21 metres on red lane. Off the line it is quite smart. I rank the motor to be about the same speed as the Mabuchi 'S' cans in standard Scalextric models and it has a good power band with a 45 ohm controller. SOOB the model demonstrated a skittishness in the corners. Not unexpected as Autoart Rally tyres are comparatively narrow and uneven out of the box. Running it for several minutes saw it settle in as the roughness wore off the tyres. Soon it was behaving in a sensible manner in and out of bends at a moderate pace. Cranking up the pace a bit saw a couple more habits show themselves. Hitting a corner fairly hard saw the model rise up on its outside wheels and continue in a straight line! A demonstration of a higher C of G than needed. This was initially rectified by backing off a little earlier and driving round the corner earlier but after the tyres were sanded and cleaned it was apparent that this was a design problem. The Xsara too is prone to this but backing off into bends a bit earlier is a solution.

After carrying out Stage 2 tuning and slackening off the body screws at least a turn, the model decided it was going to behave for me and lap times improved as well. The model is very quiet to start with so there was negligent improvement in sound reduction at this point. Running for twenty or so more laps saw the model become what I had been expecting and that was a predictable drive. The occasional deslot was of the roll over type which indicates a higher C of G than desired but these were happening now at a good speed, close to the max.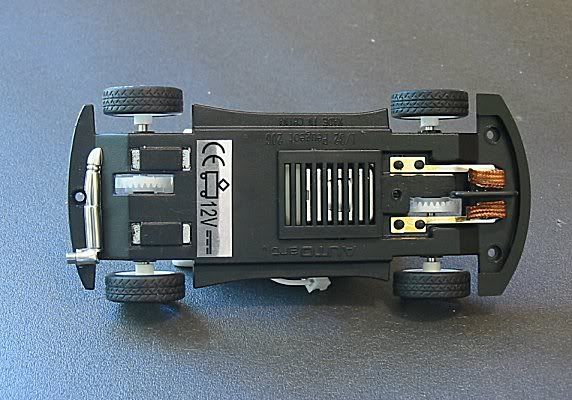 Stage three tuning was carried out and the model was now at maximum racing spec without changing anything. The body was freed up a bit more by scraping rough edge contacts with a modelling knife, tyres were trued and in light of its roll over tendency I chamfered the outer edge of the tyres slightly to help induce a bit of slide in hard corners, pity to loose the excellent tyre tread pattern though. Tyres were cleaned with pure hydro carbon to give the rubber surface that softer slightly tacky feel and back onto red lane for final analysis. As with the Xsara, the model is very quick off the line. Again it doesn't like hitting the corners hard and at extreme cornering it continues to roll over deslot. But, having said that, We have raised the moment considerably from its SOOB antics and placed it amongst the middle to good order!

Finally, I did some lazy laps with it and as mentioned earlier on, the model ranks alongside those that I keep in my race box to be run on non competition occasions purely for the driving pleasure. Unfortunately the plastic track I have been using for comparisons has been dismantled to make way for a mega Carrera track and I can no longer do a comparison test on magnet track. My local plastic track however is only a minutes walk away and a quick visit gave me the opportunity to test it in a magnet situation. The track is a high talent track and has a tortuous lap. It took a little while to learn it initially but now after several weeks of working out we have it off pat!

Once again the model is smart off the line and hangs on well in the corners some respectable lap times were achieved and as is the way with lots of recent models, raced against like they are great fun. Once again, deslotting is by roll over and some extra slotcar engineering would be necessary to overcome the worst of it. Autoart have captured the essence of a good slot car finish and drivability on both wood and plastic but it will never be a race winner in the open field. RTR cars like Scalextric and SCX will not allow that to happen.
Statistics

Wheelbase				76.5 m.m.
Front Axle width			55.0 m.m.
Rear Axle width				55.0 m.m.
Overall weight				89 grammes
Front axle weight			42.0 grammes
Rear Axle weight			47.0 grammes
Front/Rear weight dist			47% / 53%
Pinion front and rear			10z
Contrates, front and rear		28z
Final drive ratio			2.8 : 1
Rear tyre diameter			21.0 m.m.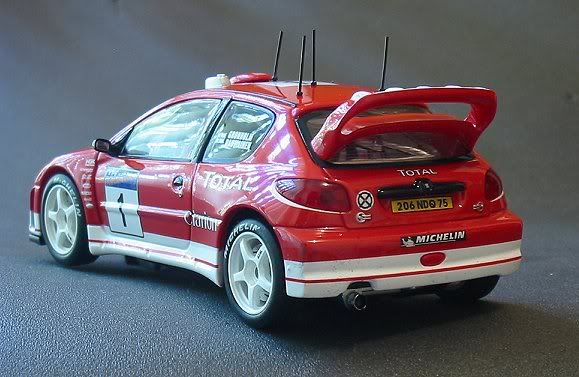 As before, I rate this model highly as a model and well as a slotcar, To make it competitive would require at least a new set of wider wheels and tyres(perhaps Ninco or SCX OZ RACE) and some low down weight, probably as much as ten grammes. The model weighs in at 89 grammes to start with and it would be unwise to cross the 100 gramme mark. If you are thinking to buy this then go ahead and based on the above, have good fun with it. You will find your driving compadres admiring it as soon as you put it on the track. An eye catcher, it is!