.
.
Slotcar racing guidelines for organized race nights at
Logan City Raceway
The purpose of having guidelines for model car racing is to present a level playing field on which the new comer or old campaigner, youngster or old lag, and beginner or veteran racer can compete in the knowledge that having bought their models, they will not then have to spend huge amounts on their models to make them competitive. In theory, a person should be able to purchase a popular model from the local hobby or toy shop in the knowledge that with a little astute chassis tuning and possibly a new pair of tyres, the model should be able to win its class in the right hands. The inherent handling characteristics of the model and the racers ability to tune and race their model are the only variables which should influence the model's ability to be successful, not the amount of money the racer is prepared to spend on that model.
Some of the guidelines are intended to emphasize the features of the models which we have chosen to race; and as such they will not make the models any more competitive, but will ensure there is a minimum standard of appearance on the track. This will prevent any tendency for the standard of model appearance to deteriorate; eventually becoming less and less like scale models and more like womps.
The following guidelines will help promote parity on the track and anyone who knowingly circumvents them will not appear in the racing results.
Any modification not mentioned here is not allowed.



________________________________________
Note. It is accepted that some models will overlap the class dates. In such cases, advice must be sought if you are unsure of a model's classification or eligibility.
Manufacturers :
The following is a list of slotcar manufacturers that are accepted as standard class makes. They should also comply with further guidelines (motors etc), prior to racing. Before racing any make which does not appear on the list it must be scrutineered in order to attain homologation. This will need to be done before race day. New makes WILL NOT be scrutineered on race day and therefore will not be eligible for racing at that day's events.

Standard class :
Unless otherwise mentioned in raceday announcement emails or by other means, ALL races are for standard classes.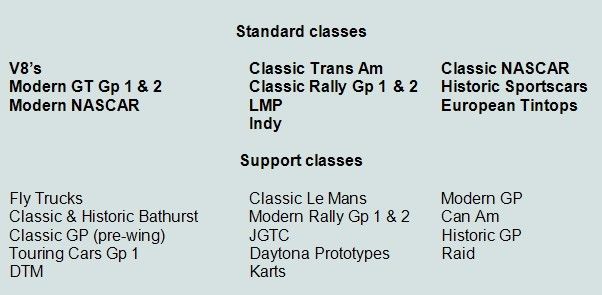 Standard class guidelines,
• The model must be 1/32 scale (excluding karts) and reasonably accurate in detail.
• The model must be hard bodied injected / moulded plastic or slip cast resin,
• Tyres must be natural rubber compound or urethane, and black or dark grey in colour.
• The chassis must be injection / moulded plastic.*
• Unless the class dictates (i.e. V8's), the model must have clear or see through tinted windows and an injection or slip moulded interior and drivers tray featuring a dash board, part or whole steering wheel and one or two occupants, dependant on class.
• All rally classes must have a navigator in addition to the driver.
• With the exception of open wheelers and some early SCX cars, wheels should not be visible when viewed directly from above the model.
• Wheel diameters must be scale, pertaining to the model or its period.
• With the exception of GP, Group 5, LMP and CAN-AM, all road wheel rims on individual models must be the same diameter.
• Rally cars must have identically sized wheel rims and tyres front and rear
• Alloy wheels should be finished with lifelike copy decorative inserts where available.
• Tyre tread widths must not exceed those stated in the individual model class guidelines.
• Trucks must run dual tyres on the rear wheels.
• Bodies must be tampoed or painted.
• Interiors must be tampoed or painted.
Motor groups :
Motor group 1 Motors rated at 12,700 rpm @ 12V (15,700 rpm @ 14.8V)
Motor group 2 Motors rated at 18,000 rpm @ 12V (<22,000 rpm @ 14.8V)
Motor group 3 Motors rated above 18,000 rpm @ 12V (open class)
Lower group motors may be raced in higher group events (i.e. Group 1 in a Group 2 event), but not the other way round.
Any make of motor may be used as a substitute or replacement providing its specification can be identified and complies with the class it is intended to run in.
Chassis tuning :
• The process of blueprinting a model so that it more closely resembles its original intended design, i.e., aligning parts, removing free play and endfloat, securing loose components, wheel and tyre truing, gear lapping, reinforcing mounting posts and other threaded parts etc. is allowed.
• Chassis strengthening can be carried out on susceptible models where it is required.
• Ballast in the form of lead and other materials can be added at the tuner's discretion.
• Sloppy and loose front axles can be fixed in place where required.
• Independent front stub axles can be replaced with single axles.
• Single front axles can be replaced with independent stub axles.
• Body mounting posts may be shortened providing the original drivers tray is retained undamaged.
• Gearing may be adjusted to personal preferences except in Gp1 (NC1) classes where gearing will be 3 : 1 in an 'in line' configuration
General exceptions and prohibited features and modifications:
• No model shall have a plate metal or adjustable metal chassis unless it is sanctioned and homologated in its class specification (e.g. MJK Classic Bathurst models).
• Under no circumstances must any motor be opened. In the event of a motor failure or drop off in performance, the motor can be changed for another motor of the same type. SCX 'RX' motors can be opened for com' resoldering only. Rewinding any armature is prohibited.
• No model parts shall be made from lexan or vacuum formed material of similar properties, with the exception of window clear parts.
Class definitions **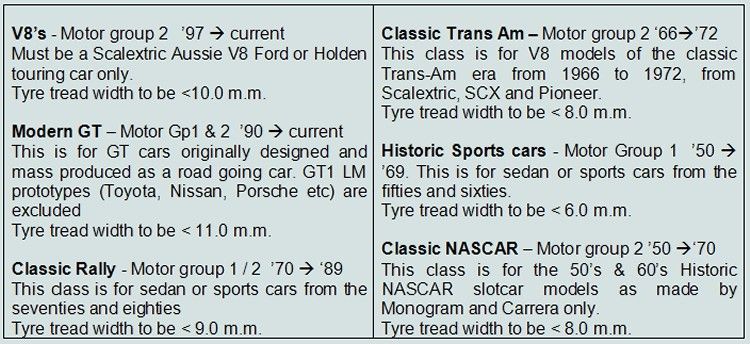 Invitation classes
It is envisaged that there will be regular 'invitation classes' which will carry their own sets of guidelines. This should allow racers to develop their models more freely. The guidelines will be established and documented in advance of the event to avoid ambiguity.
New releases :
From time to time accepted manufacturers as listed above will produce new models (i.e. a new body or chassis moulding, not a new livery of an existing model). The construction of the model will need homologation to determine if it contains features not accepted under current guidelines. Again, this will not be done at a race meeting, and anyone wanting to race a new model must first get it homologated prior to race day.
*Scratchbuilt models:
Scratchbuilt models are allowed where they follow the above guidelines. The only addition is the accepted use of non plastic, non metallic materials for the chassis. Chassis may be made from polyester resin or fiberglass resin compounds.
**Class definitions
Tyre tread widths are measured at the widest part of the tyre making contact with the track, not the overall width of the tyre. Tyre tread widths have been calculated on the width of the class models OEM. Where a model's OEM wheel rim and tyre dimensions are wider than the guideline, the original wheel rim and tyre may be used. In the event that the wheel rim and / or tyre might be replaced, then the replacement tyre will need to be reduced to the guideline specification. The term 'wheel' refers to a combined wheel rim and tyre assembly.
________________________________________
It is appreciated that not everybody may have models for all classes and it certainly isn't expected that they need to buy them all to comply. On these occasions the organizers may well supply a model from the loan car box for them to race, or nominate a model they do have as a class car, i.e. they may be allowed to race a GT model in an LMP race if there is no alternative. The substitute model must still comply with the class guidelines where applicable.
In the event where a guideline has not been reasonably applied to a model when it was possible to do so; or if a racer has a class car and chooses to substitute it with a non class car without consultation and for whatever reason; then that model will not be considered compliant and will not appear in the race results.
It will be considered that non-compliant alterations made to models beyond that of normal chassis tuning measures with the intention of gaining an advantage on the track not to be in the spirit of the event; and any model incorporating such modifications will not appear in the race results.
The organizers retain the right to inspect any model at any time, including removal of the body
The organizers retain the right to prohibit a model from being raced.
All racers are entitled to ask for scrutineering of any model they have fair reason to be suspect.
Please print these guidelines and keep a copy handy for reference.
Thank you for your cooperation.
Contains updates
01. Open motor class for Daytona Prototypes.
02. Added: Carrera to Can Am class.
03. Added :New releases guidelines.
04. Added : The term 'open class' to motor group 3 definition.
05. Retaining drivers tray when shortening body posts
06. Changed Historic Rally to Historic Sports Cars
07. NC1 final drive to be an 'in-line' configuration
08. Added: Rally cars must have identically sized wheel rims and tyres front and rear
09. Added : wheel rim diameters to be the same for certain classes.
10. Definition of a 'wheel' clarified.
GD/PW V.07.190815