Yippeeeee and whoopidooo, Graceville had its 2011 opening meeting a week back and who would have thought there would be a total of sixteen drivers passing through its hallowed portal. After initial worries that the club room was going to be submerged in the recent floods, it turned out that we had been saved from the rising waters and potential postdiluvial nightmare mop up. So with a bunch of itchy trigger fingers ready to roll, it was just a case of 'what first'!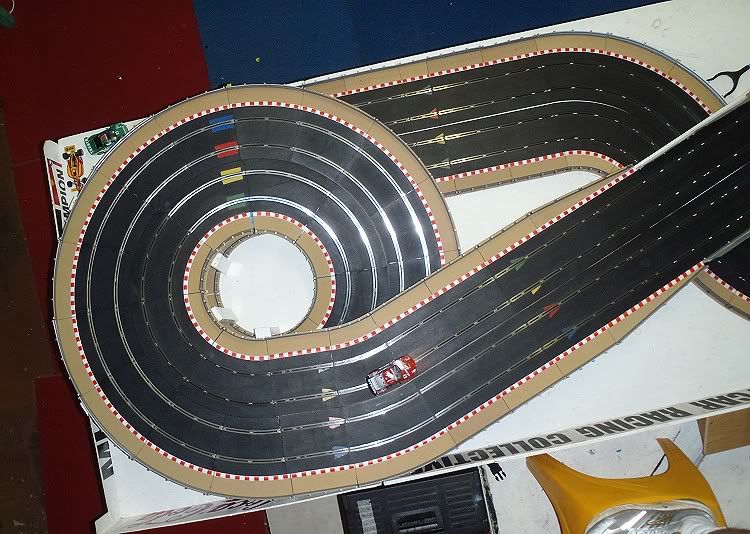 Stepping through the door all looked pretty much as we had left it last year, but Mark had been busy in the closed season and it was soon obvious that something had changed. Sure enough. The turn at the entrance and the west end of the track had been tampered with. It had become a full 360 and I would estimate it has added at least a couple if not three metres to the track length!








First up was Aussie V8's and most of us have one of them. Just a case of dusting it off and giving it a run! Not too much to report here, just total chaos and a marshalling nightmare as most guys hadn't put guide to slot for some weeks. Some new faces in the pack had a good run but it was the old campaigners who were going to collect the gongs.









Mick not looking too happy with the new turn!





The V8's still have a handling issue when it comes to Graceville, and on more than one occasion two models came head to head on the main straight when one model became dislodged in the gratuitous wiggly bits which run parallel to it and crossed the track. I realised after the race had begun that I hadn't replaced my traction magnet which had been removed some weeks earlier for a non magnet race at another venue! Oooooops!




A picture of slotcar bliss!!
Event 1		Aussie V8's		12 laps

Race 1		

Position			driver 			best lap

1.				Peter				27.20
2.				Ken				31.07
3.				Robert			        28.01
4.				Dan				31.03

Race 2

1.				Mick				30.84
2.				Jack				30.15
3.				Noel				34.92
4.				Andrew (DNF)	        	27.59

Race 3

1.				Peter				31.10
2.				Mark				29.86
3.				Tim				30.92
4.				Phil				36.68

Race	4

1.				Pater H			        27.46
2.				Julian			        27.89
3.				Andrew			        27.67
4.				Paul				27.54

Race 5

1.				Derek			        26.00
2.				Phil				25.96
3.				Mick				32.06
4.				Tim				36.89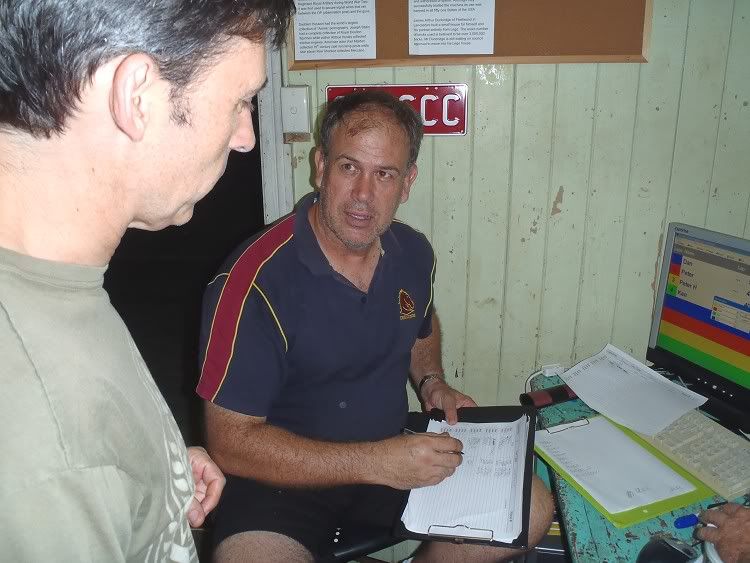 A hapless contestant trying to pull the wool over the stewards eyes!



Next up was Indy cars. These are those fabulous Scaley cars with the oh so delicate rear wings, and this event did nothing to dispel those rumours. More than one ended up in the spares box by the end of the event. I chose to race an SCX Indy car and apart from it wanting to leap out of the slot on tight bends it went quite well.






SEQSCC may well introduce bull horns for communicating with the marshalls!!



After the queue for the tyre sander diminished we were able to get the event under way. Plenty of borrowing of cars in this event and the organisers (read Julian here) must have been cleaned out more than once as the heats progressed. One of the most immediate problems with the Scaley Indy cars is that once they loose there rear wing, it is difficult to tell which is the front. In the past we have had some marshalling mayhem, but this time I can't recall and incidence??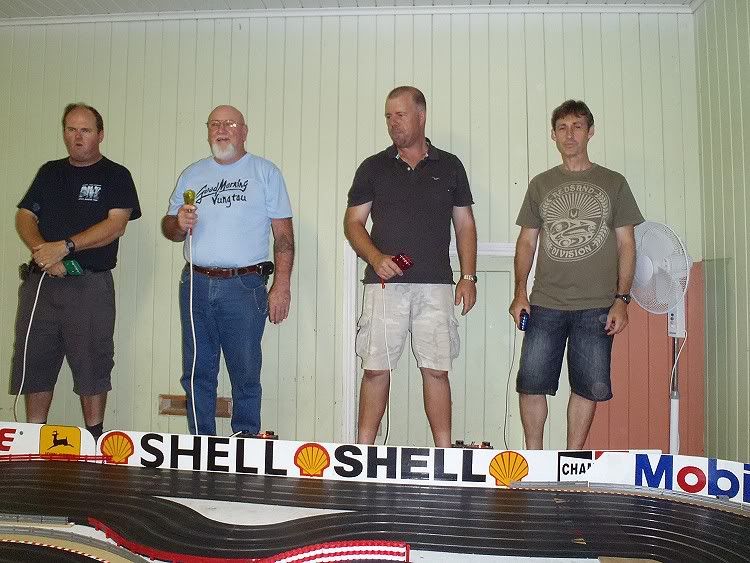 Event 2		Indy Cars		15 laps

Race 6

1.				Peter P				26.40
2.				Derek				26.39
3.				Tim				28.34
4.				Paul				14.85??

Race 7

1.				Andrew				26.32
2.				Phil				26.31
3.				Noel				26.45
4.				Mark				30.78

Race 8

1.				Peter H				23.01
2.				Mick				27.57
3.				Ken				28.36
4.				Dan				32.90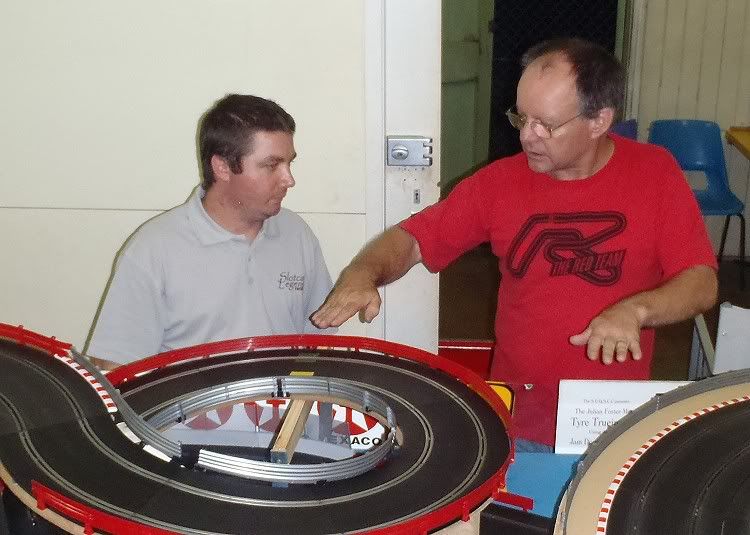 An older contestant demonstating to a more impressionable member that he hadn't been in the pub on the way there!





Time for more fun and games and a retro class to test everyone's metal. This time it was tin tops in the shape of 90';s BTCC cars. Fortunately the SEQSCC (read Julian here) have plenty to spare and it was almost a lottery to see who would b getting the best prepared model. Again a queue for the tyre sander formed as no doubt these models would be running on their original rubber!!








Without detracting from certain drivers abilities, I think it would be fair to say that there may have been more than one incident of some drivers passing through the timer on someone else's lane. The Scaley BTCC cars have a habit of doing this and after many reruns of the security cameras it could not be determined who did what to who, so the results stood!!!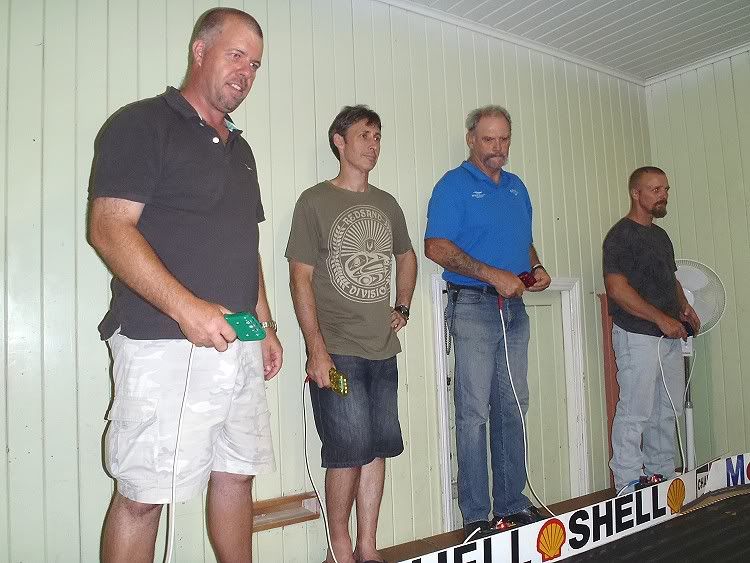 Event 3			Scaley BTCC			5 laps

Race 9

1.				Paul				21.84??
2.				Phil				35.56
3.				Peter P				14.18???
4.				Peter H				45.28

Race 10

1.				Ken				38.80
2.				Noel				42.95
3.				Tim				38.48
4.				Mark				51.40

Race 11

1.				Derek				42.79
2.				Andrew				44.18
3.				Mick				46.14
4.				Dan 				26.10????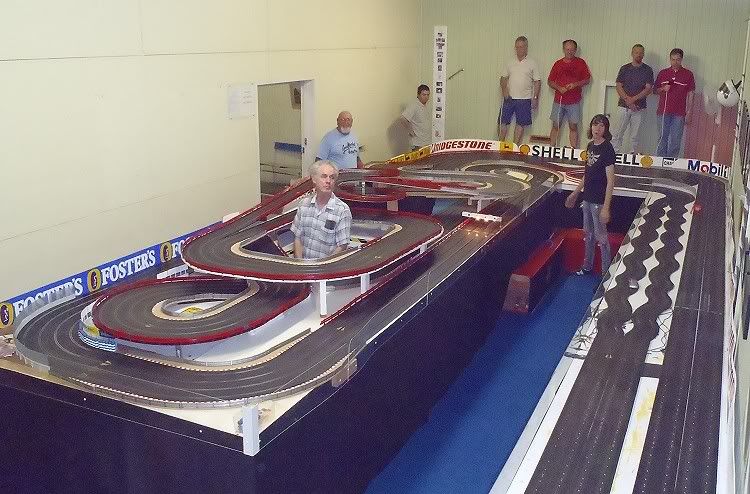 SEQSCC are thinking of fitting all new models with GPS



A fairly new class for Graceville is the JGTC. Not often run and pretty much a straight forward event. A novel twist was that we were going to run this one against the clock, How many laps could we do in seven minutes!! Not a lot!! Once again the class call left some wanting, but once again the SEQSCC (read Julian here) stepped in to fill the void. These are great little cars and you'd have to have sort of impairment not to put up a good result. As it happened, all taking part, free of the constraints of a set number of laps, managed to do not half bad!!




Event 4			JGTC		7 minutes		

Race	12

1.				Tim				16 laps
2.				Mick				14
3.				Derek				13
4.				Mark				???

Race 13

1.				Dan				14
2.				Andrew				14
3.				Peter				13
4.				Noel				12

Race 14

1.				Peter H				18
2.				Phil				14
3.				Julian				13
4.				Derek				13




I think this guy had been lying earlier?





Lastly and always not leastly was the SEQSCC Challenge. So what were we subjected to for the new year?? Hummers! Yep, no worries. On a track that has a mean lap time of about 24 seconds for a formula one, we were going to race Hummers!! Mark had made a concession to the marshalls and had purchased models which reflected the shade and hue of the lane markings, but this was only to generate confusion later on when, after loosing a few wheels, some models were substituted with others of a contrasting hue!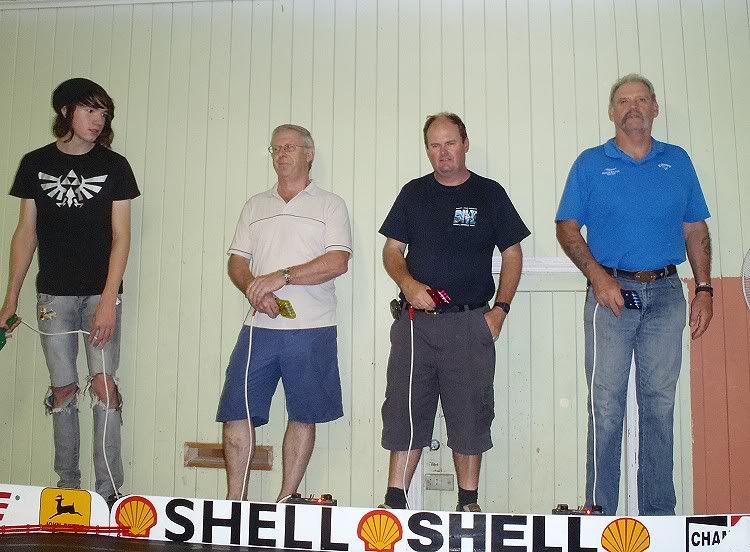 Another model decided to get wedged under the track section in the car park, but this was only discovered after the race had started. Others took absolute delight in rolling over when negotiating tight bends at any more than snails pace. Some where wheel standing on severe throttle opening and almost all of them travelled at breakneck speed down the back straight, only to bounce vigorously of the unforgiving catch fencing there! Once again, another SEQSCC masterstroke! The only saving grace that stopped us going on into the early hours of the next morning was that it was a three lap race




Yes, he'd definitely been lying!
Event  5	SEQSCC Challenge	Hummers at 10 paces!!

Race 15			

1.				Noel				57.69
2.				Tim				43.96
3.				Andrew				43.87
4.				Paul				44.29

Race 16

1.				Mick				47.71
2.				Mark				46.23
3.				Phil				45.04
4.				Derek				45.07


Race 17

1.				Peter H				40.07
2.				Peter J				43.62
3.				Ken				46.73
4.				Dan				51.81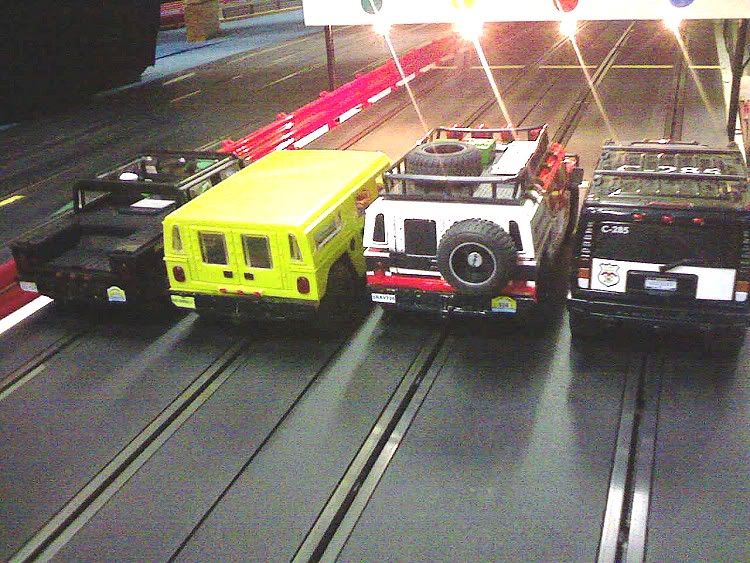 So there we have it. The new year under way at Graceville and the extreme got more extreme!! Inspite of all else, great fun was had by all and I look forward to next month's meeting.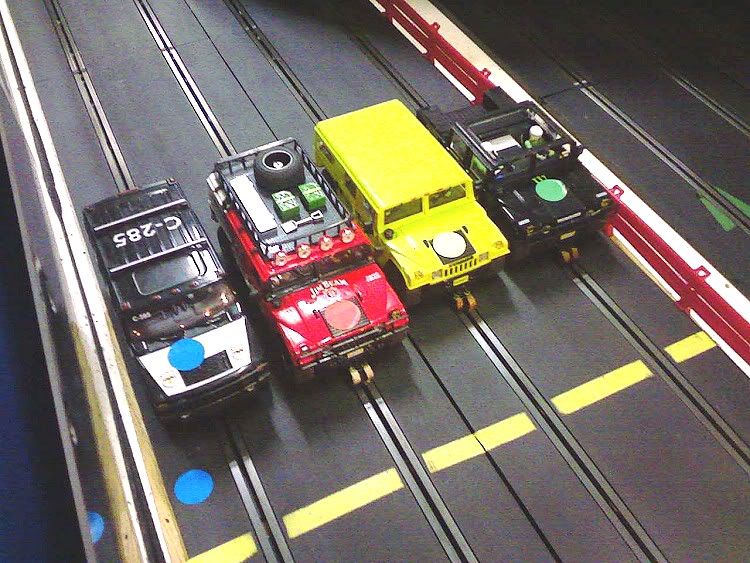 If you live in the Brisbane area and would like to join in the slotcar revelry, contact me on this website or email me at pwix@yahoo.com