As is becoming the norm, a determined band of slotracers turned up for one of the warmest slot meetings I can remember in a long while. Out at the inner western suburbs the temperature slowly increased to about three degrees above city temperatures and many had come dressed super casual for the occasion. Three good classes on the cards and it looked to be a good competitive meeting and as such there was going to be some close racing.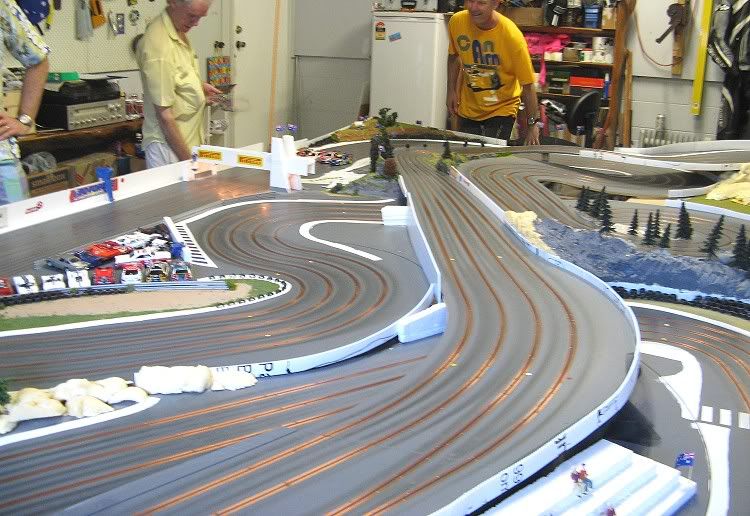 First up was for me to check out peoples slot boxes, on the prowl for some nice kit. Yet again big John the 'Eggmeister' came up with the goods and produced a superb MMK model of the Jim Hall Chaparral 2D for our delectation. A fabulous model in the best of detail, and as always outwardly able to run well if asked too.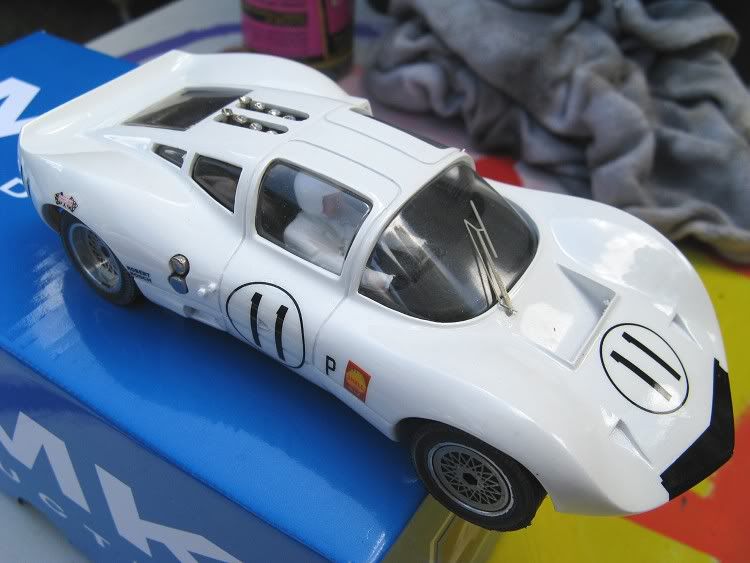 Another couple of models too. One from Glen, the name which will be revealed in a week or so, and Moby brought along one of Rhys's latest acquisitions. This will also get the wixwacing once over in the very near future. But the day was for racing and as 4.00 pm arrived, ranks had swollen to a very respectable 16 souls and we were set to do the business.








First up, and for the first time as a 'Legends' class was Aussie V8 touring cars. Normally this class is run in conjunction with Nascars as 'Premier Sedans', but this time it was decided to give them a go on their own. The Nascars have always had the drop on the V8's as a class so it was going to be interesting to see how they would go on their own. As it happened it didn't turn out too bad. The V8's are a little more top heavy than the Nascars but a couple of the guys had hacked the body posts and had got the C of G down a bit more. The rest of us ran pretty much SOOB models with a little ballast strategically placed on the underside of the model's chassis.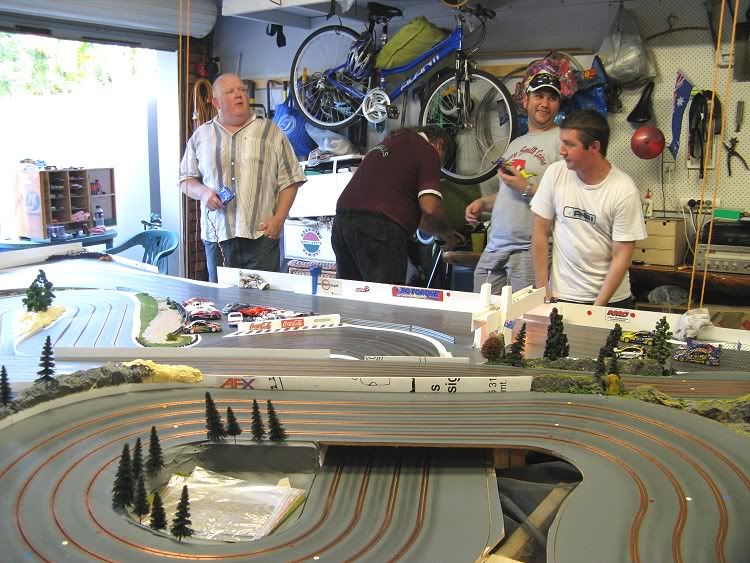 First disappointment of the meeting for one hapless racer was when he was marshalled from his rightful lane on to another lane after someone shouted 'wrong lane' and pointed demonstratively at the non offending car. Was this a genuine mistake or a well orchestrated plan to delay the opposition? Mmmmmmmm?








Another heat saw Big John robbed of victory when after a cool and calculated drive, he deslotted onto the only place on the track where marshalls would find it hard to reach. By the time he was back in the slot it was all over for position. Bad luck john

About heat eight Gary and Paul were trading spots on the track and both drove to the max. With one last lap to go Paul rounded the last turn on the inside to take line honours only centimetres in front of Gary.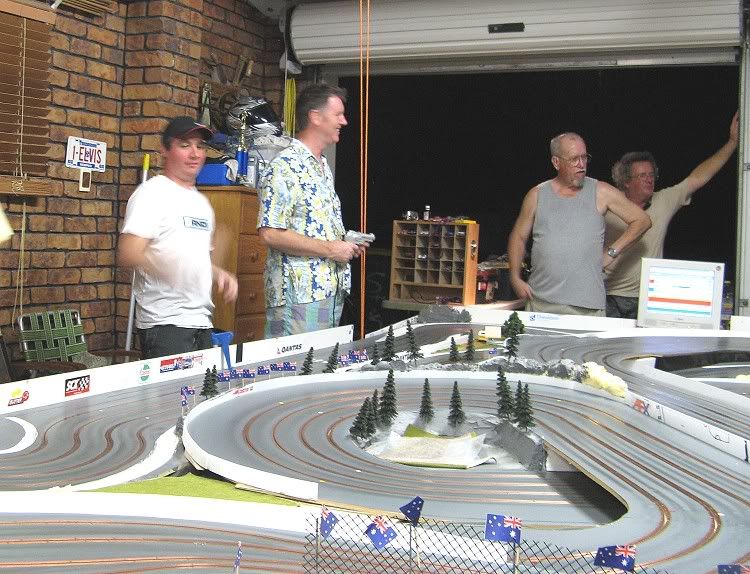 But some of the rudimentary driving skill which we had hoped most people would have developed over several seasons seemed to be in absence this day. Turn two, which is a converging right hand hairpin, continually caught out those who thought they were going to take pole from the start. Time and again there was only what could be described as a knot of V8's wedged into the by now, loose netting of the catch fence, as one heat after another, drivers failed to give way in this corner. I think we need a spell of compulsory drivers school !!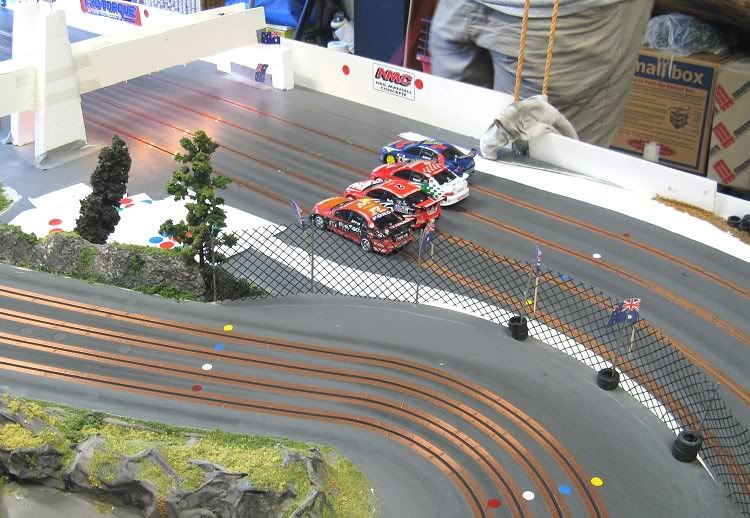 Eventually, and as surely as the sun sets, the computer finally spat out the results, leaving a few elated and possibly the majority in despair! So the first V8 race has left its mark and I'm sure there will be more than one racer reviewing their model set up after this event.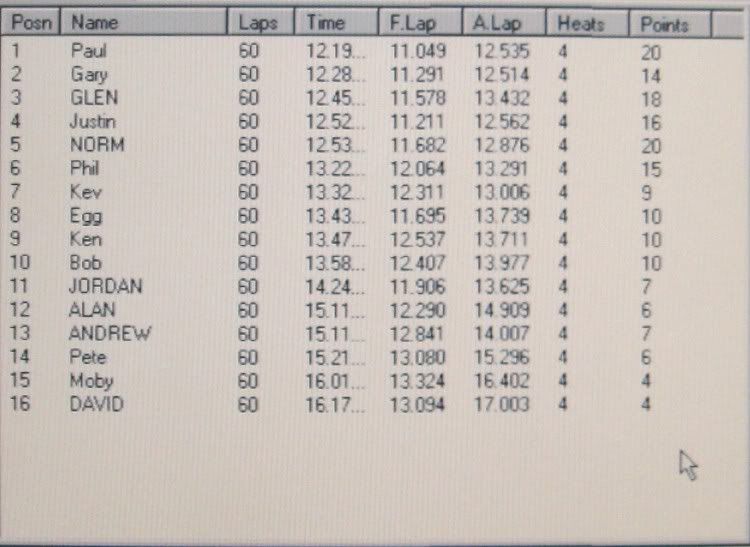 Next up was another experimental class. This was for the Daytona Prototypes. Another great class, but because of the wide range of classes we already race, and the failure of several guys to have one of these in their race box, it has never been tackled. But fair warning saw almost everybody make the effort and fit themselves out with one of these models.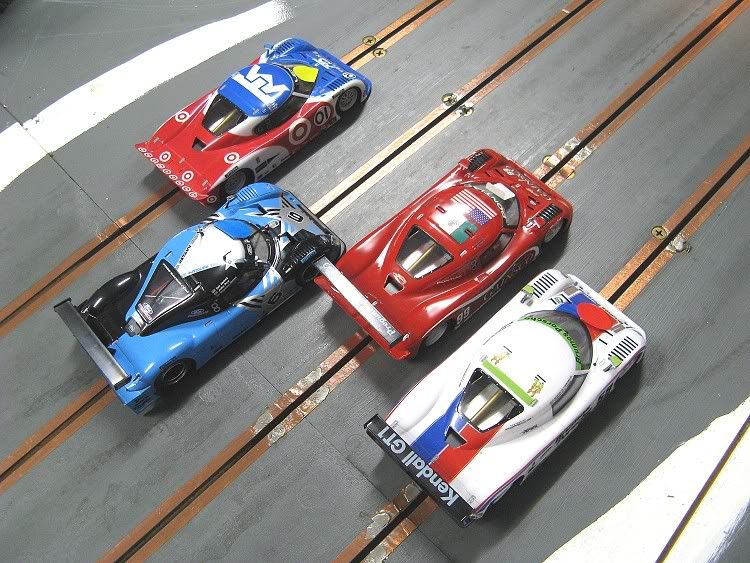 The class was open for Sideways and Fly cars as they come RTR. We didn't quite achieve that but there were no dominant models. I thought the Sideways models might just be a bit of a handful on this technical track so some changed the motors for standard 18000 rpm Mabuchis and managed quite well. Those with nerves of steel managed to hang on to theirs with the original motor and finish the race. A couple of Fly racers, me included, had NC5 motors in their models which allowed them to be driven quite comfortably.








At the end of my first heat I was a little disappointed in the models straight line speed and to a degree its cornering. It was soon evident why it lacked a bit of acceleration, both rear tyre were revolving quite freely on their hubs!! PJ took it for a spin and got a respectable first in his first heat with it but I was still unhappy with it.









Another heat saw Gary and myself in contention but a deslot left him back in the field. But, as usual, some steady driving saw him claw his way back to the front but not quite soon enough. With just a few more centimetres to go I managed to keep my spot, with loose tyres, and beat Gary across the line.








Norm was always going to be the one to beat in this class and he put down some hot laps in the early stages, but from heat to heat he either lost pace or seemed to back off. Eventually two other drivers were lapping faster than him. By now I had decided that whatever was on the back of my model was not up to it, so I changed the tyres for a pair of SCX type seven slicks which I had on a rally car. The transformation was amazing and I put in a personal best lap of 10.8 sec and a heat win. But it was all too late and Norm, with lap times dropping still managed to take first place in front of Justin by five seconds, after twelve minutes racing.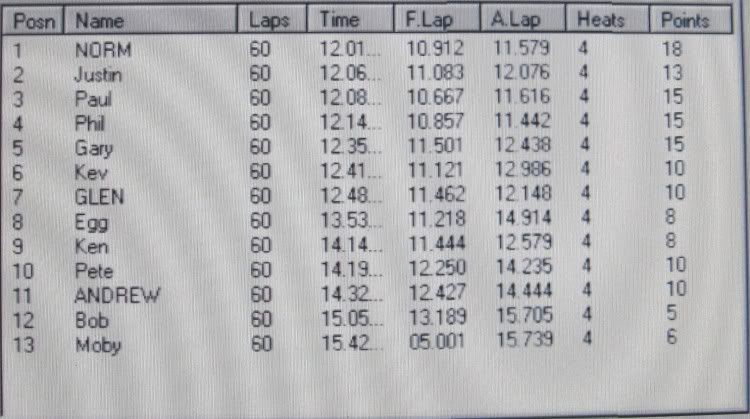 Last up was round five of the Can Am Challenge and guys are getting their models sorted by now. No one model has been really that dominant but the Fly 917/10's have been going well and there has been a good cross section of McLarens and Chapparal too. A couple of the guys are still running their Lola T70 spyders and the remainder have been putting a selection of models on across the heats.









Once again, by this time in the evening the guys had figured out the best tactics for staying on and the marshalls weren't so pressed as they had bee earlier. Quite casual really, and after eating, it was nice to see some guys swapping comments and observations during racing, even while there were deslotted cars on the tracks in front of them and drivers almost blue in the face !!!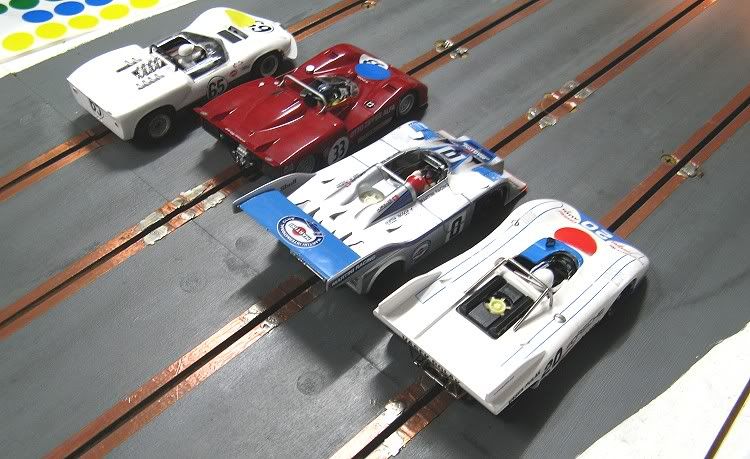 There was also confusion when Justin raced his white model on white lane. Not having placed the lane sticker in a prominent place, it was inevitable that there was going to be some marshalling confusion. His model had more than one trip on blue lane in that heat!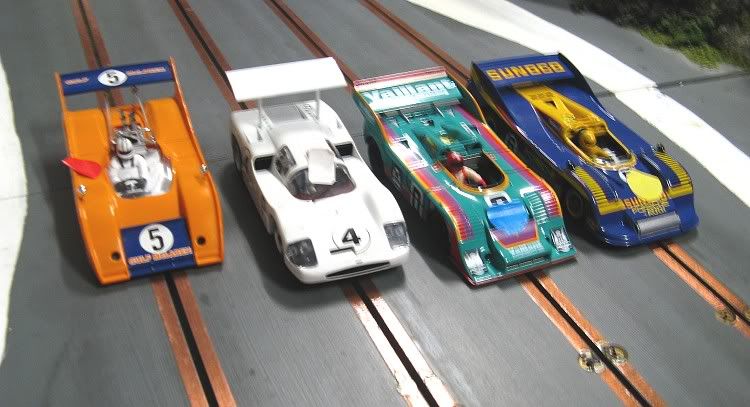 Paul made this race his own and was so far ahead of the rest that all we could do was to vie for second place. Gary was travelling very quickly again and this time it was for me and Norm to try and keep up with him. To add insult to injury Paul had swapped a model M6 McLaren with Norm earlier in the evening and with some precursory adjustment and alteration proceeded to drive off into the distance on his last heat!! Which shows you what we are up against!

Eventually the race was over and the results panned out as shown. A great drive by Paul on his home circuit and a valiant effort by all those chasing him. I don't think there was anyone racing that he didn't lap!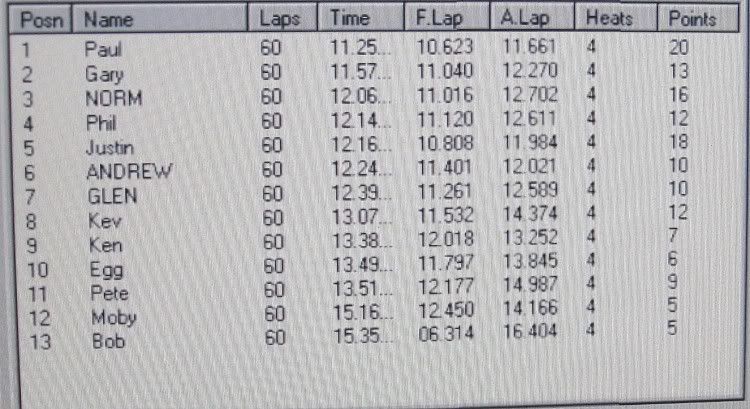 Yet again another great afternoon and evening of racing in the Brisbane metropolitan area! Many thanks to Paul and Jen for letting us into their home and for the great supper laid on.